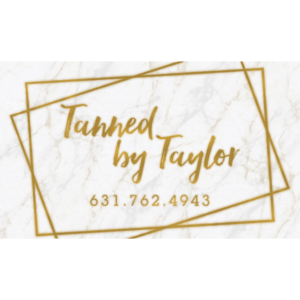 Introduction
Hi Brides of Long Island!
My name is Taylor. I'm a master certified spray tan artist and a New York State Licensed Esthetican.
I have been in the sunless spray tanning industry for seven years. Growing up, I worked in a tanning salon as a manager for many years and that is where my love of the tanning industry began. I had always been an avid UV bed tanner and spray tanned here and there, but once I started school as an Esthetician and began to learn about all of the negative, long term effects that UV rays from both the sun and indoor tanning beds have on the skin, I realized that there is only one healthy alternative to be able to achieve a golden bronzed glow- sunless spray tanning. That's how Tanned by Taylor started.
Many people still have the idea that spray tanning will cause you to look fake, orange, streaky, and unnatural. With my years of experience, training, thorough knowledge of this industry, and using top of the line vegan and organic spray tan solutions, I'm happy to say I'm changing the minds of many while helping them achieve a natural, healthy, sunless tan.
My favorite part of my business is connecting with all different types of people. Having a good laugh, giving advice, talking about life, while helping you look and feel your best for whatever special event you have planned. The main goal of my business is to always give each and every one of my clients a customized, comfortable, easy, and enjoyable spray tan experience.
The Wedding Industry
I love being able to play a part in such a special day in so many brides lives. A natural, sunless tan adds a little boost of confidence to their bridal look. Every bride is different and no two spray tans are the same, so each bride deserves a customized tan so they can glow on their big day!
The Wedding Memories
I love nothing more than seeing the look on each of my clients faces when we finish their tan. Being able to turn into a bronzed goddess in 15 minutes or less is a feeling like no other. It makes me so happy to receive their feedback about how amazing they both looked and felt on their wedding day.
Company History
Deciding to leave my full time job, start my own spray tanning business, and start a new school to learn a new trade was one of the most terrifying, yet rewarding things I've ever done. Over the last two years, my business has brought me so much joy, happiness, and financial success. I have established an amazing clientele and build so many new friendships along the way. I have put my heart and soul into everything, and hard work truly does pay off. Helping people look and feel their absolute best makes what I do my passion.
I offer mobile spray tanning services and have a studio location.
Mobile spray tanning allows me to come to your home, or a location of your choice and spray tan you in a comfortable, private setting. I also offer mobile spray tanning parties. This is perfect for you and your bridal party before bachelorette parties, bridal showers, engagement parties, and of course, before your wedding day! Please feel free to contact me about the mobile spray tan party information, pricing and discounts.
I do have spray tan packages available if you're interested in booking a few tans before the events leading up to your big day- a trial tan, engagement shoots, engagement party, bridal shower, the wedding day, and before your honeymoon.
My studio is located in Hicksville, New York. The business I rent a space from is called Beauty Kreators and aside from my spray tanning services, they offer eyelash extensions, lash lifts and tints, brow waxing and tinting and facial services. We are your one stop shop for all of your bridal prep!
I pride myself in my years of experience, training, thorough knowledge of this industry, and the dedication I have to my craft.
Frequently Asked Questions
Will I be orange?
This is my most frequently asked question. And the answer is NO! My spray tan solutions have absolutely no orange hues. I have used the same solutions for my 7 years of tanning and you will always look natural and bronzed.
Should I book a trial?
Yes! I highly recommend booking a trial spray tan to see how you like the color and how you look. A lot of my brides book their trial spray tans around the same time they have their make up trial booked, so your make up artist can base their work off of what color you will be on your wedding day. I highly recommend scheduling your trial tan a few months before your wedding day.
How do I prepare for a spray tan?
The proper preparation before your sunless tan is very important to ensure that your sunless airbrush tan adheres to your skin for a flawless application.
Pre-Spray Tan Prep:
•Exfoliate your skin 24 hours prior to your appointment. This is the most important step to a flawless, even tan.
•Exfoliation happens daily and is a natural skin process. Each area of your body exfoliates at different times. If this step is skipped or not done properly, the solution will be applied to dead skin cells that will shed causing discoloration and an uneven application.
•All hair removal (shaving and waxing) must be done 24 hours prior to your appointment.
•Schedule all nail appointments prior to your appointment. If this does not work with your schedule, inform your nail technician that you need a polish change without water, lotions or oils or scrubs.
The Day of Your Spray Tan:
•Please come to your appointment with clean, dry, exfoliated skin.
•Please do not have any lotion, make up, oils, deodorant or perfumes on your skin. These products create a barrier that prevents the proper absorption of your tan, can cause discoloration, and uneven results.
•What you wear during your tan will determine your tan lines. What you wear during your tan is completely up to you and whatever you feel most comfortable in.
(Bathing suits, strapless bra/no bra, thongs are highly recommended.)
•Please wear or bring loose fitting dark clothing to your appointment to put on after your tan.
(Long loose sweat pants, shirts, sweatshirts or loose dresses are highly recommended.)
•Please avoid wearing tight fitting clothing such as leggings, yoga pants, tank tops, work out clothes and jeans that will rub against your skin. This will interfere with the absorption process of your tan.
•If there is a chance that it will rain or snow on the day of your appointment, please make sure to bring a jacket with a hood, an umbrella or poncho to use when you leave as you can not get your tan wet until it is fully developed and time to rinse.
How long does a spray tan last:
A spray tan will last anywhere from 7-10 days. How you prepare for your tan, how you take care of your tan, and other factors like your lifestyle, skin conditions, hormones and medications etc. can play a role into how long your tan lasts. This is why it's highly recommended to schedule a trial spray tan.
Is your solution organic?
Contrary to what you may read, no spray tan solution is 100% organic. My solution is 98% organic.
My solution is Paraben Free, Gluten Free, Sulfate Free, Phthalate Free, GMO Free, Triclosan Free, 100% Vegan, Nut-Allergen Free and Non-Comedogenic.
Personal Hobbies
When I'm not spray tanning, I try to spend time with my boyfriend, my family and my friends.
I love everything about the skin care world, so I'm always trying out new products and skin care lines. I definitely spend way too much time and money on face masks- who doesn't love a good face mask?!
Spring/Summer are my favorite seasons, so once the nice weather comes around I try to spend my time outdoors enjoying the warm weather and going to the beach.
As much as I love being at home, lounging on my couch with a glass of wine and binge watching a new series on Netflix/Hulu or watching the Food Network (Diner's, Drive-In's and Dive's is my FAVORITE) or re-runs of the Housewives on Bravo, I do love going out and trying new restaurants. I love any type of Mexican cuisine with alongside a spicy margarita, or sushi- lots and lots of sushi!