VENDOR PROFILES
$99
Per Month for 12 Months
Generate more online traffic with a comprehensive vendor profile! By becoming a BOLI vendor you will have the ability to create your own personalized profile and showcase your expertise to help couples understand what makes you unique, all while gaining exposure to thousands of local couples. Feature your favorite weddings on BOLI and get past clients to help you attract new ones. Your profile on our platform gives brides the ability to find out more about you, including hearing from other satisfied customers! Receive special discounts and rates on our other options with this package.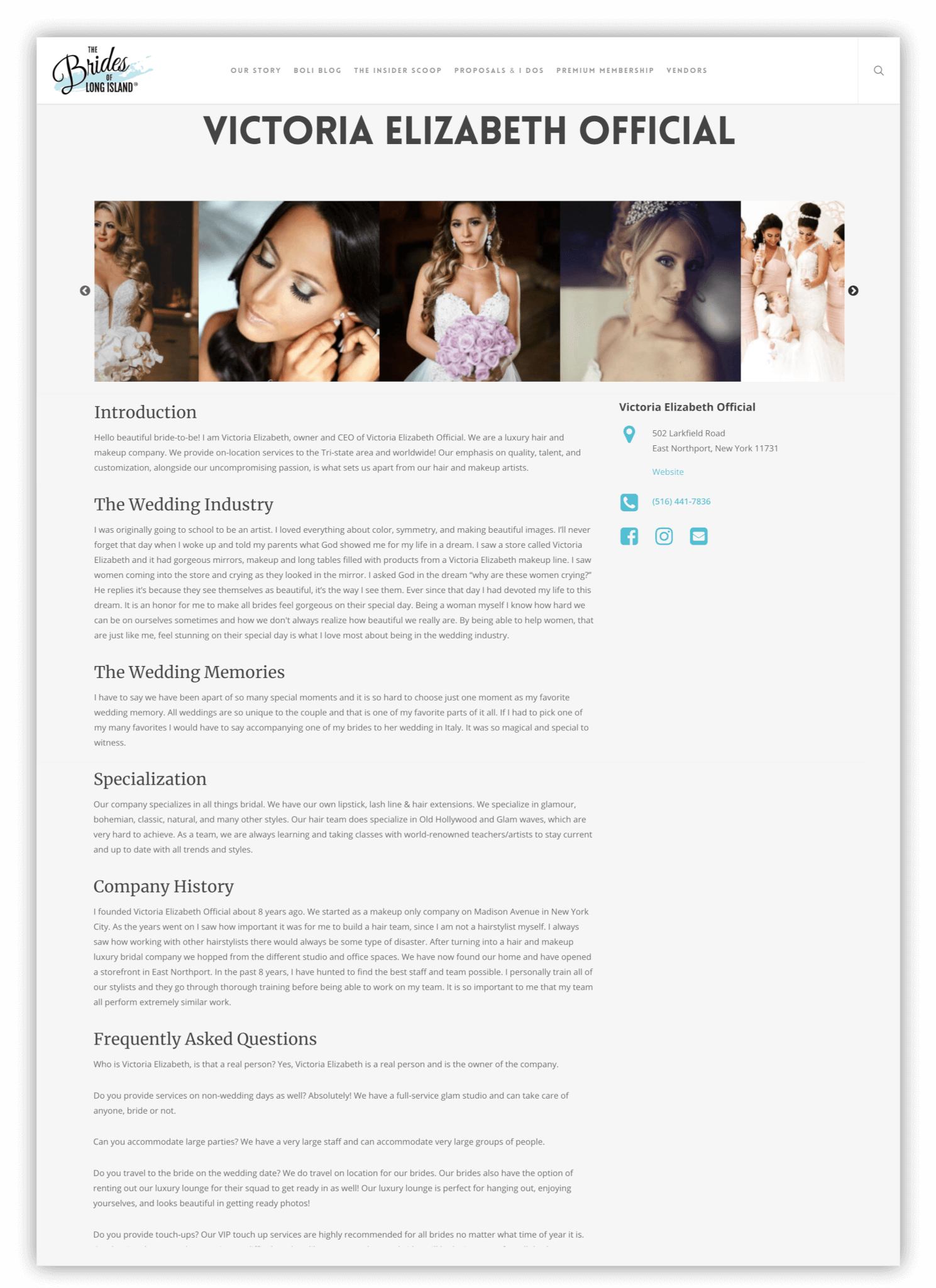 Professionally Written Vendor Highlight
$450
Per Article
This option is brand new! Build a relationship with brides even before they say "I do" to you. It's your turn to receive the red carpet treatment. Get interviewed by one of our professional bloggers and let our team assist with highlighting your years of experience by writing an article sharing everything there is to know about you and showcasing all the knowledge you've learned along the way. By providing insight to your typical approach to a wedding day, you're helping put a couples mind at ease and reminding them that with you they're in good hands. These interviews will be posted directly to our website, our Facebook group, as well as our instagram story for thousands of local brides to see!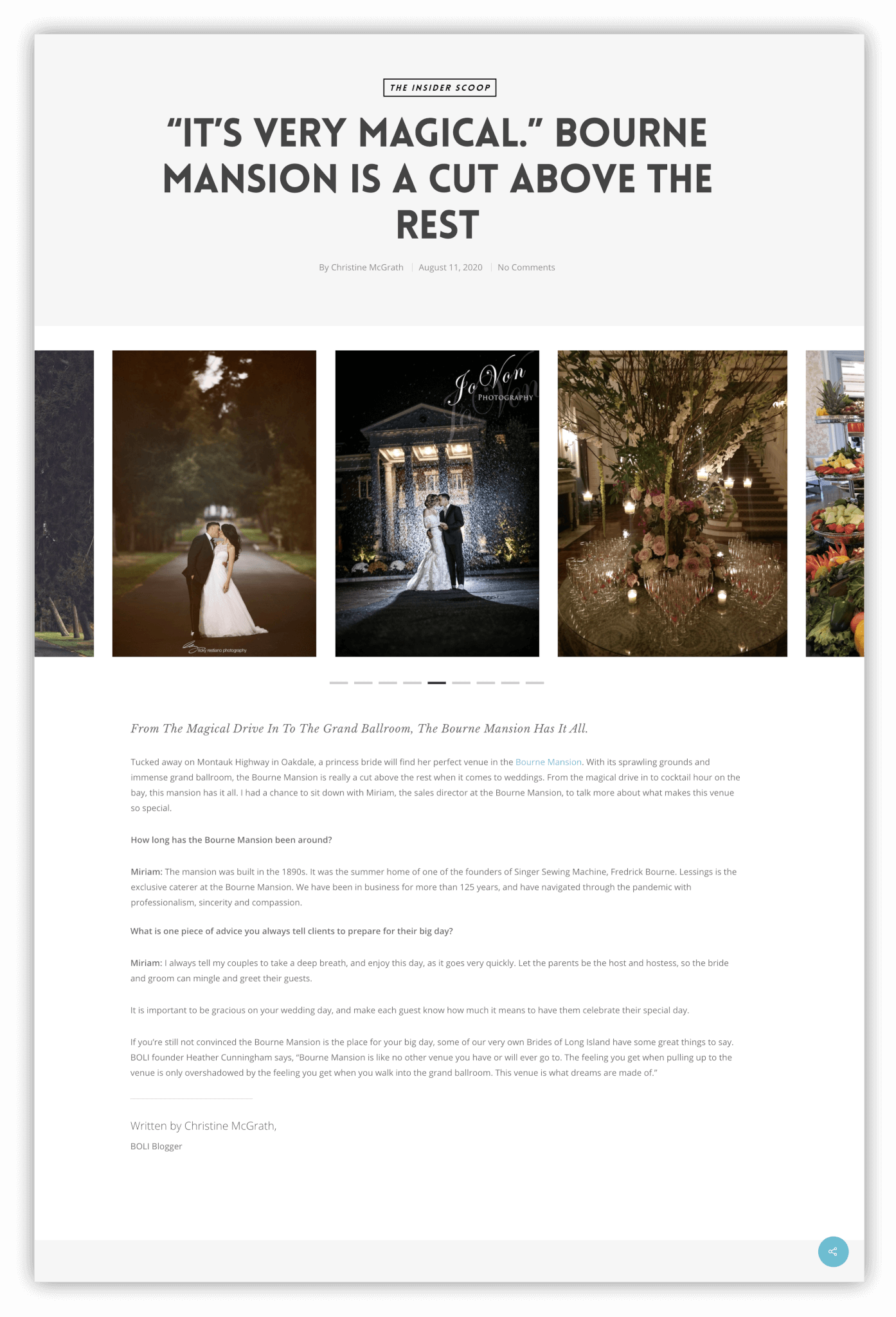 Regular Instagram Post
$250
Starting at / per post
Social media has changed the way that engaged couples plan their weddings. Being present across social media gets you in front of those couples as they are gathering and sharing ideas for their big day! A post on the BOLI Instagram page can help give your brand the opportunity to market your products and services in a fun and interactive way, while reaching thousands of local Long Island brides.
NOTE: This is 25% off for Official BOLI Vendors.
Instagram Story Post
$65
Starting at / per post
Looking for a one-time advertisement? Let us share your company's great work by posting to our members through Instagram Stories. Sharing your post on our thread for 24 hours is a simple and easy way to gain vast exposure to our ever growing community of local brides, making it another great way for you to connect with couples and inspire them to take action and choose you! With full screen, vertical format, your business can share photos and videos, a direct link to your website and immerse our Instagram followers in your brand.
NOTE: This is 25% off for Official BOLI Vendors.
BOLI Discount List
$69
Per Year
Toss them the bouquet!Join other local vendors in giving a special BOLI discount or freebie to our brides who choose to sign up as premium members. Are you running a promotion? Share the info on the BOLI website and receive extra exposure! Your promos will be featured on our premium membership page allowing your brand to stand out and pop louder than a day of champagne cork.
NOTE: This is included FREE with the vendor profile package.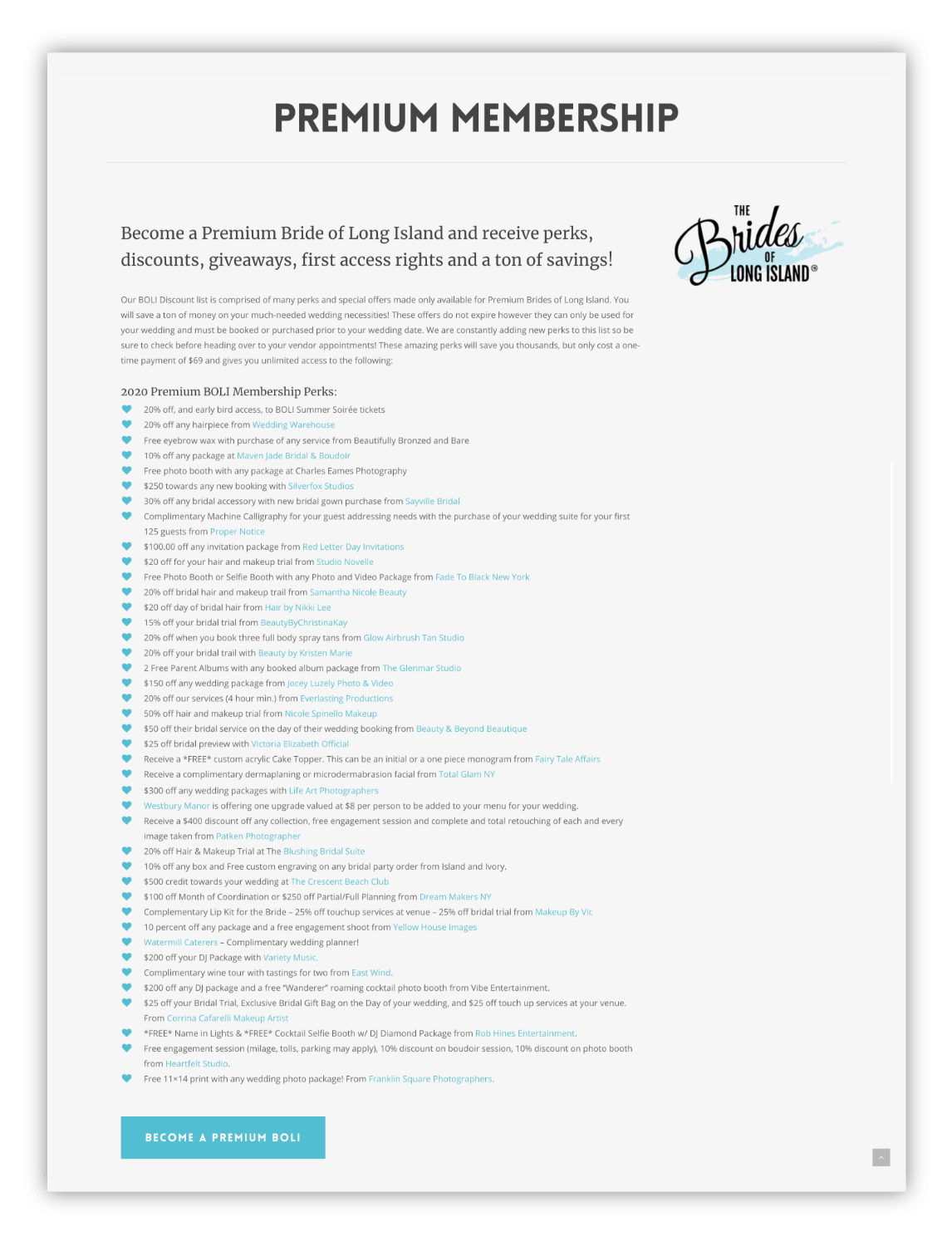 Blog Shout Outs
$50
Starting at / per post
Say cheese, because you've been spotted! Have you recently worked with a fantastic couple and are you looking for a unique way to share the experience with other soon to be newlyweds… Not yet a BOLI vendor? Then consider utilizing the BOLI blog shout outs! For $50 we will include your brand name and day of experience with our members. Our blogs are a great way for couples to learn even more about you, as every article gets shared to our Facebook page for local brides to review and gush over. Whether you're answering frequently asked questions or highlighting a special moment another couple may wish to recreate, a simple blog post can help add a more personal touch to your brand and help you stand out amongst other vendors.
NOTE: This is included FREE with the vendor profile package.
Newsletter AD
$300
If it has to do with a bride's picture perfect, Pinterest worthy wedding day, we're marking that email as VERY important and moving it to the top of our inbox! When purchasing an ad in one of our monthly email Newsletters (sometimes twice a month!) your business is gaining exposure to thousands of local brides. As these newsletters go directly to our brides emails as well as our BOLI Facebook group. That's basically double the exposure!
Referral Program
Refer a vendor to us and receive a free vendor highlight, instagram post, instagram story post or a newsletter ad for free.
NOTE: The new vendor must sign up with a vendor profile to qualify.