Looking for a creative way to remember all of your guests? Here are some alternatives for a traditional guest book.
The great photos, the dried bouquet, and even the top tier of your delicious cake will all help you to remember the magic of your wedding day. But don't forget about your guest book! Seeing all the names and heartfelt messages from every person who walked through your venue's doors is a wonderful way to commemorate all the love that surrounded you.
While an actual book with signatures and handwritten notes is always nice, many brides look for a more creative approach to document their guest list. Here are a few innovative alternatives for a traditional guest book: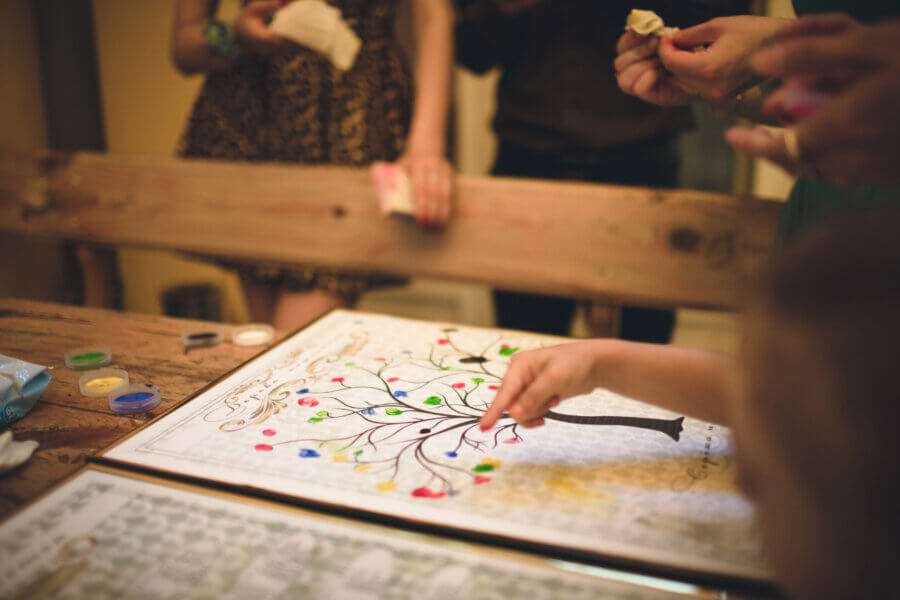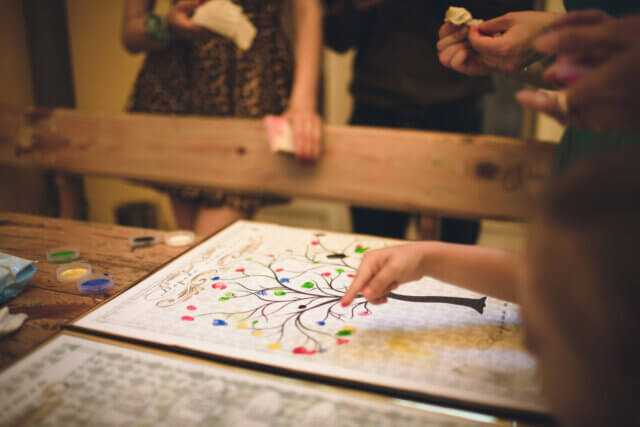 FINGERPRINT TREE
What's more personal than your fingerprint? Scroll on Etsy or other sites for a tree trunk and branches on canvas, and have your guests provide their thumbprints for the leaves. Just make sure the ink you provide is washable – you don't want your guests accidentally staining their dresses and suits!
POLAROID BOOK
Pick up a Instax, Polaroid, or disposable camera and let your guests go to town! You'll have a ton of interesting and hilarious shots that your regular photographer won't catch.
QUILT
Leave squares of fabric for your guests to sign, and then take them to a seamstress to have them made into a quilt. Sure, the fabric will keep you warm in those cold winter months, but the sentiments on the squares will leave you even warmer!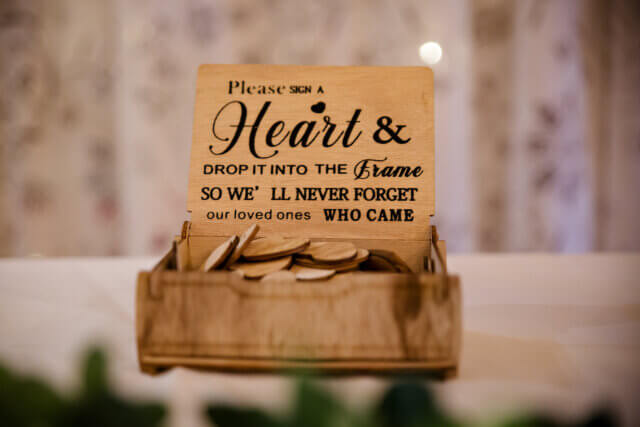 SHADOW BOX
Leave small pieces of paper for guests to write messages, and put those messages into a shadow box. It will make a perfect compliment to the ceremony pictures on your wall.
VINYL RECORDS
For the bride who loves music, consider having your guests sign a record of your favorite album. Or better yet – grab the 45 that has your first dance song on it!
SURF BOARDS
Going for a beachy theme? Pick up a longboard and attach a pen – remember your wedding with every wave you catch!
You can apply this idea to nearly any theme- signed baseballs for the bride who loves a Mets game, signed oars for the outdoor adventurers, planks of wood to match rustic decor, even pumpkins to celebrate the fall!
ACRYLIC SIGN
Grab a clear piece of acrylic, a few metallic pens, and have your guests sign away! You'll end up with another unique wall hanging to commemorate your beautiful day.
GLOBES
A great idea if you have a lot of out-of-town guests – they can sign in the spots that they traveled from! You can also get a blank globe and devote all the space to your guests' signatures.
VINTAGE TYPEWRITER
Perfect for your retro-themed wedding, find a typewriter and let your guests type up some messages of love and well-wishes. Create a book of all the pages for your coffee table!
AUDIO RECORDINGS
Who says guest books have to be visual? Leave an audio recording device at each table and have guests speak their words of encouragement. You may find those messages get even funnier as the night (and the drinks!) progress.