Yes, it's possible to get along for one day!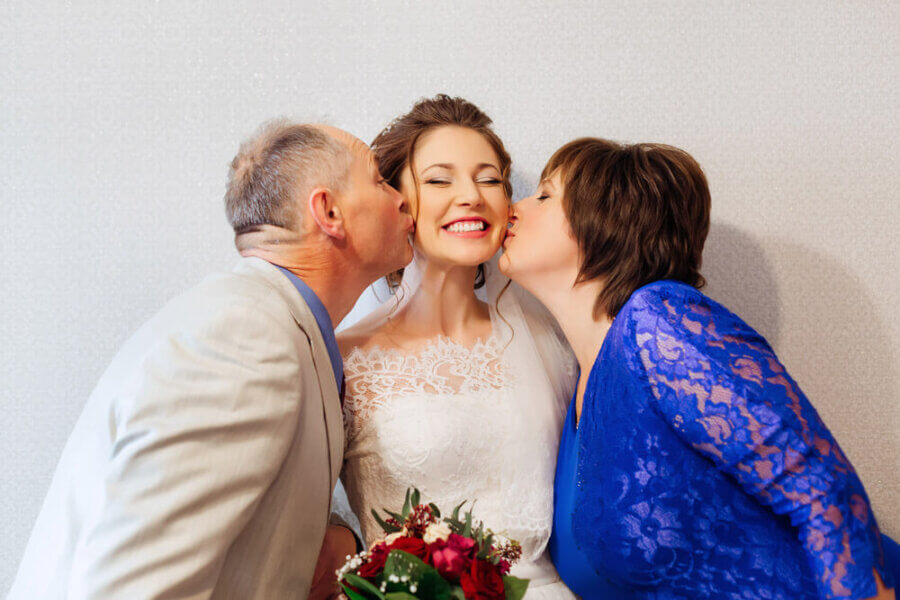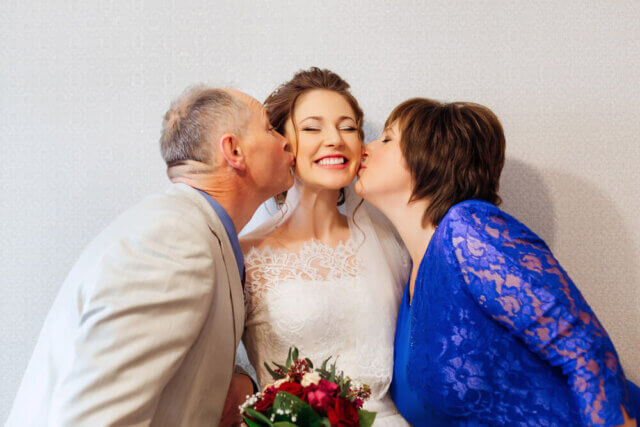 It's no easy task trying to please everyone and make sure your big day is one that you've always dreamed of. And if you throw in you or your future husband's divorced parents, it could be very stressful. There are endless scenarios and situations involving divorced parents and weddings. Your parents divorced for whatever reason. You may or may not have a relationship with both parents after the divorce. Maybe it was really messy. Maybe it still is messy. Maybe both have remarried and everyone is friendly.
Whatever the reason and whatever the situation, it's now your turn to get married, and there could be tension between your parents and/or step-parents or significant others. But it's important to ease this tension to the best of your ability. Here are a few tips that can help you ease that tension that is building between you and/or your parents.
Be cognizant of everyone's feelings.
At the very beginning, try to think of ways to include each parent and/or stepparent not only on the big day, but also throughout the planning process. If you've always dreamed of your father walking you down the aisle, but also love your stepfather, be honest with both of them. And figure out a way to highlight your relationship with your stepfather. Maybe have separate dances with them (or split up the father-daughter dance to save time). Or if your mother dreamed of getting ready with you the morning of your big day, find something special to do with your stepmother the day before or at the church or venue.
If they don't get along – try to keep them separate at wedding-related events. Be aware of how they feel around each other, and be respectful of their feelings.
Be the adult.
Yes, it's hard, but sometimes you have to be the adult if your parents can't see eye to eye. If either starts to talk about the other, try to keep the peace by saying something along the lines of "I understand your feelings about mom/dad, but this is my day. We're all adults, and I love you both, so I'd appreciate it if you could put these feelings aside for a little bit so we can enjoy the day."
Be clear about what YOU want.
Keep the lines of communication open and be clear in what you want and don't want. Set this tone early on in the planning process. If your father, who you don't have a great relationship with, wants to be a part of your big day, be clear early on about his role and how you would like to include him. If you are open and honest from the very beginning, there should be no surprises and no hurt feelings on your wedding day.
Enlist help.
If it's impossible to keep the peace, enlist help. If you have a favorite aunt or uncle that can talk some sense into your mother or father, call them up for advice. If it's the big day, and your parents are starting to make a scene, designate a friend or bridesmaid to be on the lookout and run interference.
No matter the situation, it is important to maintain your cool. Children of divorced parents can feel pressure from both sides, and both parents might even compete for affection and attention. But it's not about them. This is your big day. If you approach each situation with a clear, level head, you should be able to handle whatever your parents – or anyone else for that matter – throw your way.
Ultimately, everyone should be putting you first on your special day. But it's still important that no hurt feelings are involved with parents who love and support you. Just be open and honest with them along the way, and everything will work out.