Weddings are stressful enough. Here are some things you should not worry about.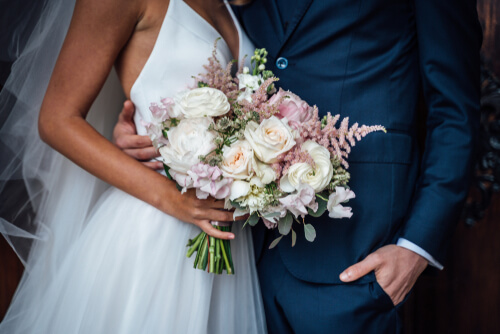 You hear them from your mother, your co-worker, or the well-intending lady down the street. As soon as that sparkler is placed on your finger, someone is whispering old wives' tales in your ear. It can be a bit much amidst wedding planning to worry about a spider on your dress, a sixpence in your shoe, or which day of the week will potentially bring you bad luck. So what's the deal with these superstitions? Today we're discussing the totally ridiculous ones that you can definitely forget about, and the few traditions that we still have a place in our hearts for.
Don't Wed on Friday the 13th
Superstition says that Friday the 13th is bad luck. Heck, there is even an entire horror franchise based on the date. Couples are often hesitant to choose the 13th of a month if it lands on a Friday for fear of dooming their marriage with bad luck.
Why It's Ok to Ditch This Superstition: The number one reason to not worry about choosing Friday the 13th is availability. Since this superstition is well known, many venues will have this date un-booked for longer periods of time. If you are a couple on a time crunch this may be the perfect opportunity for you to snag a date! You may also get a nice discount!
Not Seeing the Bride Before the Wedding
While the sentiment here is sweet, it's not always practical and you should not feel pressured to follow this tradition for fear of bad luck.
Why It's Ok to Ditch This Superstition: The magic of that first look between you and your about-to-be-spouse can still be captured without waiting for the walk down the aisle. Some photographers even suggest having a first look prior to the wedding to get a majority of your photos out of the way so that you have more time to enjoy your cocktail hour and reception with your guests!
Rain On Your Wedding Day
Those who think that rain on your wedding day is bad luck claim it is because it represents the number of tears the bride will shed during her marriage.
Why It's Ok to Ditch This Superstition: We can't change the weather. And if your special day happens to be a rainy one, there is no reason to worry that your marriage is going to be full of tear-filled days. Change the narrative here! Rain on your wedding day can also signify good luck. When a knot becomes wet, it's nearly impossible to untie. When it rains on your wedding day, your marriage is supposedly just as difficult to unravel! Also, you can get some breathtaking umbrella shots to cherish forever!
No Knives as Wedding Gifts
This wedding superstition states that receiving a knife as a wedding gift signifies a broken relationship.
Why It's Ok to Ditch This Superstition: I mean, who wouldn't want to receive a beautiful knife set as a gift? Don't be afraid to add your favorite to your wedding registry! If you are still superstitious about this one, however, a loophole has been developed! If a penny is given to the receiver of the knife, it becomes a purchase instead of a gift, therefore, overriding the bad luck!
Don't Wear Your Wedding Day Look Before the Wedding
This superstition suggests that it is unlucky if the bride tries on her dress and all of her accessories together prior to the big day.
Why It's Ok to Ditch This Superstition: This one is certainly not helpful when it comes to trying to nail down your perfect wedding day look. We say throw this superstition out the window and try everything on together. This way you can confidently know that you have found your perfect wedding day look!
Wedding Traditions We Are Happy to Keep
Something Old, Something New, Something Borrowed, Something Blue: We've all heard it many times before, but where does this tradition stem from? It derives from an Olde English Rhyme which names the four good-luck objects (plus a sixpence) a bride should include somewhere in her wedding dress or carry with her on her wedding day. While these items are not at all necessary to ensure a happy, healthy marriage, it is quite fun, and often meaningful, to gather these items and make them a part of your special day!
Carrying the Bride Over the Threshold: It is said that when a bride is carried over the threshold, the groom is putting a protective space between her and the floor, thus protecting her. We say keep this tradition alive if you so wish! It will be a great memory to have as one of your first moments married!
The Honeymoon: What's better than a vacation? A vacation meant just for you and your new spouse. The tradition of the honeymoon originates from the Scandinavian practice of drinking mead, or fermented honey, during the first month of marriage in order to improve the likelihood of conception. Of course, the meaning of the word honeymoon is entirely different these days. This is of course one of our favorite wedding traditions that we are pretty certain will be celebrated forever. So go on, book that dream vacation, and relax in wedded bliss!