Your mind is filled with so much on your wedding day, so it's important to try and be present to enjoy the day.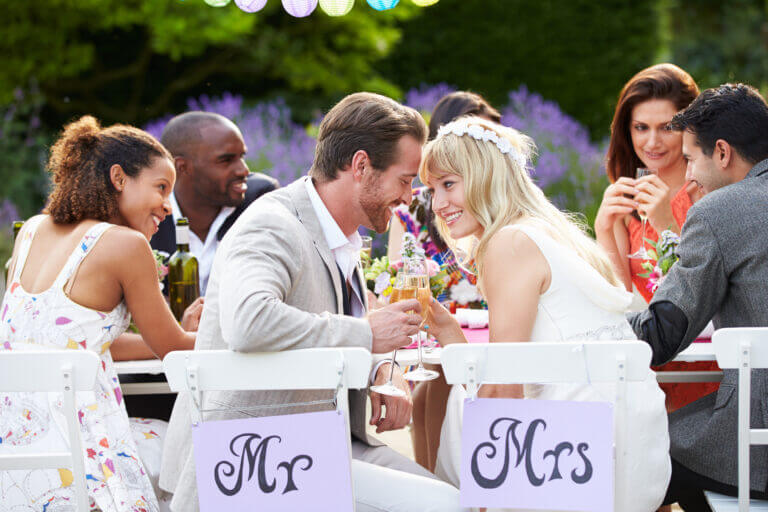 With all the planning and preparation that goes into a wedding, it's very common that we forget to actually enjoy the day. From worrying about the final details to remembering that you're marrying the love of your life, we often get wrapped up in a day that goes by so quickly. This is why it's important to be aware and present for the day. There are several ways you can do this. Here are eight tips for practicing mindfulness on your wedding day.
1 – Take Moments Throughout the Day
So many graduated brides will tell you that it's super important to take moments throughout the day to just take it all in. And yes, this can be hard. But talk to your future spouse, enlist the help of your bride tribe or family members and even let your bridal attendant know to remind you at several points during the day to look around and just be in the moment. Take in all of the love that surrounds you. Take mental pictures that will be ingrained in your memory for years to come.
2 – Put Your Phone Down
Yes, this means you! So many people will be taking photos and tagging you in their social media posts that you won't need your phone. In fact, leave it in the bridal suite for the day. No one is going to be calling or texting you because everyone will be at your wedding! Plus, you paid a lot of money for people to capture your day with photos and/or videos. Put the phone down and be present on your big day.
3 – Focus On Your Breathing
Your wedding day is nerve-wrecking. You're being whisked around. Talking to so many people. Remembering to get everything done that you wanted to do – from pictures to dancing and more. Take a minute and breathe. But really focus on your breathing. Head into your bridal suite and just take a few breaths. Once you really focus on your breathing, your body will calm down and you can focus on your surroundings and enjoying yourself.
MORE: I'm a Shy Bride – How Do I Handle Being the Center of Attention?
4 – Step Away From the Crowds
Your wedding day can be overwhelming to say the least. So many people want to take photos with you and say hello. They want to share in your joy with you. But sometimes, you may want to step away. And that's OK. That's why all venues have a bridal suite. But maybe you just want to get outside, or even head into the bathroom. Anywhere that's away from the crowd. Grab your new spouse if you want. Either way, these few minutes will allow you to reset and focus on the day.
5 – Be Aware of What's Going On Around You
Weddings are a whirlwind from the moment you wake up, to the moment you finally get home (or to a hotel room) with your new spouse. And similar to taking a moment to take in your surroundings, it's important to actually be aware of your surroundings. Sure, you can take that moment to just eat some food quickly or put on more lipstick, but you need to really soak it in. Realize that everything is there for you and your spouse. Everyone there just wants you to be happy and bask in your newlywed glow. So, when you take that moment, really focus on being aware of what is actually going on. It's OK, tissues are very close by.
6 – Love Yourself!
When practicing mindfulness, you need to remember to love yourself. And this is especially important when practicing mindfulness on your wedding day. So quickly, we can fall into self-doubts, worrying about what everyone else thinks. Get those thoughts out of your head. Look in the mirror and love yourself. Once you love yourself, everything else should fall into place.
MORE: 4 Things You Should Do The Night Before Your Wedding
7 – Connect With Your Guests – In Your Own Way
Yes, it's very important to greet your guests, say hello and thank them for coming. Figure out the best way to do that beforehand with your significant other. Then let your bridal attendant and maitre'd know ahead of time, so they can help you make it happen. But do it your own way. Some brides will tell you they went to their cocktail hour so they could enjoy it and mingle with guests early. This way, they had more time during the reception. Other brides will tell you they made a point to visit each table. You do you! You know yourself, and your guests, best.
8 – Stay Hydrated
With all of the running around, picture taking and dancing, you might forget to stay hydrated. And while you may want to have some adult cocktails, it's important to drink water throughout the whole day. Not only will the water keep you going, it will relax you, and help you to stay cool – literally and figuratively.
MORE: How 'Taking a Pause' Helped This BOLI Truly Remember Her Wedding Day
Whatever you do to practice mindfulness on your wedding day, just remember to stay calm and enjoy yourself. You've spent months making sure everything will be perfect – and it will be. So sit back, take a look around and remember, you got this!