Going from a venue to a backyard can be stressful, but these tips will help.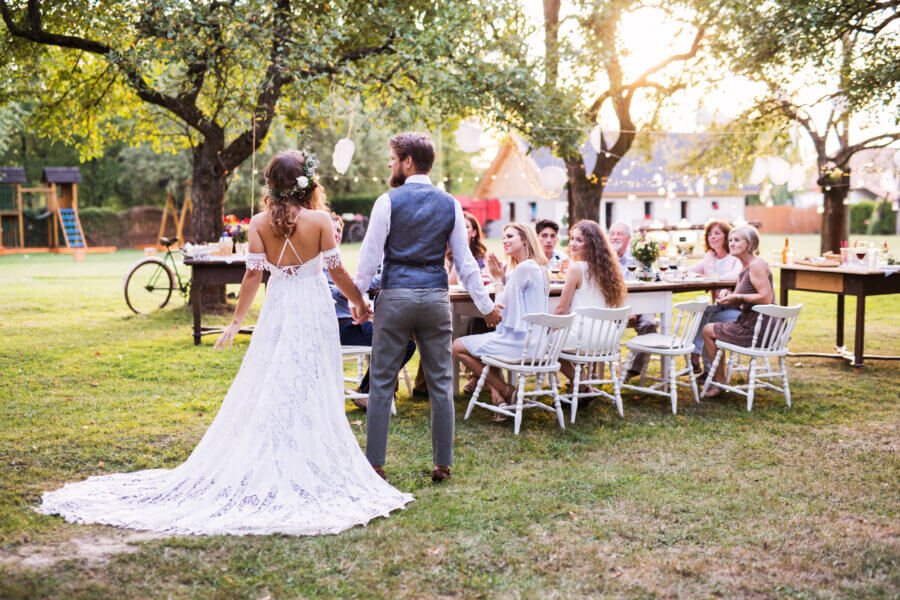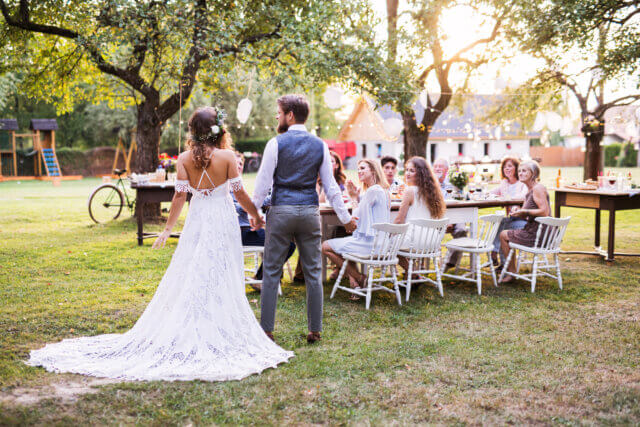 Let's face it – 2020 hasn't really been what you thought it would be when you planned the wedding of your dreams. Some of you might have changed dates several times this year, while others have pushed off to 2021 or 2022 – in the hope that restrictions will ease and we can get back to what we originally wanted. For those of you who don't want to wait any longer, there is always the option to throw a backyard wedding. Many BOLIs have been going this route, and most say they are happy they did.
*Editors Note: Check all contracts with venues and vendors to discuss options as far as canceling or postponing.
Here are some tips to help you plan a backyard wedding.
Pick a Location
You need to know approximately how many people will be attending, and while COVID-19 restrictions still apply – this might still be limited to a certain amount, so keep that in mind. Once you know how many people, then you can figure out a good location. For some, their own backyards are perfect. For others, they are opting for their parents or future in-laws' yards, or even a friend's. Whatever you decide, you want to make sure you can comfortably fit all of your guests, all while still social distancing.
Set a Date
Since everything will be outside – you'll want to take weather into consideration. For those looking for a 2020 wedding, remember that it's getting colder outside, so you might want to plan for sooner rather than later. But there are plenty of options to stay warm (we'll get into that later)! Figure out if you want to hold the wedding on your original date, or another date of significance. If you're using the same date, you might have an easier chance with vendors.
Find Your Vendors
As mentioned above, if you're still holding your original date, call your vendors to find out if they can change locations and timelines to the new plan. If it's a new date, ask the vendors you had originally booked to see if they are available for the new date. If you need to find new vendors, it's best to start looking sooner rather than later. Remember with vendors, you'll need more than just the typical photographer, florist and DJ. Think tent rentals, décor rentals, tables/chairs. Make sure to ask if they will be set up and taken down by whoever you hire, or if you'll have to do it yourself.
Set a Budget
Just as you set a budget for your original wedding at a venue, you'll want to set a budget for your backyard wedding. And you'll want to factor in any deposits that you may have lost on your original plans or any money you may need if you still plan to hold a bigger wedding in the future. Also, with a do-it-yourself backyard wedding, you'll be starting from a clean slate – so you'll need to budget everything from the bigger items like tents, tables and chairs to plates and silverware (Party City has great high-end plasticware that looks like the real thing!) Everything adds up quickly.
Assess Your Space
Before you start buying, reserving and renting items, really take a look at the space you'll be using and envision how you want the day to be. Where will the sweetheart table be? Will you be holding the ceremony in the same location? If so, how will that look, and how will guests transition from ceremony to reception space? Will you have a dance floor (if dancing is allowed)? Map it all out on paper of how everything would be laid out, and make sure everything you want will fit.
Hire Help
Yes. You will need help. Think of every party you've ever thrown. You were probably running around, making sure you fed everyone, cleaning up, etc. You do NOT want to be doing that on your wedding day. Think servers, bartenders, etc. For smaller parties, one or two servers should be good. And if you're not very organized by nature, hire a day of coordinator to help plan the timeline and keep you on schedule. Even though it will be a laid-back wedding in your yard, if you still want to have the signature wedding-day events like first reveal, photos, first dance, etc., you will need a timeline and you'll want to stick to it.
Food
Pick a place that does catering. Maybe it's a favorite local place you and your significant other frequent. Or even check with your original venue (if you had one) and see if they could cater food for you. And make sure you have enough. Check with whoever you choose and ask for their advice. They'll be able to guide you how much to order based on the size of the party. If you like to cook or bake, and have the time, then go for it!
Remember the 'Extras'
Some things you'll want to remember when planning.
Facilities – do you want people coming in and out of your house to use the restroom? If not, invest in renting Port O'Potties.
Parking – is there enough parking on your street? You may want to consider having a 'valet' or someone to park guests' cars so they don't have to walk far to get to your house. If street parking is limited or has restrictions, consider a nearby parking lot, just get permission.
Noise level – does your neighborhood have rules about music or noise after a certain hour? Keep that in mind when planning music or entertainment.
Heaters or fans? What time of year will it be? In the cooler or colder months, you will want to rent or buy heaters. In the warmer months, consider fans. You want your guests to be comfortable. Watch the weather – is rain the forecast? Make sure you have a backup or that the tents are able to be out in the rain.
Transportation – are you holding the ceremony in a different location? Make sure you have transportation planned to get you to and from where are you holding the reception.
Lighting – do you want lamps? Candles? Lanterns? Stringed up lights? If it's a night wedding, you'll want to make sure people can see around the yard.
Masks, sanitizer and signs – with COVID-19 still relevant, you will want to make sure you take the proper precautions to protect you and your guests. Offer masks in case guests forget them. Have hand sanitizer available throughout the yard. Make signs reminding guests to wear masks when walking around. And you'll want to make sure that tables and chairs are separate to allow people to stay socially distant.
Your backyard wedding can be as big or as small as you want it to be. You'll be starting from scratch, so the sky is really the limit with how you want to decorate and what you want the day to be. While the day might not be how you envisioned it, you will still be getting married and celebrating with the ones you love. And that's all that really matters in the end.