With Covid-19 changing the world as we know it, the wedding industry is adjusting to a new normal. Ceremonies are beginning to take place again, but in smaller, more intimate settings. Brides are adapting to the new rules by rethinking not only their wedding day theme, but also their bridal style. Three Long Island bridal Stylists give their take on trends for the fall in unprecedented times.
"I do feel like brides are starting to have mini weddings of around 50 guests with smaller venues… Backyard weddings are getting popular."  Tara Benish, Long Island Bridal Stylist and founder of Style by Tara
BOLI vendors The House of Makeup created a stunning look for just this type of bride.
"This was a backyard wedding. The bride wanted to use elements of the garden to influence her hair and makeup, creating a Boho Glam style.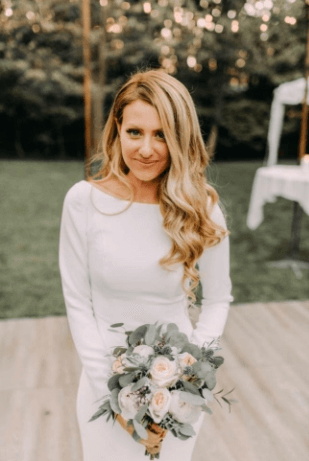 Alexis & Jack, Darien Maginn Photography
Hair:
We used 18 inch clip in extensions by The House of Makeup to create large, loose volume waves. We kept her hair moveable, but not messy.
Makeup:
We used earthy colors: Matte Teddy Bear brown, Nude, Ivory eyeshadows with soft fluttery mink lashes by The House of Makeup. She was airbrushed and highlighted for glowy skin.
Her gown was simplistic with a touch of glam in the back. The look came together wonderfully as she moved through her stylized garden.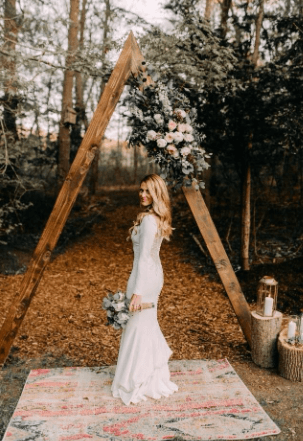 Alexis & Jack, Darien Maginn Photography
Many of our brides who had super glamorous weddings planned had to plan smaller events. This influenced many of them to try a different look, which I have noticed is more of a bohemian, romantic garden vibe. This also changed their makeup and hair styles for a much more relaxed, unfinished look. Many are asking for tousled waves, braids, and textured half up half down hair styles." Long Island Glam Squad, The House of Makeup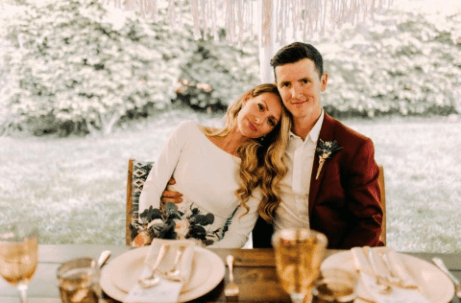 Alexis & Jack, Darien Maginn Photography
It seems like formal, traditional glamor may be out in favour of a more natural, soft, look. Ashley Glazer, of Ashley Glazer Bridal, creates the perfect combination of sophisticated elegance and rustic charm with this intricate style, below.
Photo by Ashley Glazer
Whatever your styling needs in these changing times, Long Island's talented and adaptable Bridal Stylists have got you covered!
Thanks to:
Tara Benish www.style-by-tara.com
Ashley Glazer www.ashleyglazerbridal.com
Darien Maginn Photography www.darienmaginnphotography.com/weddings
The House of Makeup www.thehouseofmakeup.com
Written by The Wedding Hair Company www.theweddinghaircompany.com