Dashing through the snow, making weddings bright! The winter holidays are a great time to check things off your planning to-do list.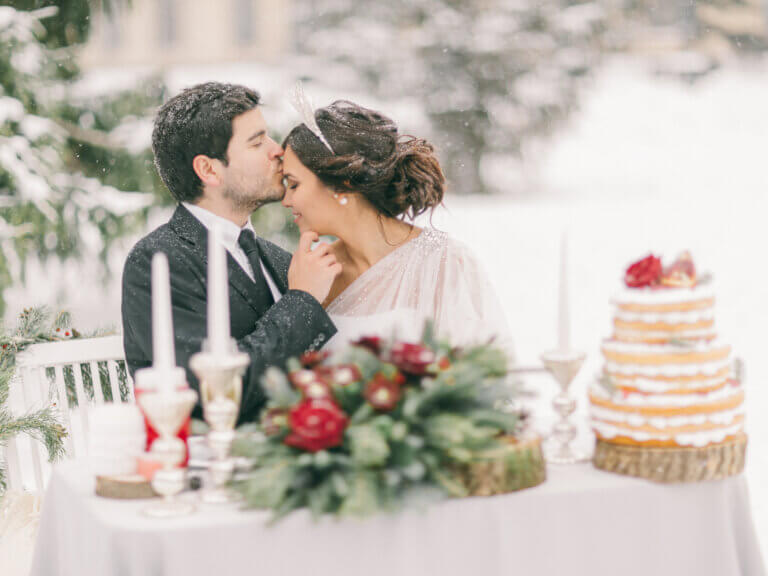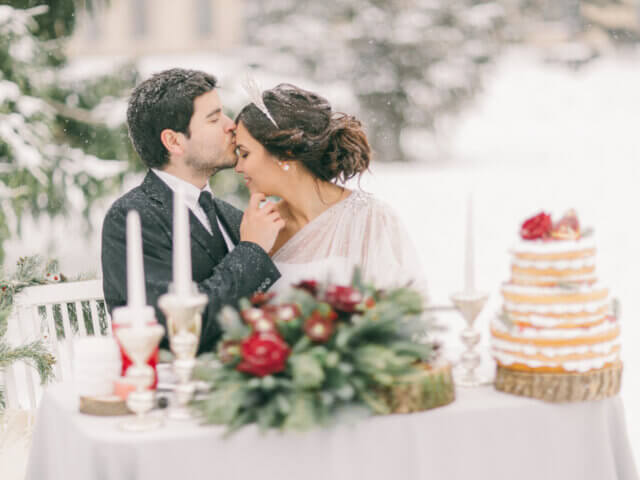 It's the most wonderful time of the year (except for your wedding day, of course)! The winter holiday season is a time to gather with family, devour some delicious treats, and defend your title as the best secret santa in the office. But it's also a great time to make some major moves on your wedding day to-do list. Here's how to best use the winter holidays for wedding planning!
Black Friday
The sale day to end all sale days is an awesome opportunity to pick up some pricey electronics, designer bags, and maybe even those Jimmy Choos you've had your eye on. But don't forget – you can also get some amazing deals on items for your wedding! From save-the-dates and invitations, to gifts for your parents and in-laws, to 10 silk robes all in the same color – shopping for your wedding on Black Friday can score you some huge discounts (and help to balance that all-important budget).
Other Post-Holiday Sales
Sure Black Friday gets most of the love, but the sales post-New Year's can also be pretty stellar. If you didn't find what you needed the first time around, keep your eyes peeled on January 1st. This is especially true if you're planning a winter or holiday themed wedding! Once all the bells have been jingled, craft stores like Michael's and A.C. Moore will be slashing prices on all of their holiday-themed items. That makes it a perfect time to snatch up some seasonal decor for your big day!
Time Out From Work = Time in For Planning
Depending on what you do for a living, you'll probably have at least a few days off from work for the holidays. After you've had your fill of latkes and dreidel games, bust out your planning notebook. A little free time is all you need to decide on your first dance song, make a day-of timeline for your bridesmaids, and compile a list of must-have shots for your photographer.
Opportunities for Inspiration
Okay, lots of holly and poinsettias might not work for a July wedding, but that doesn't mean you can't use the holidays to snag inspo for your big day. Patterns on gorgeous wrapping paper, that stunning silver centerpiece that your mom put together, and the decorative trim on your neighbor's Christmas card can give you some ideas for things like invitations, bouquets, favors, menus, and place cards.
Make it a Family Affair
Nothing says the holidays like lots of family time….lots and LOTS of family time. If your parents, siblings, or kids are looking for a break from hot cocoa and marathons of A Christmas Story, recruit them for wedding activities like putting together invitations or other DIY projects. Those elements of your wedding will be even more special knowing your loved ones were a part of the process!
Holiday Party Glam
A favorite BOLI trick is to plan your hair and make-up trials for the same day as your engagement shoot. But consider using this strategy for any holiday parties on your calendar! You can try several different artists AND show up to that office shindig looking fabulous.
Wish List
Your mom has asked you on three different occasions what you'd like for Hanukkah. Consider asking for planning items like notebooks, gift cards for stores you'll visit for decor, or even a few dollars for your wedding fund!