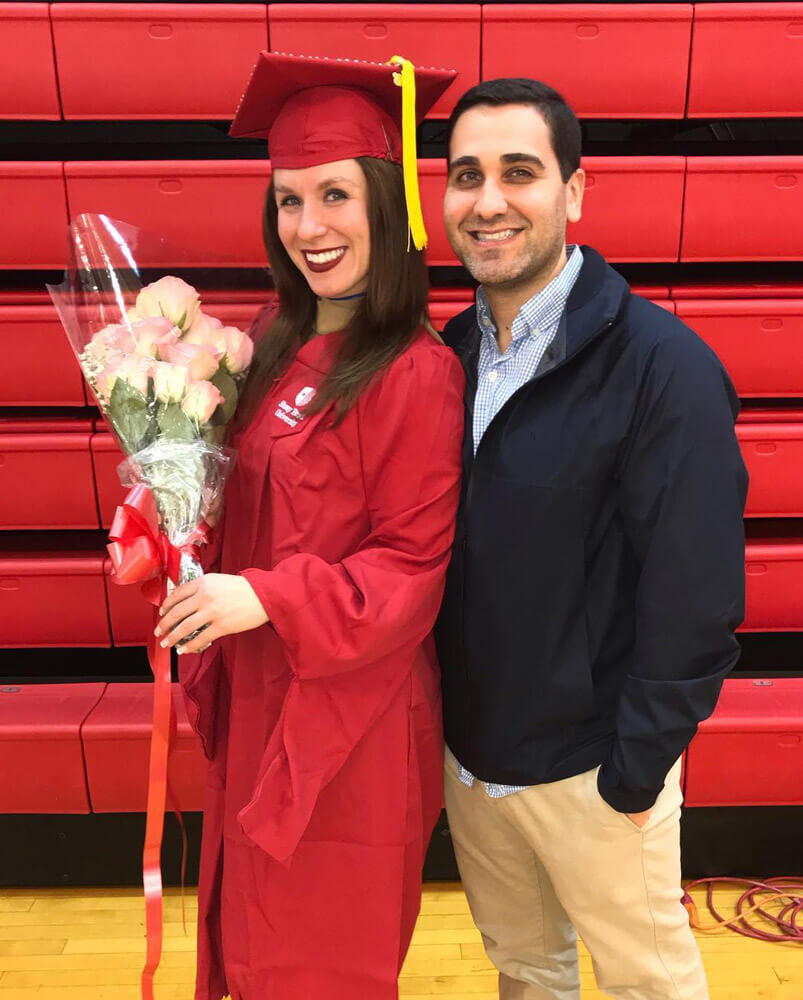 On December 21, 2018, I like to say that I graduated with my MBA and MRS degrees.
After 3.5 years of going to school part-time while working full-time, Mike and I headed to Stony Brook University to my graduation ceremony that morning, where I was being awarded my MBA in Marketing. The ceremony was great and everything I expected it to be, and I knew that the day was going to kick off Christmas week with a true bang.
When Mike and I returned home to relax for a few hours before a celebratory family dinner, I ran upstairs to change. All of a sudden, Mike yelled for me to come downstairs because our puppy, Zoe, had destroyed another one of my nice Christmas ornaments.
For context, for the entire month, Zoe would steal ornaments off of our tree while we weren't home, and we wound find them chewed up on the staircase. That being said, Mike calling me downstairs sounding alarmed wasn't out of the ordinary for me.
I came downstairs, and found Mike kneeling in front of the tree. Me, not realizing what was happening, kept looking for broken ornaments all over to the floor. Instead, I looked up, and found my dream engagement ring sitting beautifully on one of the tree's branches. I screamed with joy, and our Nest camera captured the entirety of the moment.
As an aside, when I went upstairs to change, I randomly grabbed a t-shirt from an Alzheimer's Association walk that we had attended with his family in remembrance of his grandmother a few years prior. I hadn't seen or wore the shirt in forever, and for some reason, it was sitting on the top of my drawer. That is the shirt I was wearing when Mike proposed, and I am convinced that it was his grandmother's way of celebrating with us from heaven, and a real sign of her approving of our engagement. It was a beautiful day that I will never forget, and now each Christmas will be extra special as I reminisce and look at our tree.
BOLI Member Stephanie