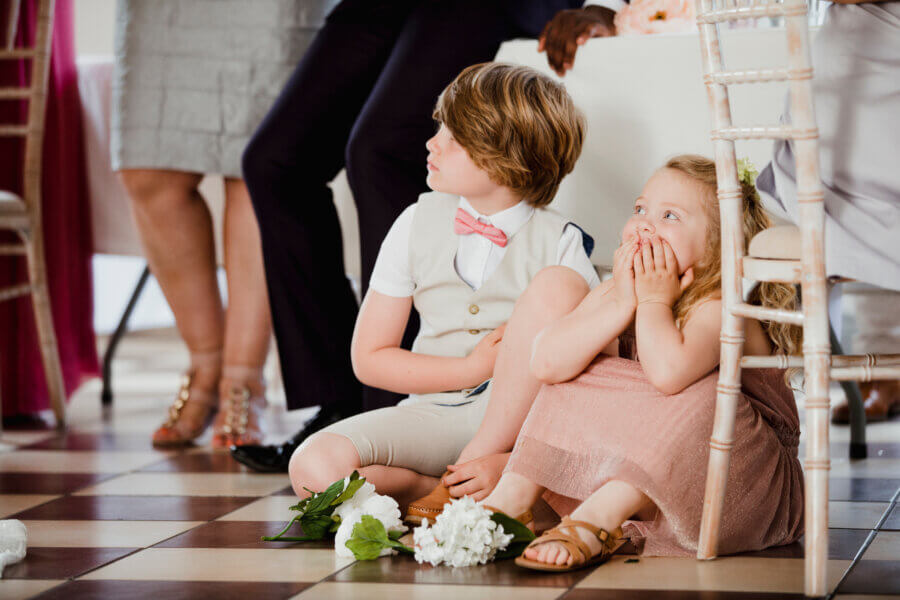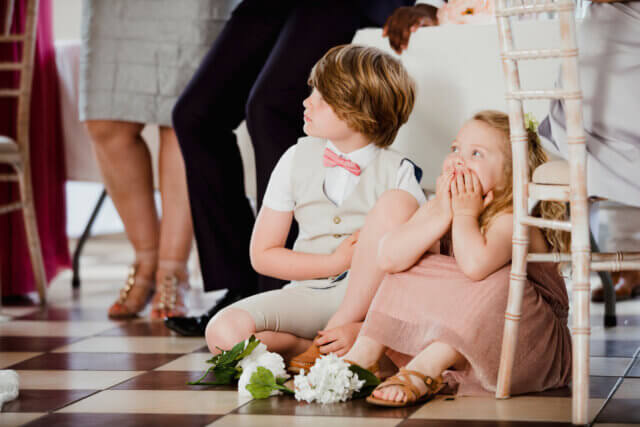 An "adults only" wedding day? Why you might experience a bit of push back.
It may be a day you've dreamed of for years (even before you met your fiance!), or you may have never thought about dress silhouettes, centerpieces, or first dance songs until your future spouse got down on one knee, but whatever the case – your upcoming wedding requires a lot of decisions.
As the bride, you (and your fiance) hold the reins – your wedding is a special day in your lives, and you'll want things to go according to your plans. But despite being in charge, you're sure to encounter a few people that will make their opinions known- even if it goes against what you want. Some decisions are easy to defend – Yes, this my color theme and I'm sticking to it; No, we're not going to do a garter toss because it makes me uncomfortable; Yes, we will be doing a first look because we really want to go to the cocktail hour.
Others require a little more sensitivity – like the decision to make your wedding "adults only."
Allowing (or not allowing) kids at your wedding is a touchy subject. On one hand, they can add adorable moments to your day as flower girls and ring bearers. They bring lots of laughter and joy when they cut a rug on the dance floor. Parents can save a few bucks by not having to hire a babysitter.
On the other hand…well…have you ever been around a toddler? Social etiquette is not exactly one of the first milestones. Kids may lack the awareness to know they need to be quiet during a reverent ceremony, or that running around the reception hall can be distracting and dangerous, or that the maid of honor's speech is not the best time to loudly declare that they need to use the potty.
It is completely up to you whether or not to include little ones on the guest list. There are benefits and drawbacks to both options. But it's possible that asking children to stay home may cause a bit of friction between you and the parents you're inviting. While some of your guests would look forward to a night out by themselves, others may take your decision to exclude children personally, and some may try to bargain with you and sneak their kids in afterall (especially if you've decided to include some close family or friends' kids in your day but not invite them en masse – "Your 3 year old nephew is the ring bearer, why would it matter if I brought my 4 year old daughter?").
There are a lot of conflicting thoughts when it comes to children and weddings – and you may very well hear all of them, depending on your wishes. You might even be tempted to just give in and allow them even though you would really much rather they stay home.
"But it's important to remember – this is your wedding. You make the decisions. And if you don't want children at your wedding, then there shouldn't be children at your wedding.
It's also important to act with empathy. Your guests who are parents might find it financially difficult to make it to your wedding, bring a nice gift, AND spring for expensive childcare. They might also be reluctant to leave their young ones with a sitter, especially if they have a child with special needs or a newborn. They may also want to share the experience of a loved one getting married with their kids, who are very important parts of their family. If you're approached by a guest questioning why you aren't allowing children, be honest and firm, but compassionate. If you're able, suggest sitters you've vetted or set up a childcare room at your hotel- give your guests options for attending while making sure their children are in good hands.
If recommended sitters or childcare rooms aren't viable options, accept the fact that some of your parent guests may choose not to attend. And that's okay! Parents have to make the best decisions for their children, and for a multitude of reasons, the best decision may be to skip your wedding. Again – act with empathy and express regret but understanding that they'll be there in spirit.
Whether your wedding will be an "over 18" affair or full of pitter-patter from tiny feet, trust in your decisions and soak in all the magic of your special day!