With these amazing online options, your gal pals can pick out their favorites without leaving home!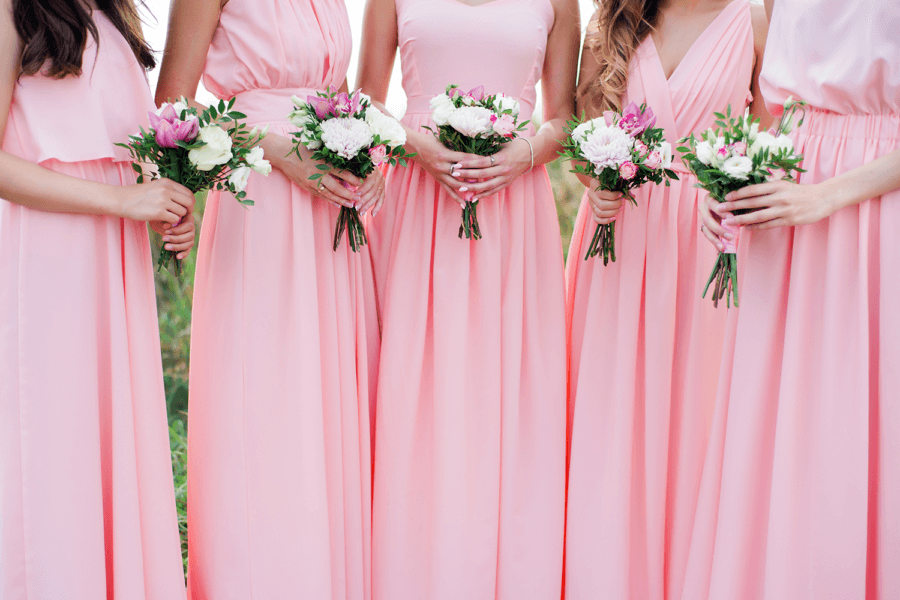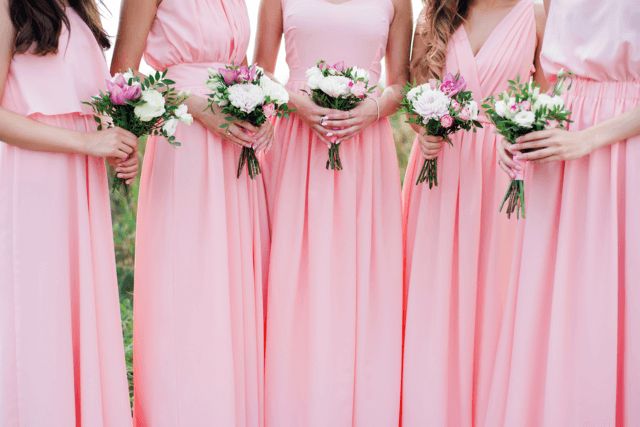 You've set the date, found the venue, and said "yes" to the dress! Now it's time to round up your bridal squad and decide on their wedding wardrobe. But with one bridesmaid in Long Beach, New York and another in Long Beach, California, getting everyone together for a group shopping trip might be close to impossible. No worries! There are a plethora of online stores that offer beautiful, high quality, and affordable dresses for everyone in your party. Here are a few BOLI favorites:
AZAZIE
If you search "Bridesmaid dresses" in the BOLI Facebook group, you'll undoubtedly find Azazie mentioned as a popular choice among many brides. And for good reason! With 70 color options, hundreds of styles, and free custom sizing, Azazie is sure to offer a dress that your girls will love. Trying to decide between a few options? For $10 a dress, Azazie will send you samples to try on at home with free shipping and returns. Go ahead – tell your girls to fill up their carts!
BIRDY GREY
It's no secret that being in a bridal party means spending some dough. If you'd rather have your girls save their pennies for the bachelorette instead of their wedding day attire, check out Birdy Grey. All bridesmaids dresses are only $99 and come in a variety of colors and sizes. Their popular Convertible style allows for one dress to be worn multiple ways, so each of your bridesmaids can really stand out!
REVELRY
Revelry believes "every bridesmaid should have easy access to dresses and separates that make them feel good." And with fabric choices like chiffon, sequins, and velvet (and sizes ranging from 0-32 in petite and tall) Revelry is sure to follow through on that belief! Even better, this online boutique is known for their incredibly responsive and kind customer service.
KENNEDY BLUE
Kennedy Blue is another great online store that offers gorgeous gowns at an affordable price! Their "Try At Home" option allows your gals to slip into a few favorites in the comfort of their own homes for a small fee. Signing up for their email list gets you a free color swatch to help decide your color palate!
DAVID'S BRIDAL
With locations across the country, David's Bridal is a great choice if you've got bridesmaids spread across different states. Take your local friends for a try-on party and snap some pics for the group chat. Your long distance ladies can order dresses directly from their website, or they can opt to find a close brick-and-mortar to try a few options in person. Plus, David's carries a multitude of different designers and has options for every budget!
BELLA BRIDESMAIDS
Showrooms? Expert Stylists? Yes, please! Bella Bridesmaids can connect you with a professional stylist for a personalized consultation AND set up a showroom with your girls' favorite choices from 36 designers, all virtually! Plus, with physical stores in most US states, your bridesmaids can opt to try on a few dresses in person if they'd like.
Open up that laptop, unlock that phone, and start shopping!