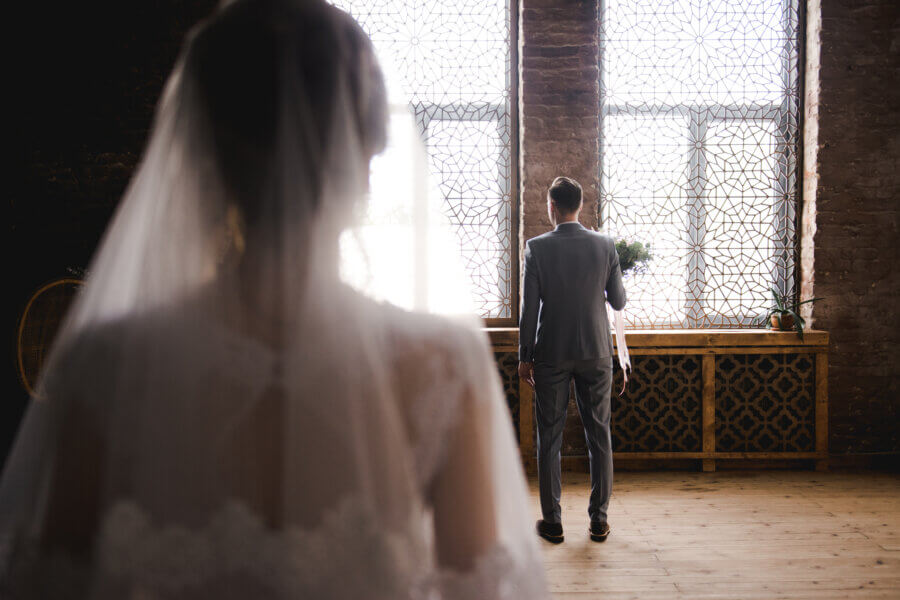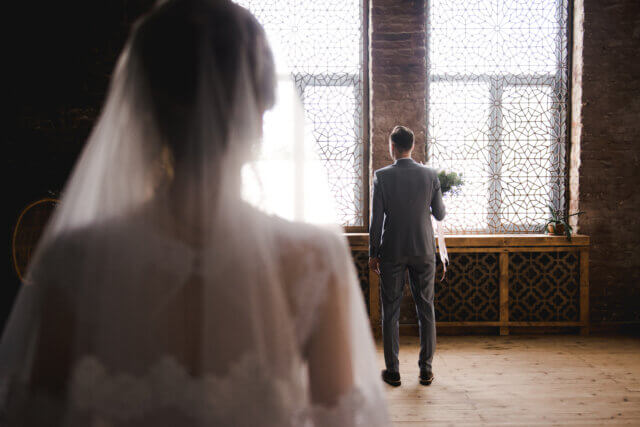 How do you want to see your future spouse for the first time on your wedding day?

With all of the decision making that goes into wedding planning, this one is a tough one. Do you go the traditional route of meeting at the altar? Or do you share a special moment between you and your significant other (and your photographer) for a first look before the ceremony? There are advantages and disadvantages to either option. In the end, you need to decide what is right for your and your big day. Below are some pros and cons of both scenarios to help you choose.
The First Look
The idea of a first look might shock your traditional parents and grandparents, but has been gaining popularity over the years. In fact, a majority of BOLI members choose this option. Some may even say the pros outweigh the cons in a first look.
Pros:
-Getting photos done! If you share that first look with your spouse, you can get the majority of your photos done before your ceremony begins. If your venue allows, you could even see if your family members can arrive early too, thus allowing more photos to get done before the ceremony.
-More time at the cocktail hour. By getting photos done early, this could give you and your significant other more time during your cocktail hour. This then allows you more time to mingle with your guests before the reception even begins.
-More time on the dance floor. Let's face it, you're probably spending a lot of money on your wedding. With the trickle down effect of getting those photos done early, you can spend more time out on the dance floor or spend even more time with your guests during the reception.
-Sharing an intimate moment. The best thing about the first look is that you choose how you want your future husband or wife to see you for the first time in your wedding dress. Do you want it to be an intimate moment between the two of you? Or do you want some of your family and closest friends there watching you? This moment gives you time to really soak each other in and be present by yourselves before saying your vows.
Cons:
-You see each other before the ceremony. Yes, this puts an end to the old tradition of not seeing the bride before her wedding. But let's be real, this is a different time from when your parents got married. Seeing your partner before you say your vows will not make or break your marriage.
-You get flack from your families. Again, with the tradition. Even if grandma doesn't vocalize her disappointment in you seeing your future spouse at the altar for the first time, you know deep down it may upset her. Just remember, this is your wedding and you need to do what's best for you.
-The 'wow' factor is gone. Some people may tell you that while the bride is the main event as she walks down the aisle, seeing her groom's face as he sees her for the first time is priceless. You may worry with a first look that you'll lose that 'wow' factor that may put a tear in his eye. If this is something you worry about, why not add a 'surprise' as your walk down the aisle. For example, leave the veil off for your first look, but put it on for your walk down the aisle to greet your groom at the altar.
Meeting at the Altar
As appealing as a first look may seem, there is something to be said about a traditional wedding where the bride and groom first see each other at the altar. The moment everyone rises as the bride walks in, but all you can focus on is seeing your future spouse at the altar because you've been separated all morning. Seeing that smile as he or she lights up seeing you is a moment you'll never forget.
Pros:
-Sharing that special moment with everyone. There is something to be said about keeping a tradition. Whether your guests know or not that you're seeing each other for the first time doesn't matter. You both know that you're sharing this special moment with them. And that in and of itself is special.
-The wow factor. Just as mentioned above, catching your spouse's eye for the first time as you walk down the aisle brings in that 'wow' factor. Just a different 'wow' factor from a first look.
Cons:
-You might miss your cocktail hour. While some may not feel rushed, others might. A photographer will probably get all of the just boys and just girl shots in, there are a bunch more, specifically with the two of you, that need to get taken. If there isn't enough time budgeted in, you might miss out on your cocktail hour. If this isn't a big deal for you, then don't sweat it.
-You're an ugly crier. If the thought of seeing your future spouse waiting for you at the end of the aisle brings tears to your eyes, you might be worried you'll be a hot mess before you greet him or her and say your vows. And while this may seem like a con to you, just know that no one is going to care!
-You're on display. Yes, it's your wedding day so everyone will be looking at you and celebrating you. But if you and your future spouse are more private people, having a first look gives you that privacy to share. Seeing each other at the altar for the first time allows everyone to share that moment that you might not want to share.
If you are still unsure of which route you want to choose, take some time to figure out what is most important. If you want to spend more time eating and out on the dance floor instead of taking photos, perhaps a first look is what will work best for you. But if you don't want to disappoint your family and you like the idea of tradition, then meeting him or her at the altar is perfect. Ultimately, only you and your partner can decide what is best for you. Just know that whatever you choose will be perfect!