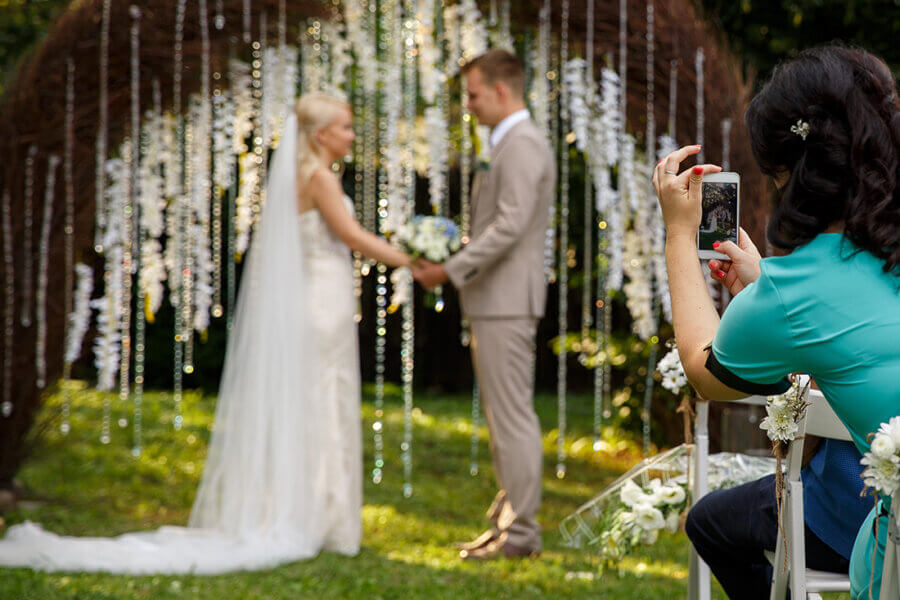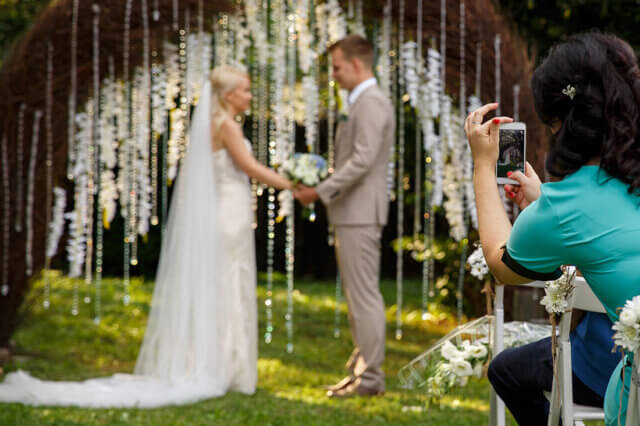 Why allowing guests to use their mobile devices is (and isn't) such a bad idea.
Smartphones have made our lives simultaneously easier (great selfies! Internet access anywhere! Order food without talking to anyone!) and harder (your boss thinks it's cool to text you about work at 10:30pm!). The same goes for how they fit into the puzzle of a wedding day. Obviously, our phones can catch some great action at the reception, all while utilizing a witty hashtag for the 'gram. That's the easy part. But what about during the quieter and more reverent ceremony? Should you encourage your guests to have their phones out, documenting everything about one of the most important moments of your life? Or should that part of your day be strictly "unplugged?" As with most choices we make in regards to our wedding, there are multiple advantages and disadvantages of ceremony cell phone usage. Here are a few to think about:
Pro: You've got full coverage! While many professional wedding photographers will arrive with an assistant, they won't have enough cameras or crew to set up shop across every row of your ceremony space. When you let your guests whip out their phones and snap away, it's like having a huge group of mini photographers at your disposal! They're ready to catch those small, beautiful moments your main photographer might miss (like when your ring bearer gives your flower girl a quick kiss on the cheek during the vows). They're also able to capture all the important parts of the ceremony at a variety of angles; you may have a stunning pro shot of your first married kiss, but you've also got it covered in a TON of pictures from your guests who sat in different places. Sounds like a great opportunity for a first kiss collage! Plus, you can take advantage of services like WeddingMix. Your guests can upload all of their photos and videos to a free app, and then for a small fee, WeddingMix edits it all together to make an amazing keepsake video.
Con: Your guests may get in the way of your photographer. Do a quick google search of "phones and weddings" and you'll see the evidence: a gorgeous bride walking down the aisle, upstaged by every mobile device you can think of (who brings a full sized tablet to a wedding anyway?!). If you allow guests to film the ceremony, your hired pro may have to compete with your aunt, your co-worker, your fiancés third cousin, and anyone else with the latest iPhone. The photographer could always ask guests blocking their shot to move, but time spent clearing a path is time NOT spent capturing your ceremony. And if they decide to shoot anyway, your guests' phones could end up front and center instead of you. Let's be real: when you're paying half the value of a Honda Civic for your professional shots, YOU should be the main focus.
Pro: Live Streaming for absent loved ones! The more technology advances, the more opportunities we have to connect to our friends and family no matter where in the world they are. For those that aren't able to attend your ceremony in person, our phones can allow them to be present through Skyping, FaceTiming, or live streaming on social media platforms. A hospital stay, prohibitively expensive travel, or an unexpected illness doesn't have to mean that someone special misses out on your day!
Con: The distraction factor. If you've ever sat next to a group of texting teens while catching the latest Idris Elba flick, you'll understand why Madonna makes all her concertgoers lock their phones in an inaccessible case. Phone usage during movies, concerts, and yes- weddings, not only takes the user out of the present but could also distract and annoy anyone sitting around them. Plus, an incoming call or text at a pivotal part of your ceremony could make things a bit awkward. (Why is Grandma's ringtone "Baby Got Back")?
Pro: Instant Gratification! It's the day after your wedding, so naturally you're refreshing Gmail every 30 seconds to see if your photographer has sent previews. But if you allow those at your ceremony to take as many pictures as they want, you'll see the highlights of your day as quickly as it takes to type a hashtag and upload to social media! It may take weeks to get your professional images, so the ability to instantly scroll through your guests' shots on Instagram and Facebook makes the waiting game a little easier.
Con: Little control over what gets shared. You love the pic of the groomsmen group high five, and that video of the string quartet's "Bridal Chorus" is beautiful. But the shot your uncle took of your walk down the aisle, the one where you're ugly crying with mascara and snot running down your face is… well…maybe not the image you wanted to share with the world. (Thank goodness your MOH had tissues). When you allow guests free rein to capture your ceremony, you may not be able to approve every single image or video before it's published. You could always ask that your least favorites be taken offline, but it's likely that at least a few people will have seen them by the time you do. Also, make sure you read through contracts with your venues, officiants, and other ceremony vendors- some have specific rules about what's allowed to be shared publicly.
So, what should you do? The decision is yours! Every wedding and every bride is beautifully different. Consider your ceremony and what's most important to you. Would smartphone usage enhance or distract from these elements? Whatever you decide, it will be the right choice for you and your day.