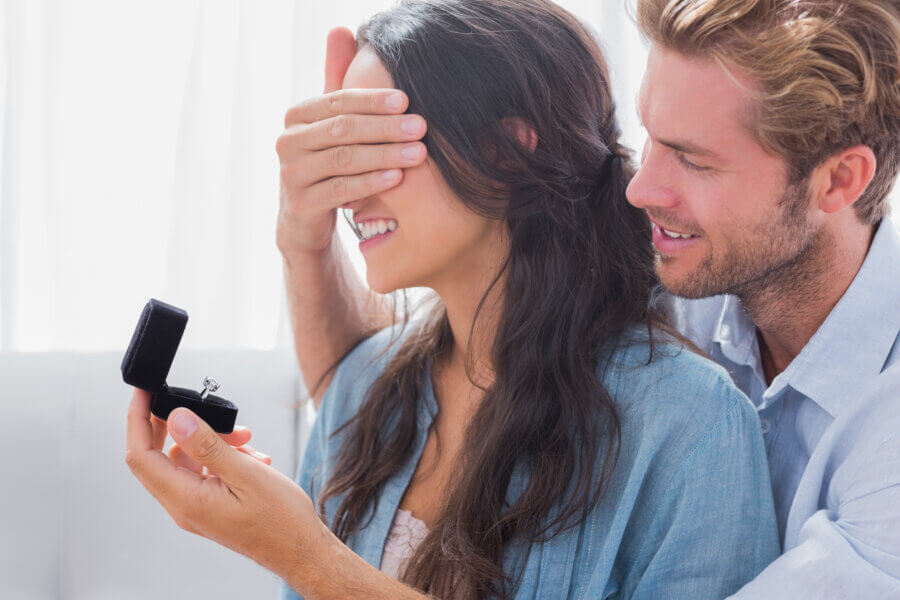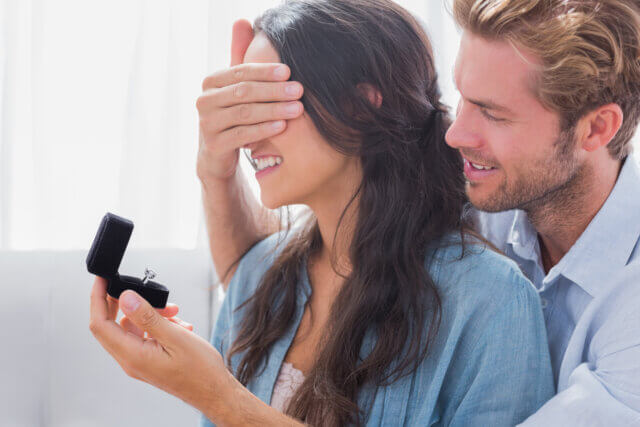 Too small? Not your style? Whatever the reason, these tips will help you take the next step.
This is it! The moment you've been waiting for. Your boyfriend, soon to be fiancé, is down on one knee. You just got a manicure. The lighting is right. The setting is perfect. And as he opens that ring box that you've been waiting for, your heart sinks a little. As you eagerly say yes and throw your arms around his neck, you can't help that sinking feeling that the ring is just not what you pictured.
That's OK! Do not feel bad. It's OK to have your opinion. And it's OK to express that opinion. Just wait to do it.
First thing's first, celebrate! Put your thoughts of not liking your ring aside. Enjoy this moment, it's something you won't get back. Drink champagne. Take photos. Envision your lives together. Wear the ring and admire it on your finger. Give it a couple days to get used to. Is it a ring that you can grow to love? Maybe there is a story behind it and how he got it that could be more meaningful than getting a new ring.  
If after a few days, you are still not in love with the ring, it's time to have a discussion with your fiancé.
Before you start the conversation, figure out what is that you don't like. Is it the cut of the diamond? Is it the band? Is it too gawdy? Or is it not big enough? Try to pinpoint what it is. One thing we would suggest is, if it's on the smaller size, and you were expecting a ring that would weigh down your hand, take into consideration how much your fiancé can or can't afford. If you know that the ring he got is all he could afford, we wouldn't advise telling him. You are marrying him, not the ring. You don't want to hurt his feelings that he couldn't afford a bigger ring.
Once you figure out exactly what it is that you're not over the moon about, find some quiet time between the two of you and discuss it. You know him, and you're comfortable with him. So, while this may be a difficult conversation, it's best to be honest and direct. Let him know that you're thrilled to be marrying him, but you don't want to keep secrets and hope he understands. Explain that the design of the ring is something you've dreaming of for years and see if there's a way to meet in the middle.
Can you return or exchange it for a completely different ring? Is that something both you and he are comfortable with? Or maybe you can modify the stone setting? If the ring is a family heirloom (either yours or his), perhaps you can keep the stone but change the band. Remember to keep his budget in mind, and make choosing or designing a new ring something you two do together.
If, ultimately, you decide you can't break his heart because he's so proud of the ring he picked especially for you. There are some other things you can do. When it comes time to choose your wedding bands, pick one that you love that can dress up your engagement ring. Perhaps turning it into the perfect ring. On one of your anniversaries, suggest upgrading or getting a new engagement ring. If you get a new one, wear the other as a necklace or keep it for your children. Or maybe just use the diamond in a different ring that you design together – just years later when you're happily married.
Whatever you decide to do, remember you're marrying the man of your dreams. While the ring does symbolize his love for you, it doesn't define you. And it shouldn't get in the way of the wedding planning and your future together.