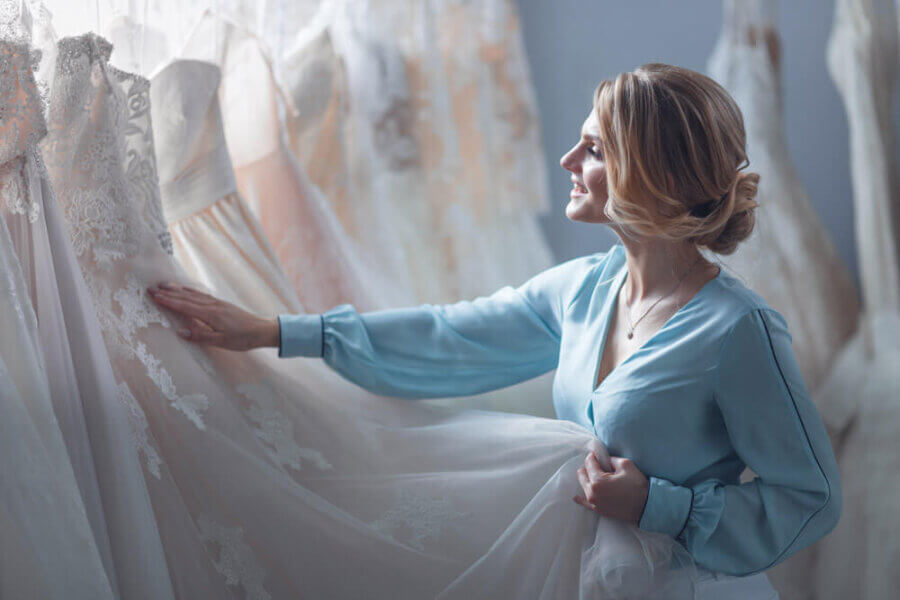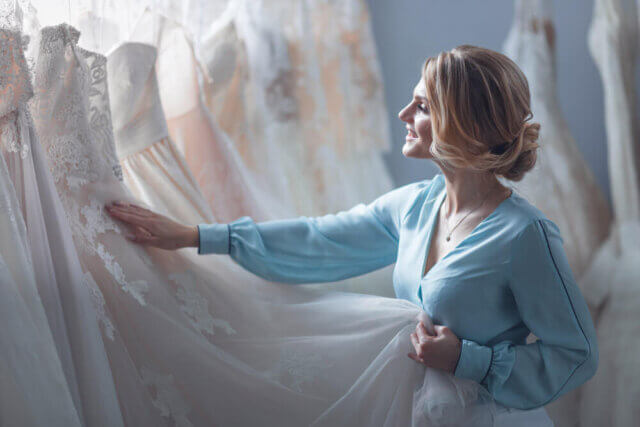 Truth is, every bride feels something different
Whether you dreamed of the moment since you were a little girl, or only began envisioning yourself in a wedding dress after you got engaged, finding the perfect gown to walk down the aisle in is one of the most important to-do's to check off any bride-to-be's wedding planning checklist. For some, years of Pinterest boards full of wedding dresses, and a head full of expectations after watching countless episodes of Say Yes to the Dress can be more overwhelming than helpful. How will you know when it's "the one"? What feeling will you have? The answer is that every bride-to-be is different, so there is no one definitive answer.
Saying Yes
If you spend months looking for the perfect gown, or only browse the racks at a handful of bridal shops, you will quickly come to realize that there are a ton of options out there. Even if you went in with a camera roll full of screenshots or ripped pages from magazines, the style you envision doesn't always give you butterflies when you try it on like you anticipated it would. So you try on other styles, a different silhouette, or a different fabric. Before you know it you are confused and stressed over which gown is the best for you.
But then you find one that makes you slow down. This one feels different from the rest and you realize this as soon as your consultant zips it up or clips it into place. Yes, this one definitely has you feeling different. You are eager to get out of the dressing room and show your entourage, and your heart skips a beat when you hear them gasp. This one is different for them, too. You begin to envision your wedding day and can totally see this one as the dress you wear. You can picture yourself walking down the aisle with all eyes on you. Your consultant can see the smile on your face and asks if you would like to try on a veil. You do. You really do. The veil is placed atop your head and suddenly you feel like you have fallen in love all over again. You love it even if it's not what you thought it would be. You think of your fiancé and what his or her reaction will be. A few tears fall from your eyes. You don't want to take it off. You decide that this is "the one."
The "Aha" Moment
While some brides find their dress and feel confident in their choice, that is not always the case for every girl. There is a myth that all brides-to-be should be wary of: That you will "know when you know" or that you will instantly burst into tears when you find the dress. It is more common than you may think to not have that "aha" moment at all. When you begin your wedding dress search, it is important to keep in the back of your mind that you can't always rely on a "feeling." For some, the "feeling" comes after their dress is already purchased, and it is only then that they become emotionally attached to it.
But even still, we live in a day-in-age where comparing ourselves to others comes almost as naturally as breathing. It is so easy for us to open Instagram and see tons of other brides in their gowns and wonder if ours is good enough. Did we make the right choice? We see a Facebook album of an old friend from high school who just got married and convince ourselves that we should have gotten a dress that looks like hers. We see a post from one of the many bridal designers we follow that showcases a new design and decide that our dress just doesn't do it for us anymore. We scroll and scroll and obsess until our heads start to hurt.
It is at this moment that it is important to remember a simple truth. Your wedding day is going to be the most magical day of your life, regardless of the dress you wear. Remember that you said yes for a reason. Don't allow self-doubt so overshadow your best day ever. You will see the look in your fiancé's eyes as you walk down the aisle and you will feel like the most beautiful girl in the room- because you will be. You will look back for years to come on photos of the dress that you became a wife in and smile. So, whether you knew in an instant or it took some time, rest assured that you made the best decision and that you are going to rock that gown!