All indoor venues and businesses will no longer have to require masks or proof of vaccination.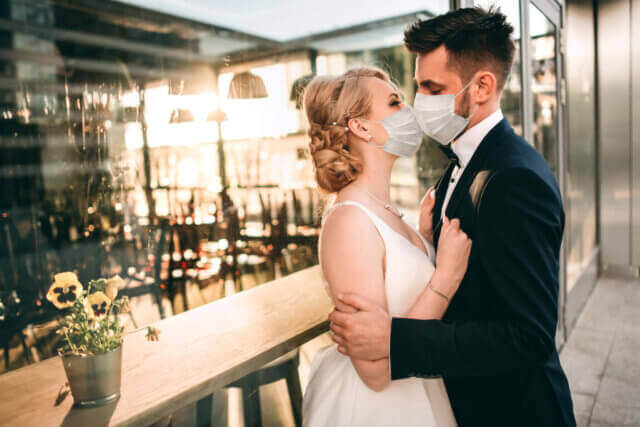 Brides, and vendors alike, are rejoicing across Long Island right now! New York State is lifting the mask mandate for all indoor public venues and businesses as of Feb. 10, 2022. In addition, venues will no longer have to require proof of vaccination for guests.
What does this mean for the Brides of Long Island? Lots of smiling faces in photos. No more scrambling to get guests' vaccination status. And most importantly, one less thing to stress about during wedding planning.
It should be noted though, that it is up to businesses to decide now. So, check with your venue and vendors while planning and booking to make sure that they don't require any special health protocols on your big day.
Editor's Note: Below is more information about the mask mandate that had been implemented in December 2021.
What Is the Mask Mandate?
New York Gov. Kathy Hochul implemented the mask mandate again back in December 2021. This mandate stated masks need to be worn at all indoor public places unless a business or venue has a vaccine requirement.
When Does It Expire?
The mandate was issued through Jan 15, 2022, but was extended twice through February. It is currently ending on Feb. 10, 2022.
What Does This Mean For Weddings?
For brides, this means that masks need to be worn at your wedding venues and churches unless they have a vaccine requirement or check for guests.
What Is This Talk of Court Cases?
Toward the end of January, a Supreme Court judge struck down the mask mandate, saying the governor didn't have the authority to issue it without state Legislature approval.
On Jan. 31, the New York Appellate Court upheld the mandate, granting a stay through March 2.
So, Masks Are Required Through March?
As of now, no. The stay just means the mandate *could* be in place through March 2, unless a court hearing overturns it or the governor chooses to end it.
However, the governor has said she will reevaluate the mandate every two weeks, which means she could, theoretically, extend it through March 2.
Now, unfortunately, like most things with COVID-19, it's a waiting game to see if masks or vaccine requirements will be needed at your wedding. Remember to take a breath and know that your wedding day is going to be beautiful and amazing, just like you! The Brides of Long Island family is here for you! You got this!