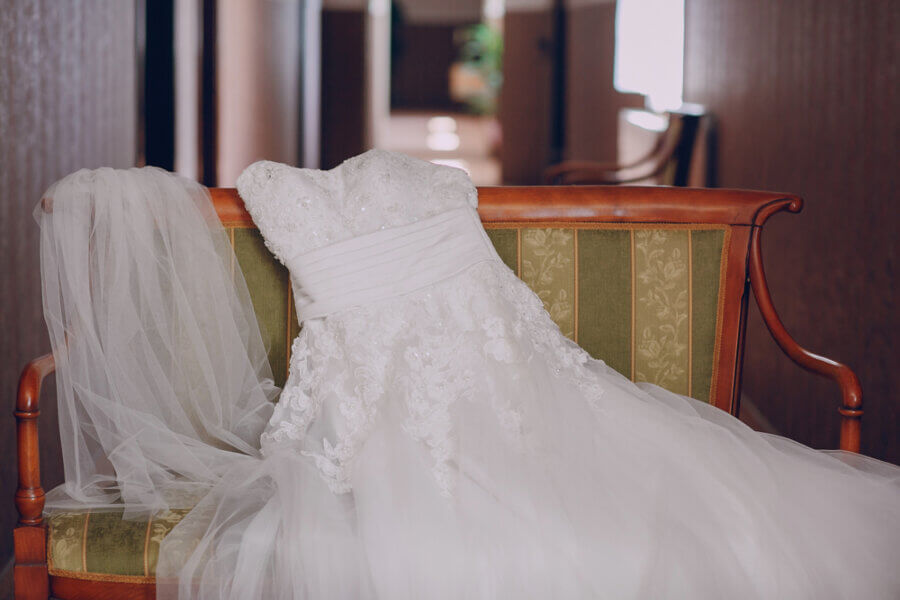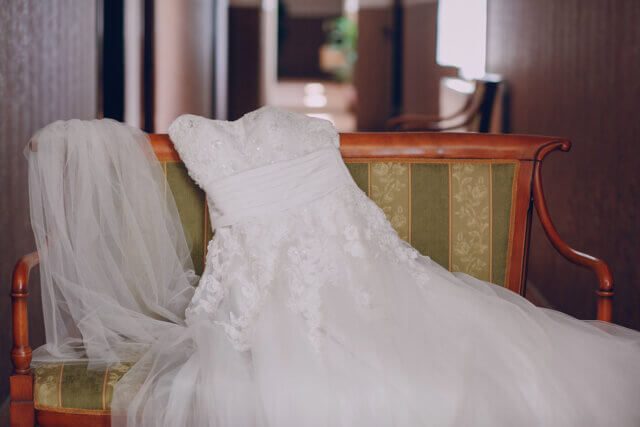 BOLI members vent the frustrations of trying to gown shop while quarantined, and tips and tricks for storing your dress for a longer than expected wait.
The COVID-19 pandemic has forced countless Brides of Long Island to postpone their long awaited weddings. Vendors get rebooked, "save the new date" cards get sent out, hotel blocks get cancelled.
But what about your gown? If you have it, what do you do with it while you wait? And if you don't, how do you get one in a post-quarantine world?
"My dress is currently MIA," says BOLI Maura Trinder. "It was being altered after my first fitting, I had my second fitting scheduled, and that's when the store closed and is still closed. I have to eventually pick it up, bring it home, and go for my second fitting a year from now, closer to our new date. Hope my body doesn't change drastically before then!"
Many Brides of Long Island question what dress shopping will be like once stores are allowed to reopen. For BOLI Breanna Dennison, whose wedding is scheduled for October of this year, it's hard not to get discouraged. "The virtual appointments are helpful, but this pandemic has essentially put a stop to shopping for my perfect dress." BOLI Danyelle Lieneck agrees. "I have had to reschedule my appointment once and now I'm working on the second rescheduling," she says. "I paid for the appointment so I could have my mom, grandma, and all my aunts there and make it a special experience for all of us. I wanted that moment, and I don't think I will get it without everyone being in hazmat suits. I don't want to do a virtual appointment. I just want to be able to enjoy this one thing I was looking so forward to." BOLI Ashley Hurd remains hopeful while she waits. "'I'm trying to stay positive in hopes I can get my dream gown — although there's a chance I may have to settle with whatever I can get my hands on."
Some brides were able to pick up their gowns before New York mandated that all non-essential business be closed, but were then forced to move their weddings to dates that are months or more away. So what happens if you've got the dress at home and are looking at another year before you zip it up? Gina La Gala of Sayville Bridal lists the following recommendations for keeping your gown picture perfect while you begin your new countdown:
Keep your wedding gown in a breathable garment bag. Make sure it doesn't bunch up at the bottom.
Avoid storing your dress in direct sunlight
Keep your dress out of your attic!
Also, keep it out from under your bed!
Your best bet for long term storage is in your closet. Make sure your fur babies can't get to it!
Make sure hanger straps are supporting the majority of your gown's weight.
Tracy Gardell of Bridal Suite of Centereach also suggests a breathable zipper bag in a cool, dry place. She also adds, "do not keep your dress in a plastic bin, it will capture moisture in it which will make the gown change color." And, again, make sure you keep your gown in a place where beloved pets won't be tempted to explore. "Keep all animals away, especially cats. They love the crinoline in the gowns."
"You also can choose to get your gown preserved," says Kristina Scotto of Bridal Reflections. "Bridal Reflections is able to ship a preservation kit directly to your doorstep. Inside the preservation kit will be everything you need to ship your gown directly to the facility."
If you're worried about your gown's fit between now and your new date, and would like to try it on to make sure it doesn't need further alterations, La Gala suggests opening your garment bag with your finger behind the zipper, pulling away from your gown to avoid snagging. And, as always, make sure you avoid using make-up or self-tanner before slipping on your gown.
If you do need additional alterations between now and your new "I do," don't panic. "We can do alterations the week of the wedding, we do all of our alterations in house," says Gardell of Bridal Suite of Centereach. "The normal time frame would be 4 to 6 weeks before the wedding. But if anyone needs alterations we would be more than happy to help them."
If your date is postponed until 2021, La Gala suggests sitting tight. "For girls that are postponing to 2021, don't start alterations until next year," she says. "It depends on the seamstress and the bride's schedule, and how much work needs to be done, but I know some seamstresses that only need 2 weeks before their wedding date."
So tuck away your perfect dress in the back of your closet and let it rest there until your new date rolls around. It will be just as beautiful as the day you took it home!