Brides of Long Island founder Heather Cunningham and Admin Simone McCrorey celebrated their birthdays with a dash of creativity at a perfect spot for any Long Island bachelorette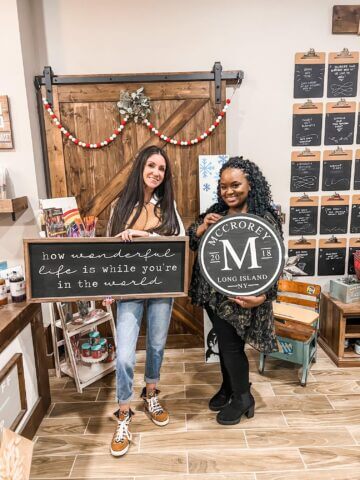 Is there anything better than having a birthday close to one of your besties? These familiar BOLI faces don't think so! Founder Heather Cunningham (January 1) and Admin Simone McCrorey (January 3) blew out their candles together at AR Workshop Patchogue, surrounded by good friends, great food, and a lot of fun.
What is AR Workshop Patchogue? "We're a DIY workshop, we offer DIY classes for groups or individuals," said owner Liz Rongo. "We do wood projects, chunky knit blankets, pillows, gnomes…We always have fun stuff going on!"
For Heather and Simone's celebration, each guest pre-selected their own wooden project to create – ranging from plank signs, round signs, framed signs, and photo display boards. Upon arrival, everyone found their labeled projects and began the fun tasks of priming their wooden pieces, "weeding" their stencils, and selecting colors of paint to use in their projects.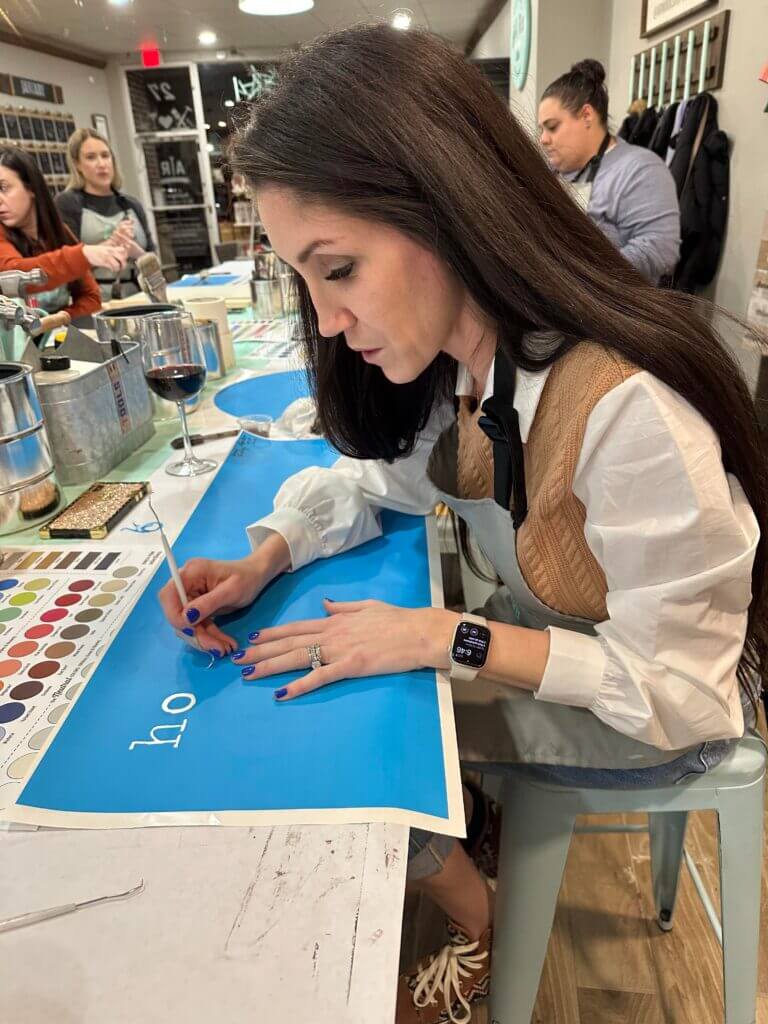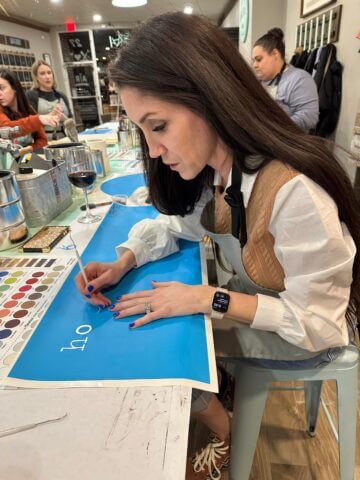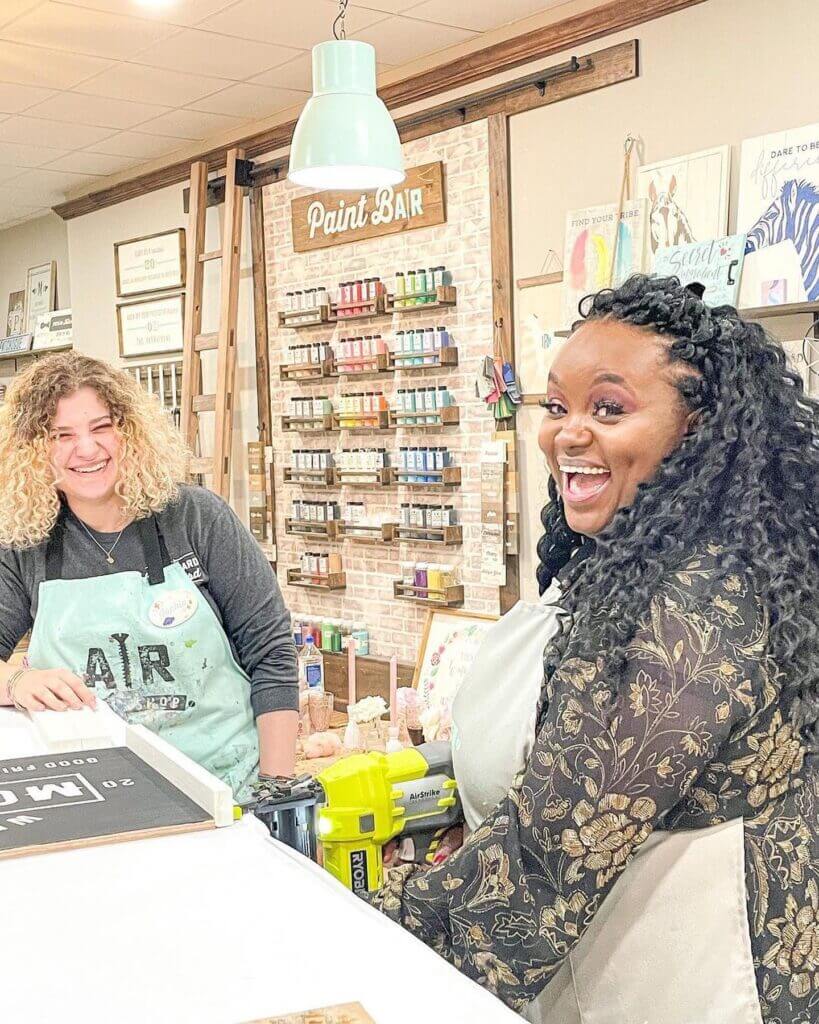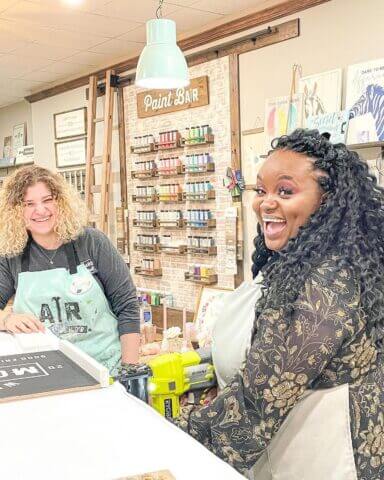 "I had such a great time with the girls at AR Workshop," Heather raved. "It was so fun doing something other than a typical dinner 'girls night out.'"
Simone agreed. "I've never done anything like it and it was the perfect way to celebrate our birthdays," she said. "The staff is spectacular and did a great job of going step-by-step, guiding you through your creation. I'm not creative at all, and they made me feel confident in what I was doing."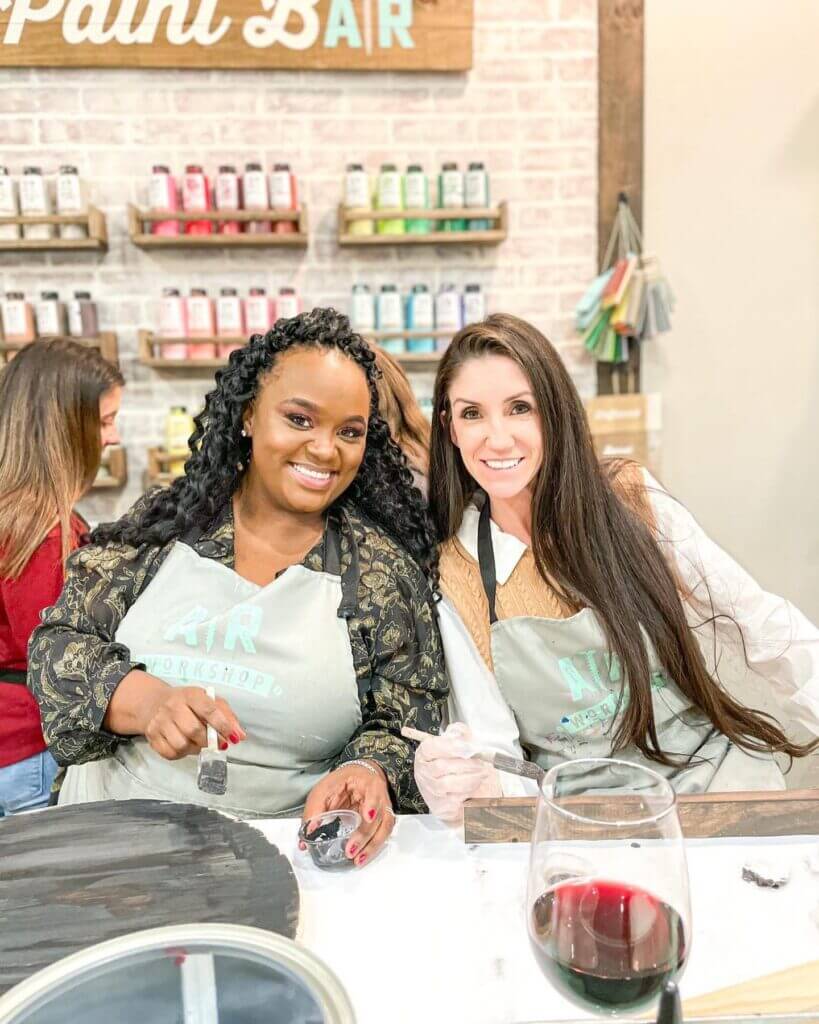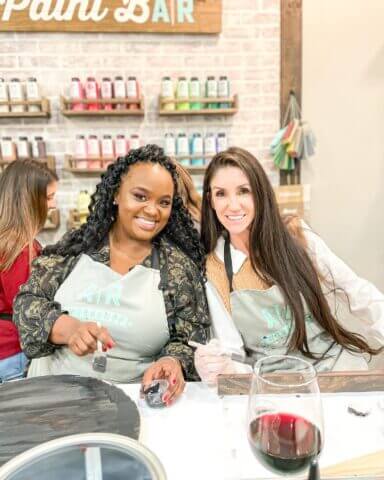 Of course, the night wasn't just spent getting the creative juices flowing. Heather and Simone's party guests were treated to an impeccably detailed picnic table set up from Long Island Lux Picnic (a BOLI Preferred Vendor) with gorgeous floral arrangements by Kristin Abby Studio, a delicious dinner provided by Giovanni's, and adorably personalized cookies from EMS Custom Cookies. And let's not forget the grand finale: a beautiful and delectable two-tiered birthday cake from Campbell's Bakery (a BOLI Preferred Vendor).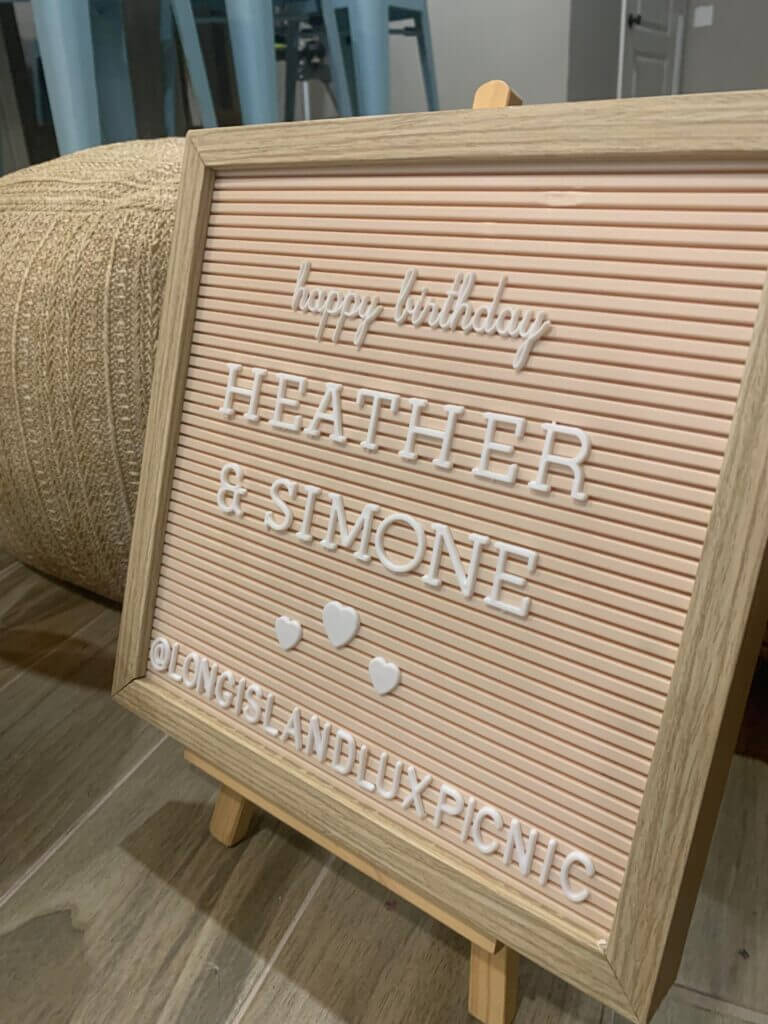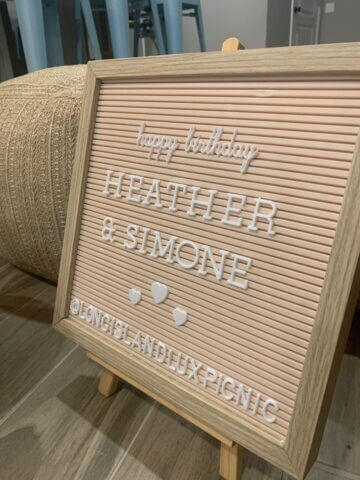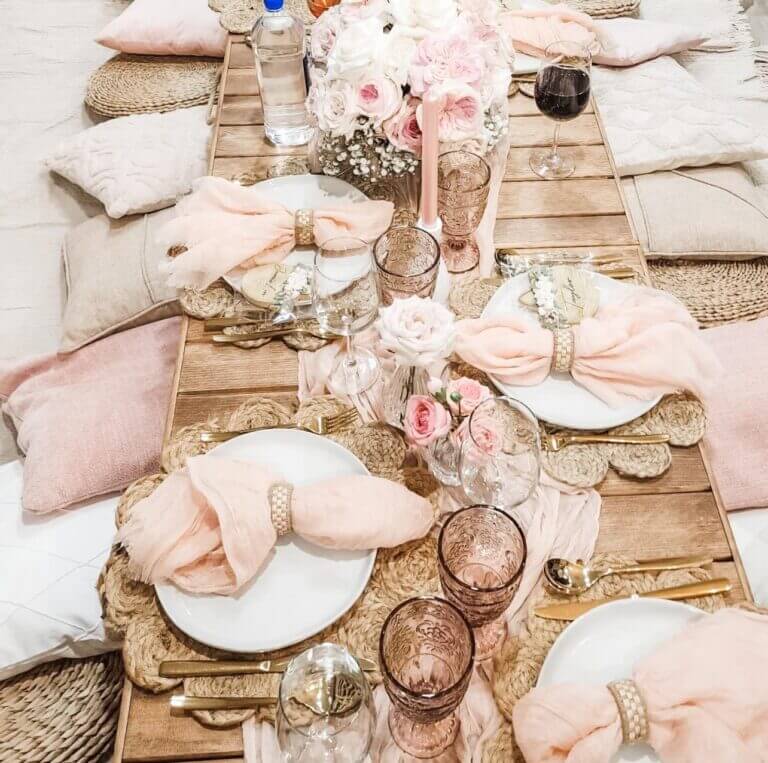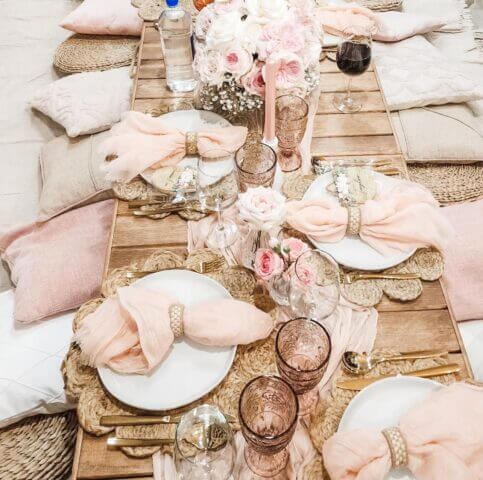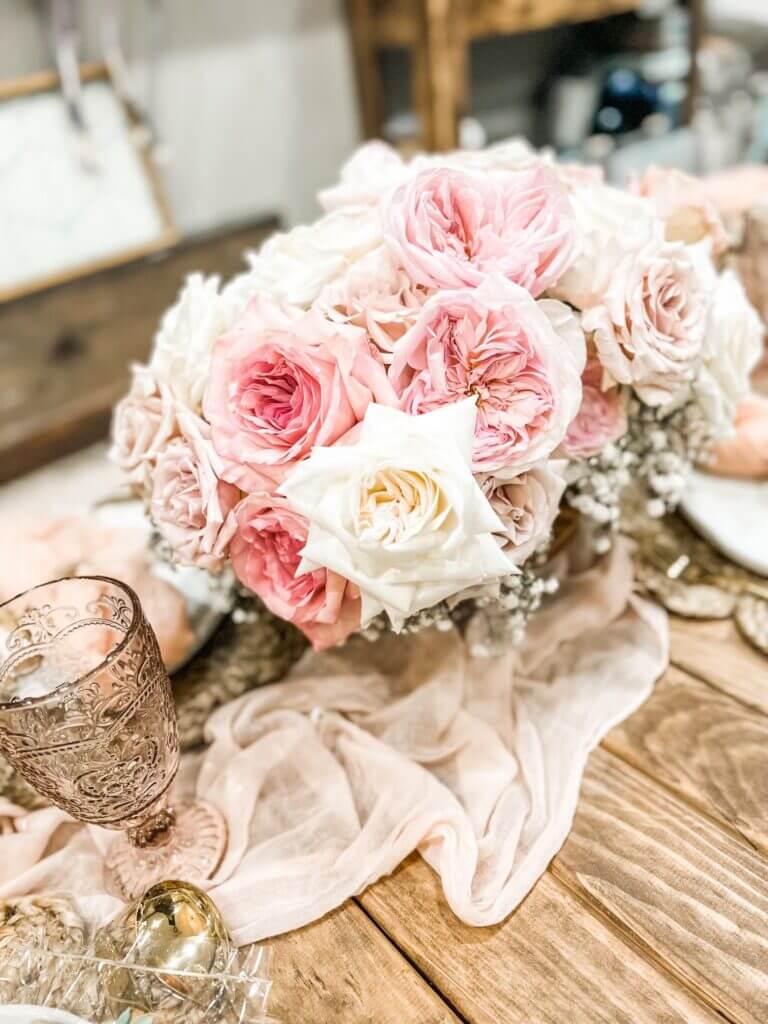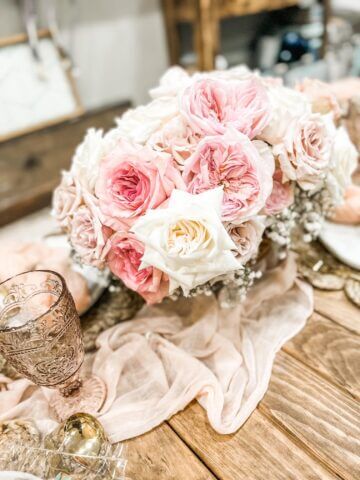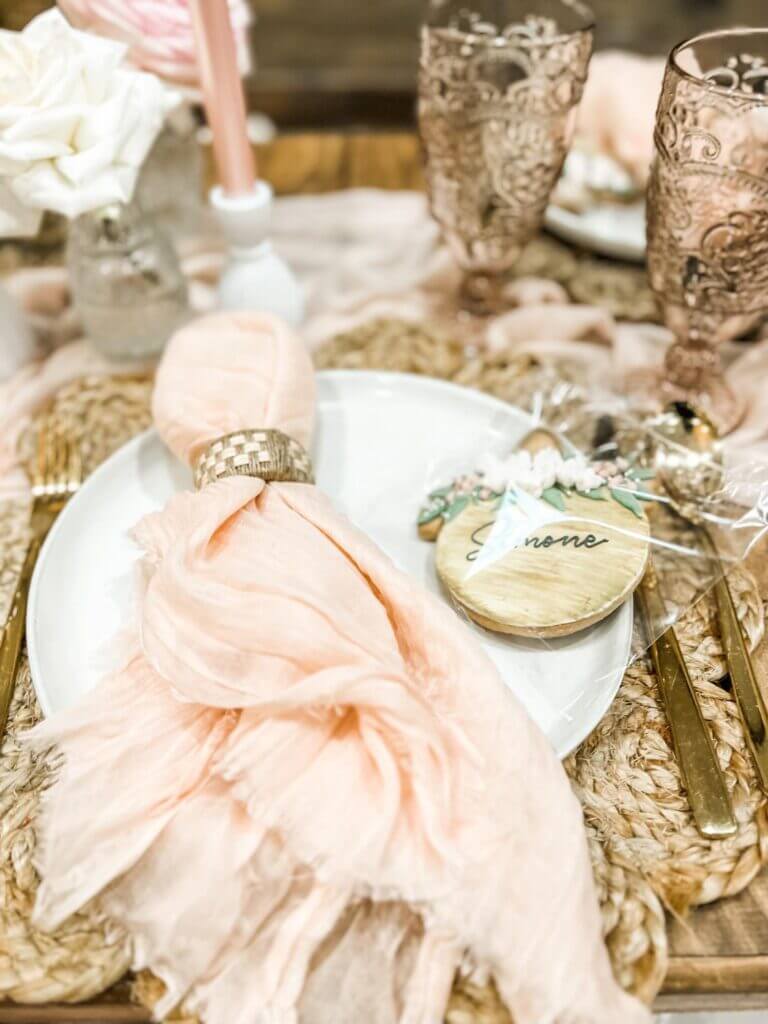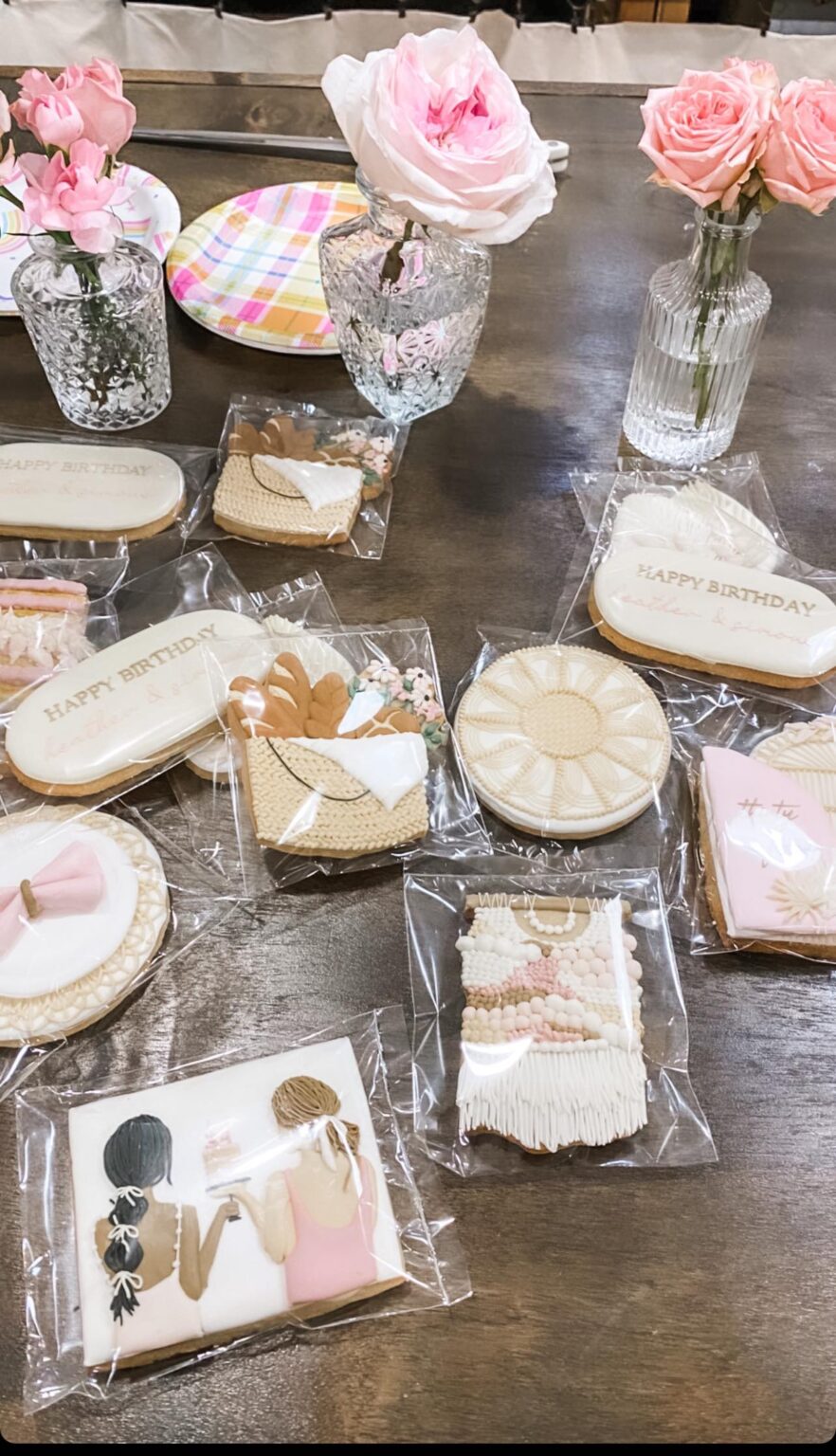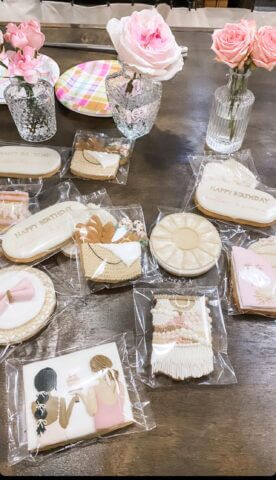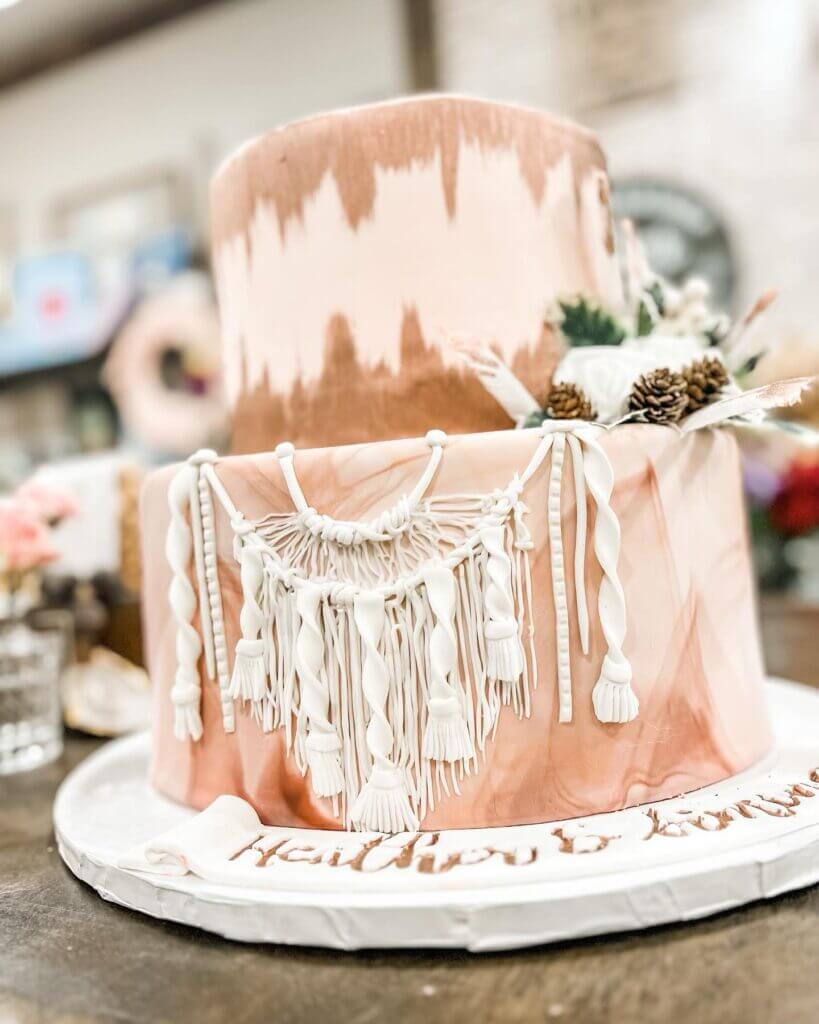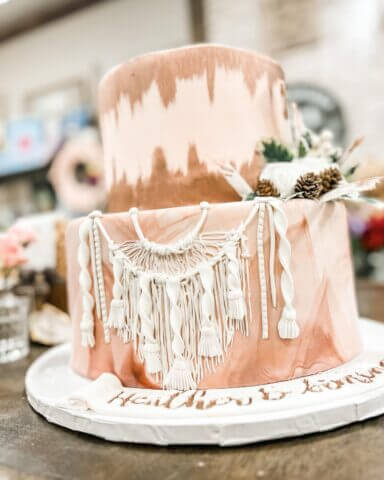 "The picnic was beautiful and worked very well with the shop," Simone observed. "My friends left commenting on how cute it was and how it looked like something they would see on Bravo or a Real Housewives franchise!"
"I feel like it was an adults 'tea party,' and what girl didn't grow up loving a good tea party," Heather added. "Not to mention the amazing photo ops for IG!"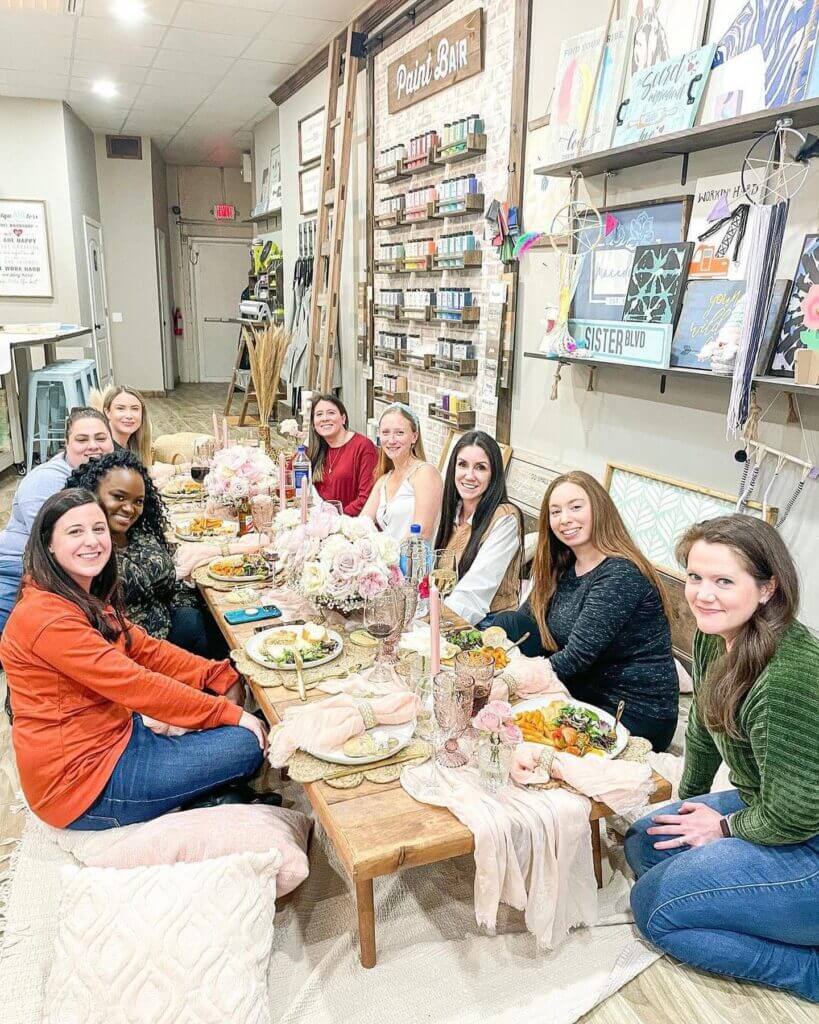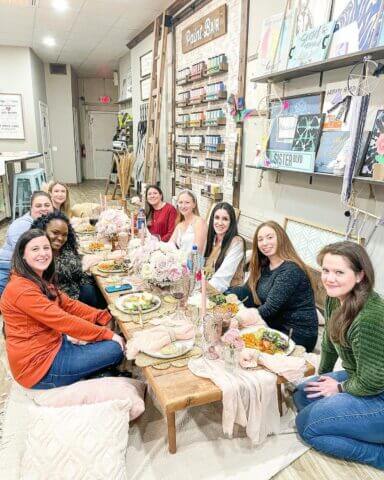 AR Workshop Patchogue was the perfect setting for a BOLI birthday, but it's an equally perfect choice for your local Long Island bachelorette. "We do a lot of bachelorette parties," Liz commented. "The girls will start here and then head out into the village and finish their night. We always laugh because after they're done with their projects, they all pile into the bathroom and come out looking like totally different people!"
If you've always dreamed of a little DIY flair on your wedding day, AR Workshop Patchogue is the place to create your own welcome signs and other decorations.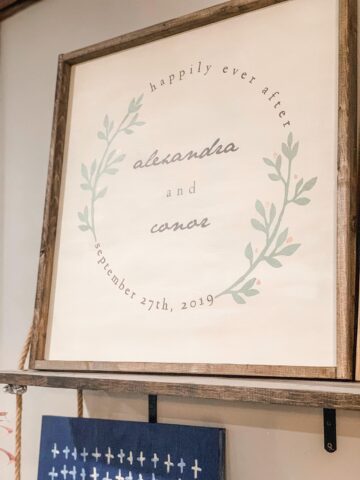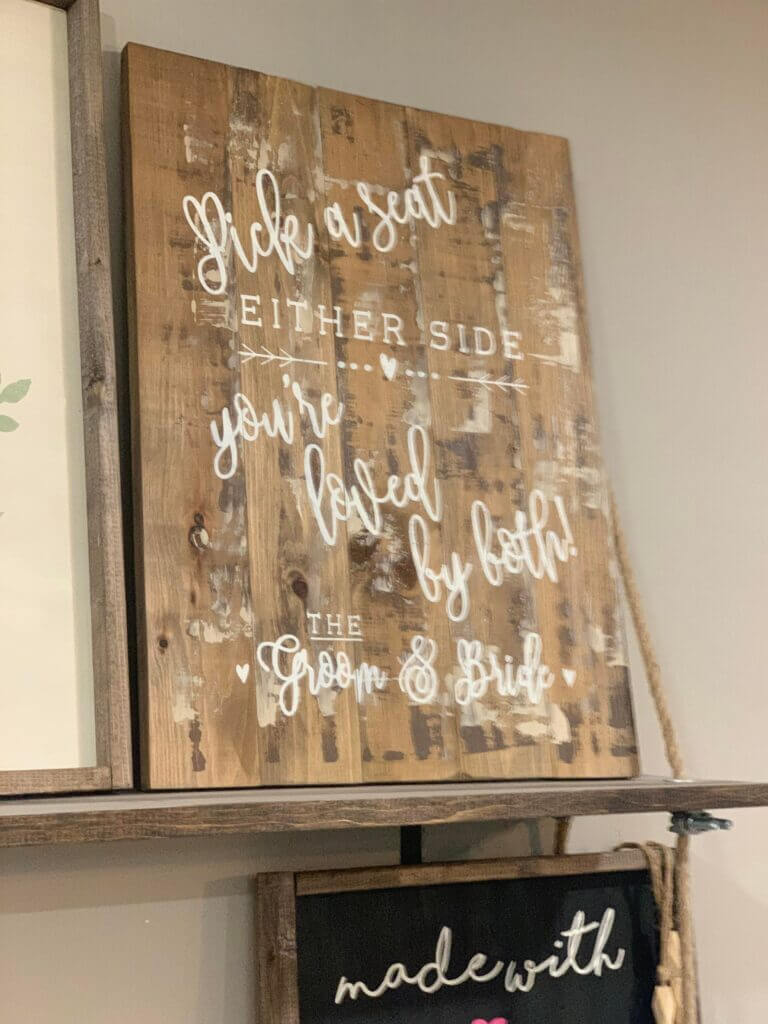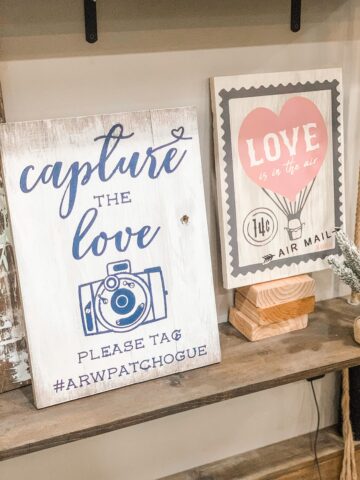 Liz also pointed out that at AR Workshop Patchogue, friends and family of any age can join in on the celebration. "If your entire party is at a bar, and you have a bridesmaid who's underage, they have to miss out," she explained. "Or maybe you have older relatives and the idea of staying out all night isn't great. We'll have girls come in with younger bridesmaids and their moms and grandmothers, and they spend time with them here, then they can all split up when the others head out into town. It's a really fun and inclusive option."
Not to mention that everyone leaves with a parting gift – that they created themselves! As Heather said, "I loved that we were all able to choose our own individual projects and that I'll have a memory from the night on my wall for years to come."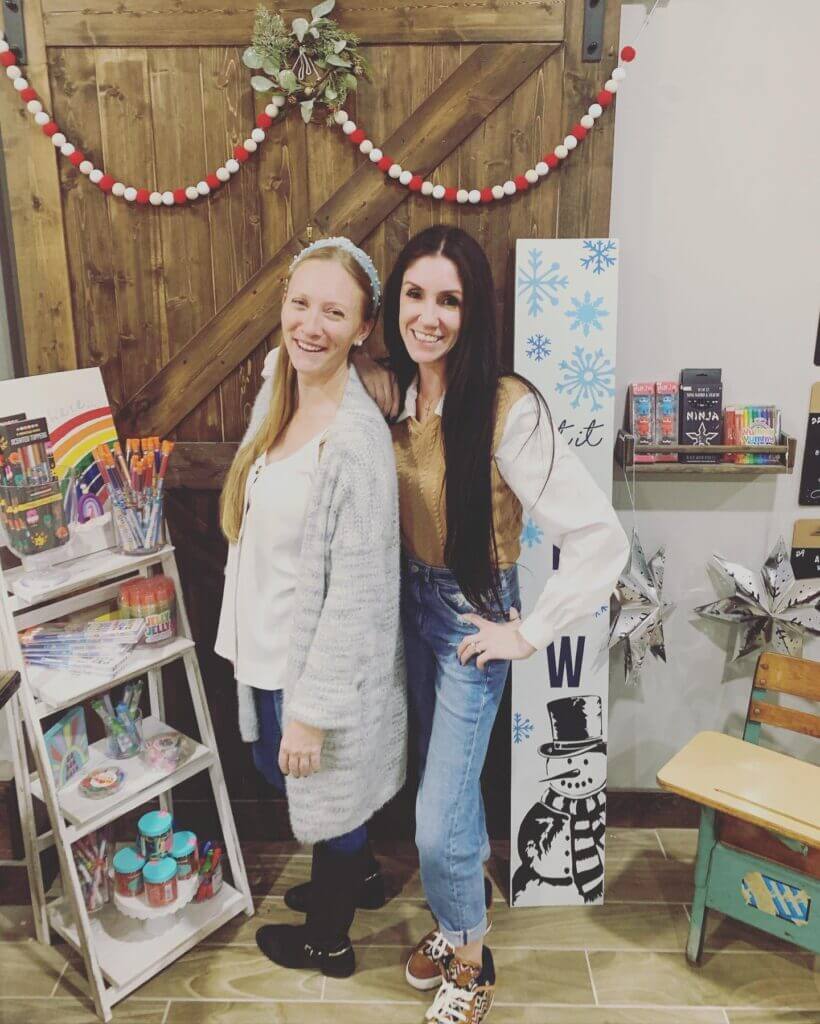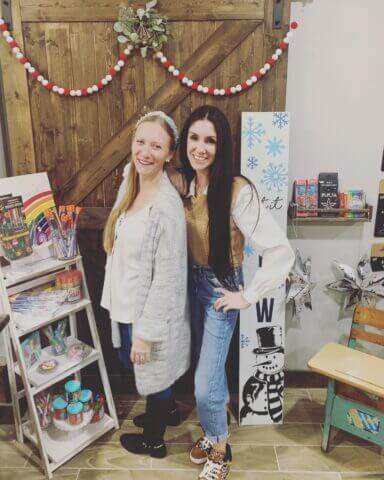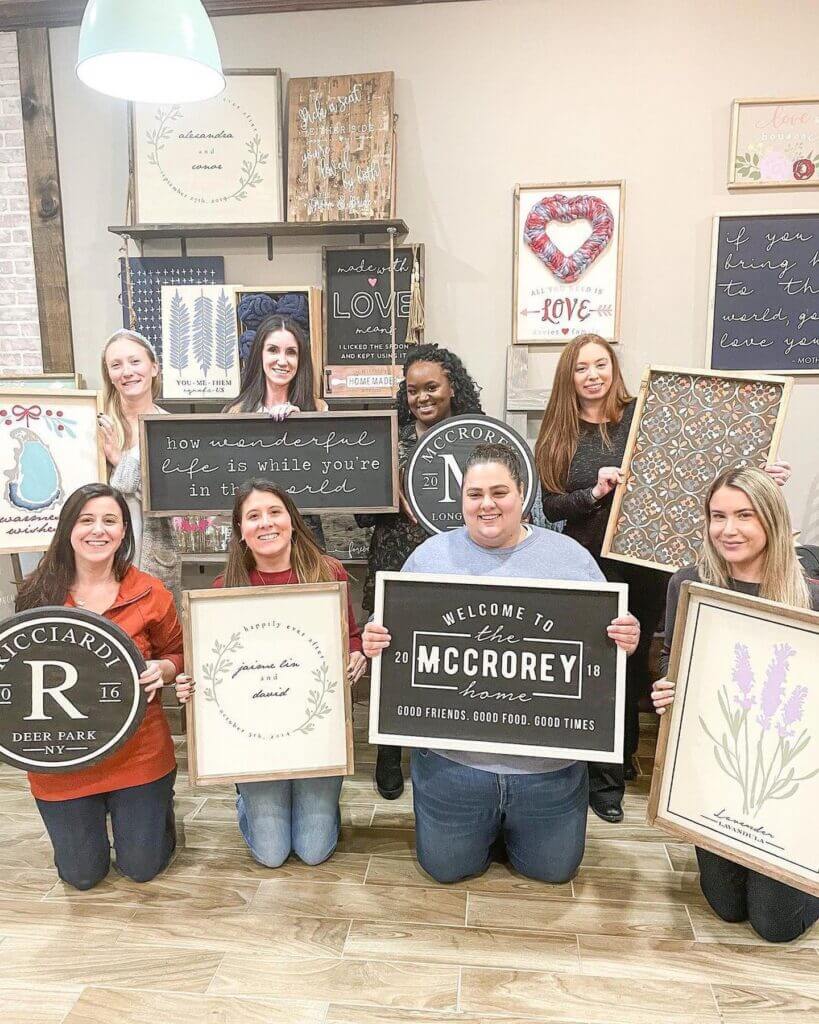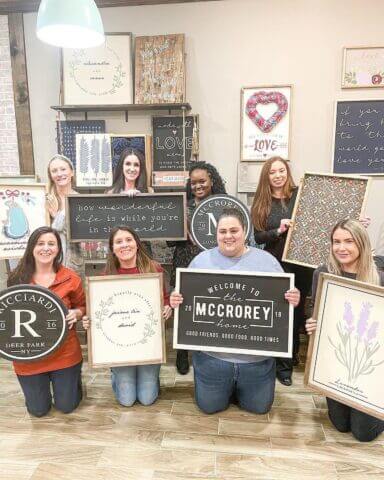 Venue: AR Workshop Patchogue
Picnic set up: Long Island Lux Picnic, a BOLI Preferred Vendor
Florals: Kristin Abby Studio
Catering: Giovanni's
Cookies: EMS Custom Cookies
Cake: Campbell's Bakery, a BOLI Preferred Vendor