How this Bride of Long Island created the rustic elegance of a backyard wedding, with help from her family and fiance.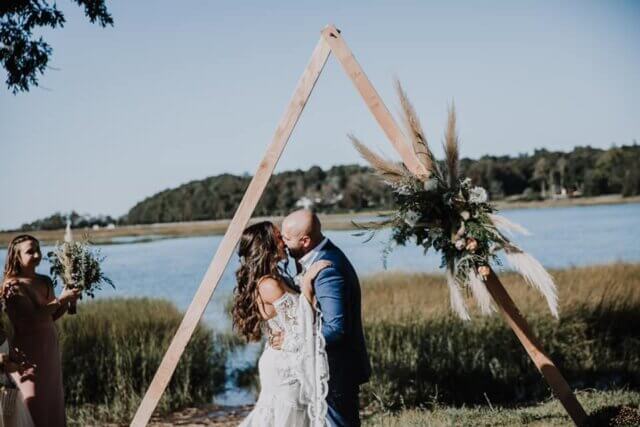 For some, a wedding means a catering hall, a place of worship, or maybe even a favorite restaurant. But for Gabrielle and Chris Giovinazzi, it meant celebrating a milestone in the beautiful and meaningful bounds of the familiar: a ceremony held at the end of their street by the Nissequogue river, and an intimate reception right in their own backyard.
Held on a crisp and clear Saturday in September, the deeply personal day was accented in every detail with the couple's creativity, innovation, and hard work. From bars to backdrops to sweetheart tables, almost every aspect of their wedding was entirely hand built by the two, with a little help from their families. Driving every one of their DIY projects and homemade creations was the couple's desire to share their immense love with family, friends, and one another.
"We've been with each other through all of life's important moments-" High school sweethearts, grown into a lifelong bond.
Gabrielle and Chris' love story began in the halls of Kings Park High School. "Chris and I met when I was 14 years old," says Gabrielle. "I was a freshman and he passed me a note in the hallway, a typical 16 year old boy thing to do." The two began dating soon after, and together experienced the landmarks of young adulthood. "We've been with each other through all of life's important moments: proms, getting our licenses, first jobs, going to college, graduating academies and programs." After almost a decade together, Chris knew it would be hard to surprise his future bride. Gabrielle admits "we know each other so well, I would have sensed something if he had planned a big proposal." Instead, the groom opted for a truly special moment framed by an ordinary routine- a proposal at Kings Park Bluff, a neighborhood spot they visited daily. "It was a complete surprise! We were in literal pajamas and I didn't have my nails or make-up done. I'm so happy it was that way though."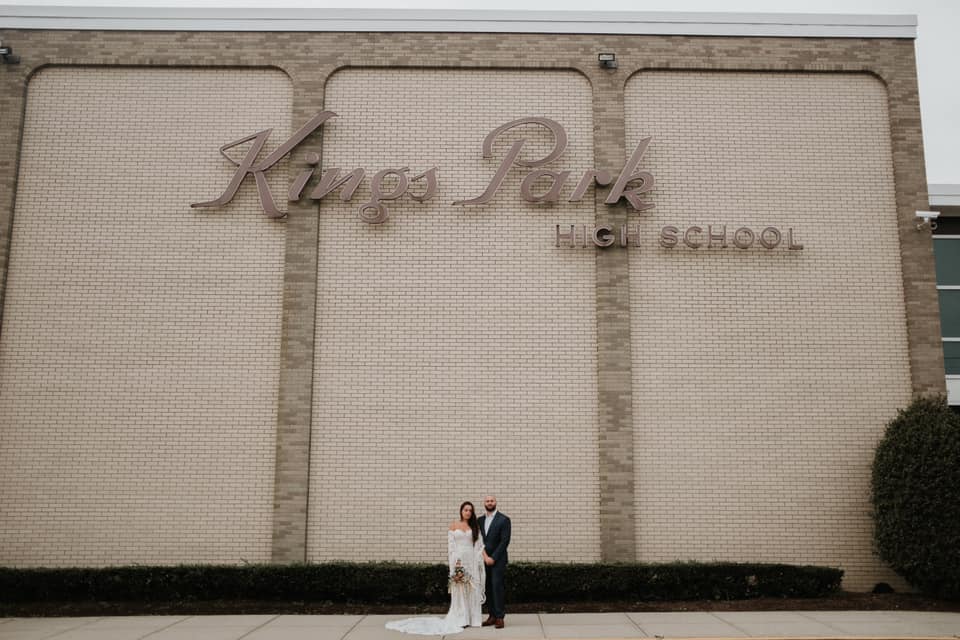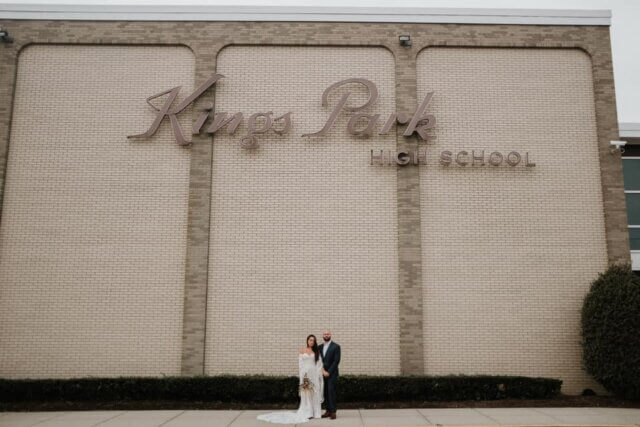 "It was important to us that we made everything personal-" Planning and preparing for the I Do's.
While it may not have been in their initial plans, the backdrop of home provided the perfect setting for the Giovinazzis' big day. "Our venue was our backyard. It was amazing and yet our yard is nothing extravagant. No pool or fancy deck or patio," Gabrielle says. The work required to revamp their outdoor space into a wedding locale took them up into hours before their ceremony. "We busted our butts getting this empty lot of a yard into shape! We needed extra time that morning to finish setting up." While their yard supplied the space, it was the couple's labor of love that truly transformed their home into a rustically elegant venue. "Chris and I spent months making most of the decor and pieces we had at our wedding. It was so important to us that we made everything personal to really have our friends and family feel the love we have for each other and our life together." Much like preparing their yard, Chris and Gabrielle worked tirelessly in the days before their ceremony to give everything their distinctive touch. "We made our bar just three days before the wedding, out of a piece of fence and some wood we had lying around." Also included in their DIY fare was a sweetheart table, a white distressed door backdrop, and a seating chart.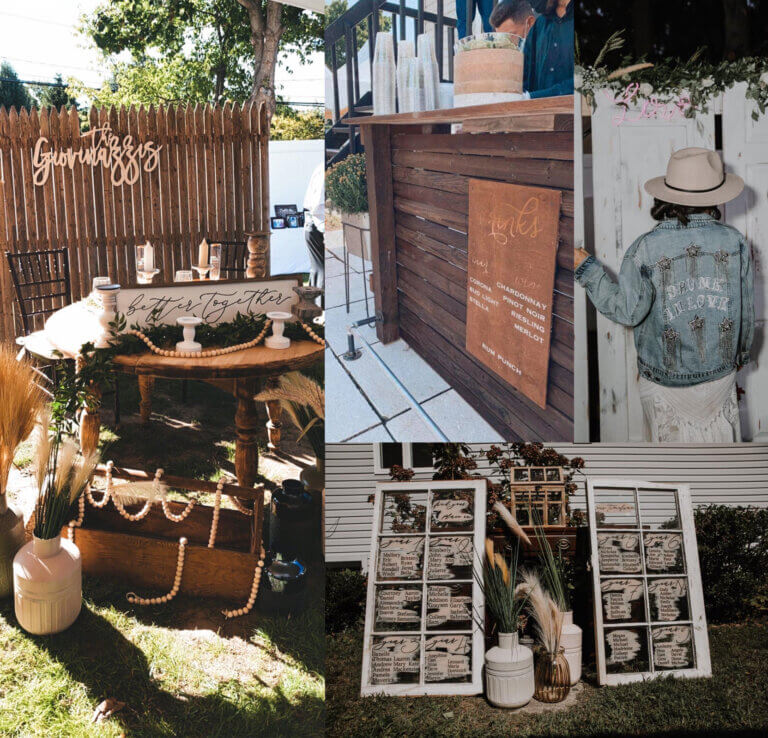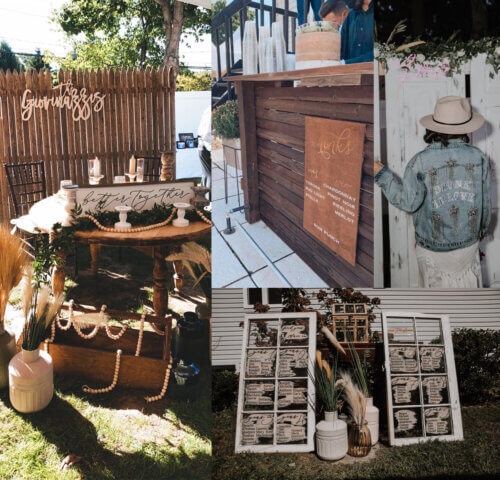 Like the title of their wedding song, and like the phrase engraved into the couple's favors (his and hers glasses personalized by the groom's sister), Gabrielle knows all of these projects were made "better together." "I am so thankful I have such a handy husband! Our minds work so well together when building and creating."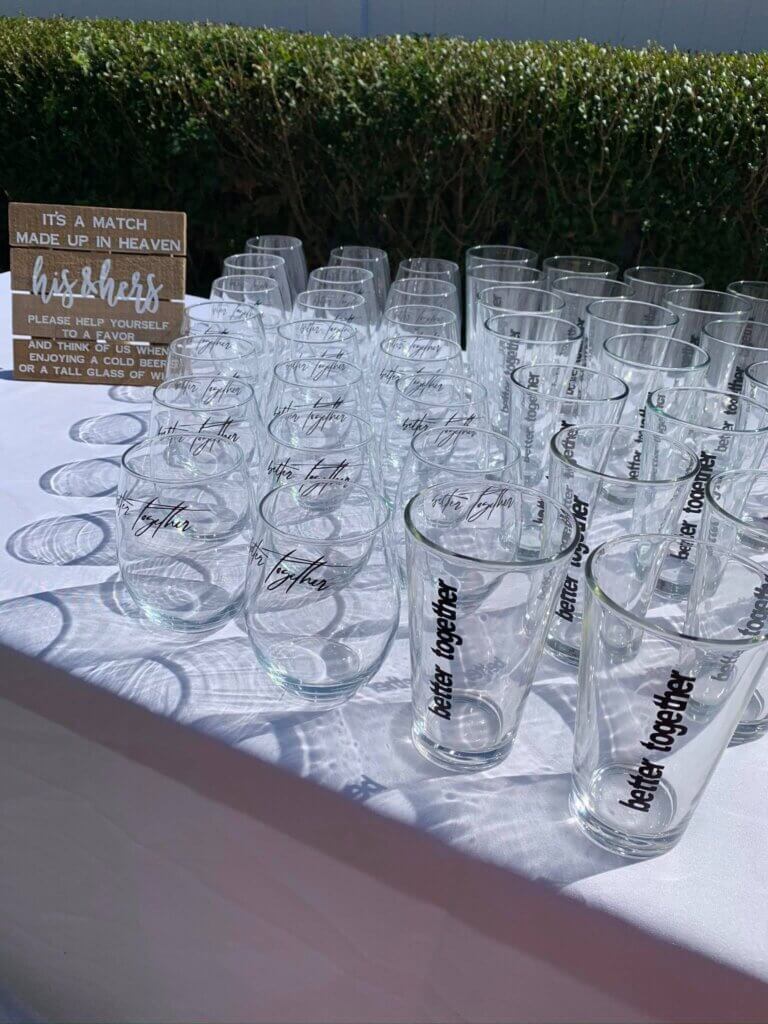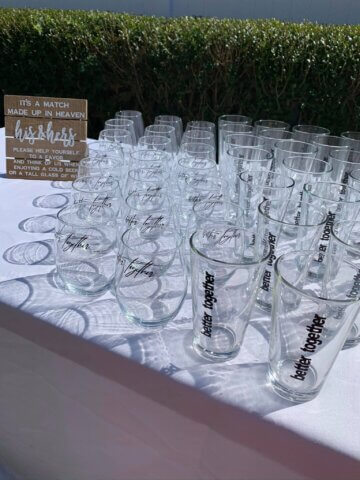 "A whole day that was just about us-" A unique take on the first look.
A common observation from many past brides is that your wedding day is like a whirlwind, and moments go by so quickly that sometimes the day ends without you even remembering what happened! It was for that very reason that Gabrielle and Chris decided to do something slightly unorthodox. "We chose to do our first look the day before our wedding because we wanted a whole day that was just about us. In reality, you're throwing your wedding for a hundred plus other people and sometimes intimate moments are short during your day." The two got up at 5:30 in the morning to prepare for a photo shoot at sunrise, and when they were ready, they both returned to a place that held a comfortable yet special meaning. "We met up at the Kings Park Bluff, where Chris waited with our photographer. It was so surreal, there was no one else there but us. You could just hear birds chirping and the waves in the background."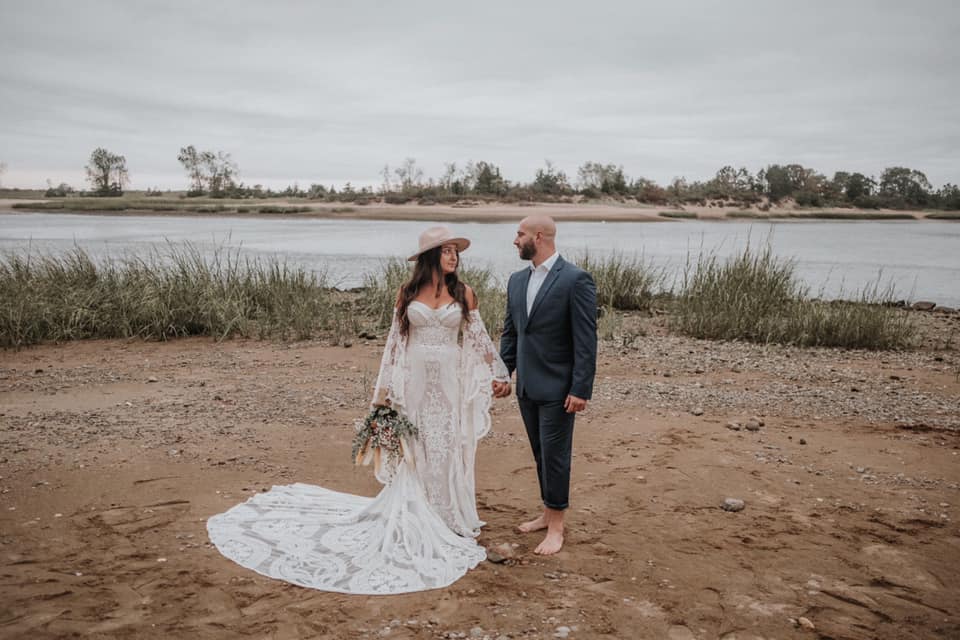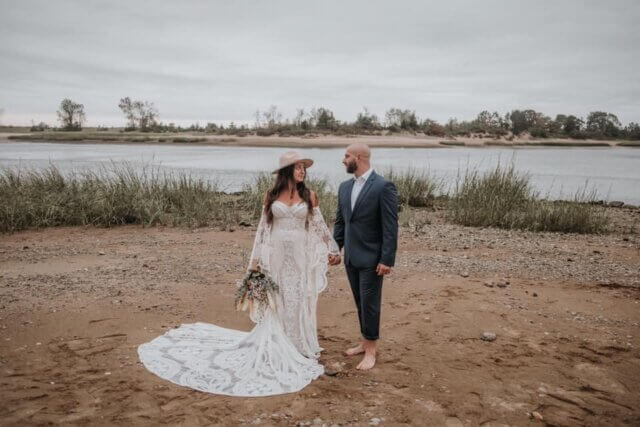 Perhaps one of the most memorable and poignant moments of the pair's nuptials came next, in the form of a bride's gift to her groom. "Chris' dad passed just 6 months before we met, and it's been very emotional and hard to deal with the fact that we've never met, and that he wasn't there to be with his son on his wedding day. So I surprised him with a portrait of the two of us with his late father. It was heartbreaking to see Chris cry when I gave him the photo, but I knew it would make him happy to have it there with us on our day."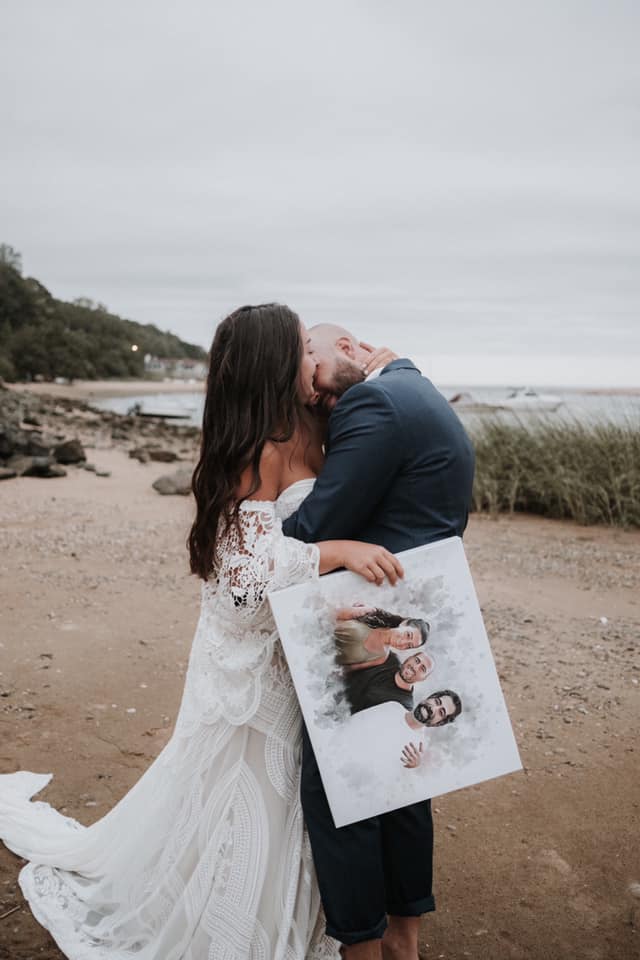 When Gabrielle realized just how much she cherished these private moments, she was thankful she chose to do her first look differently. "I couldn't imagine fitting all of that in before our ceremony on the wedding day. Having two days in my gorgeous gown and two days to celebrate us was amazing. We had that whole morning to enjoy, let out a lot of tears, and take a million photos."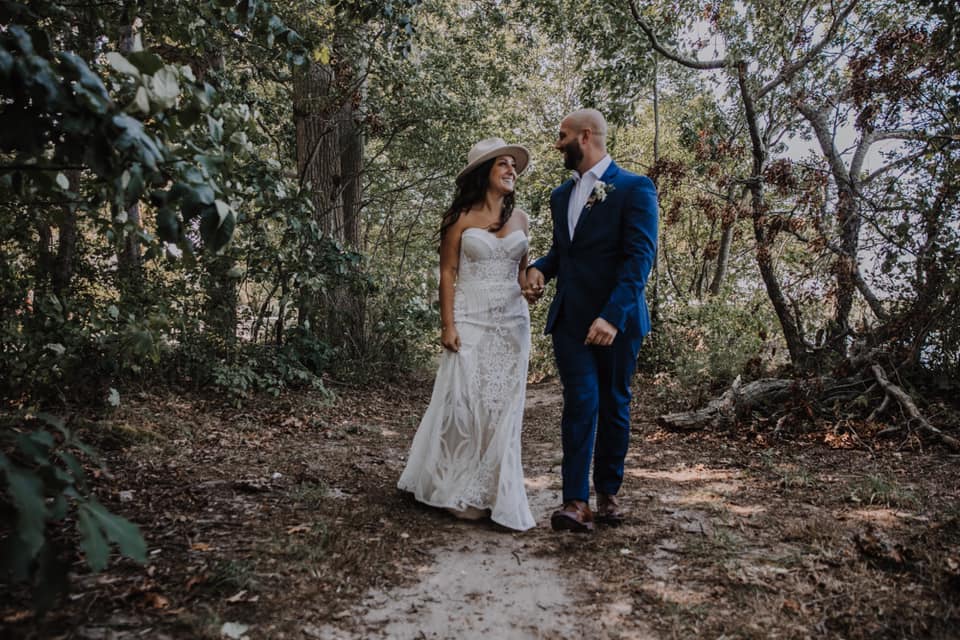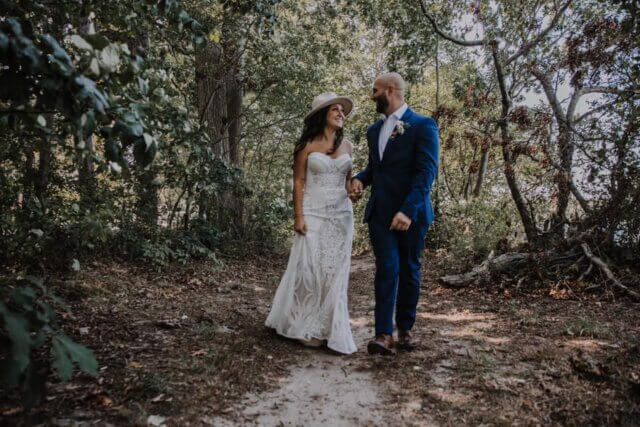 "It was meant to be-" A gorgeous day in the serenity of home.
The couple didn't have to travel too far on their wedding day. "Our ceremony space was located at the end of our street by the river." And, like so much of their day, it was decorated with a very personal accent. "My dad built the triangle archway."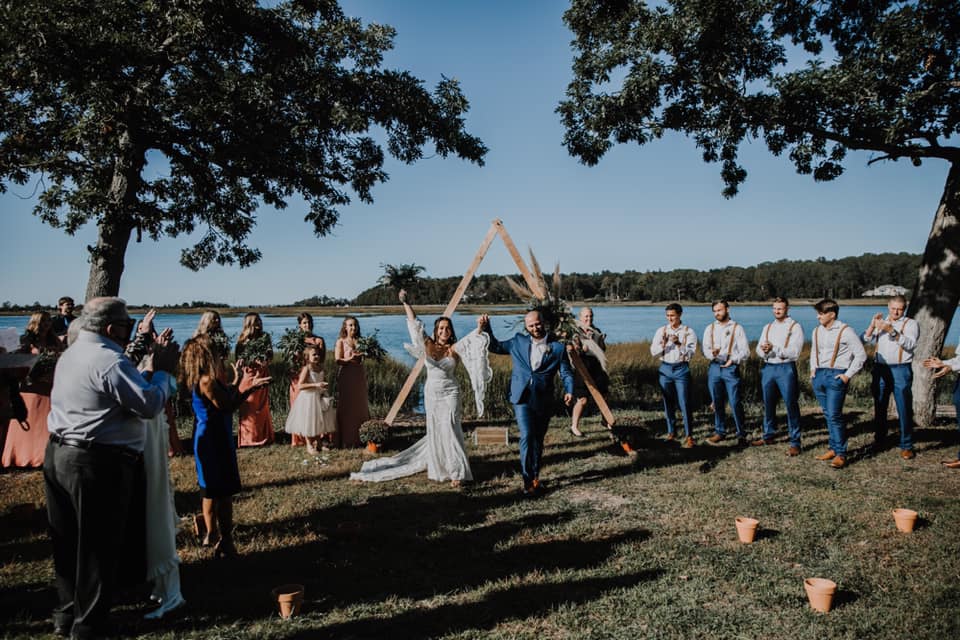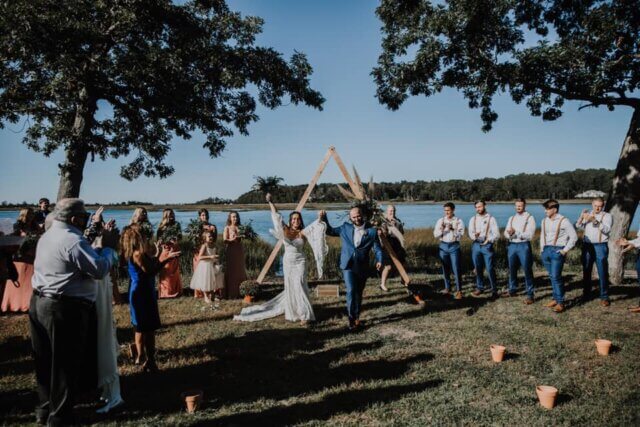 When it was time for the bride to take her famous walk, the Giovinazzis broke away from tradition once more. "From the beginning of planning, we knew that we actually wanted to walk down the aisle together instead of having him wait at the altar. My parents walked me to meet him halfway so we could walk the rest together." For a pair who've come into adulthood side by side, and for a pair who created a wedding so entirely their own, the adaptation made perfect sense. "He has been part of my world for almost half my life, and he's supported me and cared for me just as much as my parents have. So my parents aren't giving me away to him, he's been there all along."
Now that Gabrielle and Chris' beautiful day has passed, "home" will hold an even deeper significance than the name implies."It's so meaningful to us to know that we got married in the town we grew up in together, right by our house! It was a gorgeous day and it was meant to be. After everything 2020 threw at us, we were able to make every moment perfect. It was a day I'll always cherish!"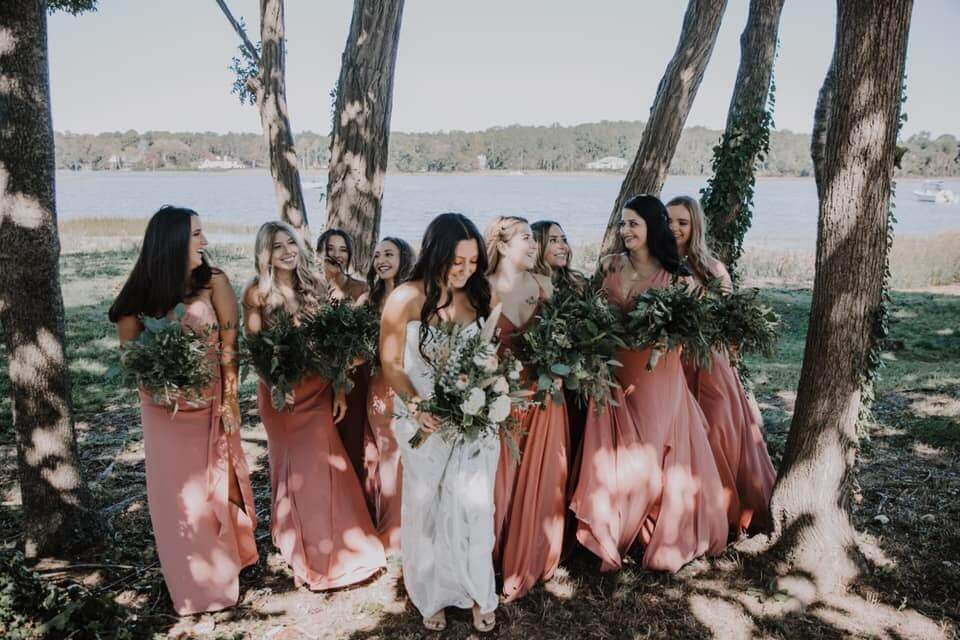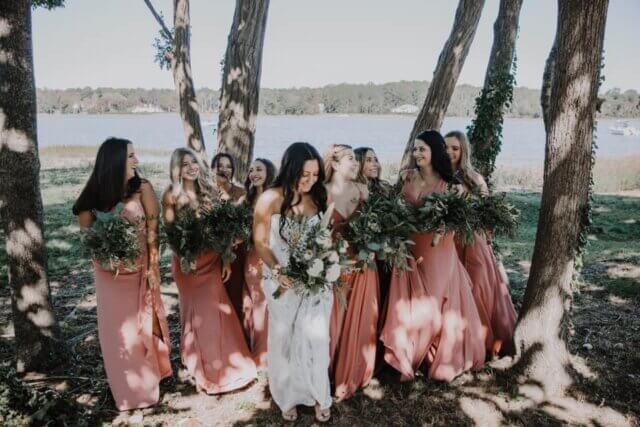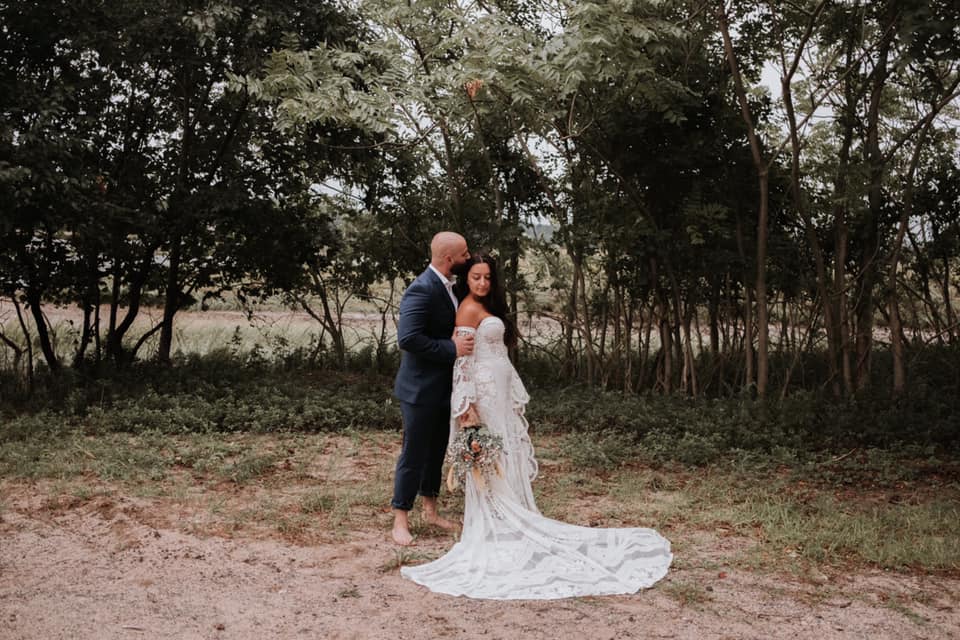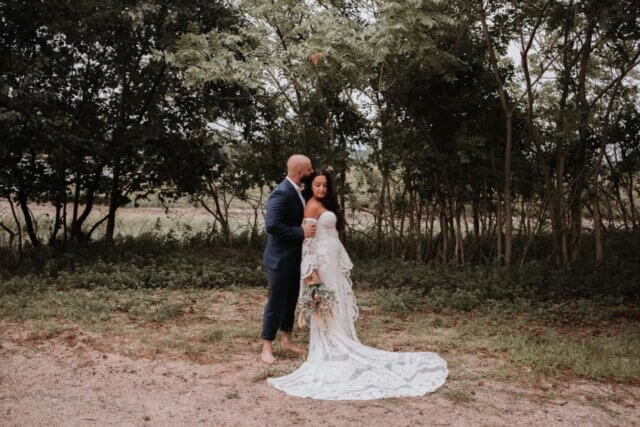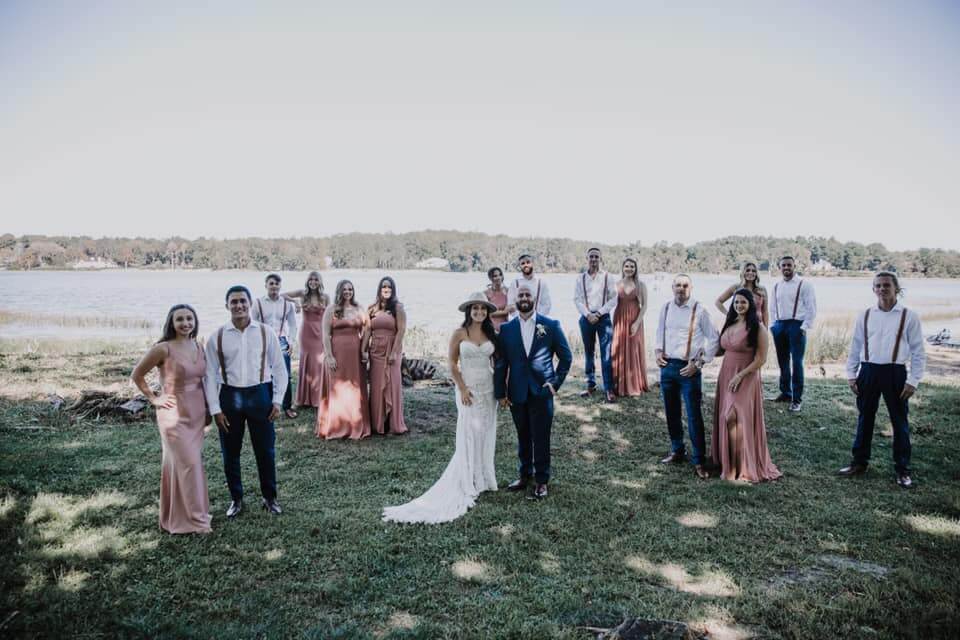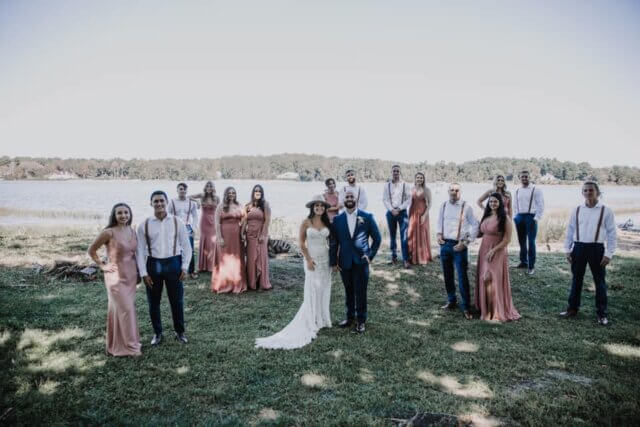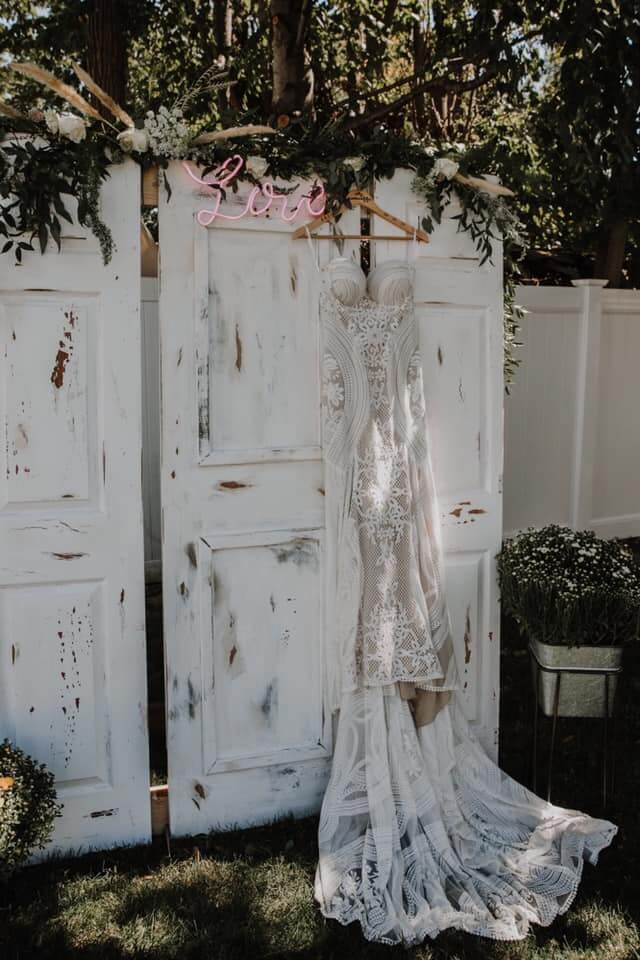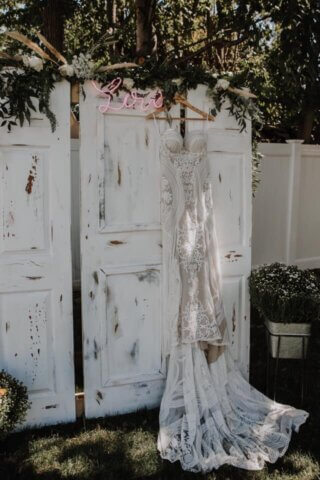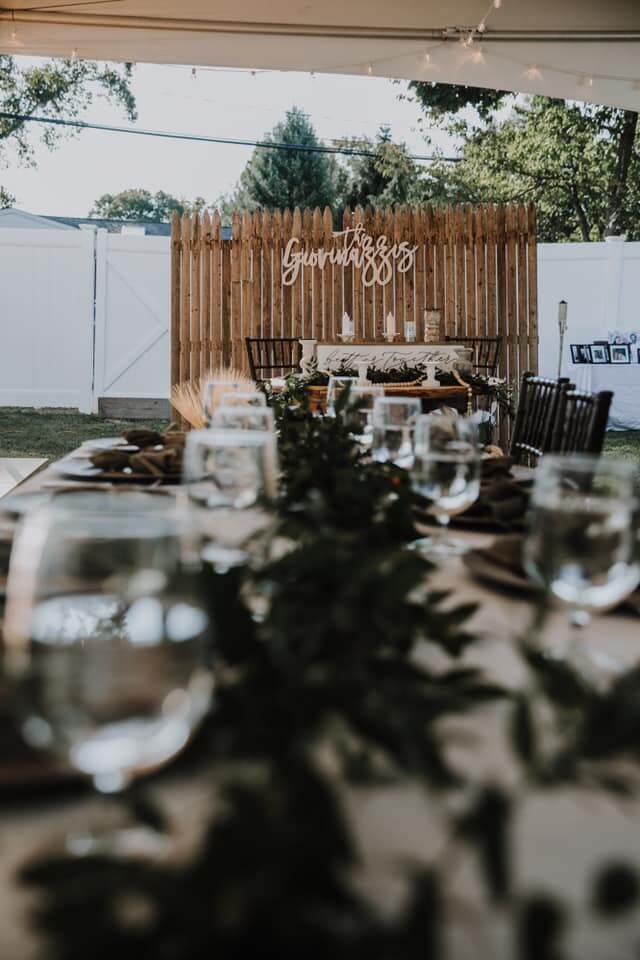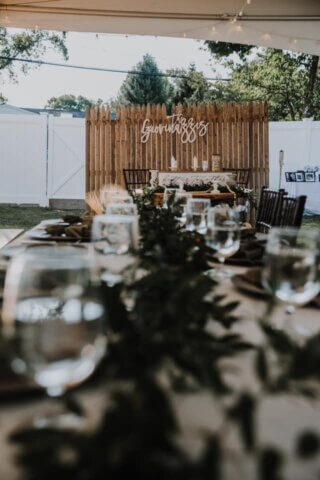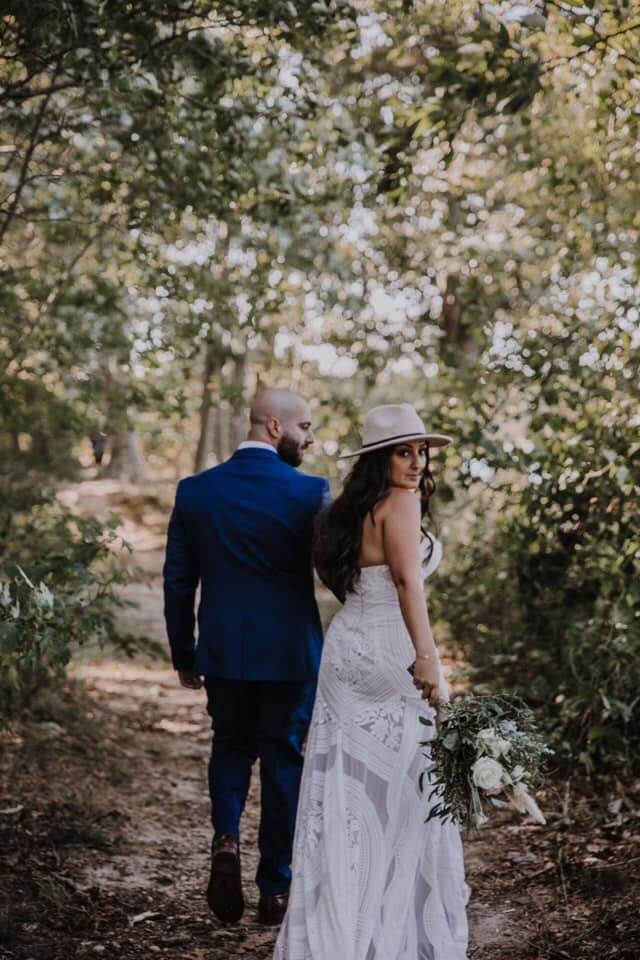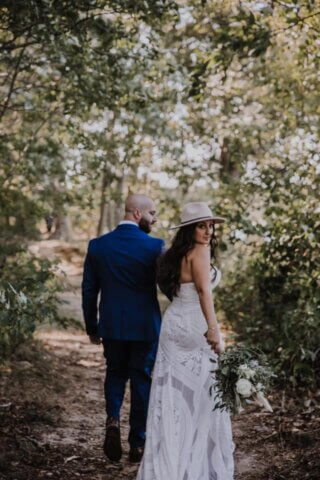 Credits:
*First look photos by Ron Pineda of Evenfall Photography
*Ceremony and reception photos by Rebecca Reed of Here With You Photography, booked through Lily and Lime Photography
*Ceremony officiating by Michele LaRosa – LI Officiant
*Flowers by Roses and Rice
*Bridal gown by Rue de Seine, purchased at Lovely Bride
*Bride's hair by the bride
*Bride's eye make up by Brittany's Beauty Bar
*Bride's hat by Amazon
*Bride's jean jacket by Rue de Seine
*Bridesmaids' dresses by David's Bridal
*Groom's suit and Groomsmens' pants by Express
*Men's suspenders by London Jae Apparel
*Giovinazzi name cutout by Panhandle Mercantile
*Reception tent by Empire Tent Rental
*Groom's gift portrait by InfinityArtDeco