While they may not be related by blood, step-parents can have a huge impact in your life. Here's how to honor your step-parents during your wedding.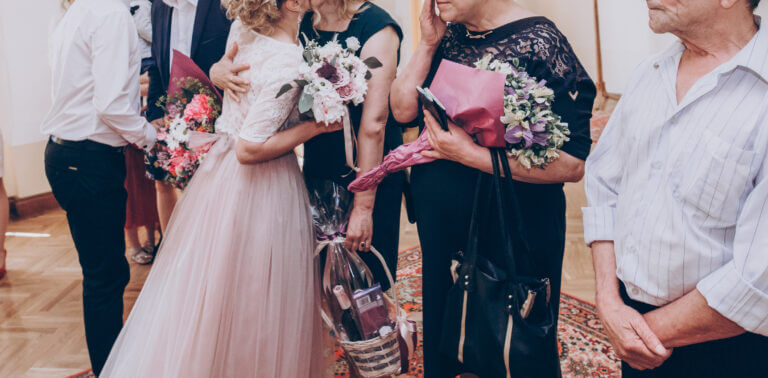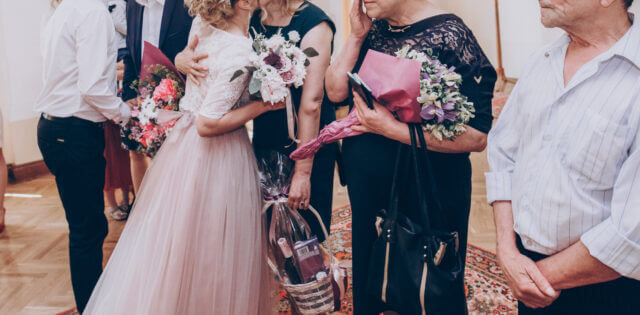 There are certain wedding moments that every parent looks forward to sharing with their children – a father walking his daughter down the aisle, a mother dancing with her son, or a quick photograph taken in the minutes before "I do."
But often our step-parents are just as important to us as our parents, and unfortunately, those special wedding moments don't necessarily come so "built-in." So how do you honor your step-parents during your wedding – especially if both of your biological parents are still in the picture?  
Consider your situation
Every family is different. Some parents and step-parents get along really well, and some step-parents may have entered your life after the passing of a biological parent. If either of these scenarios is the case for you, it may be relatively easy to include a step-parent in various wedding-related ways. 
If there is some tension in your family dynamic, you'll want to make choices that keep things harmonious with your parents while also recognizing the influence of a step-parent. There's no "one-size-fits-all" option if this is your situation. Take the suggestions we offer and apply them in ways that work best for you. Remember – at the end of the day, this is your wedding. You get to call the shots.
Involve them in the planning
We all know that weddings don't just happen, right? There are months (and years!) of planning, appointments, and decisions that go into every moment of your big day. This presents a perfect opportunity: honor your step-parents by involving them in the process! Have them accompany you on venue tours, go to menu tastings, offer their opinions on color choices, and attend wedding expos. There are so many ways they can help you, and that will make them feel as if they are a part of the joy and festivities.
Include them on the invitations
Like we said above, every family is different. If your step-parent has played a huge role in your life (and especially if they're contributing any funds to your day), it would be appropriate to include their name on your invitation. While listing two sets of parents may take up a bit of room on paper, it's worth it to acknowledge their presence and importance.
But if including a step-parent on an invitation would cause World War III, you can always elect to use a more generic term like "together with their families" at the top of your invites. Your step-parents will know they are a part of that family!
Take them dress or suit shopping
Have a huge day planned as you search for "the dress"? Invite your step-mother (or step-father) along! Many bridal salons will allow family and friends to help you shop, and your step-parent will love being a part of your fun day.
If family dynamics don't allow you to include step-parents on a main shopping trip, carve out a special day for just the two (or three) of you. You can show them your favorites, and they can help you make the final decision. 
Alternatively, go with them as they pick out their wedding day attire. You can offer insight on colors and designs, and share a nice day together. Who knows – you may even decide to have them be your "something blue"!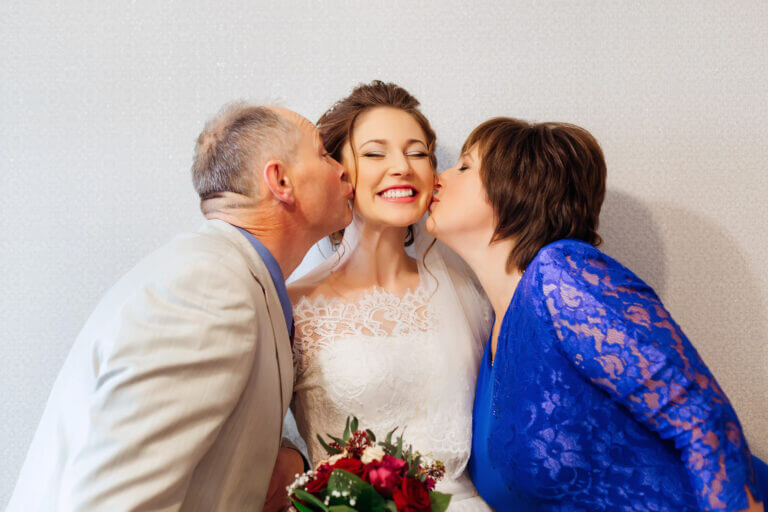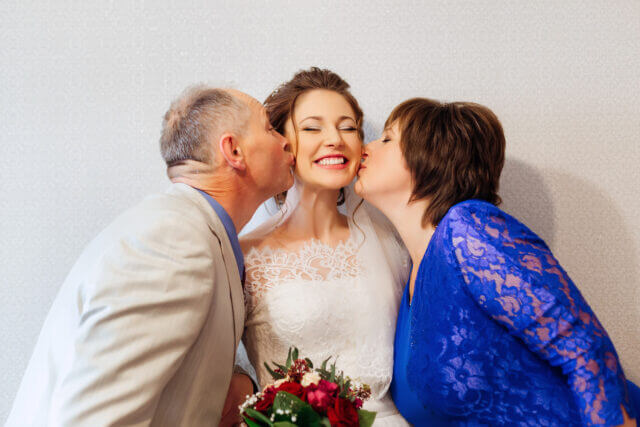 Have them walk down the aisle
No two wedding processions look exactly the same, and that's okay! One parent can walk down the aisle solo, while your other parent and step-parent can walk together. You may decide to have each parent walk down individually. You may also choose to have a sibling or family member walk a parent or step-parent to their seat. Whatever you decide – including your step-parents in your ceremony processional is a great way to recognize them. 
Have them walk YOU down the aisle
A step-parent can walk you all the way down the aisle, or they can meet a biological parent half-way, or they can join your biological parent for the entirety of that walk – the options and possibilities are endless. Again, we stress the most important thing to remember: this is your wedding, and you should make choices with your own happiness in mind (even if that means walking the aisle solo). 
Give them a special moment at the reception
Whether they're announced with the bridal party, honored with a dance, or chosen to give a short toast, your reception is the perfect time to honor your step-parent during your wedding. 
Don't forget the pictures!
As you make that all-important shot list for your photographer, don't forget to mention your step-parents. How your pictures look will be determined by your own circumstances – maybe you want a huge group family shot, or maybe you want to keep parents and step-parents in separate photos. Regardless, make sure you have a few meaningful photos with your step-mother or father! 
Give them a heartfelt gift
Think about the ways your step-parent has affected your life, and the kinds of gifts they'd treasure. A personalized keepsake, an unforgettable experience, or a hobby-related item are all appropriate ways to show your appreciation!