The joining of two families is a joyous time, so it is important to honor traditions of both sides.
Honoring you and your future spouse's heritage or religion is going to be important on your wedding day. But it doesn't have to be stressful. There are plenty of brides who are planning to honor two cultures on their wedding day. And there are plenty of graduated brides who can tell you firsthand how they honored two cultures on their wedding day.
Our Mrs. December in our BOLI of the Month series actually planned two weddings while she was in medical school. And both were beautiful and honored her and her now husband's cultures. Tamara Simpson Agbeyegbe says she planned an American wedding, complete with premiere entertainment. And she planned a second wedding because her husband is Nigerian. Tamara says she and her husband Tosan consulted with his family to plan the Nigerian wedding. "It was really special to learn the different ceremony pieces and the traditions," says Tamara. "It was really great to embrace his culture and represent it well." And while she admits it was overwhelming planning two weddings, she was able to lean on their families to make sure everything was perfect and flawless.
BOLI Sarah Paray, our Mrs. Maldives, had a full multicultural wedding weekend – complete with Catholic and Hindu ceremonies and a reception. She says they were so happy to make sure their religious upbringings were represented throughout their wedding weekend out east.
But you don't have to have two separate weddings to honor the different cultures of you and your future spouse. It could be something simple like having officiants of two different faiths. BOLIs Valerie T. and Melissa S. did this. "We had a cantor and a father marry us. They each gave blessings from each faith," Melissa S. says. She adds that they had Jewish marriage customs, such as the Ketubah signing and breaking the glass, as well as some Catholic traditions, such as a unity candle. "It was such a beautiful ceremony combining two cultures and faiths."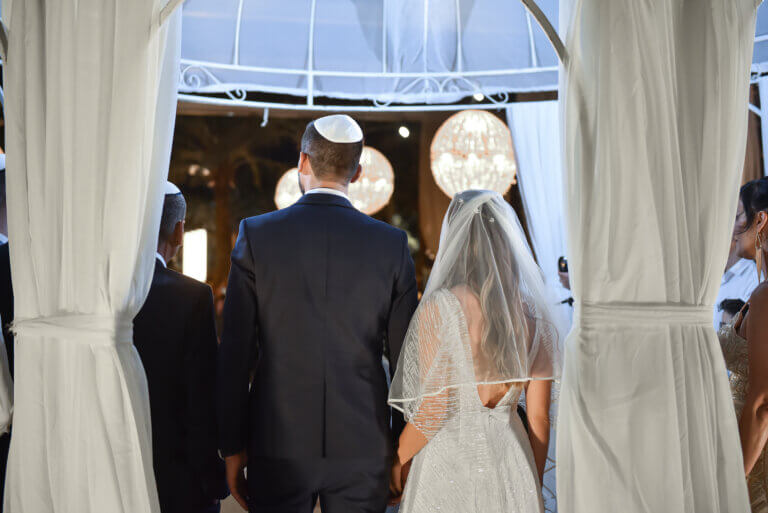 BOLI Christina J. says that they are having their wedding at an Italian venue. And she plans to say part of her vows in Spanish, to honor her future husband and his family.
MORE: I'm Getting Married for the Second Time – How Should I Celebrate?
The ceremony isn't the only place you could honor two cultures on your wedding day. Some BOLIs will be wearing dresses of different cultures, while others are incorporating music or dances during their receptions. BOLI Novella D. says she is half Greek and half Italian and her future husband is Jewish. "We're going to have a Greek band perform traditional and modern songs," she says. "And we're also going to do the Horah and Tarantella." Meanwhile, BOLI Karen M. says they had a mariachi band during cocktail hour to honor her Mexican heritage, and an Italian singer during their reception for her husband.
And don't forget! There are other parts of your wedding that you can incorporate two cultures. Instead of a rehearsal dinner, BOLI Nicole C. says she is planning a traditional Chinese tea ceremony.
MORE: Not Following Wedding Traditions and How I Stood My Ground
However you decide to honor two different faiths or cultures, just know that it's going to be perfect. It is important to remember what is important to you and your future spouse. It can be difficult to please everyone – with any type of wedding planning – so it's best to sit with your future spouse to decide how YOU want to represent each other's cultures. Once you decide that, then you can plan accordingly to celebrate the joining of two families on your wedding day.