It doesn't matter how many people before you did something, if you don't want to do it, that's OK.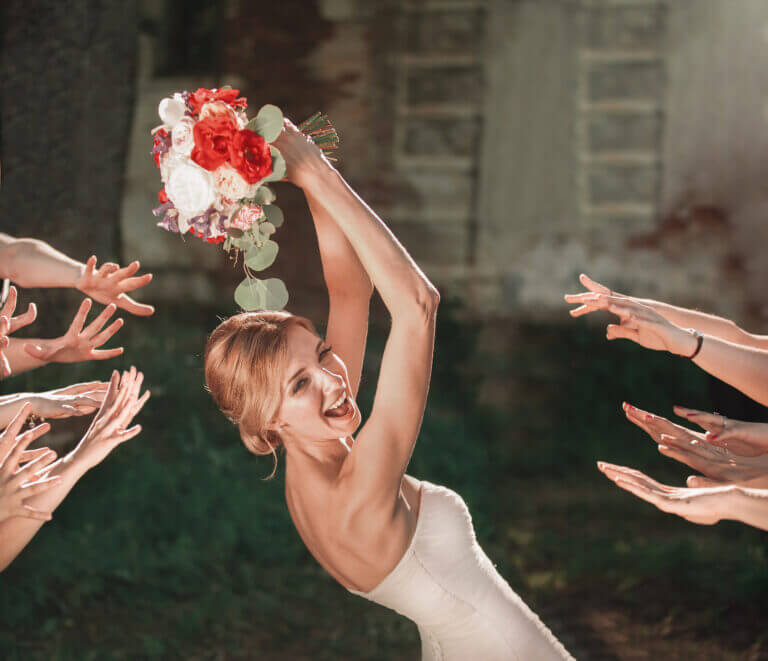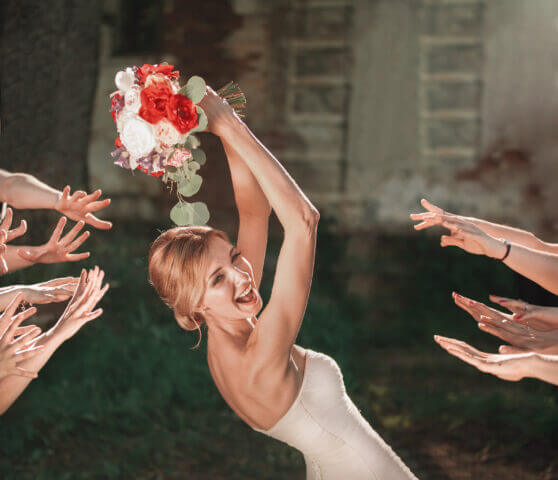 As if wedding planning wasn't stressful enough, when you throw in everyone else's opinions on what you should and shouldn't do, it can be enough to make you want to throw in the towel and elope somewhere. As you probably know by now, there are tons of wedding traditions out there – from religious to just downright silly – that sometimes our family members and friends expect us to have at our weddings. But, here's the thing – you don't have to follow any wedding tradition you don't want to! The key to not following wedding traditions is to stand your ground. Your wedding, your rules. Plain and simple.
Here are some traditions that a few graduated Brides of Long Island skipped at their weddings, and their explanations on why they didn't do them.
No Engagement Party
Who doesn't love an extra reason to celebrate your engagement? But sometimes, it just doesn't make sense. Either you don't want your loved ones to spend money on gifts, or you don't want to plan it. Whatever the reason, it's OK to skip this one.
No Bridal Shower
Back in the day, bridal showers were had to help engaged couples start their lives together. These days, whether you live together before you get married or not, some people already have everything they need for their home. A simple, 'We have everything we need to start our next chapter, and we can't wait to celebrate with you on the big day,' should hopefully be enough to keep the traditionalists at bay.
No Rehearsal Dinner
Sometimes the cards don't align – especially with weekday weddings gaining popularity. So, it's tough to get everyone together a day or two before for a rehearsal dinner. Don't stress over this one, and have your day of coordinator or priest run through everything before the ceremony and/or reception.
Religious Ceremony
Whatever you believe, religion may be important to your family – specifically older and more traditional generations. For whatever the reason, you and your future spouse may want to skip getting married in a church or synagogue or temple.
One BOLI says both of their families expected religious ceremonies and customs. She says that they had to deal with a lot of their family members telling them they were wrong for skipping the ceremonies. "We handled it by simply stating 'we understand you are upset, but this is our choice. We choose to start our marriage in a way that makes both of us happy,'" she says. Ultimately, she says, everyone attended their wedding and had a great time.
Receiving Line
Whether at your religious institution or even at your venue, it is tradition to say hello to your guests after you say 'I do.' Some older generations may like this, but this does take time away from photos, cocktail hour, etc. For COVID brides, it was easy to skip this – which is what some BOLIs did.
Non-Traditional Minister
We all know on Long Island, your marriage can be considered not legal if it's officiated by someone ordained online. However, there are plenty of officiants out there who are non-traditional and will customize your ceremony just the way you want it. This may not sit well with grandma or older relatives. It's important to let them know that this is how you and your future spouse would like to start your lives together, and hope they understand. Or you can find a happy medium like I did, and hire a former priest who customized our ceremony perfectly to appease grandma.
MORE: 5 Best Wedding Officiants on Long Island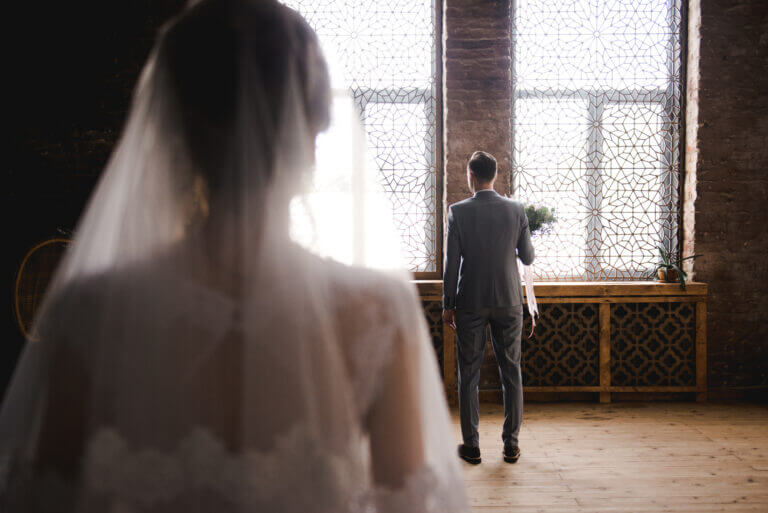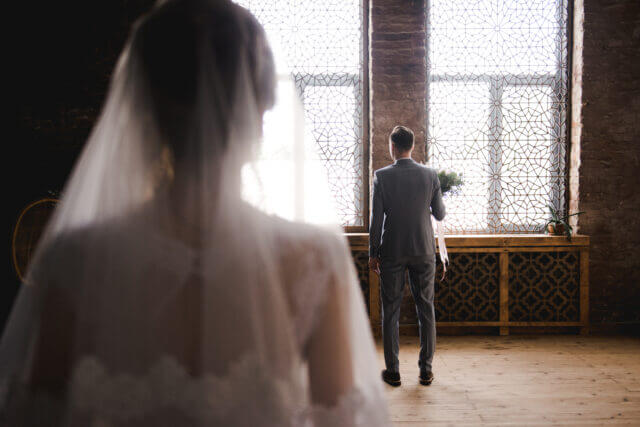 First Look
This can go either way. Some BOLIs say they skipped the first look and wanted to see their husband's face as they walked down the aisle. While others say, they did a first look as a private moment between their future spouses. Either way, do what works for you!
MORE: The Pros & Cons of a First Look vs. Meeting at the Altar 
No Veil
A lot of BOLIs say they skipped this one. While others say, they wore their veil for the ceremony and pictures and took it off for the reception.
Having Someone Walk You Down the Aisle
Your father. Your mother and father. Whatever the tradition is, some BOLIs say they threw this out the window. Some had siblings walk them down the aisle. Some say their mother walked them down. Others say they walked down by themselves.
MORE: My Dad Didn't Walk Me Down The Aisle – and I Survived
Having a Bridal Party
Gone are the days of who dictates who should be in the bridal party. Sure, tradition may have been siblings on either side and good friends. And each side had to have an equal amount. Now, literally anything goes! A best woman and a man of honor? No problem. Mixed gender parties? Awesome. BOLIs Maggie and Caroline say to keep it simple, their bridal parties were just their and their now-husbands' siblings. Other BOLIs are skipping bridal parties all together.
MORE: Not having a bridal party? Here's why that's awesome
Parent Dances
Keep them. Don't keep them. Do them together. It's a tradition that does take time. BOLI Briana says they skipped right over parent dances, and no one actually seemed to notice. If some generations are unhappy that you're skipping them, perhaps find another way to honor your parents that makes everyone happy.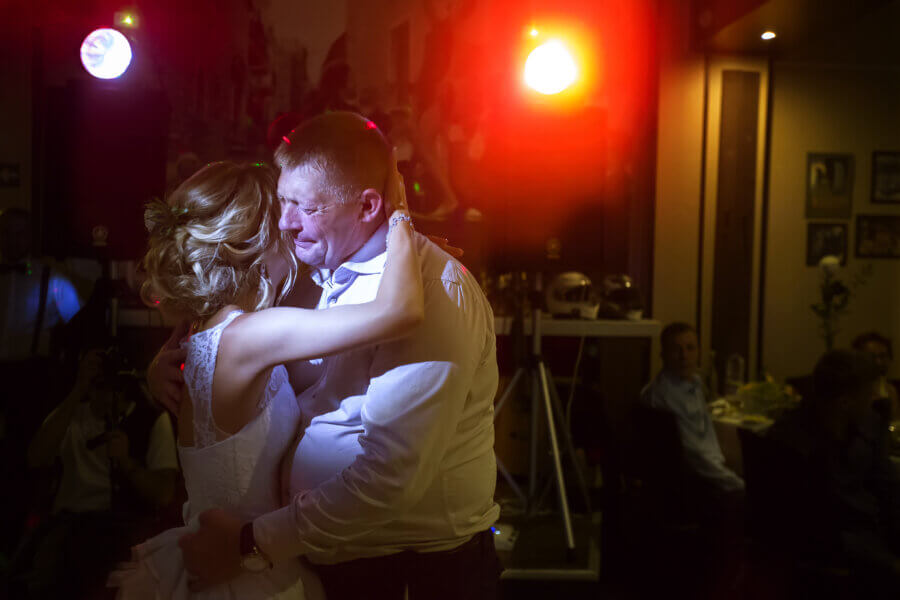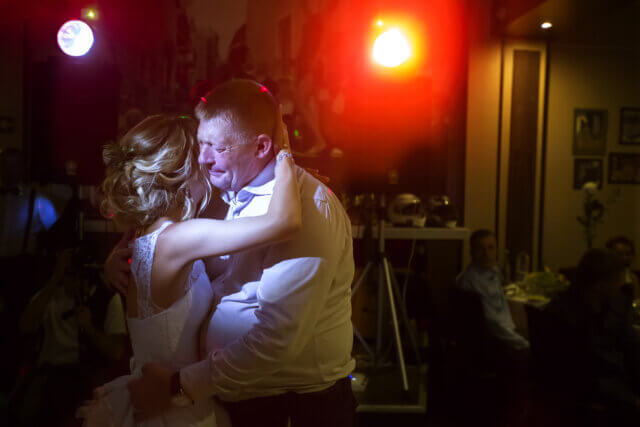 First Dance
If the thought of swaying in a circle while everyone watches makes you cringe, skip it. Make your grand entrance into the reception and then have everyone join you on the dance floor. Your guests will be eager to celebrate you.
Speeches
This formality is getting old. Sure, it's nice to have your maid of honor, best man or parents say nice things about you as a couple. But, it does take time away from mingling, dancing and celebrating your big day.
Sit Down Dinner
BOLIs like Maggie and Dana actually had passed food, more like a cocktail hour, throughout the entire reception. Other BOLIs say while they had a sit down dinner, they didn't have assigned seating.
Bouquet Toss/Garter Removal/Toss
Sooooo many BOLIs are skipping this. I think the thought process behind it was the person who caught the bouquet would be the next person to get married. But this is such an antiquated 'tradition,' and a lot of BOLIs say they didn't have many single people at their weddings. If you don't want to skip this though, some BOLIs got creative. BOLI Natalie says they did a 'who is married the longest' dance. While BOLI Ashley flipped the script and tossed the garter to the ladies and the bouquet to the men.
MORE: Why my husband and I didn't exchange gifts on our wedding day
Having a Traditional Cake
Who eats cake anyway right? (I totally do!) But if you don't, why not have something you do like? BOLI Maggie had a Carvel ice cream cake. And BOLI Luciana had a cupcake tower with a small cake on top. Other BOLIs have just had doughnuts, pies and other sweet treats.
Feeding Each Other Cake
Another old fashioned tradition that seems to be falling off the wedding map. Though a lot of BOLIs are somewhat keeping with tradition by cutting the cake privately for photos, and not in front of everyone.
Having Favors
An extra expense. If you can't figure out what to give your guests, skip it! That's OK. Guests won't miss it. Again, they're there to celebrate you. Oh! And those Jordan almonds – it's definitely OK to skip those!
No Drinking
It's OK to NOT drink at your own wedding. You want to remember the best day of your life. For all those friends that want to get wasted with you, just explain that you (or your family) is spending a lot of money on the wedding, and you want to be able to remember everything. BOLIs Shana and Brandie say they just had one or two cocktails and it was the best decision ever.
Paper Invites
What? I can't put your invite on my fridge!!!??? It's OK. You can definitely go paperless on the invites. It will save you money on something that will usually get thrown out. For those generations that don't 'get' technology, a simple phone call should probably suffice for an invite.
Not Seeing Your Spouse the Night Before
That whole you can't see your spouse the night before or morning of? Sometimes logistics get in the way. Some BOLIs say they spent the night with their future spouse to calm their nerves. It's OK to skip this tradition. For the traditionalists, just explain your reason. Mine? I wanted to shower in my own shower the morning of so my hair would be great! (I didn't say it had to be a good reason).
Getting Married Before the Actual Wedding
COVID sort of made this the norm for many brides. Either they had mini-monies, or just went to town hall. If you have your reasons, simply let the nay-sayers know. Some BOLIs get married before and don't even tell people. This makes it easier to have that non-traditional minister then (think your favorite crazy uncle!) – since you'll be legally married already – the possibilities are endless. You can even get creative with your vows! BOLI Jackie says she got legally married, and then a year later at her reception, she and her husband exchanged tacos instead of rings!
MORE: I'm Not A Bridezilla, I Just Know What I Want
The list of traditions can go on and on. But BOLIs are really bucking the trends – and sharing their tips along the way. BOLI Katherine says she wanted to save some time, so she had her entire bridal party announced as a group. And BOLI Amanda says she got all of her formalities done early in the night within the first half hour – right after the first dance, came parent dances, speeches and dinner orders. She says her guests responded positively to this and this way the party wasn't segmented.
And finally – the biggest BOLI tip – go to your cocktail hour and greet all of your guests! Skip the whole going around to each table during dinner or dancing at the reception tradition. By greeting everyone early, you can enjoy your food, enjoy the day, and rip it up on the dance floor.
Remember, this is your day. Family and friends may expect certain things, but a simple, 'This day is about us and the way we are choosing to start our lives together' should hopefully help ease that tension.