Should you stick to a strict budget? Or borrow money to bring your wedding visions to life?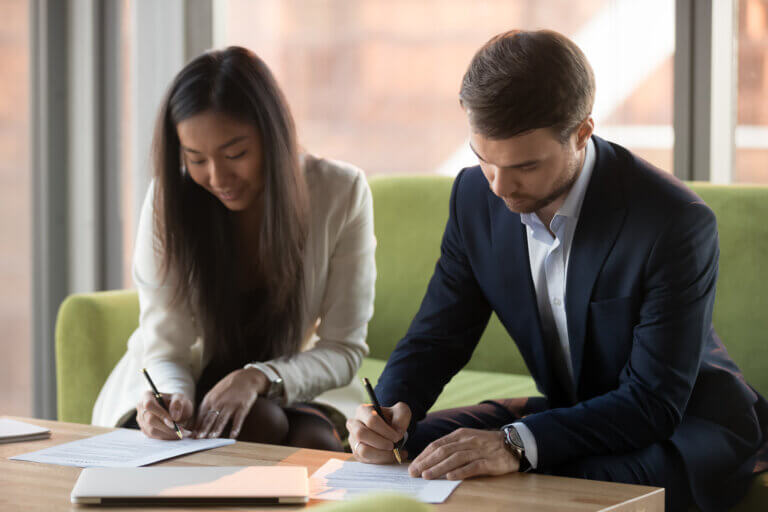 Your guest list tops 200, you want the string quartet AND the aerialists at the cocktail hour, and those main course upgrades look impossible to resist. You've been waiting your whole life for your wedding day, and let's be real – you want it to be epic!
But if your champagne dreams are paired with a beer and wine budget (and you're not getting much financial help from family), you may have to consider doing things a little differently. Paying for just the wedding day basics – venue, photographer, DJ – can wrack up a hefty bill. Once you've gotten knee-deep in vendor contracts and payment plans, you may start to wonder – "should I take out a loan for my wedding?"
Taking out a loan
If your wedding piggy bank is feeling pretty light, taking out a personal loan could pad your funds enough to book those vendors you've been eyeing. But what does taking out a personal loan entail?
There are a few factors to consider when researching personal loans – the loan's term (or length), borrowing minimums and limits, and interest rates or other fees. Most financial institutions (like banks, credit unions, or online lenders) will offer personal loans, with many extending special promotions to current account holders.  
You'll also want to consider aspects like your credit score, current and projected monthly expenses, and your income – if you decide to take out a personal loan, you'll want to make sure you can pay it back on time. 
Advantages of taking out a loan for your wedding
With the money secured from a personal loan, you'll have the funds needed for the wedding you've always wanted!
But besides the obvious, most personal loans have fixed repayment terms which will allow you to make payments over a set amount of time, sometimes as long as several years – the kind of payment plan that many wedding vendors don't offer.  You'll also have lots of options when choosing your specific lender, so you can secure a personal loan with the best interest rate (which can often be lower than credit card interest rates, depending on your credit score).  Speaking of your credit score – making personal loan repayments consistently and on-time can help boost that number. 
Disadvantages of taking out a loan for your wedding
The biggest disadvantage to taking out a personal loan is that because of the interest, you'll actually be paying MORE for your wedding day expenses.  For example – if you take out a $10,000 loan for a term of 2 years with a 7% interest rate, you'll end up paying back around $10,745.
You'll also be tacking on another monthly payment in addition to your rent or mortgage, utilities, car payment, and other financial responsibilities. In the same $10,000 loan scenario from above, you'd be making payments of approximately $450 a month – money that could instead be used for things like home-buying funds or other major life purchases. Using a loan calculator like this one can help you estimate your monthly loan repayment amounts. 
Should you take out a loan for your wedding?
The answer to this question will be different for everyone, depending on individual circumstances. But one financial expert we spoke to cautioned against it.
"I wouldn't recommend a loan for a wedding," said Caleb Diolosa, a financial advisor with Equitable. "I feel like it's a huge liability. It hinders young couples from saving more, building assets, being able to afford homes, and even more so now with how high the interest rates are."
Whether you choose to take out a loan or not, make sure you research options and calculate your expenses and income before making any decisions!