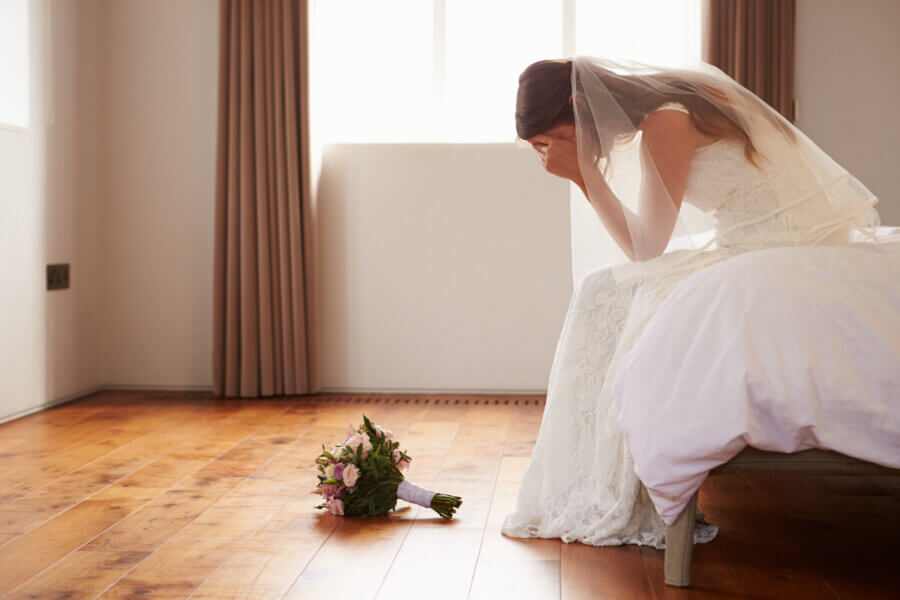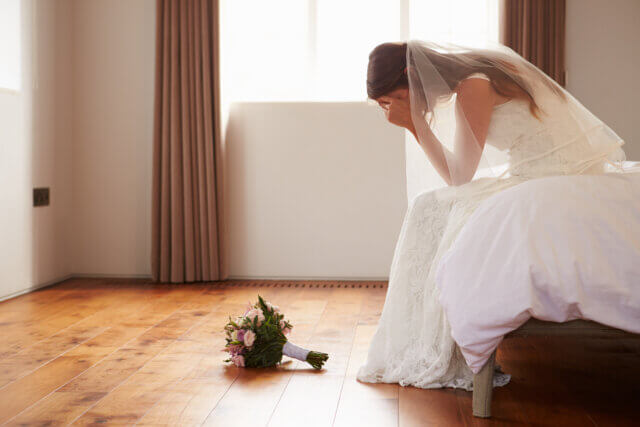 From attention-seeking in-laws and uncooperative parents, to jealous bridesmaids and even your own fiancé(!), why you might encounter a bit of bad behavior on the road to your big day.
As soon as your future spouse slipped that bling on your finger, you couldn't WAIT to tell your loved ones. Whether you hopped on the group chat, chose the perfect filter for that ring selfie on social media, or took the old fashioned route and told your family and friends in person, sharing the news of your engagement was something you'd been looking forward to since that amazing second date (admit it!) with your now-fiancé.
Naturally, you'd expect those closest to you to be as thrilled as you are. You envisioned that planning a wedding would be festive, fun, and completely harmonious: your mother would grin ear-to-ear as you try on dresses, your best friend would be by your side as you sip wine and stuff envelopes, your future in-laws would toast to your happiness at the rehearsal dinner…
Yeah. Cue the record scratch.
While some brides DO have that idyllic experience with no drama, a lot of us just aren't that lucky. Your dress shopping experience was ruined by an overbearing mom with too many opinions, your future in-laws are refusing to even look at each other because of their not-so-amicable divorce years ago, and your best friend decided that your bachelorette party was the perfect time to reenact the cookie scene from "Bridesmaids."  And now, you're storming out of your apartment after a stupid argument with your fiance over centerpieces (listen, you're NOT BUDGING about the lanterns).
Why now, which is supposed to be one of the happiest times in your life, does it seem like everyone around you is raining on your parade? Why are you trying to put out fires and crying in the ladies room when you should be happily preparing for one of the biggest days in your life?
The truth of the matter is,
"A Wedding, and all the events surrounding one, can stir up a lot of emotions for everyone involved.
 Most are positive, like joy, excitement, and love. But for some, an impending wedding may bring about unwanted and uncomfortable emotions. And when people start feeling things they don't want to feel, they may start acting in ways that seem hurtful, rude, or unreasonable.
 If you're dealing with someone who just can't seem to be happy for you, or puts a damper on any wedding planning you try to joyfully accomplish, it may be time to step into their shoes a bit.
 Dress shopping with your mom was a nightmare, but did she have so many opinions on your dress because when she got married, she had to settle for something she didn't really like? Your in-laws are in a stand-off when it comes to doing ANY pre-wedding activities together, but is it because these events are a painful reminder of the time before their own wedding? Your maid of honor caused property damage at the bachelorette, but is it because her own long-term relationship recently ended AND she just lost her job? ( You always felt so bad for Annie in that scene where she stands across the street from her closed up "Cake Baby" shop…)
 As for your fiance who just won't give in about the centerpieces- is it because they feel like they aren't being included in the planning process, and they just want a say in something?
 There's no excuse for behaving badly, especially when it harms another person (and even more so if that person is a bride!). But more often than not, the driving force behind that bad behavior runs a lot deeper than it seems on the surface. When we practice empathy and understanding, we can cut through all the noise and talk about what's really bothering someone we love. We can sit down with our mom while she recounts how much she regrets that A-Line when she really wanted a mermaid gown. We can express sympathy to our in-laws for remembering a hopeful time that didn't end the way they thought it would. We can grab 2 pints of Ben & Jerry's for a cry-fest with our Maid of Honor. And we can have a heart-to-heart with our fiance about feeling like you're on the same team. Then we can express how their behavior made us feel, and come to a compromise on how to move forward peacefully. ("Just trust me Mom, I really love the A-Line!")
 Sometimes, even with all love and empathy we can muster, a friend or family member still won't see the bigger picture. Instead of acting with maturity, putting their grievances aside, and making sure the focus of your wedding is YOU, they'll keep behaving in ways that cause you pain. If that happens, you may need to ask yourself if you want to continue including them in your day. This is not an easy choice to make, so treat yourself with some kindness and care. Talk it out with trusted loved ones and with your fiance. Weigh your options. Make the decision that's the healthiest and safest for you- not what will appease someone else.
 You deserve to enjoy your wedding and all of the planning and preparations that come with it. Know that such a big, life changing event can come with a lot of complex emotions attached. Do your best to handle any interpersonal flare ups with understanding, but remember that the day is about you and your fiance. Your happiness is the most important.