We expect mostly "yeses" on those RSVPs, but sometimes life gets in the way for our guests. Here's what to do if you're under your minimum.
There's no doubt about it – wedding planning is stressful. For many BOLIs, one of the most stressful parts of wedding planning is dealing with RSVPs. From trying to decipher bad handwriting, to receiving cards with no names (thank goodness for that invisible highlighter trick), to hunting down those who just haven't responded, you're bound to feel the guest list pressure at some point. And while we anticipate that everyone we invite will want to attend, we'll often end up with a lot more "no's" than we expect. Sometimes we end up with so many of those "no's," we fall short of the number we promised our venues.
We get it – it's sad to think that not everyone on your guest list wants to celebrate with you (and it's even sadder to think about all those uneaten meals you'll still be paying for). But don't worry! There are several ways of dealing with a lighter-than-anticipated head count. Here's what to do if you're under your minimum.
Invite Your B – list
This one's a no-brainer. You may have had to leave a few people off of your initial list to keep the number from getting too high. Now that you have the space, you can extend an invitation to your co-workers, gym buddies, or that second cousin you haven't seen in awhile. Put together some names for your B-list and see if they're free for the night!
It may feel awkward to reach out to someone you didn't initially invite, but if you explain the situation diplomatically and honestly, they should be happy to be included.
Extend Plus Ones (or Twos, or Threes)
Another easy solution! In order to keep your list manageable, both you and your fiancé decided to only include plus ones for married guests or those in long-term relationships. If you're looking for a way to fill some seats, think about extending plus ones for others who are attending. You could even go a step further and let a solo guest bring 2 or 3 others along!
This can include newer romantic partners for sure, but it can also include your attending guests' roommates, parents, or other friends.
Invite Kids
This might not be the answer for everyone, but if you need a way to hit your guarantee, consider letting guests bring their children to the party! Kids will have a blast hitting the dance floor, and you'll save Mom and Dad the babysitting charges for the night.
That being said, some kids may get a little crazy, or may not know to be quiet during certain moments (like your first dance or your maid of honor's speech). Also, some of your guests with kids may be looking forward to a night without the little ones tagging along. It's an entirely personal decision – just make sure that both you and your fiancé are on the same page.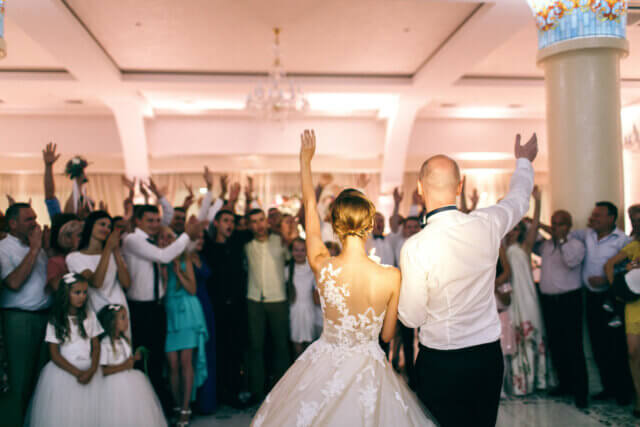 Negotiate With Your Venue
Believe or not, many brides end up a few guests short of their guaranteed minimums. It's happened even more frequently over the last two years, with COVID-19 concerns keeping a lot of us away from large events and avoiding travel. You may feel a little sad or embarrassed, but trust us – your venue has seen it before.
As soon as you realize you'll be under your minimum, reach out to the management at your venue. While they may not be able to lower the numbers for you, they might be willing to throw in a few extras (like a few more passed hors d'oeuvres at cocktail hour). You may even be able to take any leftover meals home with you at the end of the night. Hello, day-after-wedding dinner!
Host a BOLI Table
Hang out in BOLI long enough, and you'll see a post pop up – one of your brides-in-arms is short on guests, and needs some support from her BOLI crew! If your guest count is below your guarantee, let your fellow Brides of Long Island know. You're sure to get a table of gals who will bring tons of life and fun to your reception!
A BOLI table is truly a win-win for everyone. It's a great way to meet your minimum, make new friends, and help fellow brides with ideas for their big days (especially if they're getting married at the same venue you are).