Stumped when it comes to meeting with a florist? These questions will steer you in the right direction.
Bouquets and centerpieces and boutonnieres, Oh My! Yes, that's right. You've come to that point in your wedding planning when it's time to choose a florist. Perhaps you've had your bouquet picked out since you were a little girl and just need to find the perfect florist to bring that vision to life. Or maybe you know what sort of theme and color you want, but need help creating the floral look. Either way, finding the perfect florist is important. And it doesn't have to be stressful. Just as with any wedding vendor, you want to go in with some sort of vision and then ask all the right questions. Not sure what to ask? Here are 19 questions to ask when choosing a wedding florist.
1. Are you available on my wedding date? As with all of your wedding vendors, you want to ask up front if they are available for your date.
2. Can you design this? Obviously, this will be whatever you envisioned. It's best to bring photos if you have a certain design, flower, etc. that you're going for.
3. Have you worked at my venue before? If a florist has designed arrangements at your venue before, it's easier for them to bring your vision to life. If they haven't worked there before, that's OK too! But it's best to ask up front.
4. Do you require a minimum budget?
5. What's included in the total cost? For example, is delivery and set up included or is that extra?
6. Can you show us some of your work? Any good florist will have samples and photos of their work and arrangements. If you feel awkward asking in person, definitely check out their social media pages.
7. How would you describe your style?
8. What flowers do you recommend for my wedding based on the season? For example, if you have your heart set on a specific spring flower and you're getting married in the winter, it might not be available. It's best to ask up front though – as the florist would know best.
MORE: Weddings by season
9. What do colors or flowers do you recommend to match the bridesmaid dresses? Tuxedos? Etc.
If you're really unsure of what direction you want to go in – always ask for help.
10. What do you think I need as far as bouquets, centerpieces, etc.?
A florist will be able to tell you exactly what you'll need and price it out.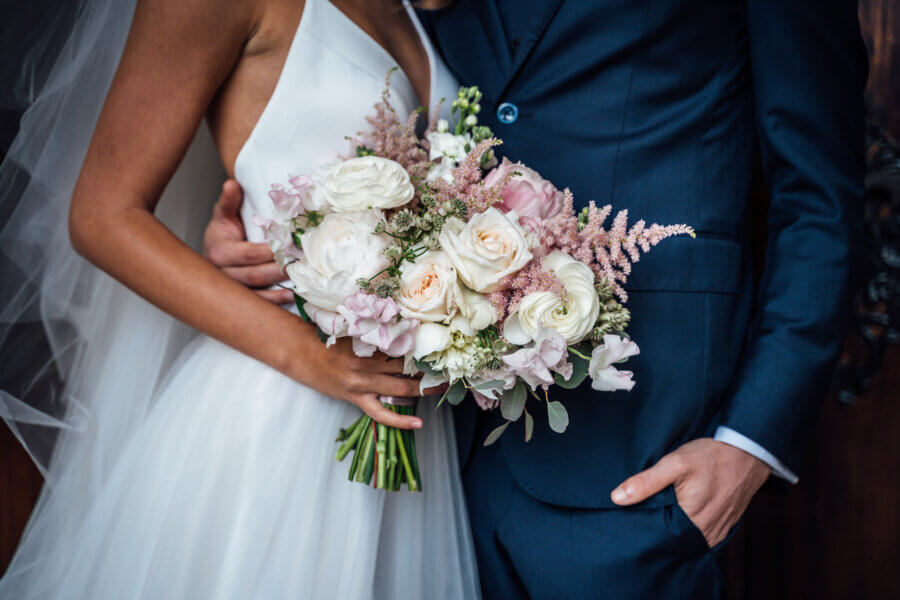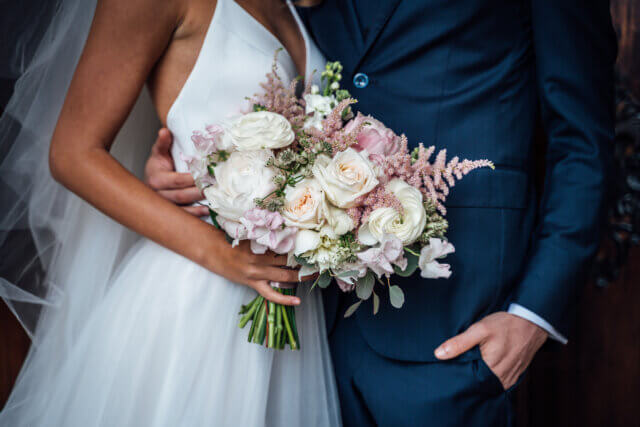 11. Can you work within my budget?
If you have a set budget for flowers, you'll want to ask this question up front. This way, you won't be disappointed as they start to add up what you want. If they work with all budgets, they'll be able to tell you what you'll need though.
12. What other décor items do you offer?
If you want an arch or a floral pedestal, bird cages, card boxes, etc. A lot of florists offer these items – so make sure to ask if this is something you're interested in. It might be more cost effective to rent from them than to buy it on your own.
MORE: Centerpieces that aren't flowers
13. Could you provide a sample of an arrangement for me?
If so, is there a fee for this?
14. What if I change my mind on what I want?
If you're really second guessing yourself when it comes to flowers, make sure you ask how far in advance you have to change your mind, and if there would be a fee involved.
15. What do you charge for a deposit? What is your payment plan like? When is the final payment due?
16. Are you the one actually putting together my arrangements?
17. How many weddings do you provide flowers for in a day?
18. Is there a refund policy?
This is always a good question to ask. And it's important to make sure any sort of policy is written into the contract.
19. How long have you been in the business?
It's always important to ask for a little bit of background on any vendor, and a florist is no exception.
MORE: Flohral Preservation will transform your flowers into a work of art
As with every vendor you'll speak with, just remember they want to help you bring your visions to life! So go in with an open mind, some sort of idea of what you want and loaded with questions. As long as you're prepared, you'll be able to figure out which florist is best for you!