Looking for a wedding dress can be so exciting! But don't forget these things while you shop.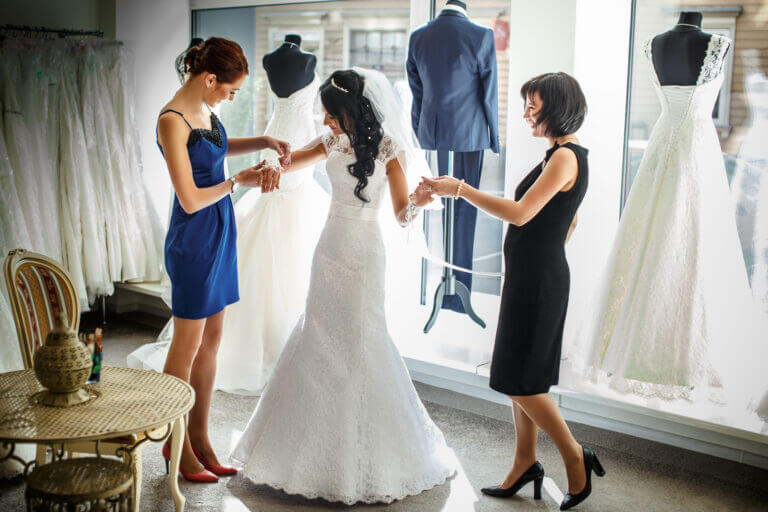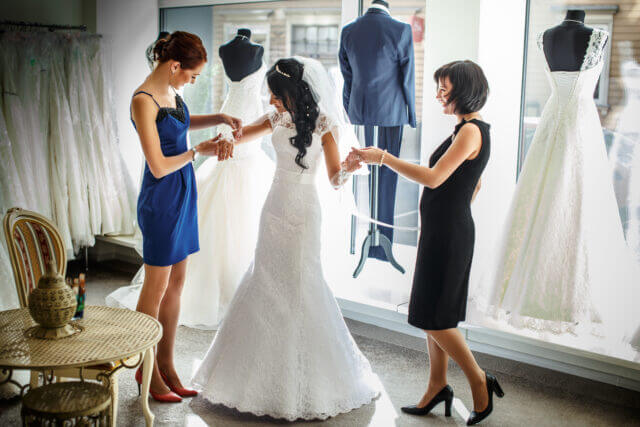 Every part of wedding planning can be exciting. But there's something about looking for a wedding dress that sort of makes it all feel real. And when you put on your first gown – even if it's not the one you end up with – it could bring a tear to your eyes.
In order to have the most amazing wedding gown shopping experience, here are six things to wear when dress shopping.
1 – Different Underwear
You're going to want to bring out your best panties here. You know, the ones that are seamless. A neutral color. If you're unsure of what style of dress, bring different styles of underwear, thong, bikini cut, etc. Or bring the pair that you love and know you'll wear on your wedding day because it is comfortable!
MORE: What you feel when you find THE dress
2 – Different Bras
Even if you know exactly the kind of dress you're going to get, you still want to give yourself options. This is why it's important to bring different styles of bras. Strapless, regular, plunge, push-up, one-strap, crossed in the back. Really the possibilities are endless when it comes to bras and your wedding gown. Pro Tip: If you plan to wear your regular bra under your dress, ask that hooks be sewn into the dress straps to keep the bra straps in place!
3 – Spanx/Shapewear
If you know you'll be wearing any sort of Spanx or shapewear under your gown, make sure to wear it the day you go shopping. This way, you'll get an actual idea of what the dress will look and feel like on the big day.
4 – Wedding Shoes
OK – We know you might not have your wedding shoes until after you find your dress. BUT, it's important to bring a similar style – particularly in the heel. If you know you're going to wear high heels, bring them. If you know you're wearing flats, or a small heel, bring something similar. AND, if you plan to wear high heels and then change at some point throughout the night, bring both styles to see how they'll look!
MORE: 6 of the Most Popular Wedding Dress Silhouettes – Which One Should You Choose?
5 – Hair Ties
Throw some hair ties or clips in your purse. If you know you're going to wear your hair up on your wedding day, you can toss it up while trying on dresses. Plus, you might be nervous and sweat while trying on gowns. And you'll be happy to throw your hair up and off your neck.
6 – Veil/Headpiece
Bring your veil or headpiece to make sure they go with the gowns you try on. If you don't have them yet, bring something similar. Or ask the bridal salon if they have a similar veil. This will give you a great sense of your full look that day.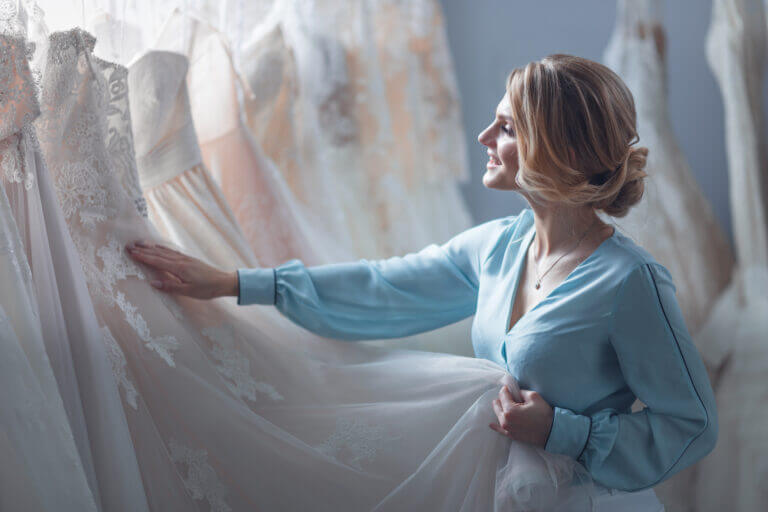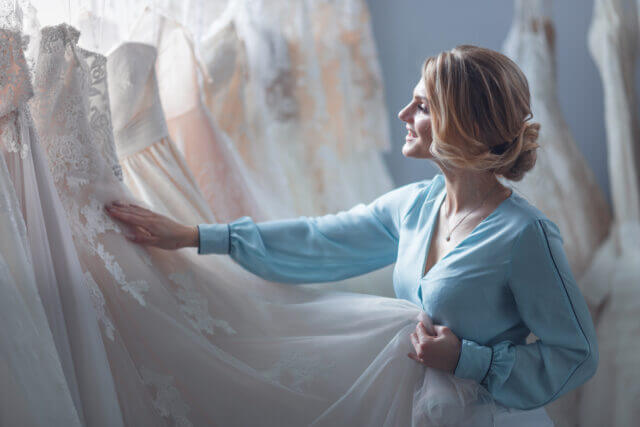 What you bring dress shopping is just as important as what you wear! Don't forget these essential things before you head out to your bridal salon. (And if you need help deciding where to go – check out our preferred vendor list!)
Pictures of Your Dress Inspiration
It's important to have at least some sort of idea of the style of dress. You may not know the designer, but you should know if you like A-line, ball gown, mermaid, etc. If you bring photos with you, it will give your stylist an idea of what you want. But remember to keep an open mind!
Your Phone
Or a camera. Sure you can see yourself in the mirror, but it's important to take photos to see what you look like. This way, after you leave, you can look them over to really see what you like and don't like. Just remember to hide them from your fiancé!
A Notebook
Or some place to jot down ideas, designers, what you like and don't like, etc. You can also jot down prices at different places to see what's in your budget.
An Entourage
OK. Maybe not an entourage, but you should bring your bestie or mother or future mother-in-law, etc. Someone who can "oooh and ahhh" with you. And share in your happiness when you find "the one!"
A Budget
This one is probably the most important. If you're on a strict budget, it's important to let your bridal salon know. This way they won't bring you beautiful gowns out of your price range. And that way, you can fall in love with one that's perfect for you and your wallet.
And remember BOLIs, you're beautiful! And you're going to be beautiful on your wedding day.