In Brides of Long Island's monthly "Miss" series, we profile some of our members' unforgettable bridal showers. This month, we talked to BOLI Janel Arbasto about what it's like to live "La Vie en Rosé."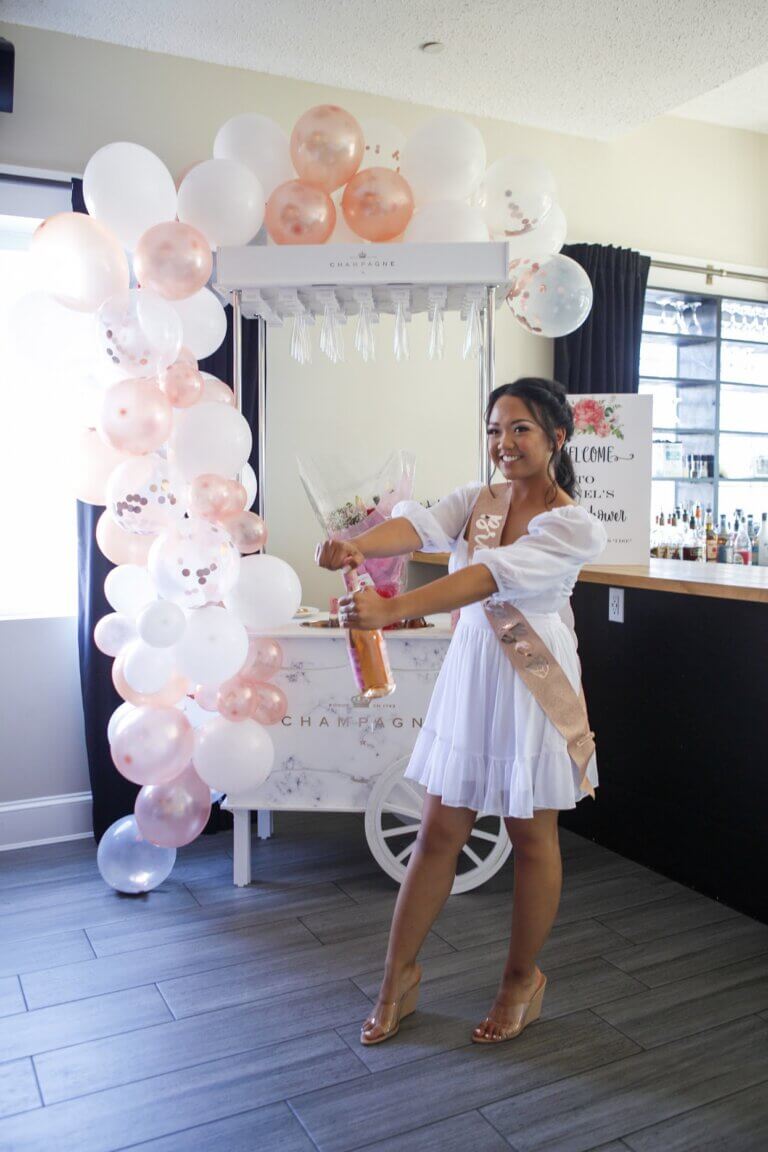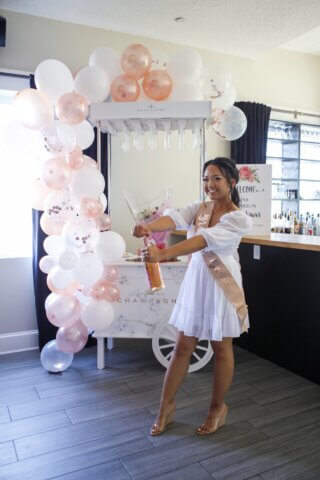 Summer is a season for celebrations, and for Bride of Long Island Janel Arbasto, the summer months will always hold some of her favorite reasons to celebrate – from a surprise engagement over a 4th of July weekend, to an end-of-the-season wedding in mid September, to her feminine and romantic bridal shower, themed "La Vie en Rosé," on a beautiful June afternoon.
Inspiration for Janel's shower came in the form of a Peconic vineyard with a solitary focus. "If you've ever been to Croteaux, it's like a small rosé vineyard. I love rosé, and I was really inspired by that," she said. "I love the idea of a traditional but modernized bridal shower, and I wanted to give it those 'winery' vibes.
"I wanted a very feminine, romantic type of situation."
Organization and delegation became important factors in bringing Janel's visions to life, and she had a team of friends and family members more than ready for their assignments.  "I did have a lot of help from my mothers and my maid of honor," she recounts. "With my mom, there's a little bit of a language barrier. She's Filipino, and this was all very new to her. So she paid for everything, but I told my maid-of-honor to pick out the centerpieces, my welcome sign, and take care of music."
For further shower details, Janel turned to her future mother-in-law who supplied favors and game ideas. "It all ended up working really well, because everyone had assigned jobs. It's kind of difficult when nothing is assigned and everyone is just kind of scrambling, like 'what do we do?'"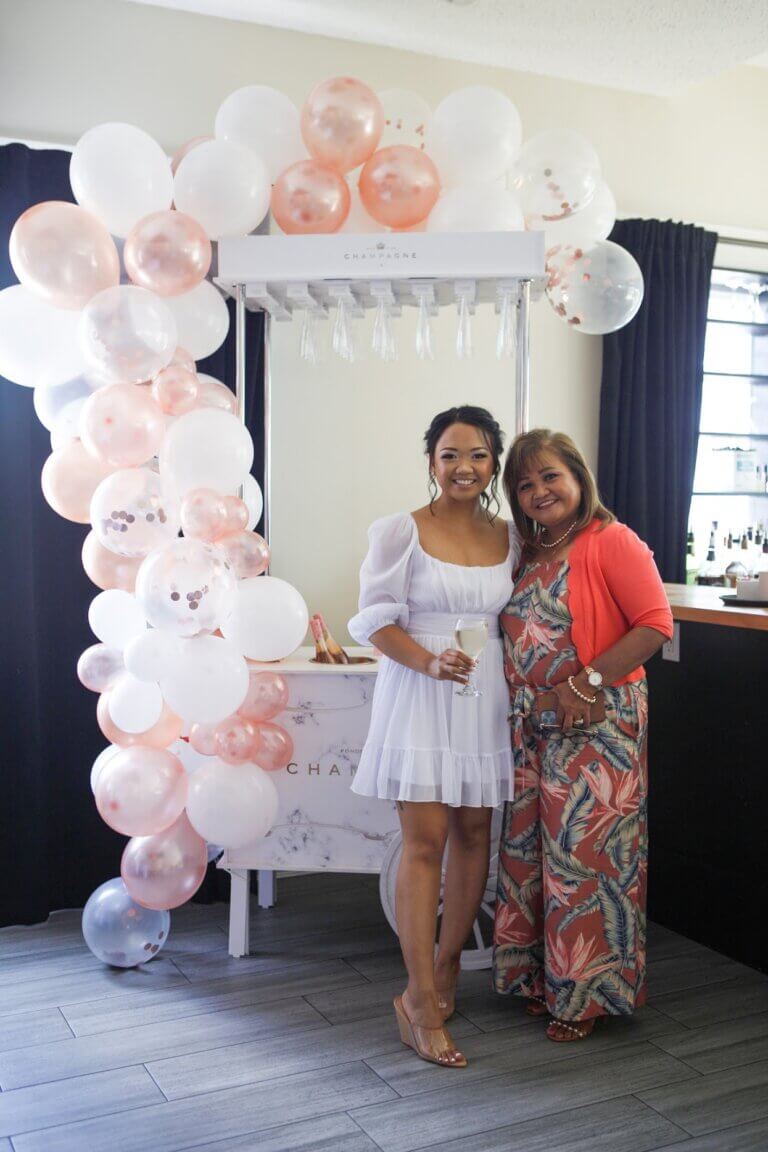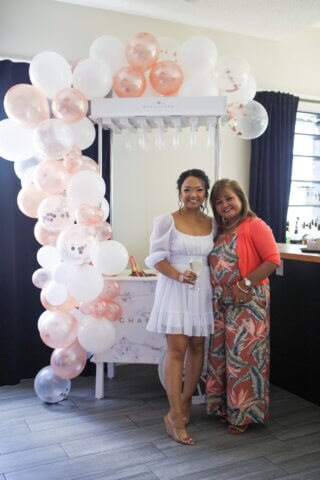 EGP Land & Sea in Island Park provided the perfect setting for the rosé-themed affair, a venue that topped Janel's list of potential locations. The Sunday brunch included a buffet of gourmet items from their menu, a selection of bagels and fruit, and free-flowing unlimited beverages – all served in their airy and light-filled party room.
Accompanying the main fare were detailed and delectable sweets from Love & Butter Bake Shop. A two-tiered cake, immaculately decorated sugar cookies, and decadent chocolate covered strawberries left some of Janel's guests wondering if the delicious sights in front of them were even real.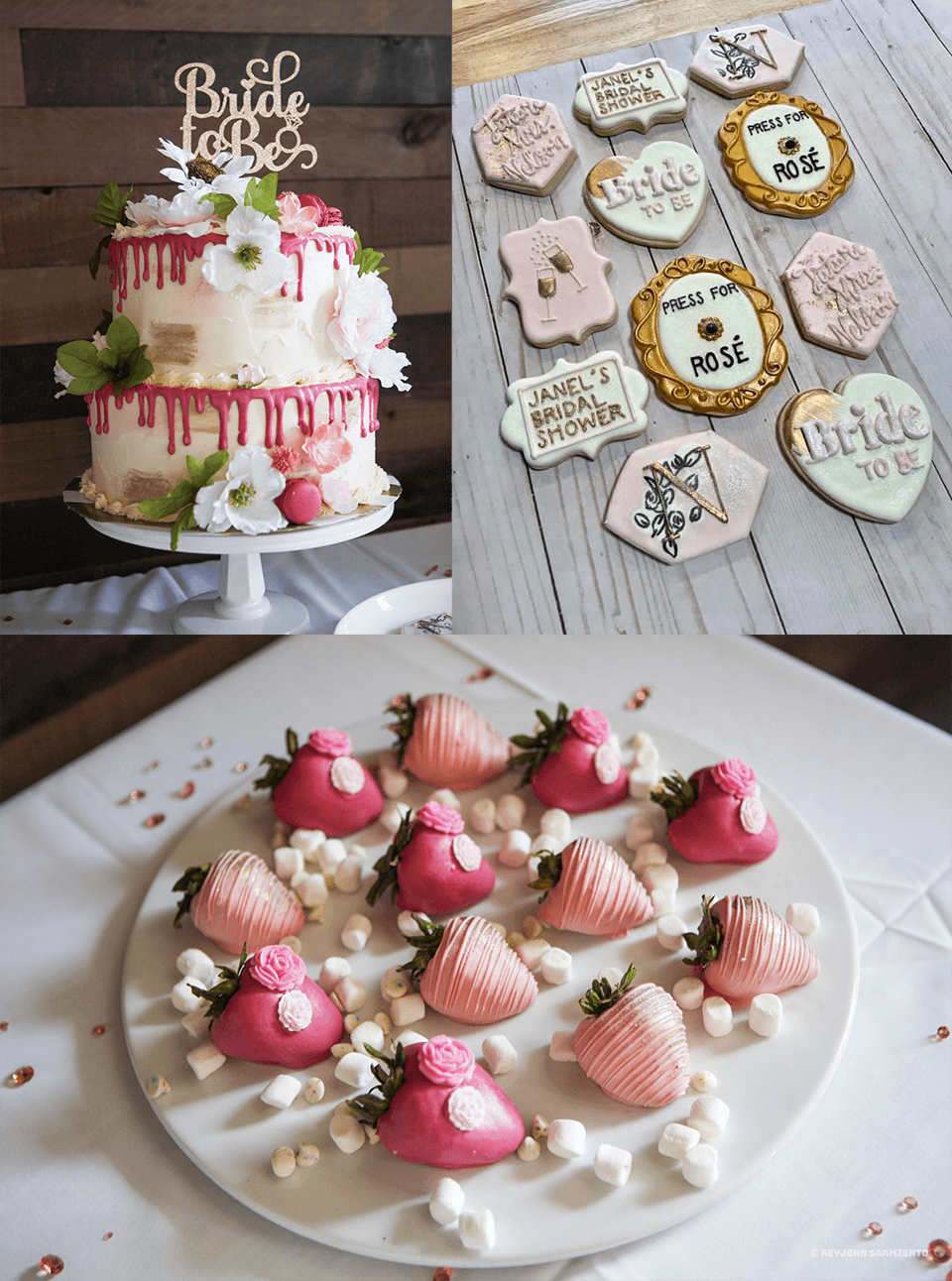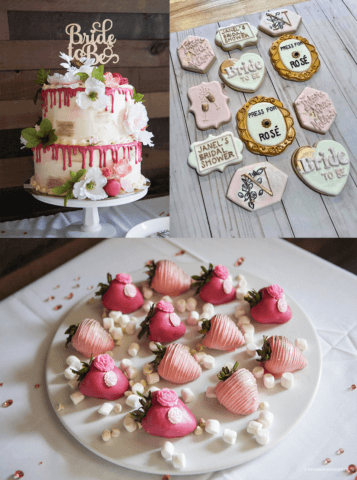 But perhaps Janel's favorite shower element – one that had a hand in inspiring the look and feel of her entire day – happened as a result of pure luck. "The champagne cart was one of the biggest, most exciting things about my shower," she remembered. "These girls were coming up with something brand new in 2020, 'Creme de la Cart.'  They were having a giveaway, so I just applied for it."
Despite some initial hesitation, the decision to enter ended up being a game-changer. "It was in the middle of COVID, and I thought 'I'm never going to use this,' but I ended up winning and I was so excited. A lot of my initial inspiration really stemmed from the cart, since I didn't even think I was going to have a shower."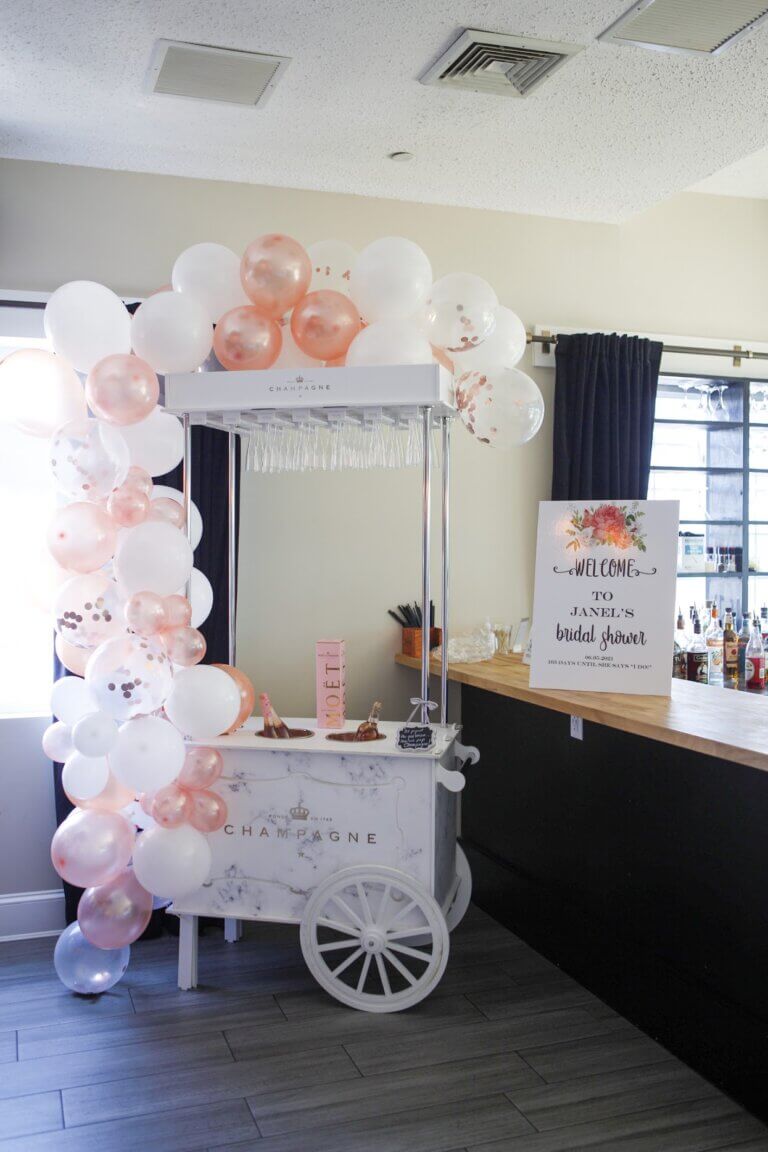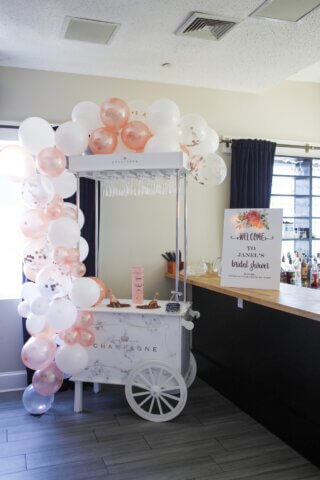 After some time sipping rosé from her perfect prop, and playing a few fun and interactive shower games, Janel wanted to honor those who'd stood by her side and worked hard to execute the amazing day she had envisioned. "My bridal party, they're so special to me, and I really wanted to thank them," she effused. "For the robes, I wanted it to be a little more practical in the sense that they might wear it in the future. They had a simple gold monogram of their initials, which I thought was very beautiful and classic."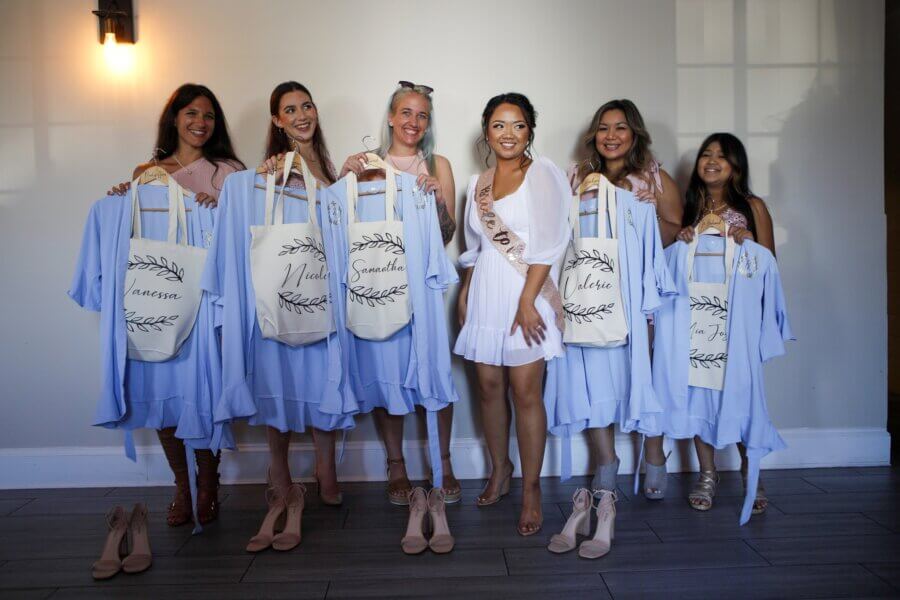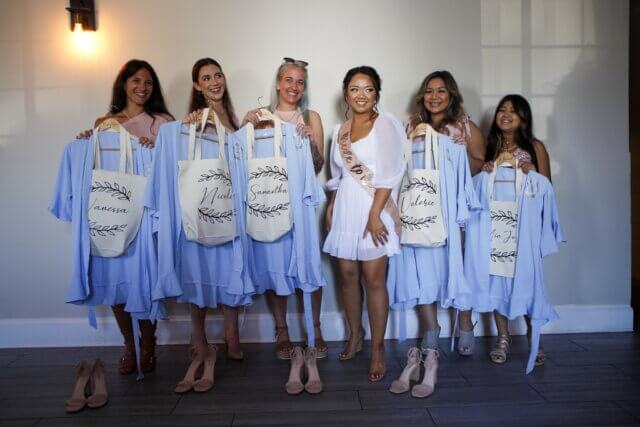 Janel's ideas for gorgeous but useful gifts didn't end there. "I noticed that every single wedding I've been to, I'm required to have all these things and I need to provide my own bag. So I ended up getting the totes too."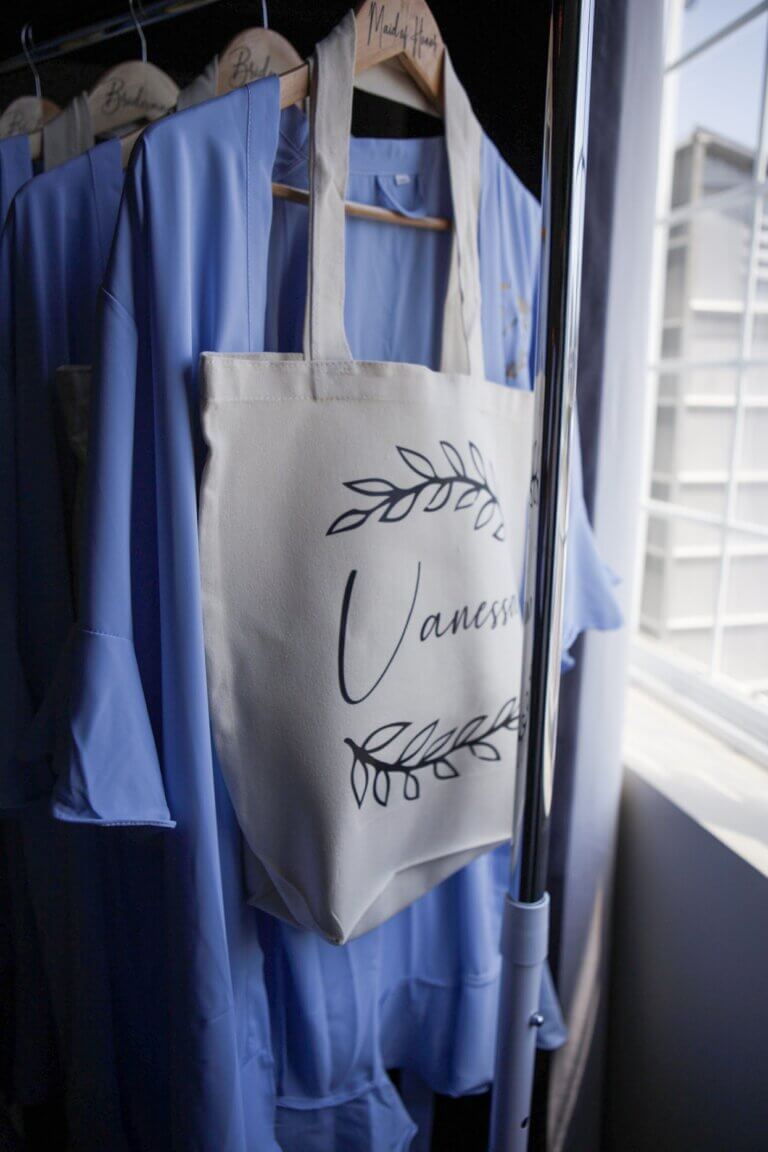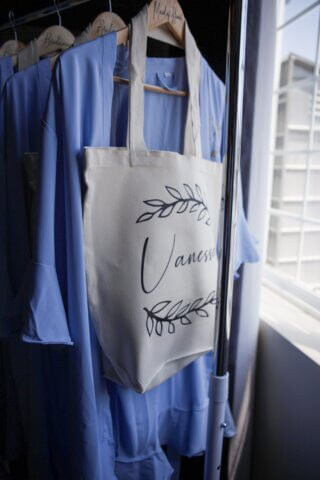 In addition to personalized robes and totes, Janel also provided her party with hangers and shoes. Presenting a menagerie of gifts at the shower afforded her time to appreciate and document the love she felt for bridesmaids. "I know on the wedding day, it's going to be about me, and not really going to be about the gifts. So I really wanted to show off my gifts at the shower."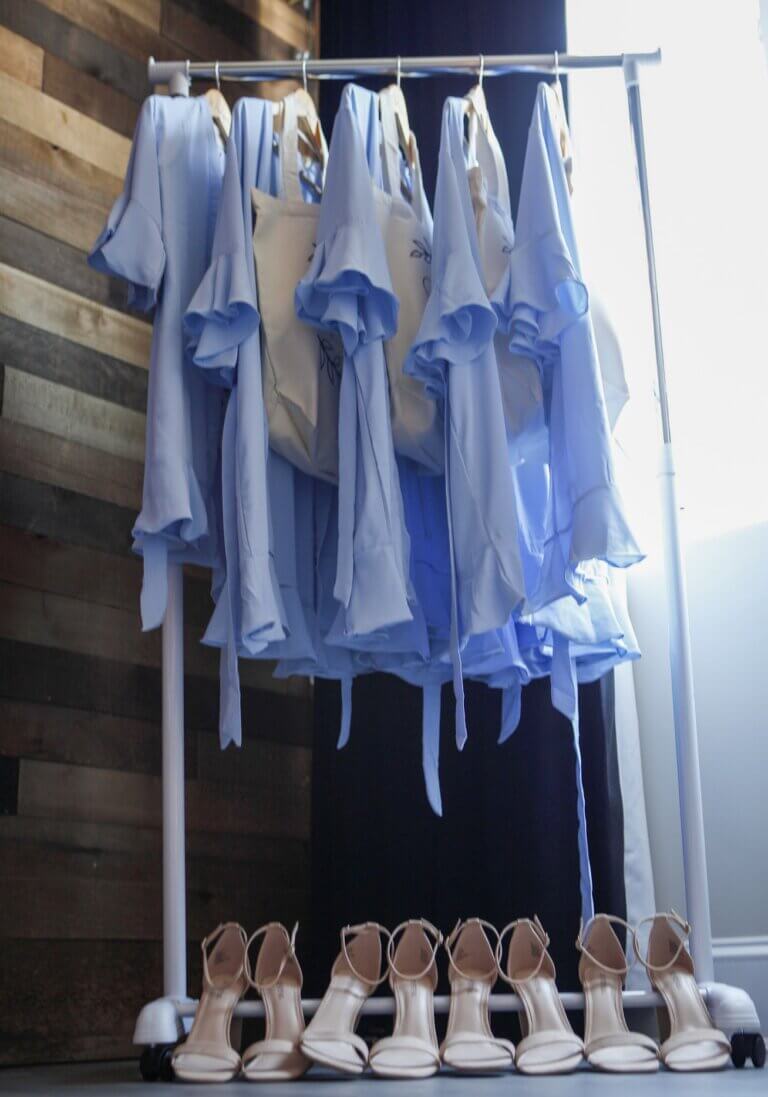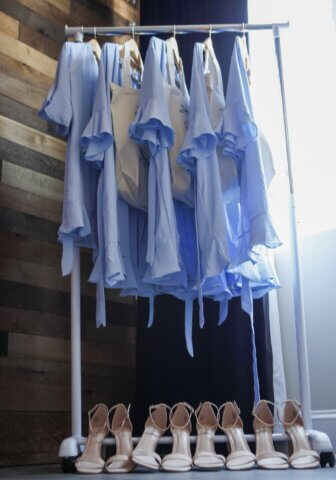 Janel's words of advice for BOLIs planning their showers is to know yourself and stick to a plan. "If you have a vision and you want to portray it, I would recommend doing a vision board, or picking a theme or color, or just writing down exactly what you want, so that everything is cohesive and narrowed down to what you think is important. If you're very nonchalant and free-flowy, then stick to that too, because you can't be free-flowy and then the right before the shower say, 'oh, well I wanted this instead.'"
She also feels that including information on your invitations can be helpful. "I had an insert saying 'a display shower' so that everyone didn't come expecting me to open gifts – send them in clear wrapping, or to my house. I didn't do gifts at the shower because I wanted to have that mingling time between my families. I focused on decorations and quality time with each other."
Janel also advises capturing the memories of all the love surrounding your celebration. "I would definitely recommend having a photographer, or someone designated to be the photographer. It doesn't even have to be a professional, It could be a designated person with their cell phone to go around. I think it's important to take a photo with every table that you have, just so you can remember all of the important women in your life that were there for you for that event."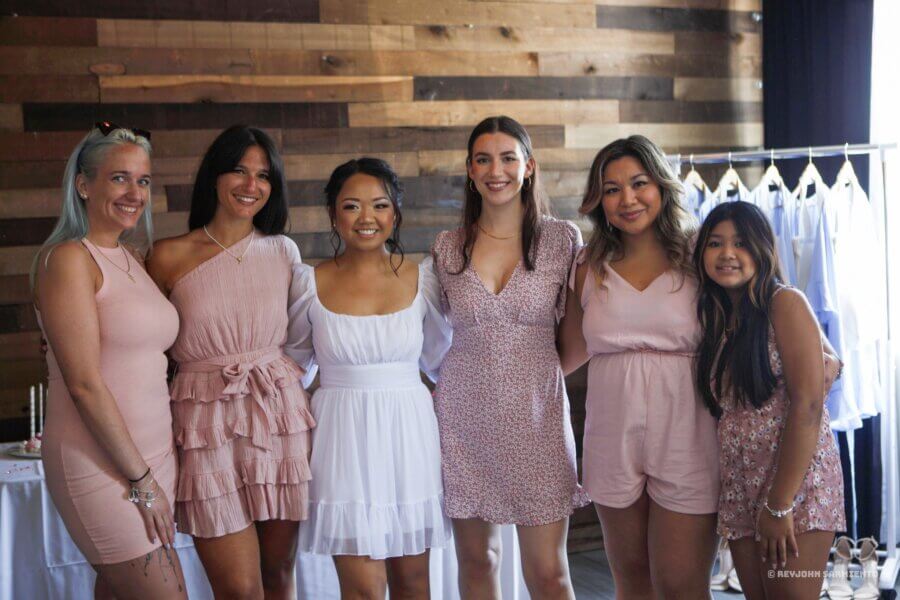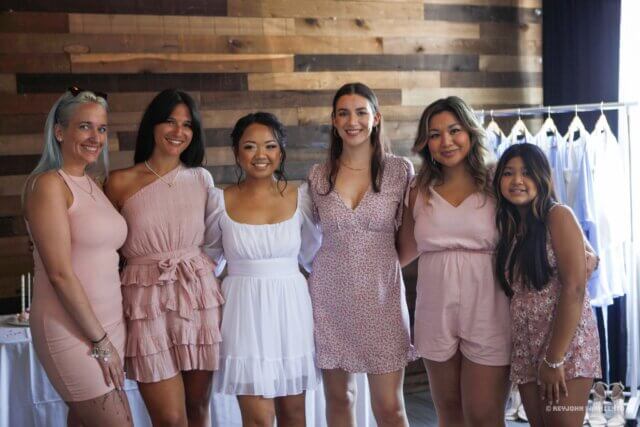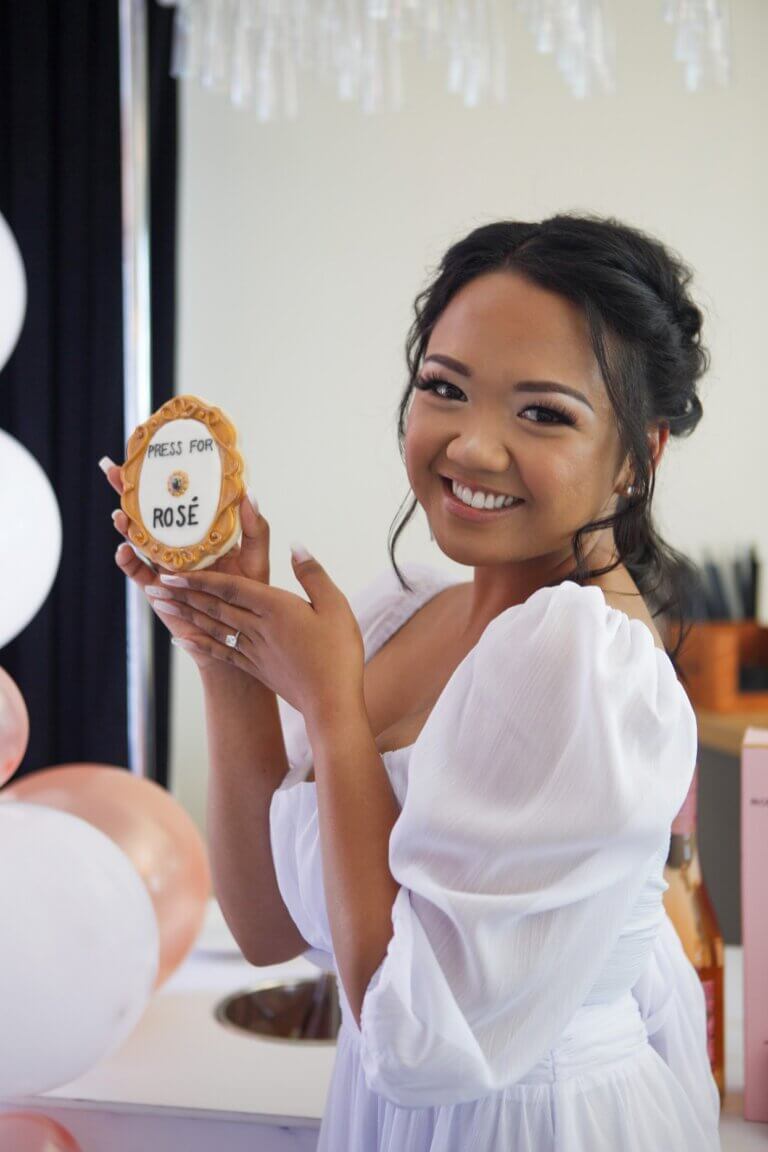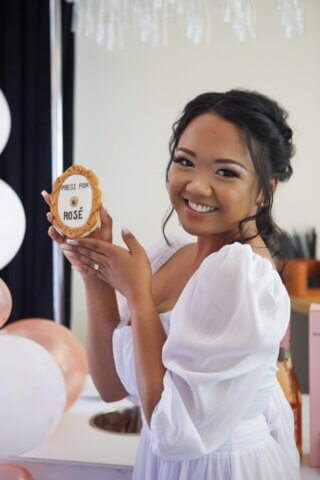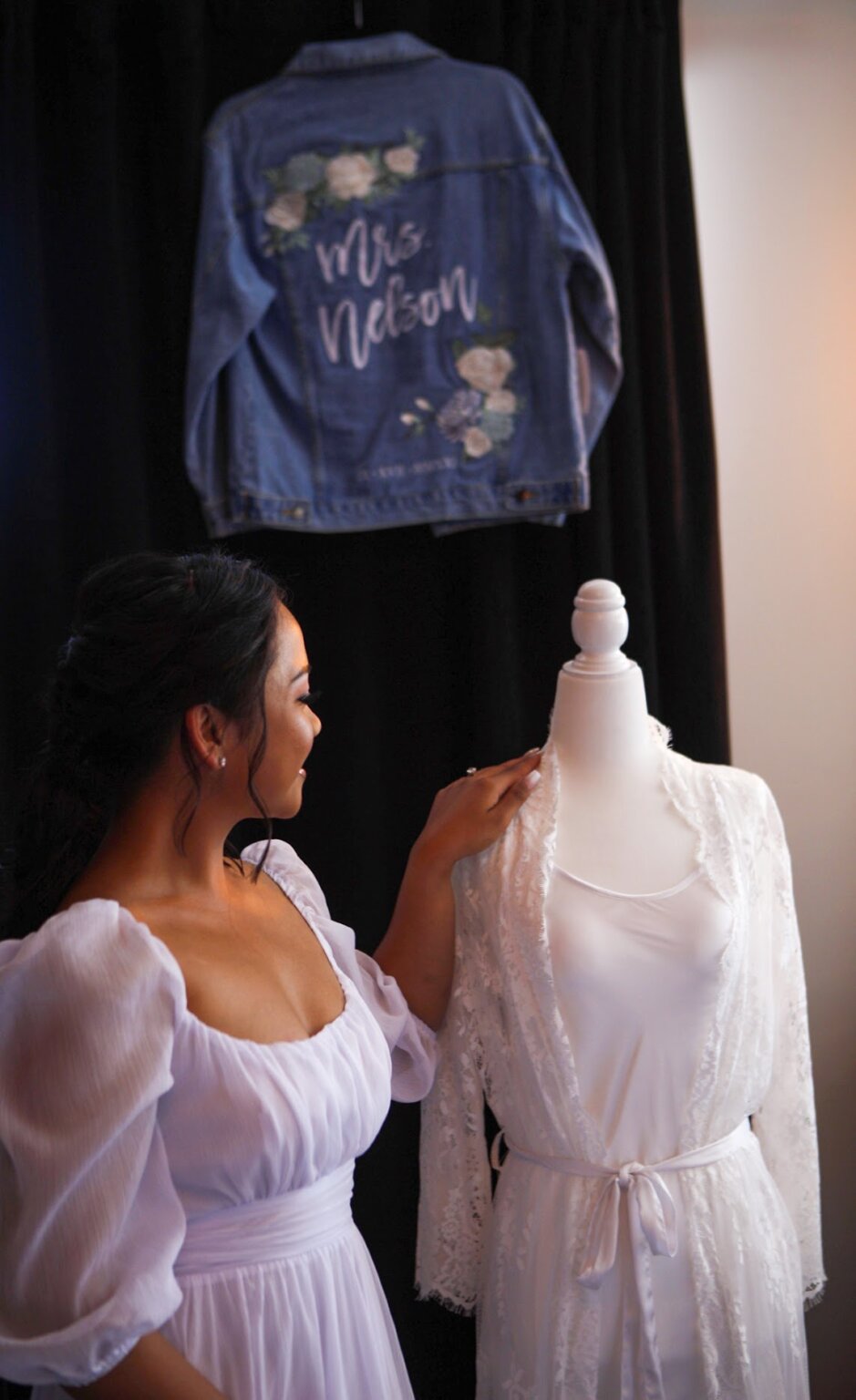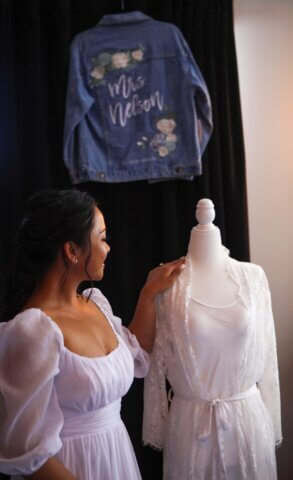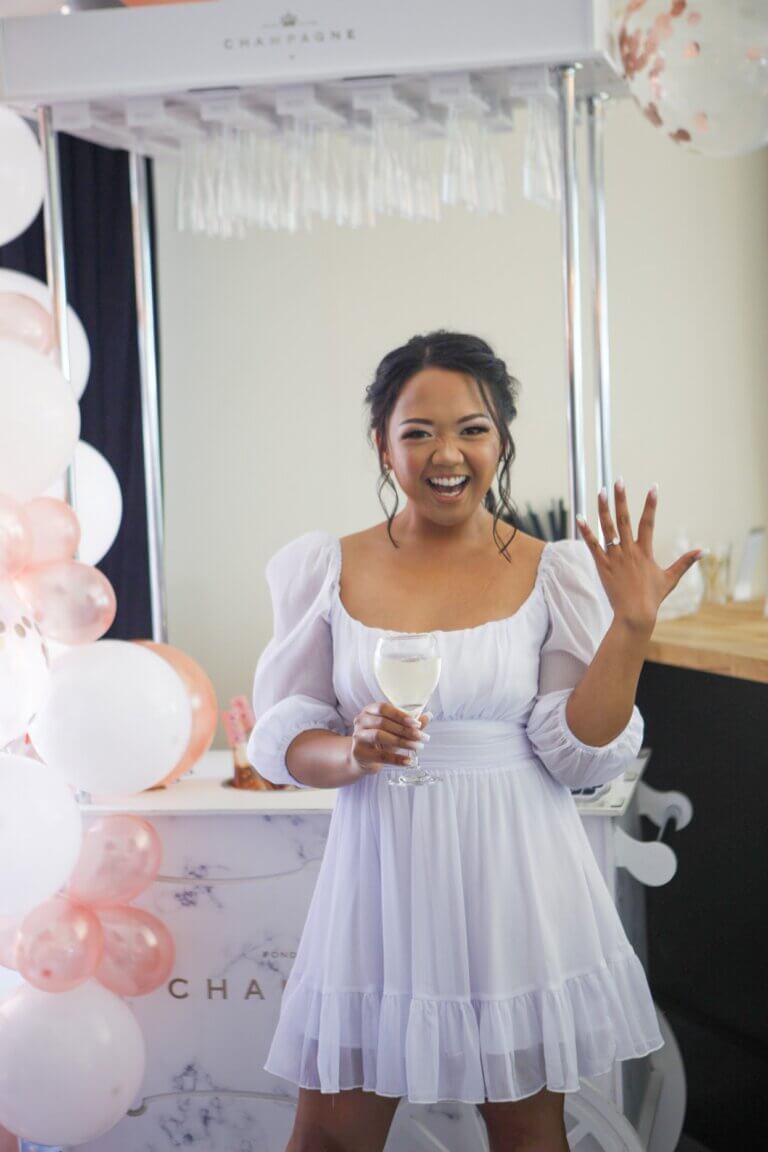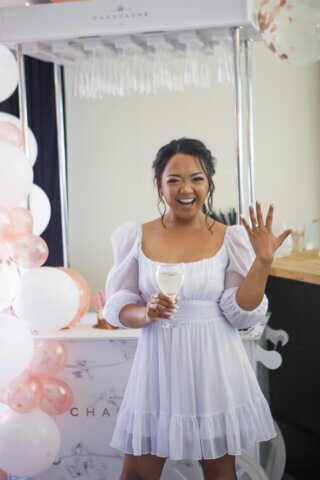 Credits:
Janel's shower was held at EGP Land & Sea in Island Park on June 6, 2021
Photography by ReyJohn Sarmiento
Champagne Cart by Creme de la Cart
Cake and dessert table by Love & Butter Bake Shop
Janel's makeup by Victoria Marino Pappas
Janel's hair by Wish Upon a Bride
Janel's dress by Lucy in the Sky
Bridesmaid totes & hangers by hmcornercrafts

Janel's custom denim jacket by Dearly Threaded
Janel's bridal robe & bridesmaids robes by ChicPrincessCloset
Bridesmaids shoes by JustFab