In this Brides Of Long Island's series, we profile some of our members' amazing honeymoons! This month, we spoke with BOLI Bianca Markopoulos about how a rescheduled flight didn't dampen her Aruba honeymoon!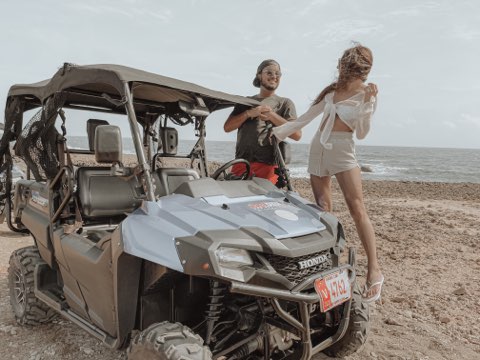 Seeing as how Bride of Long Island Bianca Markopoulos met her husband Spiros during a vacation with her family in the Bahamas, it was only fitting that they pick another Caribbean island for their honeymoon. After visiting Aruba for a friend's wedding a few years ago, Bianca and Spiros knew they wanted to return to paradise to relax on their honeymoon. However, their trip started out a little rocky with a rescheduled flight, but that didn't deter them from making friends and living their best lives in Aruba.
Perfect Wedding Weekend
Labor Day weekend was a great weekend for a wedding. And Bianca and Spiros' Sept. 4, 2021 wedding at Peconic Bay Yacht Club in Southold was no exception. Bianca says the yacht club was the style she was looking for, as she had a boho-style wedding. With a lot of family from out of town, Bianca says everyone made a little Long Island vacation out of her wedding weekend. She adds that everything from the rehearsal dinner at Noah's in Greenport to her actual wedding day was just perfect.
Not Quite Early Enough
Seeing as how everything with her wedding was perfect, Bianca expected nothing less from her Aruba honeymoon just a little over a week later on Sept. 13. As with most brides in the last two years, Bianca quickly learned how she could be affected by COVID-19. But it's not what you may think: both she and Spiros had their negative tests, as well as the COVID insurance. However, when they arrived at the airport two hours early for their international flight, they were told they were late and couldn't board their 7 a.m. flight. According to Bianca, they were actually supposed to be at the airport four hours ahead of time due to COVID-19, so they had to reschedule their flight to 11 a.m.
Bianca and Spiros didn't let the blip in the rescheduled flight ruin their honeymoon in paradise though! After a quick 15-minute ride from the Aruba airport, they arrived at the Hyatt Regency Aruba Resort Spa and Casino.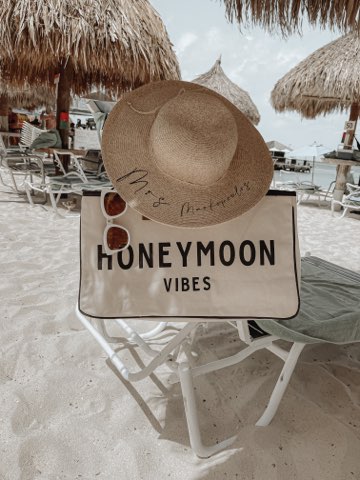 MORE: 5 mini-moons that don't require a passport
Making Friends in Paradise
The resort, which offered an all-inclusive option, was beautiful with five different restaurants to choose from. Bianca and Spiros stayed in a suite with a huge balcony overlooking the beach.
And while it had many activities, including parasailing and Jet Skiing, Bianca says she and Spiros chose to relax by the pool and on the beach. She says they spent a lot of time at the pool bar, making friends with other couples on their honeymoon as well. "And what was great was, we made friends there who lived 20 minutes from us in New York, which was a coincidence," says Bianca.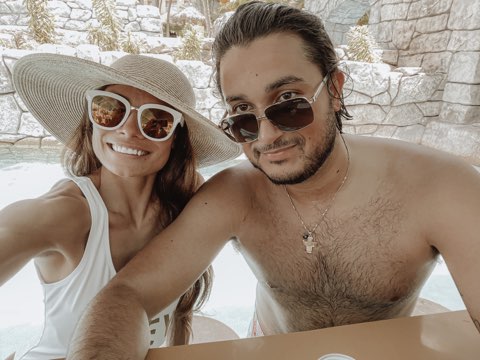 Exploring the Island
While they didn't partake in water sports, Bianca and Spiros did take an ATV tour of Aruba. The tour took them to a swimming area, as well as other historic areas of the island.
In addition to their ATV tour, Bianca and Spiros booked reservations at some restaurants off site. They really enjoyed Flying Fishbone, where they enjoyed dinner with their feet in the water. "I would recommend booking that about a week or so before your honeymoon, so you can get a good timing of the sunset," says Bianca. She says that the LG Smith Steak & Chop House was also one of the best steakhouses on the island. She adds that both restaurants are just a short taxi ride from the resort.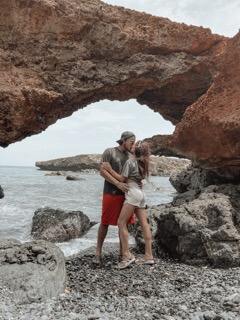 MORE: 5 wedding superstitions you can ditch 
The Best Island
Bianca says she has been to several Caribbean islands, including the Bahamas and Jamaica, and Aruba is her favorite! She highly recommends an Aruba vacation to any BOLI. She feels her honeymoon of five days was the perfect amount of time to allow her and Spiros to relax and enjoy themselves. "Definitely do as many activities as you can [though]," Bianca says. Her favorite part though, was the crystal clear water at the beach, which they were able to enjoy each day, as the weather was beautiful every day, in the 90s. She adds not to forget the sunscreen though!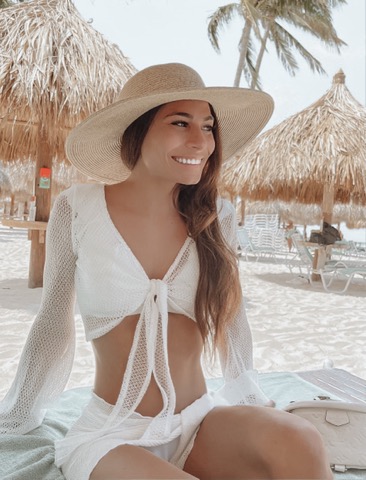 MORE: Brides of Long Island's Preferred Honeymoon Specialists
 And don't forget your BOLI swag on your honeymoon! Check out this fun beach towel!
Resort:
Hyatt Regency Aruba Resort Spa and Casino
 (All photos courtesy of Bianca Markopoulos)