Tired of the same old wishing well shower at a restaurant or your mom's house? These unique ideas are sure to keep your guests talking.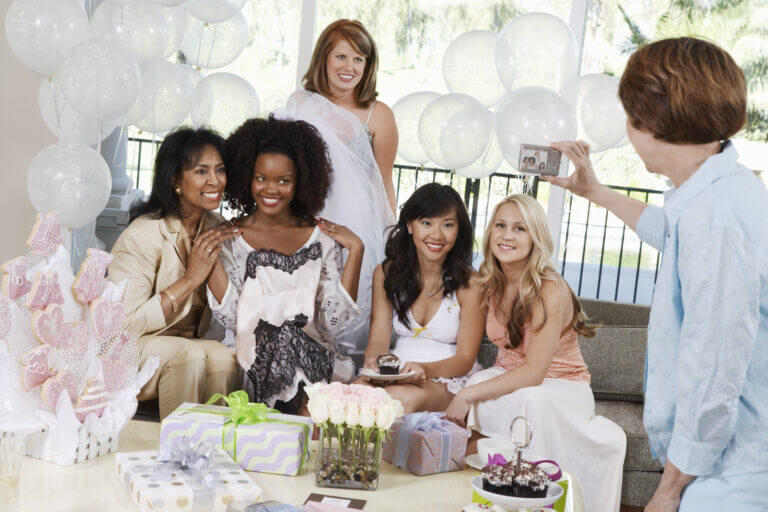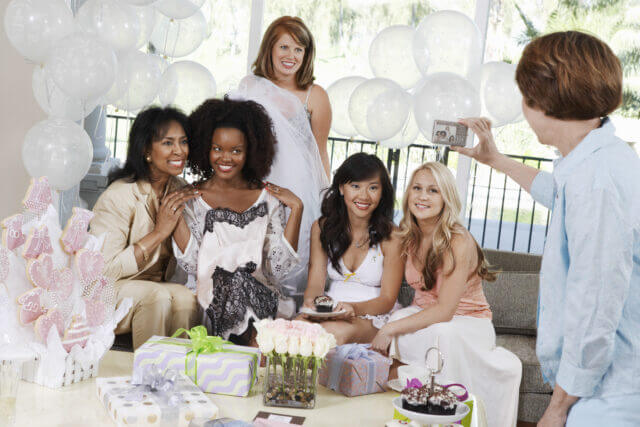 Whether you are planning your own bridal shower, or someone else is (ie. your bride tribe or mother), it doesn't have to be a traditional gathering where everyone "oohs and aahs" over your gifts. (Unless that's what you want!) There are so many ideas and themes for bridal showers that can make yours stand out and keep your guests entertained. Here are 15 unique bridal shower ideas to consider.
1. Tea Party
Think finger foods, tea cups and cake. It can be in your home or a restaurant. There are even venues that specialize in hosting just tea parties. Don't forget to ask your guests to dress up in their finest tea party attire for the occasion.
2. Speakeasy
Hire a mixologist and turn any venue into a speakeasy. Dress in flapper attire. Make it a secret speakeasy and have guests give a code word to get in.
3. Themed
All showers are more fun with a theme. The theme can be anything! From lemons (main squeeze!) or beach-themed, to a favorite movie or TV show. Decorate in flowers and balloons in your favorite color. Make it a seasonal theme. Love everything Disney? Geek out at your shower! Even your favorite band or music can provide the theme. The sky's the limit with choosing a theme.
4. Jack & Jill
Don't want to leave your future spouse out? Include them! Have a co-shower and put things they need or want on your registry.
5. Cocktail Hour/Buffet
Skip the sit-down brunch or dinner and have a cocktail hour-style shower. Have buffet stations set up with passed hors d'oeuvres.
MORE: 6 Reasons You Should Go to a Bridal Expo
6. Charcuterie Board
Have an entire bridal shower with just charcuterie boards! Give each board a different theme – classic (with cheese, crackers and assorted meats), fruit, dessert, candy, junk food (think chicken nuggets and fries), etc. Or match the boards to whatever your theme is!
MORE: Check out Veg on Board, a BOLI Preferred Vendor that specializes in fun charcuterie boards!
7. Potluck
If you don't need gifts, have a potluck shower where everyone brings their favorite dish instead of a gift.
8. Makeup Party
Remember when your mom would host an Avon party? Why not do that for your shower? It can be skin care, makeup, clothes – anything to get your guests to enjoy themselves. And instead of buying something for themselves, they can buy something for you (obviously instead of a regular registry gift).
9. Get Crafty
Think paint party, wood workshop, a floral workshop, etc. Something that is not only fun, but allows your guests to participate and take home a fun gift.
10. Have a Picnic
Check out Long Island Lux Picnic, a BOLI Preferred Vendor! She will set out low tables, blankets, pillows and more! Perfect to throw a unique bridal shower picnic in the warmer months.
Unique Shower Games & Party Ideas
11. Clear Gift Wrap or No Wrapping Paper
Skip opening the gifts by asking guests to either not wrap them, or put them in clear wrapping. This way, you can do a quick show & tell for older generations, while keeping the party moving. Or just skip the show all together and allow guests to walk by and see what you got!
MORE: How to Change Your Last Name on Long Island
12. Mad Lib
Have whoever is planning the party put together a fun Mad Lib game. Guests can fill out their words. Then everyone can take turns filling out the fun riddle.
13. Tool Box
Skip the wishing well, and ask guests to bring something for the toolbox!
14. Candy Buffet Table
Who doesn't love candy? Make sure to feature all of you and your future spouse's favorites for guests to make a sweet goodie bag.
15. Anniversary Pinata
Have guests leave a piece of marriage advice and fill the pinata. On your one-year anniversary, break it open and read the words of wisdom.
16. Grab Bag for Guests
Instead of party favors at the tables, why not have a fun grab bag with goodies for your guests?
MORE: I'm a Shy Bride – How Do I Handle Being the Center of Attention?
Stand out from other brides by having your shower and some of these unique venues on Long Island.
Unique Shower Venues on Long Island
Bayard Cutting – Arboretum Great River
Copperhill – Williston Park
Croxley's Garden Room – Farmingdale
Heritage Club – Bethpage
Library Cafe – Farmingdale, a BOLI Preferred Vendor 
Long Island Yacht Club – Babylon
Post Office Cafe – Babylon, a BOLI Preferred Vendor 
Victorian Room – Bay Shore
If your bridal shower will be planned by other people, make sure you drop those hints. Though we know your family and friends know you best, so your shower will be perfect and just for you. And whatever your shower day brings,remember to have fun and bask in the wedding bliss glow!
Don't forget to add something from the BOLI store to your registry!