From pulling a prank to private letters, these fun, unique ideas will make your first look memorable.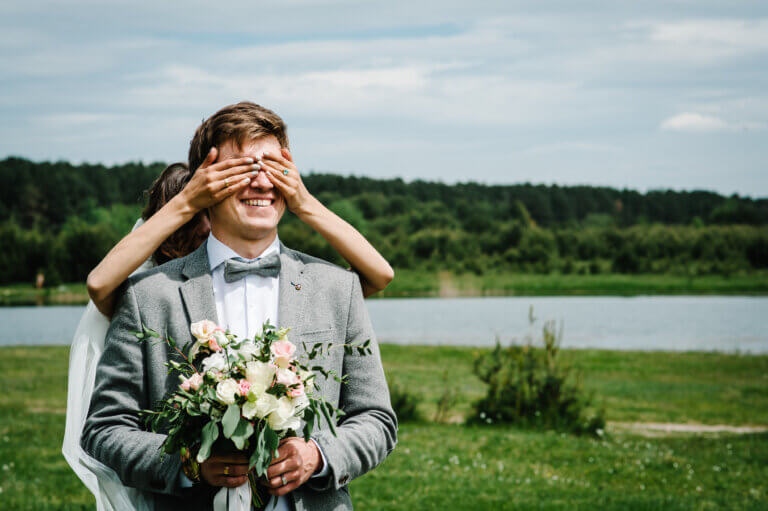 Many brides and grooms choose to have a first look on their wedding day for many reasons – to save time for photos, to calm their nerves or to have a moment just for each other. Whatever the reason, having a first look can be a special moment between you and your future spouse. Some photographers or venues may have suggestions of where to have your first look, but it's important that you and your future spouse choose a location that's important to you.
Close your eyes and picture where and how you want to be when you see each other for the first time on your wedding day. If you're drawing a blank, here are 10 unique first look ideas to help you get started.
Your First Date Spot
Obviously you'll need time for photos to get this done, but it can be done. If it's at a restaurant, see if you can get some space for just the two of you at the location. Just make sure to call ahead or get permission to take photos.
MORE: The Pros & Cons of a First Look vs. Meeting at the Altar 
Blindfolded
Have someone lead you to each other blindfolded (or just have one of you blindfolded). You'll get to kiss and hug before you remove your blindfolds to see each other.
Read Each Other Letters First
Before you see each other, either go back to back, or next to each other in a different room, and read each other letters about what you love about each other. Or anything really. Just something to make the moment special before seeing each other.
Pull a Prank
OK, this isn't that unique. But, hear us out. Make that prank unique to you as a couple! It doesn't have to be the best man in a wedding dress. Maybe it's the dog coming out first to kiss your future spouse or something that is an inside joke.
Give Your Significant Other Boudoir Photos
If you're still hesitant to see each other before you head down the aisle, why not give your future spouse a photo book of boudoir photos? It will be something fun for just the two of you to share before you say 'I do' without actually seeing each other.
MORE: I'm a Shy Bride – How Do I Handle Being the Center of Attention?
Have a 'First Dance'
Why not have a short little 'first dance' together before you walk down the aisle? Have a special song that means something to the two of you playing as you see each other for the first time (it doesn't have to be your actual first dance song).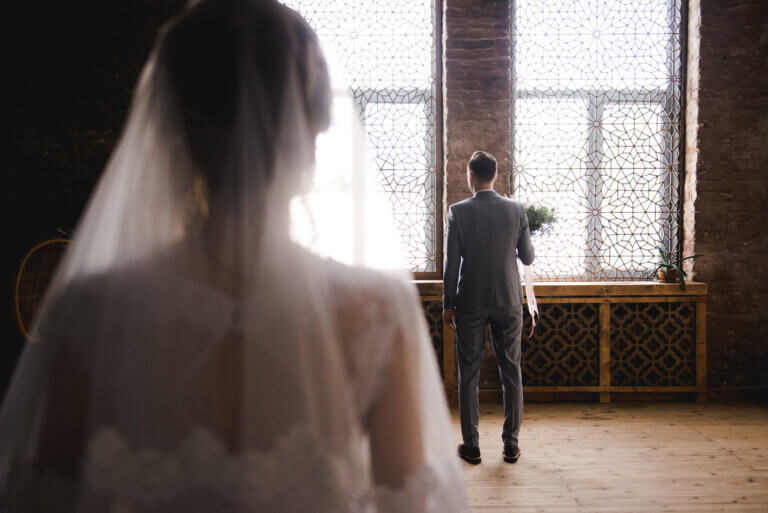 And remember, first looks don't have to be just for you and your future spouse!
Bridal Party
Sure, you can do your hair and makeup with your bride tribe, but surprise them later by walking out in your gown! Or have a first look with your groomsmen. Those photos will be priceless when you show your future spouse.
Your Parents
Why not create one more special moment with your parents? Either have a first look with your mom or your dad or both (and don't forget step-parents)! Don't forget to bring tissues.
Your Siblings
This can be a fun moment, whether you have one or several siblings. If you are close, creating this moment will be a great memento to look back on for years to come. Bonus points if you frame a photo or two for your parents as a keepsake.
Your Grandparents
Sure, your grandparents may be more traditional, but getting them on board with a first look will create lasting memories for both of you. Once again, don't forget those tissues.
MORE: How to Honor Your Step-Parents During Your Wedding 
Remember, first looks can be as elaborate or as simple as you want to make them. The key is, make the moment something that you'll look back on and remember as a special memory between you and your spouse or family members or friends.