Is a wedding content creator essential for your big day?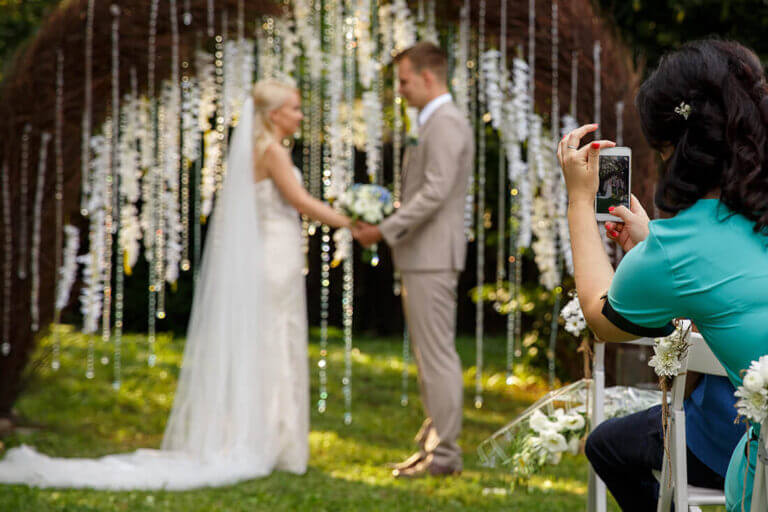 It goes without saying that your photographer and videographer are incredibly important parts of your wedding day team. Think about it – once the vows have been said, the cake has been cut, and the dance floor has cooled, the one tangible reminder you'll have of the big day are your pictures and video.
But when it comes to social media, do your professional shots and footage really make the best content? Sure, you'll get some teasers in the days after "I do." But if you want to share any part of your wedding in real time – on TikTok, Instagram, Facebook, or whatever other platform has been created by the time you read this – you'll need to task someone with snapping pictures, recording video, and uploading everything to your accounts.
Before you get any ideas, trust us – you'll be way too busy to do any of this yourself. And besides that, your focus should be on enjoying every moment of your wedding – not on creating content for your followers. So that leaves your bridal party, guests, or family members available for the job. But do you really want them to be worrying about playing "amateur influencer" while also getting hair and makeup done, picking up your bouquets, and being present with you during a beautiful moment in your life? 
If you're a self-proclaimed queen of social media, you may want to consider hiring a wedding content creator.
What is a wedding content creator?
A wedding content creator is a member of your vendor team that's responsible for capturing images, video, and other content solely for social media. Unlike your photographer and videographer, they don't use DSLR cameras or other high-end photography equipment. But that doesn't mean your footage will look unprofessional! A wedding content creator will deliver superior-quality footage, properly shot and formatted for use on various social media platforms. They'll stay with you from the first swipe of mascara through the last dance of the night (and into the after party!) catching intimate moments, unexpected surprises, and the little details that make your day special. They can even provide commentary on the action through fun on-screen text or captions!
Many wedding content creators are able to share their work to your profiles live and in real time, while others will deliver your content the morning after the big day. In either case, you'll have amazing photos and videos to share with any friends, family, and fans that follow your accounts.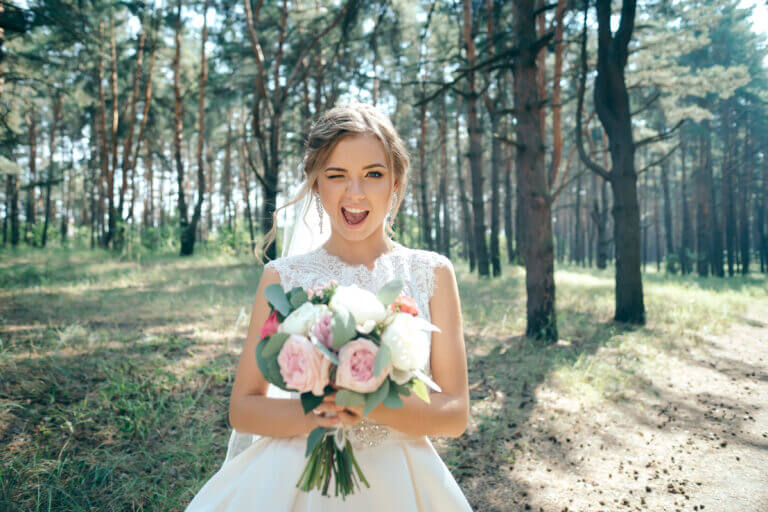 What are the benefits to hiring a wedding content creator?
The biggest benefit to hiring a wedding content creator is the additional coverage you'll get. Your photographer and videographer are trained professionals and know where to be to shoot all the important moments, but at the end of the day, they're human and can't be in multiple places at once. A wedding content creator has a similar skill set to your photographer and videographer and can fill in the gaps that they may miss.
A wedding content creator will also focus on generating images and video that are specifically designed for social media. If you've ever tried to share a video shot in landscape to your Instagram story, you know that the results can look a little off. Wedding content creators know the correct ratios to film and photograph in, so that all the content your share will look like it's made for social media (because it is!) 
Another huge benefit? Wedding content creators take the stress off of your bridal party. Your maid-of-honor or best man won't need to be preoccupied with taking pictures or videos, and can instead be there for you and your fiancé.
What are the drawbacks to hiring a wedding content creator?
Really, the only drawback to hiring a wedding content creator is the additional cost. We don't have to tell you that weddings can get very expensive, very quickly. And when you've already hired a photographer and videographer (and when most of your guests have smartphones themselves), paying someone to take more pictures and videos may seem a little overkill.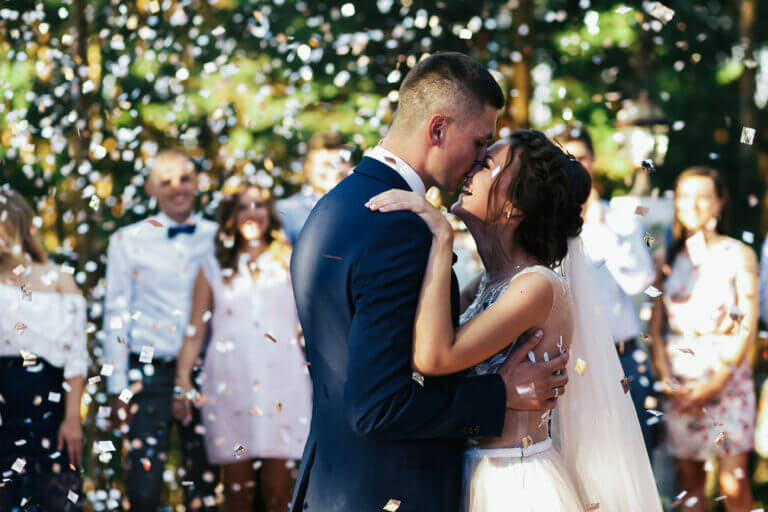 Should you hire a wedding content creator?
If you're considering hiring a wedding content creator, here are a few things to consider:
Budget
If you scored a killer deal on your dress, or booked your date during an off-peak season, you may have some extra funds in your wedding piggy bank. If that's the case, hiring a content creator could be a really fun and meaningful add-on to your vendor team. Think of it this way – would you rather spend the money on something your guests may not notice, or on more pictures and videos you'll be able to enjoy forever?
That being said – if you've maxed out your budget, you may want to think twice before adding another expense. Is it worth going into the red for social media content? And even if you do have a few more bucks to spare  – are reels and TikTok videos worth the money? There's no right or wrong answer!
Bridal party and other guests
Do you have a maid-of-honor that documents pretty much every moment of her life? Or a guest that produces hilarious TikToks on a daily basis? If you do, you may have a wedding content creator already. Make sure these folks have your wedding hashtag and tell them to go to town!
If none of your bridal party or guests are particularly active on social media, then a hired wedding content creator can get the job done.
Friends and family that aren't in attendance
You know how BOLI feels about the phrase "those that really want to be there, will be there." Sorry, but the real world is way more complicated than that.
There's a very big chance that some of your loved ones won't be able to attend your wedding, no matter how much they want to be there. For those that can't be there, real-time content uploaded by a wedding content creator gives them an opportunity to experience the joys of your wedding – even though they aren't physically present. Even if your photos and videos aren't uploaded until the next day, 24 hours is a lot shorter of a time to wait than the 6-8 weeks it will take to get your professional pictures and video. 
However, if those that aren't in attendance don't have social media accounts (or don't know how to use them), they'll miss any of the content that gets posted. 
Your own preferences
If you live your life on social media, sharing almost every moment with your audience, then hiring a wedding content creator makes perfect sense! What better way to showcase all the incredible parts of your day than in a medium you know and love?
If you're pretty ambivalent about social media (or you hate it altogether), then your money would be better spent on another aspect of your wedding.