Whether it is a tropical location or just a place not on Long Island, there are plenty of reasons to have a destination wedding.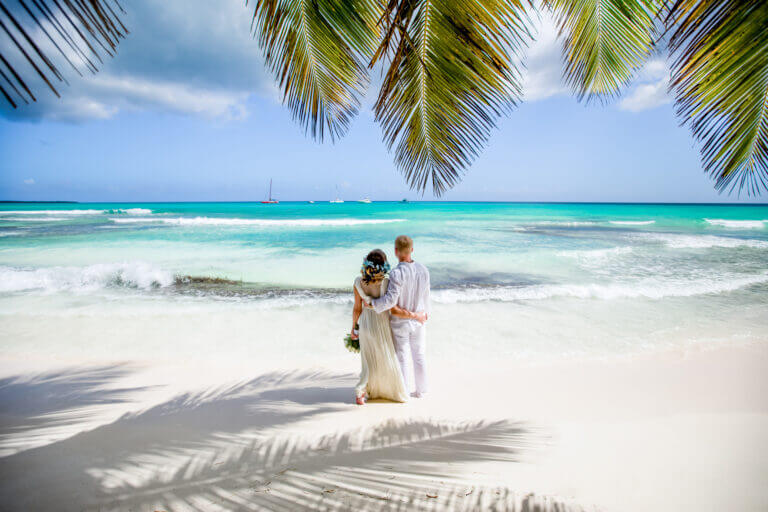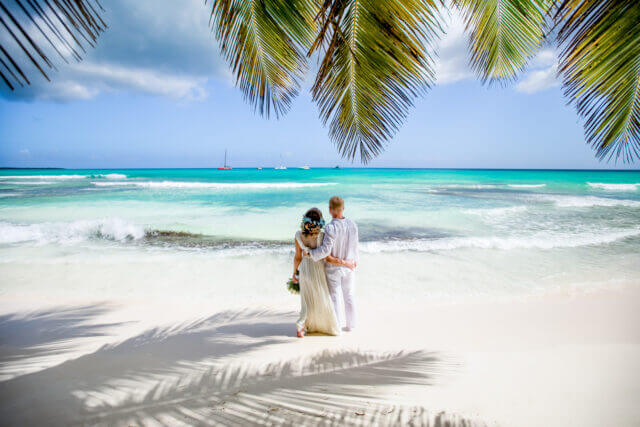 Yes, we know we're the Brides of Long Island, but that doesn't mean you have to get married on Long Island! There are some benefits of having a destination wedding. From saving money to choosing a location that's important to you and your future spouse, the reasons for why couples choose to get married somewhere else other than where they live are endless. We spoke with a couple of BOLIs about why they chose to have a destination wedding.
Meika M. says when she and her husband planned their engagement party, they felt like it wasn't worth the money they spent. "We were constantly greeting and catching up with people we haven't seen in a while, and our engagement party flew by," she says. So, she says she didn't want that to happen at their wedding. By choosing a destination wedding, Meika says they were able to spend quality time with all of their friends and family.
"We had over 100 friends and family travel to Jamaica, where we had three days of events – welcome party, wedding, catamaran trip," she says. "And everyone still talks about it eight months later." Meika adds that they did spend less money on their destination wedding than they would have at home.
Meanwhile, Alyssa-Jean K. says her destination wedding was in Pennsylvania in cottages on a lake! "The place we chose was my husband's family's vacation spot," she says. "In fact, the only other wedding held there was my husband's mom and step-dad a few years earlier."
She loved that everyone stayed the entire wedding, and they were able to have events throughout the entire weekend. And since the place was not an actual wedding venue, Alyssa-Jean explains that everything was DIY. She says she had to bring dinnerware and utensils, as well as all of the décor. And even made her own floral arrangements.
MORE: DIY Ideas Any BOLI Can Tackle
"The best part of my wedding is that so many friendships formed," Alyssa-Jean says. "It was so fun and lighthearted, but it went by entirely too fast. I couldn't imagine just having only five hours somewhere else."
BOLI spoke with some of our preferred vendor honeymoon specialists to find out why couples choose to have a destination wedding, as well as what the benefits are. Christine Earls, of You and Me By the Sea Travel, a BOLI preferred vendor, says couples often choose a destination wedding because they want to enjoy their friends and family in a unique destination and have someone else take care of the all the details. In addition, she says couples can save money and get additional perks. "Resorts may include multi-day celebrations in the price, such as a welcome dinner, rehearsal party, ceremony reception and the after-party," Earls says. "Having a destination wedding offers you more bang for your buck."
"Guests often look at it as a vacation," says Melissa Patane, of Melissa at Tripguy Travel, a BOLI preferred vendor. "It combines a wedding, spending time with loved ones and a vacation."
Sam Yaffe, of Crafty Getaways, a BOLI preferred vendor, believes that couples choose a destination wedding because of the beauty of the location. "There's just something special about getting married on the beachfront, in a gazebo overlooking the ocean, or the beauty of the sky and ocean at sunset," says Yaffe.
Maria Aydag, of Luxury Travel by Maria, a BOLI preferred vendor, says ultimately, couples choose a destination wedding to have an intimate experience surrounded by their closest friends and family.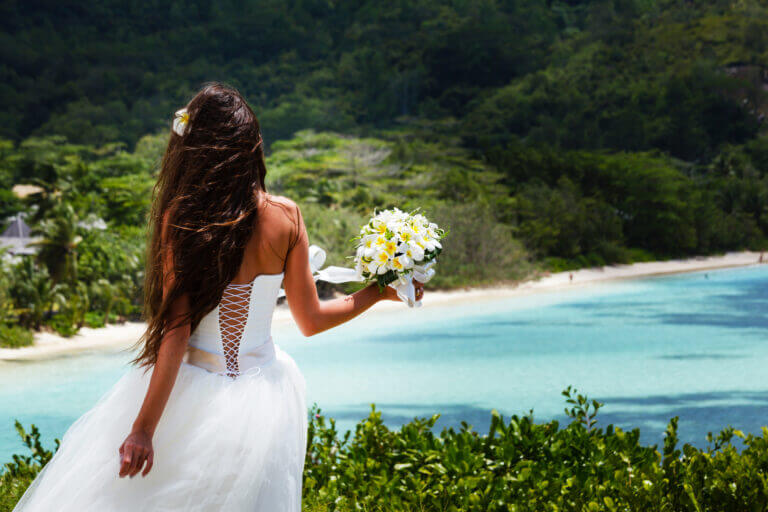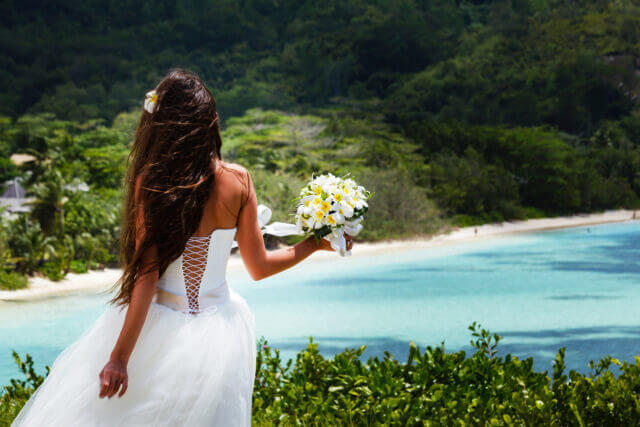 As for the benefits, Yaffe, Patane and Earls all say that destination weddings can be much cheaper than a wedding at a catering hall. "Not only is the couple saving on the wedding itself, they are in most cases combining their destination wedding with their honeymoon, equaling even more savings," says Yaffe. Patane adds, "It's a great way to gather your family and friends together for an extended time, instead of a four-hour party." Earls says another benefit is that your event size can vary from a small gathering to an elaborate affair. She also adds that "a destination wedding could save you money and minimize the stress you would otherwise experience." Aydag says that "It's an opportunity to enjoy an entire week or long weekend with your loved ones."
MORE: Questions to ask when touring a venue
If you're contemplating having a destination wedding, BOLI's preferred vendors have some advice for you. Book early! "Destination weddings, like weddings on Long Island, should be planned at least a year in advance, as dates fill up quickly," says Patane. She also suggests enlisting the help of a travel advisor. "They can handle all of the travel arrangements, negotiate discounted group rates with benefits that can include free nights or upgrades," adds Patane. "It takes the stress off of the bride." Yaffe also suggests choosing a travel advisor who specializes in destination weddings, as they will often have contracts with hotels and resorts. They could offer exclusive amenities and perks, as well as help negotiate to ensure couples get the best price and inclusions.
"I would recommend working with a professional wedding planner, as well as a destination specialist," Aydag says.
Earls says it's important to plan ahead, especially if your destination is international. "Remember, everyone will have to have a passport." She says you should have a few dates and times for your ceremony, this way you can make sure you get the resort of your dreams, as well as the desired site on the property. She also suggests considering a pre-wedding trip to see the resort firsthand. "At the end of the day, you want your destination wedding to be a celebration that everyone will remember."