Sometimes brides choose to change into a reception gown or a party dress after a ceremony.
Choosing your wedding gown is a big deal. You may have been dreaming of the perfect gown even before you got engaged. But sometimes, for whatever reason, you change your mind when you're in the store. You get encouraged to try on a different style and fall in love with it. But that itch in the back of your mind keeps going back to your original look. Well, guess what? There's no hard and fast rule that says you just need to have ONE wedding gown for your big day! In fact, brides are now choosing to change from a more traditional gown during their ceremony to more of a party dress for their reception. Here are seven reasons why you need a reception gown!
You Just Want to Dance
Let's face it! Sometimes, those beautiful gowns can be a handful. Whether you have a tight mermaid look, or a princess ball gown, they can get in the way – and you just want to dance! This is the perfect opportunity to debut a more fun, shorter and easier-to-move-in party dress. Because it's your party and you'll dance if you want to!
MORE: 6 Things to Wear When Dress Shopping 
You Found the Perfect Gowns
Yes, that's right – gowns, plural. It happens. You fall in love with one, but you try on a few more just to see and you fall in love with another one! If it's in your budget, we say splurge and get both – especially if they are completely different styles that fit your personality perfectly!
You Want to Make a Statement
If you're all about making a statement, this could be the perfect way to make it – a reception gown. Perhaps you want something traditional in white for your ceremony, but white is just not your color. Why not get a second gown for your reception that is colorful or has pops of color that are bound to make a statement?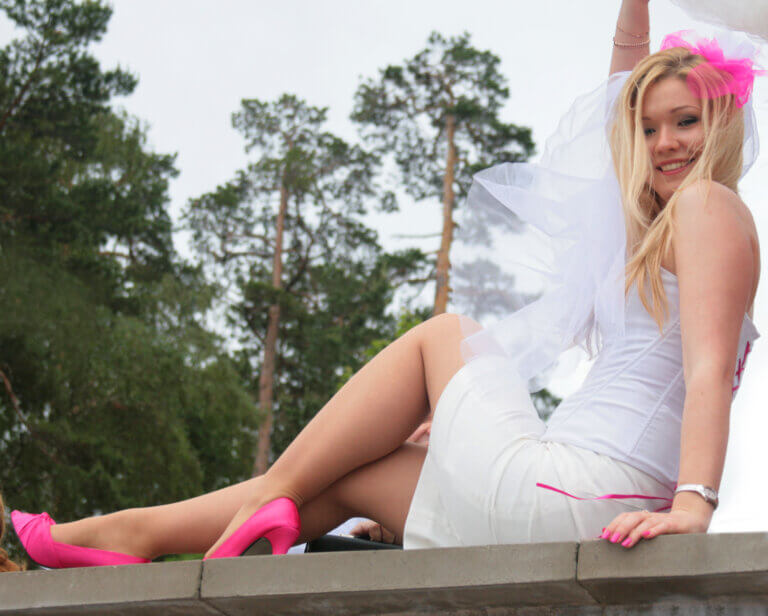 MORE: 7 wedding gown options that will set you apart 
You Like Shorter Dresses
If long gowns aren't your thing, but you do want to be traditional for your wedding ceremony, then getting a party dress for your reception is the obvious choice. Something shorter and more your style will be the perfect way to make your entrance.
It's Hard to Move (But You Love It So Much!)
Some dresses are just so gorgeous you can't say no when you try it on. But then reality sets in, and you realize that it might be hard to move in or even uncomfortable to be in all night. Getting that reception gown will be key here, so you can move easily throughout the night to mingle with your guests.
MORE: 15 Ways to Save Money on Your Wedding Gown 
You Want More Photo Ops
More dresses, means more photo ops! Heck, you might even want your future spouse to change it up too! This will leave you with more fun memories to look back on.
You Just Really Love Dresses
Or maybe you just really, really love dresses. This is your opportunity to splurge and showcase two beautiful dresses for all of your loved ones to enjoy. And the perfect opportunity to just own more dresses!
Still undecided on what kind of gown you might like? Here are some options.