In Brides of Long Island's Monthly "Mrs." series, we profile some of our members' unforgettable weddings. This month, we spoke with BOLI Amanda Ladalia about how she didn't let a devastating fire affect the best day of her life.
When Amanda and Nick Ladalia got engaged in May of 2020, they thought planning their wedding in the pandemic would be the hardest thing they'd have to deal with. However, six days before the big day, a fire ripped through their home, destroying all of their belongings. Heartbroken, the pair was determined to still have their dream wedding. And with the help of their fantastic vendors and amazing Brides of Long Island community – that dream was fulfilled.
A Year-Long Courtship
Back in 2016, Amanda and Nick met on Tinder. "We didn't actually meet in person until August 2017," Amanda says. She explains that they started chatting on the dating app, and then sort of lost touch. But Nick was determined to win over Amanda – enticing her with photos from a cruise he was on the next year, she says. They started officially dating in August of 2017, and got engaged in May 2020. Amanda says their engagement was pushed back by a few months due to the pandemic, but his proposal was beautiful – under a gazebo at the Bayard Cutting Arboretum.
Right Into Planning
Seeing as how weddings were getting canceled and postponed, Amanda and Nick were quick to jump into their wedding planning. "I've been planning my wedding since I was a child," says Amanda. "[We started] planning right away."
The first thing on Amanda's list was checking out venues. It was important to her to actually see a venue in person, which was slightly difficult during the pandemic. The couple loved two venues – the East Wind and the Watermill, both BOLI Preferred Vendors – and ultimately decided on the Watermill, where Amanda's parents also got married.
Once they set their date – April 29, 2022 – the rest of the vendors fell into place. Luckily, all of the vendors they wanted had no conflicts on their wedding date. And, of course, she turned to BOLI to check out all of the reviews and advice.
All in Stride
While there's nothing happy about a fire destroying the home you're building with your fiancé, Amanda and Nick really tried to take it in stride. They couldn't let the fire ruin their wedding day. In the days after the fire, BOLI Founder Heather Cunningham rallied the community to gather donations for the couple. Heather coordinated with several BOLI preferred vendors, who donated their services to Amanda and Nick. And she personally bought items – specifically Nick's favorite cologne – to make sure their day went off without a hitch.
"If you didn't know that our house was on fire that week, you never would have known from our wedding because it went so perfectly," says Amanda.
MORE: Brides of Long Island rally to help a member after tragedy
That "take it all in stride" attitude paid off on their wedding day too. During their first look, Nick tore his pants during photos. Amanda says their suit place, Rico's, went above and beyond to help them. "They drove all the way from Center Moriches to the Watermill to drop off a new pair of pants in his size," she says. She adds that they then took the ripped pants back to the shop, fixed them and drove them back to the Watermill.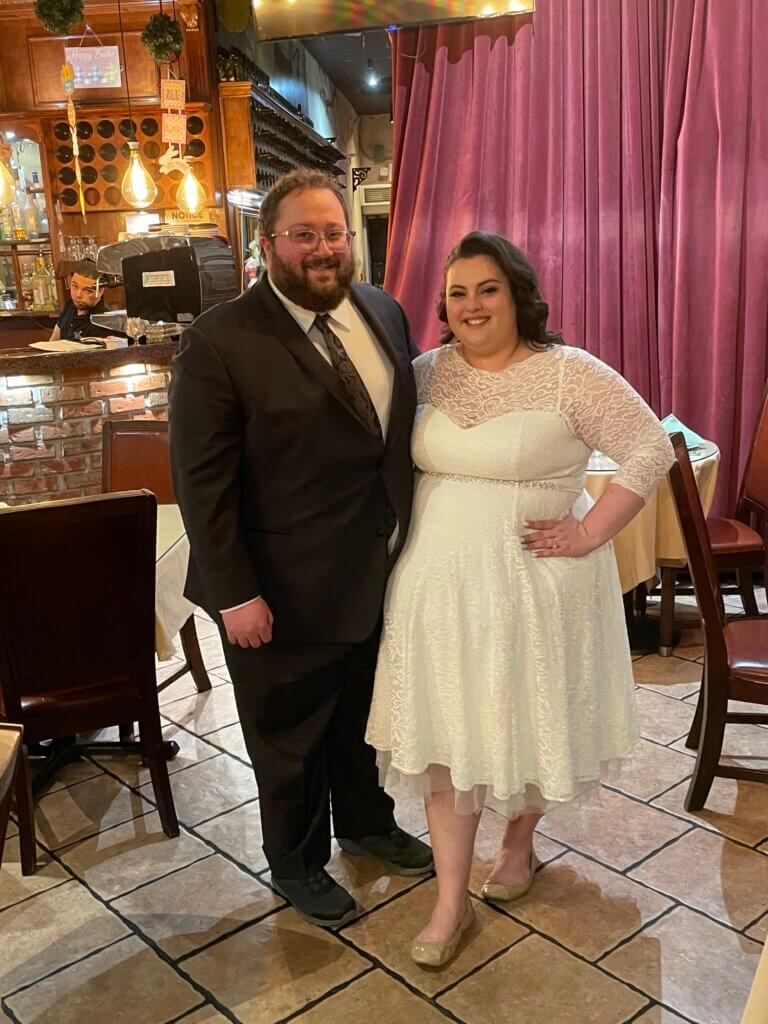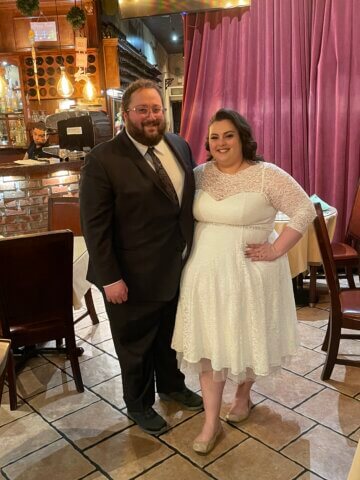 MORE: Pros and cons of first look vs. meeting at the altar
Happily Ever After
Amanda has nothing but positive reviews for all of her vendors. From the florist who donated their fathers' boutonnieres because they forgot to order them to the photographer who followed her shot list to a T, Amanda says, "I have nothing bad to say about any of our vendors. They were literally all amazing."
One of her favorite moments of the day, though, was the bridal party entrance and their first dance to "I Guess I'm in Love," by Clinton Kane. "We took one dance lesson before, so we added a couple little moves in there," she says. "We were so excited to do them."
A week after their wedding, Amanda and Nick went on their honeymoon. They stayed in Disney World for four days before taking an eight-day cruise with stops in St. Thomas, St. Kitts and the Bahamas. During the cruise they snorkeled with sea turtles, spent some time at the beach and got 'the best massage ever,' says Amanda.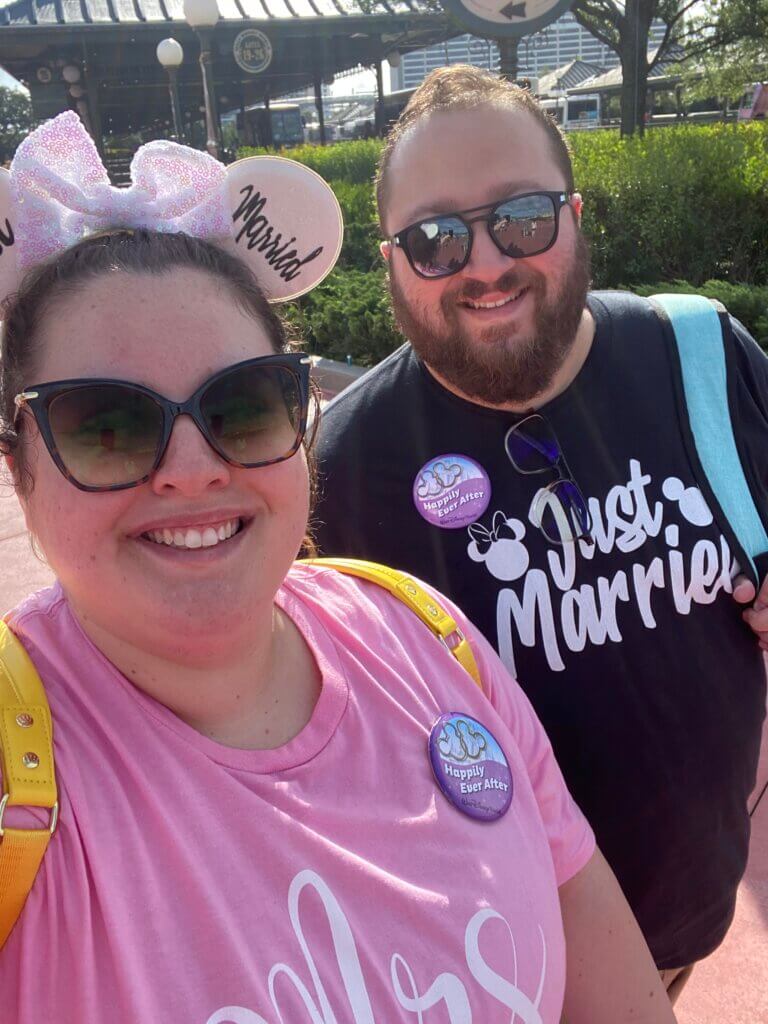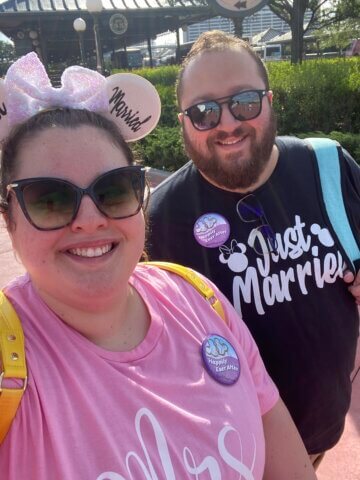 No Stress
Amanda wants other BOLIs to know that the extra stress isn't worth it. "Don't put so much stress into every little detail because people remember the food and the music," she says.
She adds that it's important to not let people bring problems to you on your wedding day. "Let everything be solved around you because you don't want to be stressed."
MORE: Don't sweat the small stuff
A Huge Thank You
As I spoke with Amanda about her wedding day, I didn't want her to focus too much on the fire. It was important to talk about her beautiful day and amazing vendors. But it is important to note that what the BOLI community did to help Amanda was extraordinary.
Amanda says all of her honeymoon clothes – the fancy dresses and outfits – were donated by the BOLI community. "Without the BOLI donations we got, I wouldn't have had any clothes to bring," she says.
"I just want to thank, obviously, Heather and all of BOLI for everything they did for us the week of the wedding," she says. "We literally would have been lost without them that week."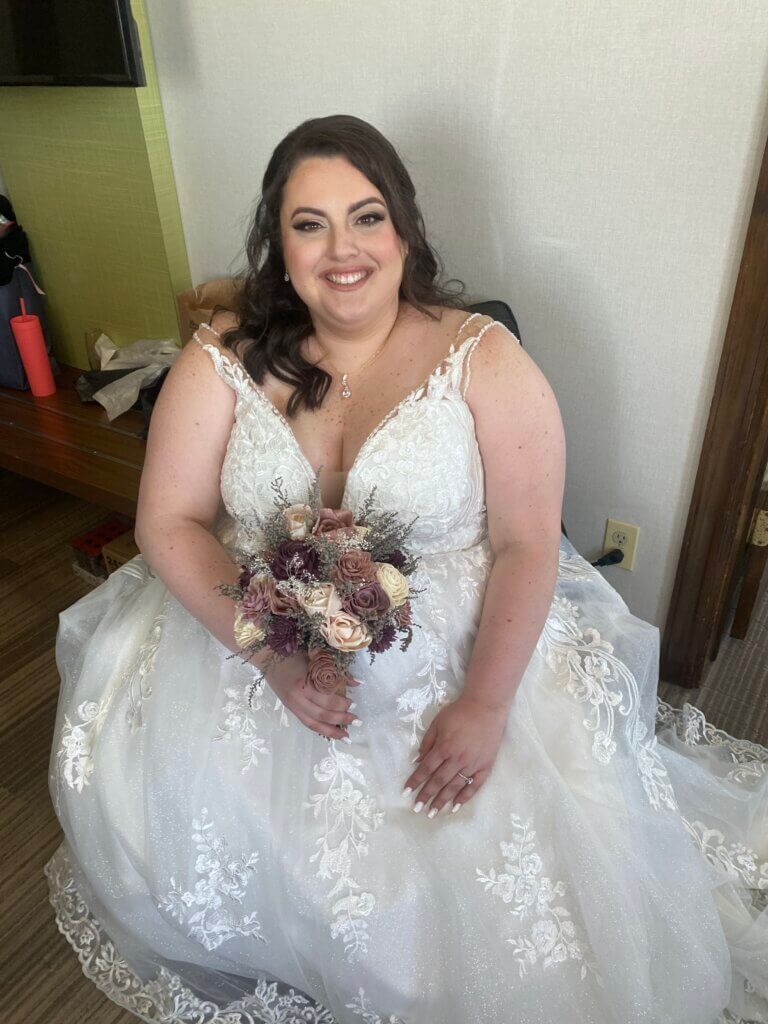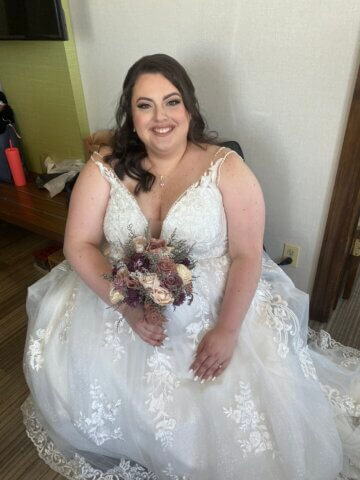 Vendors:
Venue – Watermill Caterers, a BOLI Preferred Vendor
Photographer – Patken Photographers, a BOLI Preferred Vendor (Beatrice and David)
DJ/Photobooth – Tommy's Tunes, a BOLI Preferred Vendor (Dom and Mike)
Florist for centerpieces – Feriani Floral (Dana)
Florist for bouquets & boutonnieres – Forever Floral
Suits – Rico's
Dress – Ivory and Main
Officiant – Father Joe Devincenzo
Bakery – Dortinis
Hotel – Holiday Inn Express Hauppauge
Limo – Azure Limo