Your wedding day has come and gone, and now it's time to thank everyone! Here are the do's and don'ts of writing your thank you cards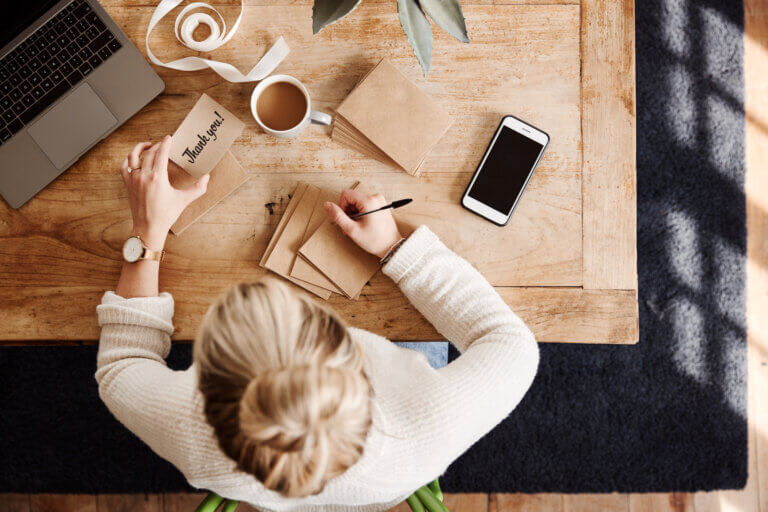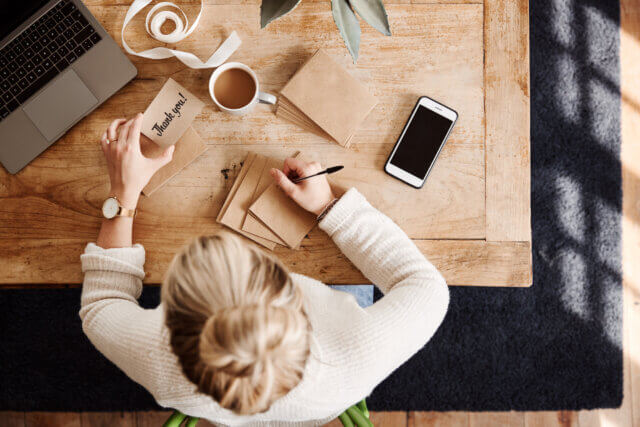 Every moment of your wedding was magical, from your walk down the aisle to your last dance of the night. And one of the aspects that made it so special was sharing those unforgettable moments with your friends and family, most of whom showered you with gifts and well-wishes.
Now that the bridal dust has settled and you're enjoying that post-matrimonial glow, it's time to think about writing your thank you cards. Whether your guest list packed the room or you opted for a more intimate gathering, thanking those that took time out of their lives (and let's be real, money out of their wallets) to celebrate you is vitally important.
The thought of tackling a mountain of cards can be intimidating (especially after conquering the epic undertaking that was your invitation suite). Here are the do's and don'ts of writing your thank you cards – following these tips will help the daunting task go smoothly, and will show your gratitude to those that attended your big day!
DO: Pace yourself
Writing thank you cards can be very time consuming, even if you've got a smaller guest list. Traditional etiquette dictates that you have up to a year to send out your thank you's, so you don't have to rush the process.
Before you pick up a pen, set a schedule for yourself – aim to write a certain amount of cards per day (or week, or weekend) and before you know it, you'll have your whole guest list tackled.  
DON'T: Try to write all your cards in one sitting
It can be tempting to sit down and try to barrel through your thank you cards all at once. But trust us – after a while your hand will start cramping, your phone will start buzzing, and your new spouse will start bugging you for attention. 
Consider the act of writing your thank you cards as a way to remember your wedding – with each card you write, you can relive a little piece of your "best day ever." Who'd want to rush that? The more time you take writing your thank you cards, the more you can remember how each guest impacted you. 
DO: Write something personal in each card
"Seriously? What if I had 300 guests?" Yes, girl – you should still write something personal in each card (that's why we say to pace yourself!) It doesn't have to be a novel, but it should be a sentence or two – in your handwriting – that thanks them for their specific gift and their presence.
DON'T: Rely on pre-printed, generalized messages 
We know it would be a thousand times easier to purchase a package of cards with a simple "thank you for coming to our wedding!" already printed inside. But putting in the effort to write something personal will show your guests that you truly appreciate the time, effort, and money it took to attend your wedding.
This doesn't mean you should avoid a more generic, pre-printed message altogether – just be sure to add at least a sentence or two on your own. 
DO: Try to get your thank you cards out on time
Remember what we said above? You have a year from your wedding date to get your thank you cards written, mailed, and delivered. That may seem like plenty of time, but life can get in the way pretty easily. This is why setting a goal of a completing certain amount of cards per week is a good idea. 
Aim to have all your thank you cards out within 6-8 months of your wedding. That way, if unexpected events pop up (and we guarantee they will), you'll have some breathing room if you miss a few weeks here and there. 
DON'T: Give up if a year has passed
Ever heard of the phrase "better late than never?" If you've celebrated your one year anniversary surrounded by stacks of undelivered thank you cards, don't fret. Sure, traditional etiquette says you're out of time, but those thank you cards aren't going to disappear into the ether once you take a bite of your frozen wedding cake topper. 
The important thing about thank you cards isn't the timing, it's the sentiment. Even if they're late, your guests will still appreciate a thank you card – we promise. 
DO: Send a thank you card to everyone who attended
If they walked through your venue doors, they get a thank you card. You don't have to write a card for each individual member of a family – just one card per household will do – but be sure to include everyone in the party in your greeting!
DON'T: Leave someone off the list if they didn't bring a gift
We totally understand how hurtful and offensive it is to not receive a gift from an attending guest. But as we've talked about before, you never know someone's financial situation (even if you think you do).
If certain guests showed up empty-handed, it doesn't mean that coming to your wedding was without expense – childcare, transportation, accommodations, and travel costs can all add up VERY quickly. You should still send those guests a thank you card, expressing your gratitude for their presence!