From crowd pleasing cocktails to interactive mixology and even drone photography, the team at WSJ Bartending creates an unforgettable experience with every round of "cheers."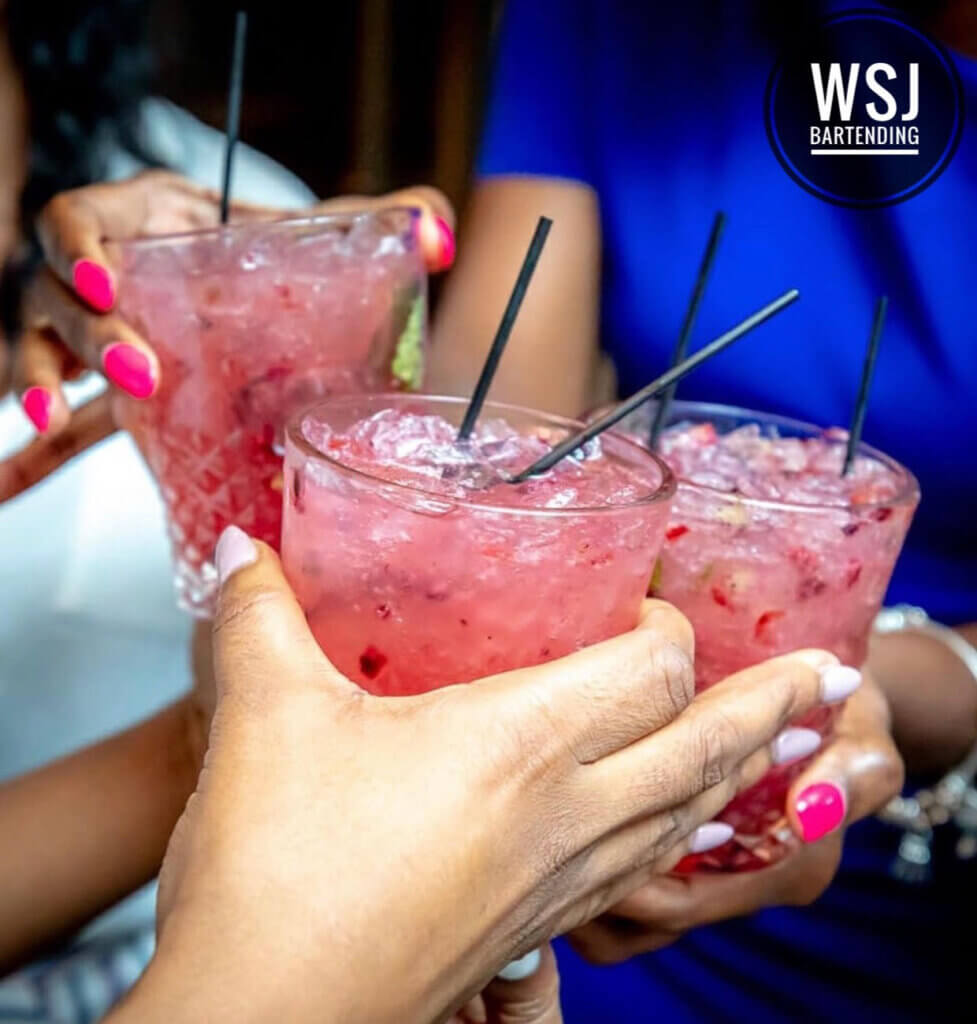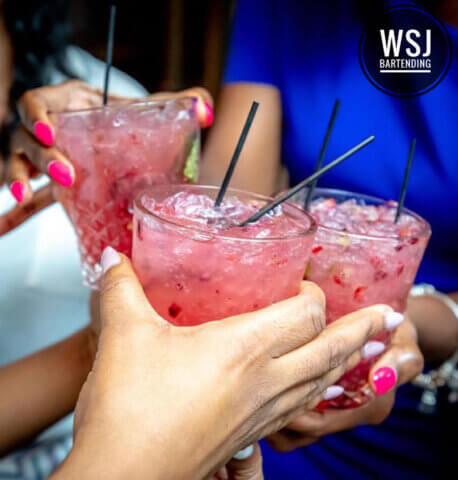 Backyard weddings and mini-monies have become increasingly popular, thanks in part COVID-19. But just because your wedding isn't happening inside a grand hall or a mansion doesn't mean you can't have a wedding full of sophistication and enjoyment. WSJ Bartending, a mobile bartending service and a BOLI preferred vendor, provides more than just a few rounds of drinks – they provide "an experience with every sip that you take."
"I realized there was a platform, if not a need for it." – WSJ Bartending
For Woody St. Juste, owner of WSJ Bartending, the seeds for a great idea came out of unemployment. "I was furloughed in 2011, and a friend of mine suggested that I bartend just for kicks and giggles. So I said, why not? I'm unemployed, I'll do it," he remembers. What started as bartending for local backyard and private events eventually led Woody to work at lounges. "That's where I really started to kind of fine tune the skill and craft that's required to be considered a bartender."
After five years of building expertise behind the bar, he was approached by one of his regulars with an interesting proposal. "I had a high profile client that said 'hey, I have a book release coming out. Would you mind being my bartender?'" That experience paved the way for WSJ Bartending. "It kind of opened up the doors for me to do mobile bartending services. I realized there was a platform, if not a need for it," he says. "I had another client who was getting married and said 'someone dropped out last minute, would you mind working this wedding?' One wedding led to another, and after awhile it all became 'hey, let me create a team.'"
"You're going to get a bar that's going to appeal to the masses." – WSJ Bartending
For brides building their wedding day from scratch, Woody and his team work hard to not only supply beverages, but to further highlight your theme and vibe. "With WSJ Bartending I have a slogan: Creating an experience with every sip you take," he says. "The beauty with WSJ Bartending is that we create an experience around the theme of your event.
"I'm speaking with the event planners, I'm speaking with the chefs, I'm speaking with the DJs, and I'm cultivating a cocktail bar to assimilate and compliment the wedding day."
And while you'll definitely get some knockout cocktails, you may also find your wedding hashtag attached to plenty of bar and drink pictures. "It's not like you're going to arrive and just get a basic bar with alcohol sitting on top," Woody describes. "You're going to get a bar that's going to appeal to the masses. It's going to appeal for pictures. We live in an era where everyone wants to take pictures. They want to post. And ultimately, guests will be engaged because everyone is going to have a nice fancy cocktail to kind of show off and explore."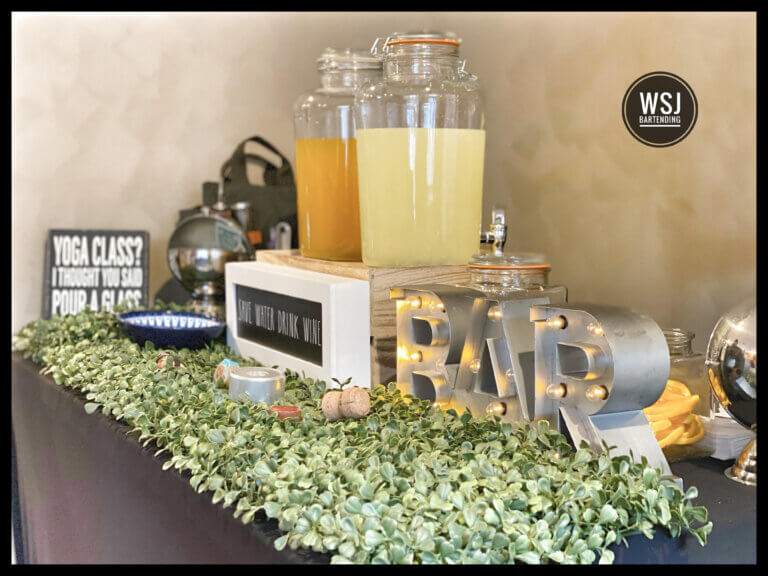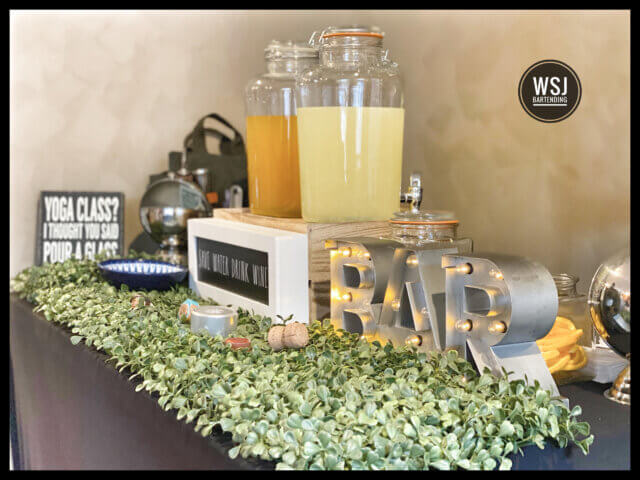 Don't worry if you have a few guests that don't imbibe – Woody always provides an alcohol free option that's just as gorgeous (and delicious) as his spirited ones. "I do mocktails so that no one's left out," he says. "Just because they don't drink alcohol doesn't mean they can't have a pretty mocktail and join the crowd."
Ultimately, Woody's main goal is that you'll have an experience worth remembering. "For me, it's about knowing when you have WSJ Bartending at your event, your guests are going to be happy," he says. "That's the main concern. That the client is happy, the guests are happy, and they leave with something to talk about."
"Bachelorettes were looking to do different things…things that collectively had everybody engaged." – WSJ Bartending
It's no secret that WSJ Bartending can liven up the party at your wedding, but because of some COVID-inspired ingenuity, they can also bring the party to your bachelorette.
Pandemic-related restrictions had Woody asking himself some questions. "It really became, 'how do I still provide services and keep in line with this new era of COVID?" A few corporate clients gave him an answer. "I had some accounts who said 'hey Woody, we want to do a mixology course, but it has to be done virtually,'" he recalls. "So I created packages, mixology tool kits, and had them mailed out. Everyone would chime in and do the whole mixology over Zoom."
Soon after, Woody took the successes of his virtual mixology courses and introduced them to the physical space. "As the public started to open back up, bachelorettes were looking to do different things," he explains. "It was no longer about having a stripper at your party, but more so doing things that collectively had everybody engaged. So I did a lot of mixology courses for bachelorette parties."
But with WSJ Bartending, the fun is never reserved for just one group. "I actually did [mixology courses] with men as well. I did a lot of co-ed mixology courses that were really fun and creative. With that package it generally kind of gave a different feel of engagement. A lot of people want to do 'paint and sips,' mine are called 'mix and sips.'"
"I was able to create a drink that was universal." – WSJ Bartending
Being an experienced and skilled cocktail curator, Woody definitely has a few favorite concoctions of his own. In fact, one of his creations gained him some pretty impressive accolades. "There was a national bartender competition with Maker's Mark, and I made it to the final four," he says. "The cocktail that got me to that placement was a spiced pear whiskey iced tea. That was refreshing. It was citrus."
While whiskey can sometimes be a bit polarizing, Woody was able craft a drink that everyone would love. "A lot of times when people hear whiskey, they think it's too harsh, or like a 'man's drink'," he observes. "I was able to create a drink that was universal. The women liked it, the men liked it. It wasn't biased to gender."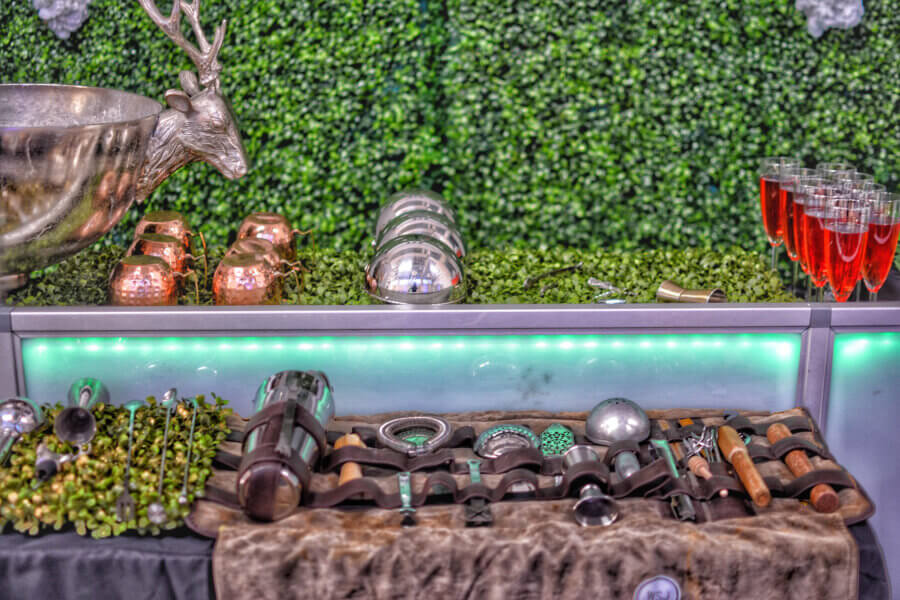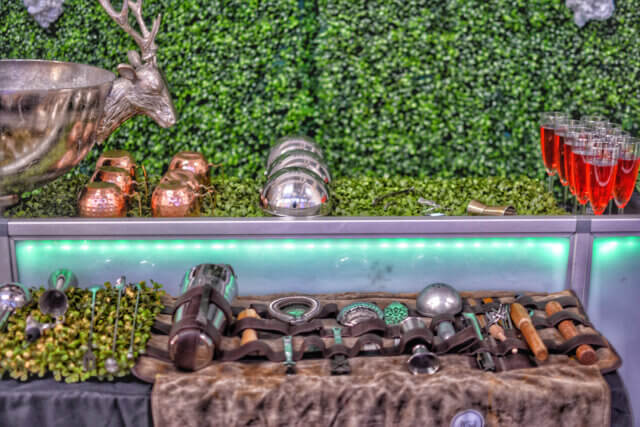 "I know that my vision behind the bar is going to be different from the photographer's vision." – WSJ Bartending
Booking with WSJ Bartending will get you a beautiful bar, an impressive array of delicious drinks, and…drone photography? Yes, you read that right! You may not expect your bartending services to offer any type of photography, but Woody's artistic talents extend far beyond cocktails.
"With WSJ Bartending, again, I'm all about the experience," he explains. "I picked up a hobby of taking drone photography. So with every package comes aerial photography. Ultimately, I like to create images that people are not privy to get with the average camera."
Woody recognizes the value in offering a different perspective, and how much those different angles can capture the spirit of your event. "I know my vision behind the bar is going to be different from the photographer's vision, and how nice it is to wake up the next morning and get an aerial shot of your wedding, or a landscape of the guests enjoying themselves at an outdoor event," he says. "To know that's included in your package just brings more to the experience."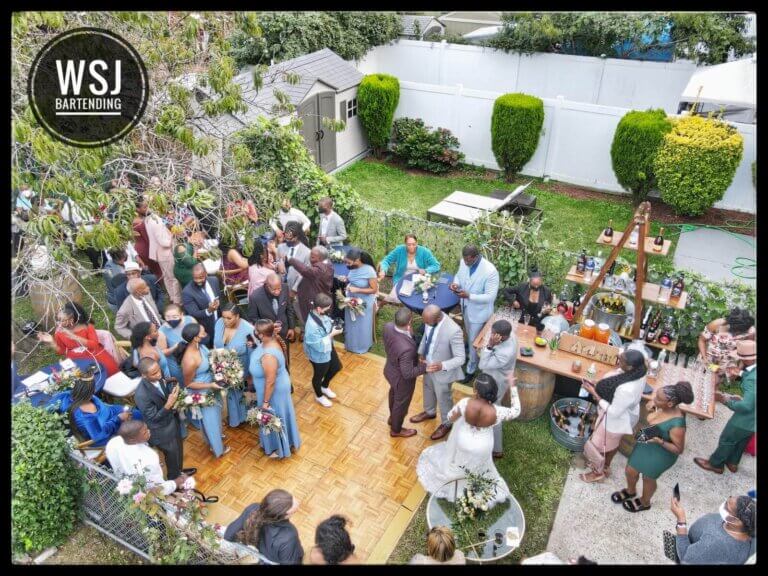 All images courtesy of WSJ Bartending