On your wedding day, all eyes will be on you! Look and feel your best with the help of these talented and passionate professionals – 23 of the best hair and makeup artists on Long Island!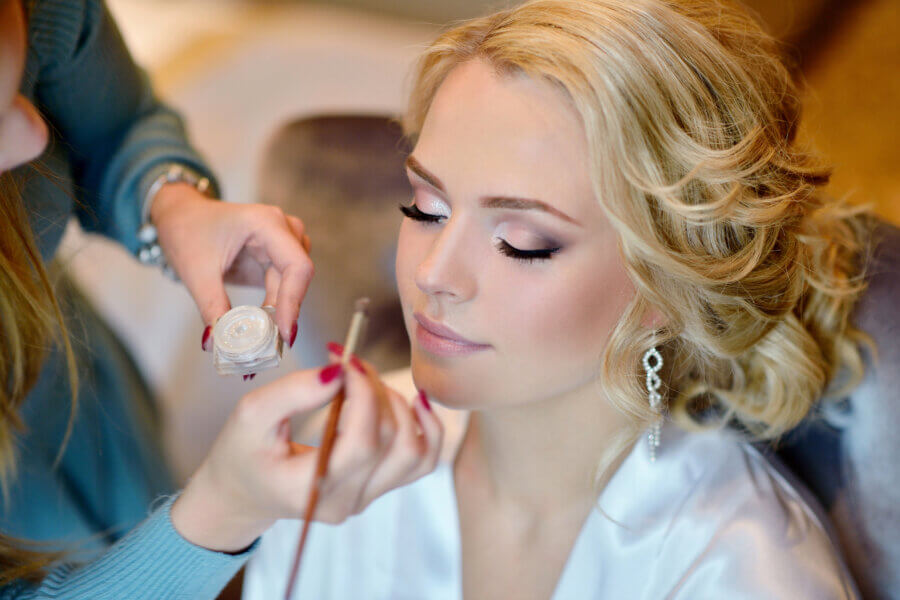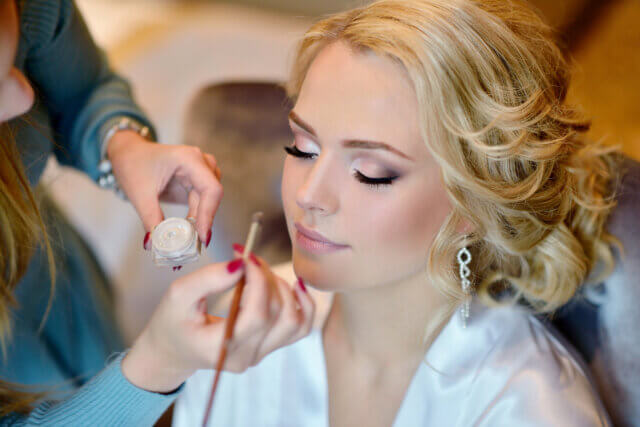 There are so many decisions you'll have to make when planning your wedding, from venues and bridesmaids dresses to limos and song lists. But perhaps one of the most important choices lies in your hair and makeup team.
Think about it – not only will you be the center of attention all day long (as you should be!), but your wedding day look will be forever immortalized in your amazing pictures. You'll want stylists that listen to your ideas, inspire you with possibilities, and deliver incredible results. If you're on the hunt for your perfect glam squad, look no further than 23 of the best hair and makeup artists on Long Island!
Victoria Elizabeth
Hair and Make-up
Specializing in all things bridal, Victoria Elizabeth is a luxury hair and make up company that provides on-location services to the Tri-state area and worldwide! Their emphasis on quality, talent, and customization, alongside uncompromising passion, is what sets them apart. They specialize in glamour, bohemian, classic, natural, and "old hollywood" styles.
Alexander Denaro Bridal
Hair and Make-up
The team at Alexander Denaro Bridal has spent years honing their craft to specialize in the field of bridal! They are focused on making sure you're 1000% happy with the beauty services they provide, with a gaggle of hairstylists and makeup artists that they call upon to suit the needs of each individual bride and their bridal party.
Kate Ford Beauty
Hair and Makeup
The team at Kate Ford Beauty each has a look they love the most, from traditional/classic styles, to boho/whimsical, all the way to dramatic/full glam and big hair. With a versatile skill set, they can deliver any style you dream of! They connect with their clients and do a detailed consultation to make sure they really understand your vision.
Nicole Spinello Makeup
Hair and Makeup
Nicole Spinello has been working with the beautiful brides of NYC and Long Island for almost 10 years. While she specializes in all things bridal makeup, her team specializes in bridal hair. All you have to do is bring them a picture, and they will make your wedding dreams come to life (for both you AND your bridal party)!
Sincerely Something Borrowed Inc.
Hair and Makeup
It is so important that you feel comfortable and like yourself on your wedding day, but it is a special occasion afterall! That's why the team at Sincerely Something Borrowed specializes in natural bridal hair and makeup looks. They aim to enhance your natural beauty and make you feel like the best version of yourself!
The House of Makeup
Hair and Makeup
The House of Makeup is a beauty concierge service designed to provide the most glam beauty experience to all! Specializing in bridal hair, airbrush makeup, spray tans, hair extensions, and lashes, The House of Makeup is one of the top bridal beauty companies serving Long Island, New York City, Montauk, and international destinations.
High Style Bridal Makeup and Hair
Hair and Makeup
Cloe Vitale of High Style Bridal Makeup and Hair has been part of countless fashion and beauty photo shoots around the world. This experience has exposed her to many types of techniques, which she's developed into the ability to create different looks that bring out the beauty of every client. She's served over 700 satisfied brides to date!
Bridal Rush
Hair and Makeup
Able to offer so much to brides under one brand, Jessica and the team at Bridal Rush can create a variety of looks and styles for your big day!  A large, dedicated group of licensed stylists and artists work together to make your wedding day glam convenient and stress-free.
Safié Salon and Day Spa
Hair and Makeup
A full-service salon and spa, Safié Salon and Day Spa specializes in all aspects of elegant hair style, color enhancement, bridal designs, and make-up services (even massage, facials, and accupuncture!) Bring the FH along, because Safié Salon and Day Spa offers a variety of services for men clients too!
Lashes & Curls
Hair and Makeup
From the dramatic and glamorous to glowing natural looks, the team and Lashes and Curls knows how to execute a variety of styles. Of course they provide hair, makeup, and nail services for brides-to-be on the Island, but they also have skilled barbers to give new life to your FH's wedding day look!
Beauty by Kristen Marie
Hair
Specializing in bohemian styles and updos, hair stylist Kristen Marie of Beauty by Kristen Marie believes every bride should feel like a princess on their wedding day. And with over a decade of experience in bridal hair, she is sure to deliver a wedding day look you will love!
Ink & Ivy
Hair
Formally known as Hair by Nikki Lee, the team and Ink & Ivy specialize in bohemian styles like messy-chic braids and dreamy romantic waves for an earthy yet refined look. Owner and chief stylist Nikki Lee has collaborated with MTV, Anomalie, and worked directly with designer Pnina Tornai for her Kleinfeld runway show!
Mirror Mirror Hair Boutique
Hair
The staff at Mirror Mirror is in love with weddings, and believes every bride should look and feel like the best versions of themselves on their big day! They specialize in Bridal Sets, Boho Hair/Braids, Hollywood Waves and all Updos, and take every aspect into consideration to make sure your vision comes to life.
Angela's Hair Design
Hair
Angela Cappuccia of Angela's Hair Design loves it when a bride says "do whatever you want!" She loves making a bride's vision come to life and treasures that "first look" in the mirror after her work is complete.  With 12 years in the industry, Angela's Hair Design will create a style that is unique to you.
Airbrush Makeup by Lisa Marie
Makeup
With over 15 years in the industry, make-up artist Lisa Marie has built a name in Long Island's wedding circles. She specializes in custom blend airbrush and traditional makeup applications, and has created a process that makes her applications last all day, all night, and sometimes until the day-after wedding brunches!
Total Glam NY
Makeup
Total Glam NY's mission is to make their brides happy, beautiful, and confident on the most important day of their life. To ensure every bride's satisfaction, each artist handles only 1 client a day. With esthetics being a big focus for Total Glam, even the brides with the most problematic skin can be assured they'll have flawless makeup.
LG Artistry
Makeup
With a light hand and a natural approach, Lauren of LG Artistry embellishes the features that her clients already possess; making them look their most confident while (most importantly) feeling like themselves! Her looks range from subtle beauty, to dramatic embellishments- but she always remains true to the beauty that already exists in each client.
The Blushing Bridal Suite
Makeup
Dawn Romanello of The Blushing Bridal Suite considers herself the Guru of brides, kind of like Mel Gibson in "What Women Want." She's worked in all genres of makeup, including, the ultra natural, the sophisticated and the glamorous, yet she approaches each makeup as the study of the face, enhancing the natural qualities of each individual.
Makeup with Kiki
Makeup
From the Glam Bride to the Natural Bride and all in between, Makeup With Kiki specializes in the "flawless face", because Kiki believes that the key to a flawless face and makeup application is having a flawless foundation in which to build. With this technique, Kiki accentuates each client's unique beauty.
Looks By Lexi
Makeup
Contouring, airbrush makeup, glam, natural, smoky – you name it, Lexi of Looks by Lexi can do it! Her goal is to make sure you are the best version of yourself. By understanding the needs of every individual person, you can rest assured that Lexi will have you looking fresh and flawless.
Makeup by Alexandra
Makeup
Alexandra is here to create the look of your dreams! Passionate not only about the artistry of makeup but also about communication, Alexandra's priority is to make your day as exciting, fun, and stress-free as possible. You'll be sure to leave her chair feeling like the queen that you are!
KMR Makeup
Makeup
Kristen with KMR specializes in makeup for brides who are going for a more modern, sleek look. The goal is to keep you looking and feeling like yourself, but still special for your big day! With years of experience on set and behind the scenes of Fashion Week, she decided to bring all her skills to the bridal arena.
Kimberly Dawn Makeup Artistry
Makeup
As a former professional ballerina, Kimberly's love of costumes, hair, makeup, and tiaras directly translates to her love of all things bridal. Recognizing that each individual Bride has unique taste, preferences, and ideals of beauty, Kimberly will work with you to bring your own personal vision to life!