Wedding trends change year after year. Check out what's new for 2023, and what you should skip.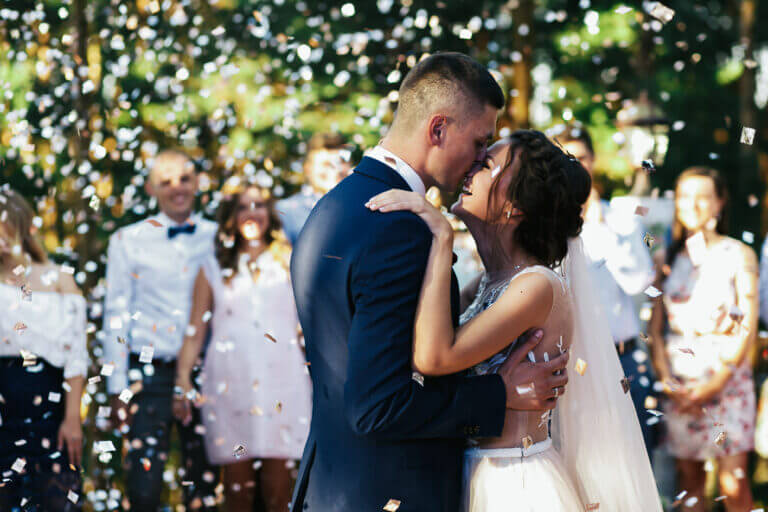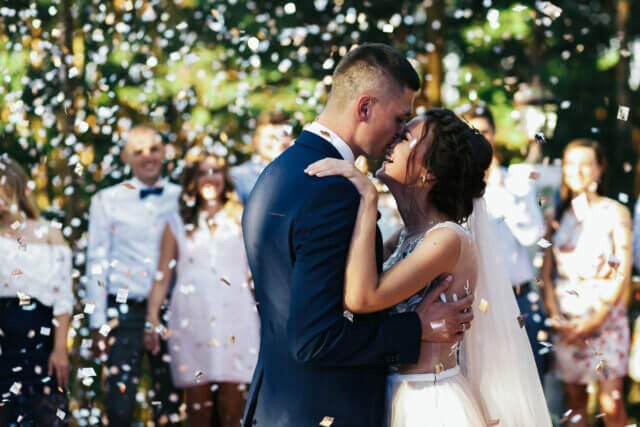 Let's face it, planning a wedding is stressful enough. But when you start looking at different wedding trends and what's 'in' or 'out,' it can add on more stress. If you're looking to add something new this year for your wedding, don't worry, we've done the legwork to seek out eight trends for 2023 weddings (and six trends that are out!)
Trends for 2023 Weddings
1 – Midday or morning ceremonies
Sure, you may have imagined a twilight ceremony. But the trend for 2023 weddings is to have a morning or midday ceremony. This will give you more daylight hours (no matter the time of year) for photos. Plus, the earlier you start, the earlier your reception can start – giving you the maximum party hours (and after-party, if you so choose).
2- Decorating Ceilings
Table decorations, check. But what about the ceiling? Depending on your venue, ask about bistro lights or twinkle lights on the ceiling. Or maybe your DJ offers a cool light that creates fun designs on the ceiling. Fill the room with balloons. Whatever you do, just think (and look) up!
3 – Crazy Cakes or Cake Toppers
OK – maybe you don't want to go as crazy as Cake Wars (or maybe you do!). But think outside the box from just a plain cake. Find a bakery and design something that means something to you and your future spouse. Do you love Disney? Put it on the cake. And don't forget the cake toppers! The more unique, the better.
4 – Chill After-Parties
After getting up early, smiling for photos, mingling with friends and family, and tearing up the dance floor, you'll probably be exhausted. But that doesn't mean you need to skip the after-party. Instead of something crazy, keep it chill. Maybe head to your favorite haunt. Or ask if your venue offers some fun munchies or a space for you to hang out with your friends and family.
5 – Color!
Add color everywhere you can! Pick seasonal colors. Bright colors. The possibilities are endless. And we're not just talking about flowers and bridesmaids' dresses! Add a little bit of color to your wedding gown too!
6 – Sustainability
Save the planet while celebrating your love. Ask your venue about what they are doing to keep things eco-friendly. Or think about cutting some costs. Or maybe just shop locally to stimulate the economy.
7 – Destination Weddings/Wedding Experiences
Does the thought of coordinating a huge wedding day make you super nervous? Consider a destination wedding! There are so many options when it comes to a destination wedding. And there are even places on Long Island that you can turn into a destination wedding – like Atlantis Banquets and Events! You can get some planning help from some of BOLI's incredible destination wedding and honeymoon experts.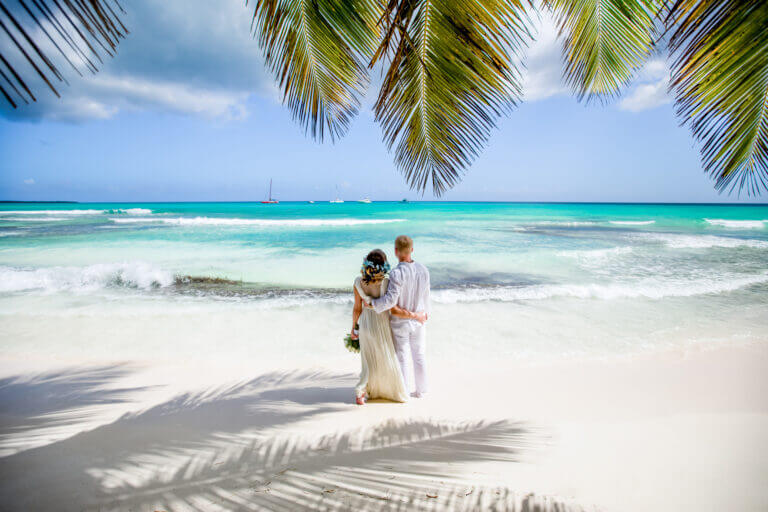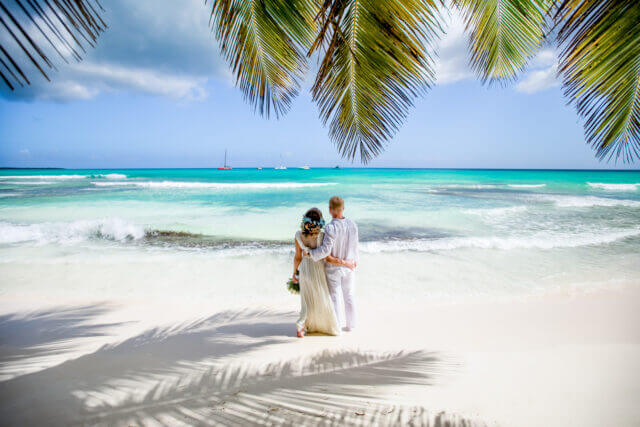 When it comes to wedding experiences – there is nothing too big or small. Everything from a live painter or aerialists and more! Think big and hire a mascot to take photos with guests.
MORE: Why We Chose to Have a Destination Wedding
8 – Disposable Cameras
We love bringing these back! Leave the candid photos to your guests to take. There are plenty of websites that will develop your photos!
Trends That Are Out
1 – Wedding Hashtags
Stop stressing out by trying to think of cute hashtags for your 2023 wedding! If your friends and family post on social media, just have them tag you!!
2 – Welcome Bags
Another stressful thing that you need to ditch for 2023. A lot of hotels offer water bottles in rooms now. Most people carry Advil. And those cute bags you spend hours custom-making? They get thrown out in the end. Save your money and your time.
3 – Crazy Escort Card Tables
Keep it simple! People just want to know what table they're at. Make use of the generic escort cards that your venue gives you. Take the time to fill them out and let the venue lay them out on a table. Again, save your time and money!
MORE: How to stick to your wedding budget
4 – Naked Cakes or White Cakes
With crazy cakes being in this year, of course plain white or naked cakes are out. If you're still in love with a naked or white cake, think of adding some cool colors to make it stand out!
5 – Bridal Parties
Instead of stressing about who of your friends you want by your side – skip it! Save them the money they would spend on hair, makeup and a dress they'll never wear again. If you want to get ready with your besties, you can still have them with you. Not having a bridal party takes the stress off of everyone – including you!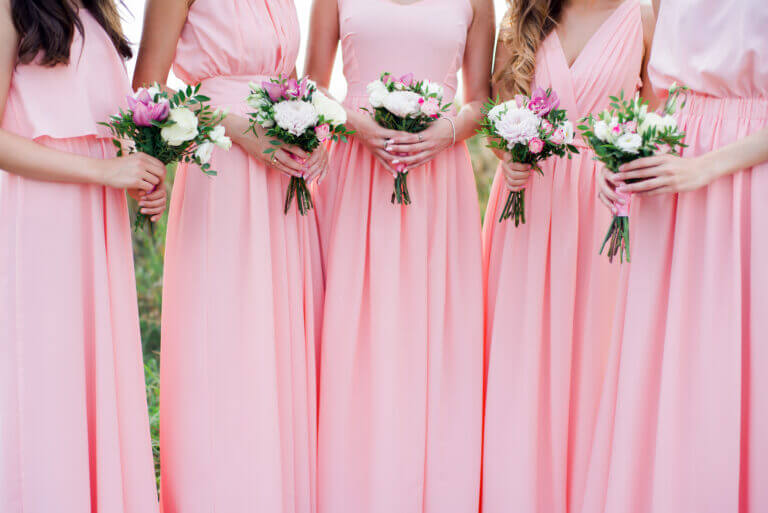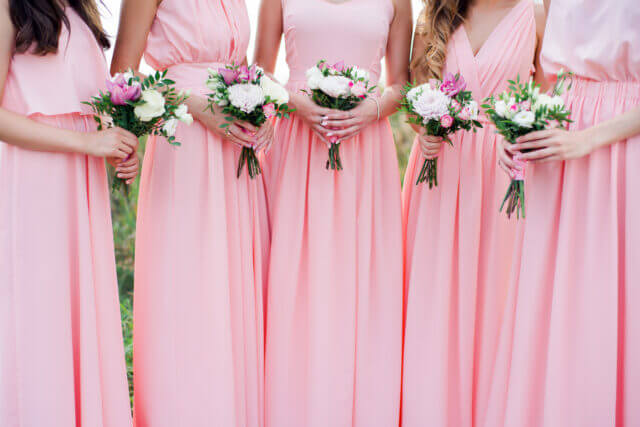 MORE: Not having a bridal party? Here's why that's awesome
6 – Doughnut Walls
If you want doughnuts, skip the wall and have a fun dessert table. What was the purpose of a doughnut wall anyway
If all of this is making your head spin, just buck the trends and do your own thing! If you want that naked cake, go for it. Your guests are there for you and your future spouse – adding your own simple touches that aren't over the top are sometimes the best things to have at your wedding. This is your day! Do it your way!