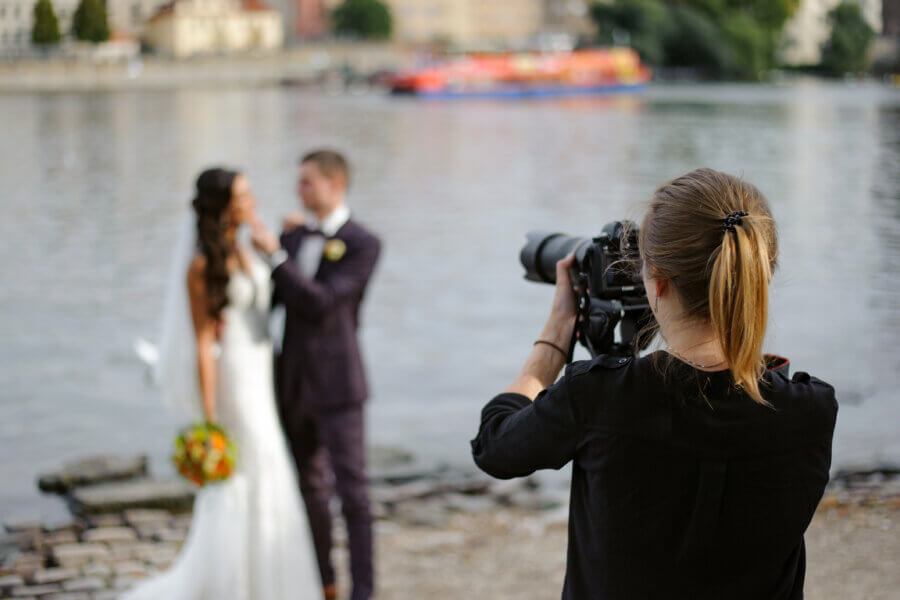 Try any one of these photo or video vendors for great wedding memories.
The photographer and/or videographer is one of the most important vendors you will work with during your wedding. They will be documenting your wedding so you can look back on the best day of your life with fond memories. So, it's important that you choose the right one. Someone that you will jive with. Someone who's style will best match yours and everything you envisioned on your wedding day.
But there are so many to choose from! Where do you begin? Well, you're in luck because Brides of Long Island has some of the best photographers and videographers as our preferred vendors. With the list below, you are bound to find someone great to work with.
Located in Hauppauge, Capture the Moment Studios is a boutique studio that will offer great attention to every detail of your wedding. They love to get to know the couples, so that on their wedding day they can capture all of your special moments. They offer photography and videography services.
If you're looking to live stream your wedding to family across the world in a professional setting, look no further than Ceremony Cast. They specialize your wedding to be 'TV ready,' making all of your virtual guests feel like they are there with you.
A former news photographer, owner Gil started Fade to Black New York 14 years ago. They have a studio in Mineola. He runs the business, which offers both photography and videography, with his sons. Gil says Fade to Black New York photographers and videographers offer a candid and photojournalistic approach to your wedding.
The photographers and videographers at Heartfelt Studios live, eat and breathe weddings. They are a close-knit studio (their kids play together) – and they can't wait for you to join their family and share your special day with them!
JS Vision Photography and Cinematography
Established in 2012, this full service boutique studio prides itself on the most stunning photos on your wedding day. Located in Garden City, JS Vision Photography and Cinematography offers will capture your memories in photos and on film, taking both a journalistic and candid approach on your big day.
Leanne Gelish Studio is a one-woman show! She specializes in authentic, artistic storytelling in her photography. Why is she the best? She focuses on the special moments on your wedding day and brings them to light. Something you'll cherish forever.
Since you're spending most of your day with your photographers, why not get to know Life Art Photographers? With over 15 years experience, they embrace the chaos that a wedding day and bring and bring out the best in you and your significant other through their photography.
Lighthouse Photography Dream Weddings
Found in 2007 by a husband and wife team, Lighthouse Photography Dream Weddings offers the best in photographers and videographers. They have two convenient locations in Port Jefferson and Huntington. They can't wait to share their passion and creativity with you on your wedding day
John Morelli Wedding + Event Films
John Morelli has been shooting weddings and events for over 30 years. He makes the important task of filming your wedding an easy and smooth process. He has over 3,000 weddings under his belt. And he graduated from NYU Film School.
Grab a cup of tea or coffee and chat about your wedding details with Heather of Never There Yet Photography. She can't wait to tell you how she'll tell your story through photography!
NuView Weddings Videography is based in Hauppauge, and one of its owners is a cinematographer of Hollywood films! So why wouldn't you hire them to video your wedding and turn it into a masterpiece of a film!
Nydiarose feels honored to photograph your wedding. She is with you from your very first meeting to when she hands you your photos. All of your questions are answered by her. And all of your photos are taken by her.
Park Ave Studio, located in Ronkonkoma, has been in the wedding industry for almost 30 years. They can't wait to work with you and set up your wedding day timeline. Whether they are photographing or videoing, their style is casual and light to keep your day stress free.
Started in the basement of their home in Lindenhurst, Pat and Ken created Patken Wedding Photographer and Video. They hired their son Doug to take the business full time. And now they are one of the leading photography and cinema companies in the wedding industry. And while Doug has won awards for his work, the most rewarding moments are the emotions and love he feels at weddings.
Do you want your own love story told in film? Then look no further than Shot by Cruz. Owner Steve says he and his videographers are cinematographers, producers and directors. This way they can tell your unique story just like a movie.
If you're looking for relaxed, candid, authentic photos or videos, Silverfox Studios is what you're looking for. At Silverfox, you'll be treated like a star and get the 'Silverfox experience.'  Following in the footsteps of his grandfather, the Silverfox, John takes the time to get to know you as a couple and bring out the best in both of you.
From the moment you walk into Studio 27 Photography, you are family. They pride themselves on being professional and giving you the best photos and videos, while at the same time making you feel at ease and at home. They believe in order to capture those real moments, they need to make you feel comfortable.
If you love coffee and The Office, then head on down to Thalia Nino Photography in Patchogue and meet with Thalia for your wedding photos! Thalia is ready to be a little different and bend the traditional rules to give you the best wedding photo on your big day.
The Glenmar Studio is a family owned and operated photography and videography studio that has been around for over 80 years. The photographers love to capture those candid moments, as well as create timeless portraits.
Tony Lante Photography and Cinematography
From a large weekend celebration to a small gathering at city hall, Tony Lante Photography and Cinematography is ready to capture all of the moments on your wedding day. Tony believes wedding photography is a vision created by his clients as well as the photographers.
Year and a Day Photography is a wedding boutique in Blue Point. They love to take advantage of natural light, and, of course, all of the beautiful locations Long Island. Year and a Day is strictly photography.
Andrew, owner of Yellow House Images, used to be a full-time journalist. As his friends started getting married, he would put together videos for them. He believes it is an honor to work with you and provide photos and videos of your special day for you.
All of these vendors offer unique experiences for the Brides of Long Island. Be sure to check them out!