Book a tour for these must-see locations – here are 34 great Long Island wedding venues!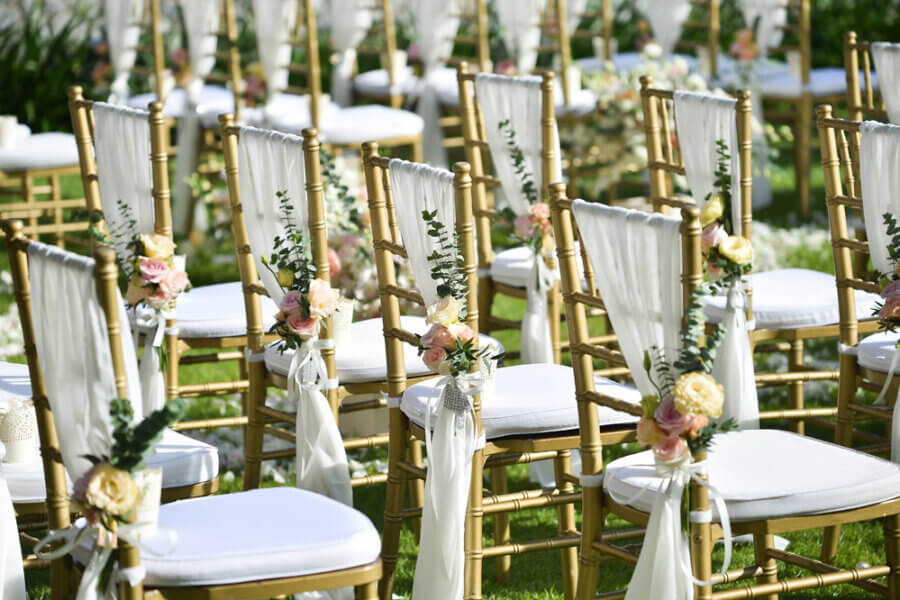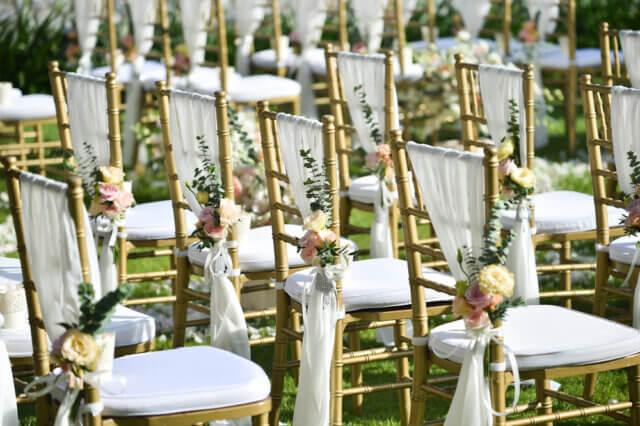 You're just engaged, and you have no idea where to start! There are hundreds of venues across the Island – everything from small restaurants to venues with a water view to actual castles. The possibilities are endless. Well, BOLI is here to help!
But why not book tours at some of Long Island's great wedding venues? Here are 33 great Long Island wedding venues that are not only preferred venues of the BOLI family, but are bound to have something to make one of the most important days of your life the best day ever!
Westbury Manor
Westbury
Westbury Manor's lush landscape is the perfect backdrop for your wedding. Set upon 5 acres, this mansion has several ballrooms and cocktail rooms to fit up to 300 guests.
The Crescent Beach Club
Bayville
Imagine saying "I do" at sunset on a white sand beach, surrounded by palm trees with the blue water behind you. Well, you don't have to travel off Long Island to do it! The Crescent Beach Club is on the beautiful Long Island Sound that gives couples a plethora of choices when it comes to photos and beyond. Its cocktail hour features steel pan drums, and its ballroom features floor-to-ceiling windows for breathtaking views of the beach and water at any time of day or night. And you can keep the party going on the beach after the reception with tiki torches and fire pits. The beach club's capacity is 425.
MORE: The Crescent Beach Club Offers Paradise in Your Own Backyard
Sunset Harbour
East Patchogue
Located in its own marina, tucked away along the Great South Bay, Sunset Harbour has been family owned and operated for the past 25 years. The marina offers stunning views of the water and makes for great sunset photos. It can accommodate up to 250 guests.
Swan Lake Caterers
Manorville
This recently renovated boutique-style venue is located on the greens of Swan Lake Golf Course. It features a rustic indoor look with wine barrels, barn doors and lanterns.
The Meadow Club
Port Jefferson Station
This recently renovated property boasts crystal chandeliers and perfectly manicured gardens. The Meadow Club hosts one wedding at a time, and offers various packages that fit every budget and wedding party size!
The Inn at New Hyde Park
New Hyde Park
This Long Island landmark was established in 1938. Its staff of event planners, management and culinary artists have a combined 200 years experience! The Inn can accommodate from 10-500 of your guests.
The Old Field Club
East Setauket
The Old Field Club offers waterfront views along the north shore with rustic yet elegant charm. On the smaller side, this intimate venue can accommodate up to 180 guests.
The Piermont
Babylon
Nestled on the Great South Bay, this waterfront venue features floor-to-ceiling windows for your guests to enjoy beautiful sunsets and amazing water views. Couples can choose between indoor or outdoor ceremonies. The menus feature locally sourced products and American classics.
Fox Hollow
Woodbury
This state-of-the-art venue is located on Long Island's Gold Coast, and gives couples plenty of options, including three different rooms to accommodate any size wedding party from 50-285 guests! It has several options for an on-site ceremony, including an outdoor garden. And it has an on-site hotel for couples to turn a wedding day into a wedding weekend! A truly full-service venue, Fox Hollow is sure to have something for every bride.
MORE: 39 Questions to Ask When Touring a Venue
Watermill
Smithtown
Located in the heart of Suffolk County, this hidden gem features a sprawling estate, manicured landscapes, winding pathways and historic architecture. Your wedding will have old-world charm with luxurious modern comforts. It can accommodate up to 350 guests.
Insignia
Smithtown
This steakhouse-turned wedding venue can accommodate up to 300 guests. It offers indoor and outdoor spaces for a ceremony. Insignia combines the feel of a Hamptons-style mansion with an upscale Manhattan restaurant for a unique wedding. Menus range from prime-age steaks to fresh seafood and sushi.
Opus Steakhouse
Jericho
This re-imagined north shore mansion can be yours for your wedding day! It offers dramatic spaces offering endless views of lush gardens, a suspended wine loft and an open kitchen. To say Opus is unique is an understatement, and it's sure to wow your up to 225 guests.
360 East at Montauk Downs
Montauk
Head to The End to celebrate your wedding day in the charm of a beach town with an elegant setting. Wow your guests, which can be up to 200, with views of Montauk. As a bonus, say your vows with the Montauk Lighthouse as your backdrop!
Heritage Club at Bethpage
Bethpage
The Heritage Club at Bethpage combines the richness of Long Island's Heritage with the finest service and cuisine. Say your vows in a room with a grand chandelier on beautiful wooden floors, or outside in a charming gazebo with the Bethpage Black course as your backdrop. The ballroom offers floor to ceiling windows overlooking 1,500 acres of rolling greens. It can accommodate up to 500 guests.
The Mansion at Oyster Bay
Woodbury
Have your wedding with an authentic Gatsby era flare with modern accents and amenities. Your breath will be taken away by just the foyer alone with a roaring fireplace amid marble floors and a grand staircase. The ballroom features an outdoor patio allowing for an indoor/outdoor cocktail hour. It can accommodate up to 500 guests.
The Vineyards at Aquebogue
Aquebogue
The Vineyards has a rustic, farmhouse feel with enchanting gardens and, obviously, authentic vineyards. With a guest capacity of 300, this venue can host your ceremony, inside or outside, and reception. The cocktail hour can include a farm-to-table station with bison and flounder sliders, North Fork oyster chowder, salads and so much more. It offers a variety of enhancement packages, as well as all-inclusive packages for Saturday or Sunday day weddings.
Chateau at Coindre Hall
Huntington
With the Huntington Harbor as a backdrop, this mansion is both timeless and historic. Couples can exchange vows in the garden or the ballroom. And the photo opportunities are endless with a courtyard with vine-covered columns, a spiral staircase and six fireplaces. Coindre Hall can hold up to 200 guests for a night full of historic and elegant memories.
Essex Club
Brentwood
This quaint country club is set among 50 acres of rolling greens and picturesque perennials. Have your ceremony at the outside gazebo or in front of a roaring fireplace inside. And then dance the night away with up to 250 guests in the grand ballroom.
Stonebridge Country Club
Smithtown
This modern-day country club overlooks a lush, green golf course and woodlands, offering plenty of photo opportunities. Stonebridge can accommodate up to 350 guests. It has an outdoor gazebo for ceremonies, and a couple options for cocktail hour.
Bourne Mansion
Oakdale
This historic Vanderbilt Museum is located on the Great South Bay with breathtaking views inside and out. The mansion features 40-foot vaulted ceilings, an elegant wooden staircase and a grand ballroom. It can hold up to 300 of your guests.
MORE: See more about what the Bourne Mansion has to offer
Estate at Three Village Inn
Stony Brook
Located in the heart of the the historic town and overlooking Stony Brook Harbor, the Estate at Three Village Inn is a unique backdrop for your wedding day. Make it a full wedding weekend, with your rehearsal dinner at their Mirabelle restaurant, stay overnight in their cozy rooms or suites, and then say your vows in the garden before enjoying your reception in their ballroom, able to fit up to 250 guests.
Mansion at Timber Point
Great River
The Mansion at Timber Point is nestled along the Great South Bay, offering views of Fire Island and the rolling greens of a golf course. Inside the historic mansion offers classic country décor with a modern twist for you and your up to 250 guests.
The Mansion at West Sayville
West Sayville
The Mansion at West Sayville offers classic splendor with rustic beach charm. It features views of the Great South Bay, Fire Island and the Maritime Museum. The grand ballroom features French doors to separate the dance floor from the dining room. A perfect setting for up to 220 guests.
Pavilion at Sunken Meadow
Kings Park
The Pavilion at Sunken Meadow is the premier location for the perfect beach wedding. It offers stretches of sand, gentle bay breezes and beautiful sunset views. It can accommodate up to 300 guests.
View
Oakdale
View offers a refined yet relaxing setting with beautiful waterfront views and award-winning food. Host your intimate wedding with up to 180 guests at the View for a customized menu and breathtaking landscapes.
East Wind Long Island
Wading River
East Wind features 26 acres on the Island's North Shore giving brides plenty of opportunities for amazingly beautiful photos. Not only does it give you several options for your wedding – everything from an intimate garden affair to a stately ballroom – it also is home to a hotel, with several restaurants, shops and a full-service spa and salon. These amenities allow brides tons of options to get ready, a rehearsal dinner or just a day of relaxation before the big day!
MORE: With Five Different Spaces, Shoppes and More, East Wind Long Island Offers Brides Plenty of Options
The Inn at New Hyde Park
New Hyde Park
This Long Island landmark was established in 1938. Its staff of event planners, management and culinary artists have a combined 200 years experience! The Inn can accommodate from 10-500 of your guests.
The Barn at Old Bethpage Restoration
Old Bethpage
The Barn offers a rustic yet elegant venue for your wedding, with over 8,000-square-feet of indoor and outdoor event space. It fits 300 guests, and features high ceilings with exposed wooden beams. Couples can choose to have an on-site ceremony overlooking the gardens or inside the ballroom. The country fields and authentic farmhouse are sure to leave your guests impressed.
Giorgio's Baiting Hollow
Wading River
Every wedding at Giorgio's is personally overseen by the owners to make sure your perfect day goes smoothly. This venue is unique in its indoor/outdoor setting, with scenic views of a beautiful, rolling golf course. And who wouldn't love a nine-station cocktail hour and a four-course entrée dinner. Giorgio's fits up to 300 guests.
Atlantis Banquets & Events
Riverhead
When you hear Atlantis, you probably think aquarium, but why not get married there? From a small gathering of 20 guests to up to 650, you get to choose from up to nine different locations around the property to celebrate your big day. And don't forget to inquire about taking photos with the animals!
MORE: Atlantis Banquets & Events Has Everything You Need For the Perfect Wedding…Including Penguins
Swan Club on the Harbor
Roslyn
Located on the harbor, Swan Club on the Harbor offers breathtaking views and picturesque backdrops. It is located on an estate that dates back to the 1600s and features a mansion constructed by the co-founder of Con Edison. Purchased in 2018 by restaurateur brothers they restored it to its Gold Coast perfection. It can hold up to 350 guests.
MORE: Celebrate Your Day in Gold Coast Perfection at Swan Club on the Harbor
Miller Place Inn
Miller Place
This family owned and operated venue runs with their mother in mind! From delicious food to top-notch personalized service and attention, all their brides become part of their family at Miller Place Inn.
The Mansion at Woodside Club
Muttontown
This one-of-a-kind mansion property is sure to be the perfect venue to host the best day of your life. The Mansion at Woodside Club features indoor and outdoor options for your ceremony as well as an open-plan ballroom.
Pine Hollow Club
East Norwich
This private club offers a bit of old and new to make your wedding day perfect. It features historic architecture with modern finesse. Pine Hollow Club features multiple ballrooms and plenty of outdoor gardens to make your day unforgettable.
Bellport Country Club
Bellport
At Bellport Country Club, relationships are key! They walk you through the entire wedding planning process, from ceremony and reception. Your guests will be treated to the highest quality food and a friendly and attentive staff that want you to have the best day ever. 
Wherever you choose to have your wedding, just know that you'll be in great hands!