In Brides of Long Island's Monthly "Mrs." series, we profile some of our members' unforgettable weddings. This month, we spoke with Tamara Simpson Agbeyegbe about planning two weddings in 14 months during her first year of medical school!
When Tosan proposed to Tamara in May of 2021, she had to hit the ground running with planning, as she was moving to Chicago with him so she could attend med school that August. That only gave her three months to book the big vendors for not one but two weddings she planned to have in July 2022! But she and Tosan tackled the planning head on, and had the best wedding weekend that celebrated not just the joining of their families, but honored Tosan's Nigerian cultures and traditions.
A Trip Down Memory Lane
When Tamara headed up to visit her former teammate at Yale University in May of 2021, she figured she'd just be reminiscing during a girls' weekend. Little did she know that Tosan had planned an elaborate proposal in the campus yard where they met! Tosan didn't miss any details, inviting her friends and family members, including her brother from California. As Tamara walked through the yard, a friend or family member would pop out to hand Tamara a gift until she met Tosan at the end of the path. She says he was standing there in a rose petal heart with a table full of memories of their relationship. "It was really beautiful and over-the-top," she says. But it was perfect.
Race to Plan
After they got engaged, Tamara says they hit the ground running before she started medical school. "I had to get most of the planning done so I didn't have to do a lot while I was in school," she explains. They toured a bunch of venues first, but fell in love with Giorgio's, a BOLI Preferred Vendor. "They are just stunning, I couldn't ask for a better place."
Next up, she chose her wedding dress from Bridal Reflections, a BOLI Preferred Vendor. Choosing a DJ was easy for Tamara, as she used the same DJ that her family has used for the last 30 years. In fact, Tamara says it was the same DJ company that DJ'd her mom's wedding! She also booked her hair and makeup artist – which were also easy to find because they are the same ones her sister used at her own wedding three years ago.
With the bigger vendors booked for her American wedding, Tamara was able to focus on medical school by the fall of 2021. She says that Tosan helped by creating spreadsheets to coordinate the payments and put together a timeline. In addition to Tosan, Tamara leaned on her sister, who gave her advice on wedding planning. "She was able to tell me the things she wished she would have spent more money on and the things she said you don't need to spend money on."
Planning the Nigerian Wedding
Tamara says that because Tosan is Nigerian, they had two weddings. By January 2022, Tamara and Tosan consulted with his family to plan the Nigerian wedding. "It was really special to learn the different ceremony pieces and the traditions," says Tamara. "It was really great to embrace his culture and represent it well." At times it was overwhelming she says, but she leaned on Tosan and his family to help. "My husband took the reins. He organized me getting my dresses in Nigeria!" Yes, that's right. She had to get two separate dresses made for her Nigerian wedding – and they were custom-made in Nigeria! "I sent my measurements over. I would take calls at weird hours because of the time zone." In the end, the dresses were beautiful. "They were so colorful. I couldn't believe it. I had to put so much jewelry on," says Tamara. "And I had to put a headwrap on."
MORE: 6 Reasons Why You Should Hire a Wedding Planner 
Tamara says the Nigerian wedding was held at North Shore Beach Clubhouse – and it was more of a do-it-yourself wedding. "I had one planner – I used my cousin's event planning business," says Tamara. She adds that while she had a different photographer and videographer for the Nigerian wedding, she used the same hair and makeup artist for both weddings.
Premiere Entertainment
Tamara explains that since she was the last girl to get married in her family, her mother wanted to go over the top with her wedding! "My mom and my sister were like 'we have to top everything we've ever done.'"
So, what did those over-the-top things include? To start, their guest list included over 200 people at her American wedding, and 120 people at her Nigerian wedding. Guest list aside, the entertainment at Giorgio's included a caricaturist, violinists, a keyboard player and aerialists. Yes, aerialists! "My sister had ballerinas, so I couldn't have that!" says Tamara. "The aerialists were in hoops and doing flips and spinning around. I couldn't believe it! They were stunning."
Tamara says Giorgio's made poutine for one of the cocktail hour stations. "It's a Canadian dish. It was great to have that at the wedding," she says. Tosan grew up in Canada, and his family still lives there. And their signature drink? A special margarita with drink toppers that featured the crest of their residential college where they met and lived at Yale.
Honoring a Culture & Traditions
Tamara and Tosan had their Nigerian wedding on July 16, and their American wedding on July 17. "It was back-to-back days of just wedding chaos," says Tamara.
Tamara says she had to learn different traditions for the Nigerian wedding. "It's a union of two families. It's his family asking for my family's blessing for me to enter their family." She says for the first half of the wedding, she's hidden away in a separate room, while each family dances into the reception. Once each family has entered, the groom enters with his groomsmen and they 'inspect' him "to make sure he has all 10 fingers and 10 toes," she says. "A lot of the traditions that are played out and are not as serious." After the inspection ritual, the groom's parents give a gift to the bride's family – which included wine and a basket of fabrics from Nigeria.
Next, the groom has to 'identify his bride.' Tamara explains that her bridesmaids are sent into the wedding wearing veils and holding fans in front of their faces, while Tosan had to declare them 'not his bride.' "Finally, I come out with bridesmaids doing a dance," she says. After saying a prayer with each family, among other ceremonial things, she says there's a big dinner and dancing. "There are Nigerian dances that we had to teach our bridal party. And it was fun to watch my family wearing traditional Nigerian outfits to surprise me!" Tamara says her family really embraced the Nigerian culture.
MORE: Summer Soiree? Fall Fête? A Breakdown of Weddings by Season. 
The Union of Two Cultures
The day of their American wedding was also just as perfect as the Nigerian wedding. From the beautiful aerialist performances and delicious food, to the MC who kept the party going all night and the 'money dance,' everything was just perfect for their wedding weekend. What is the money dance? "In Nigerian culture, you bring dollar bills to events like weddings, and you shower the bride and groom," explains Tamara. "Any time we were dancing, you see the money flying over our heads. Usually, the kids gather it and put it away. There were piles of dollar bills around us. It was cool. It was very interesting to explain to the bank the next day that I was not a stripper!"
"My MC was the highlight of my wedding," says Tamara. She says he specializes in multi-cultural fusion weddings. From the start of the wedding, he asked where everyone was from. He would name different countries from around the world, and someone cheered at every single country, says Tamara. "He just kept the party going. He'd pass around the mic. He incorporated Nigerian culture into the wedding in so many cool aways." There was never a dull moment!
Plan Early & Incorporate Your Partner
When it comes to advice for other Brides of Long Island, Tamara says planning early is key. "Get the venue as early as you possibly can! I remember that was the most stressful thing." She also adds that leaning on your partner for support and help will keep your stress level lower. "I would do the work to find the vendors, and Tosan would keep me organized! Any questions I had about payments or contracts, Tosan had an answer!"
MORE: Don't Sweat the Small Stuff 
"And just enjoy it!" She says it can definitely be hard at times, as she would get overwhelmed while planning both weddings and juggling medical school, but it's important to not stress out and know that everything will work out.
Traditional American Wedding Vendors:
Venue: Giorgio's Baiting Hollow, a BOLI Preferred Vendor
Photographer: 456 Weddings Studios
Videography: 456 Weddings Studios
DJ: DJ Legend LLC Jerry Cummings
MC: Kofi Williams
Florist: Ritz Walton Wedding Collection 
Hair: NaeDidMyHair
Makeup: Pure Glamour 
Officiant: Rev. Dr. Daris Dixon-Clark – First Baptist Church
Invitations: Marry Me Magazines 
Dress: Bridal Reflections, a BOLI Preferred Vendor – Ysa Makino  
Bridal Jumpsuit: Jovani Fashions 
Bridesmaid Dresses: Bridal Hive 
Cake: Dortoni Bakery
Tuxedos: Suit Shop
Traditional Nigerian Wedding Vendors
Venue: North Shore Beach Clubhouse
Hair: NaeDidMyHair
Makeup: Pure Glamour 
Photographer: Aida Malik
Videography: Ebi Agbeyegbe 
Decorations: Kim's Pop of Flavor 
Decorations: Dan's Unforgettablecreations 
Bride's Dress: Made Pieces
Groom's Agbada: TDA Couture 
Fabrics: @Cellaniq_georges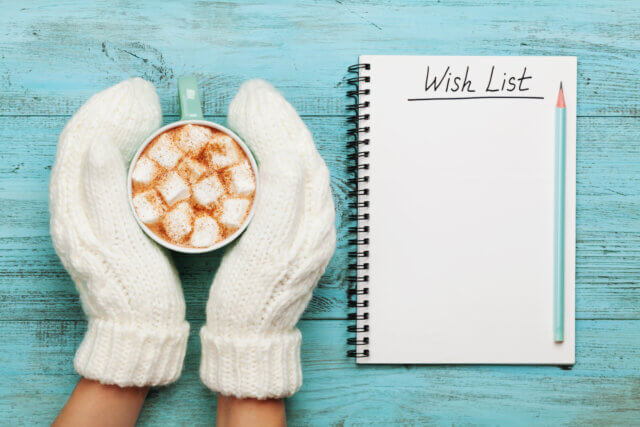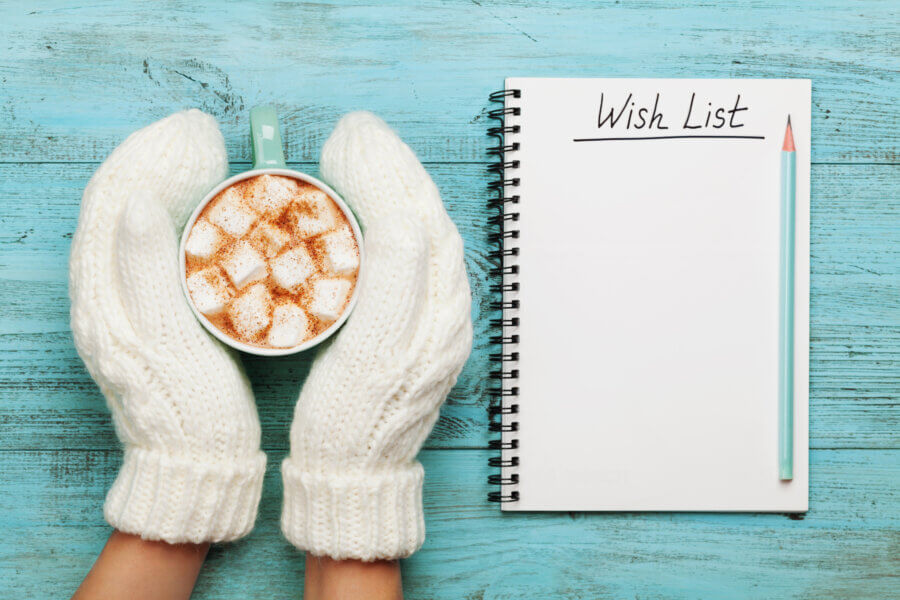 Make your spirits bright with these great gift ideas!
The holiday season has arrived and with it comes the age old tradition of gift giving and receiving. You've got some killer presents lined up for your family (your niece is going to go crazy over that Baby Yoda doll you scored!) but you may be at a loss when it comes to your own wish list. You pretty much buy everything you need, and you've got enough "future Mrs." items to fill a store. For something a little different this year, try suggesting these five unique gift ideas for the bride-to-be in your loved ones' lives (that's YOU!)
#1 A Brides of Long Island Premium Membership
There are so many vendors to consider when planning a wedding- the venue, the photographer, the make-up artist, the cake- the list seems to never end! And neither do the expenses. But what better gift is there than getting the day of your dreams, for less? With a BOLI Premium Membership, you can score some amazing dollar saving deals, like $300 off any wedding package from Life Art Photographers, a $500 credit towards your wedding at Crescent Beach Club, 20% off a hair and make up trial at Blushing Bridal Suite, and lots of other offers from forty of Long Island's best vendors! At $69, a BOLI Premium Membership is the gift that keeps on giving through all of your planning!
#2 A few dance lessons for you and your fiancé
Feeling nervous about your first dance as Mr. and Mrs.? Step out onto the dance floor with confidence after a few lessons with one of BOLI's preferred dance instructors! They will choreograph the moves to your favorite song, so you can wow your guests with fancy (but easy!) footwork. 
#3 A bit of bridal beauty prep
The holidays can be overwhelming, and it's so easy to skip that waxing or spray tan in order to get stuff done. But you deserve a little pampering, girl! Ask your friends or family for a facial, teeth whiting, or any other beauty prep service from one of BOLI's preferred vendors!
#4  A boudoir photography session
You might be thinking "Um, isn't this more of a gift for my fiancé?" But trust us – you'll leave your boudoir photo shoot feeling beautiful, sexy, and self-assured. Tell your loved ones to book you a session with one of BOLI's preferred boudoir photographers! 
#5 A night out – or in!
Wedding planning can be stressful, so gift cards for a nice dinner or night out can be just what you need! One of BOLI's preferred vendors can provide a delicious meal and lots of ambiance, or even bring an adorable picnic for two to your door!
Happy Holidays, BOLI!
Just because you were married before, doesn't mean you shouldn't celebrate like it's the first time.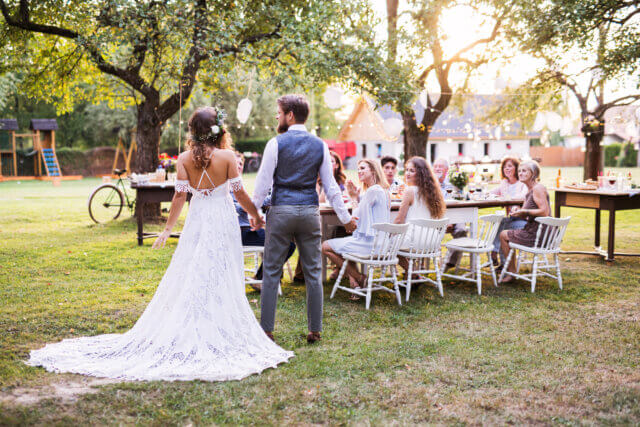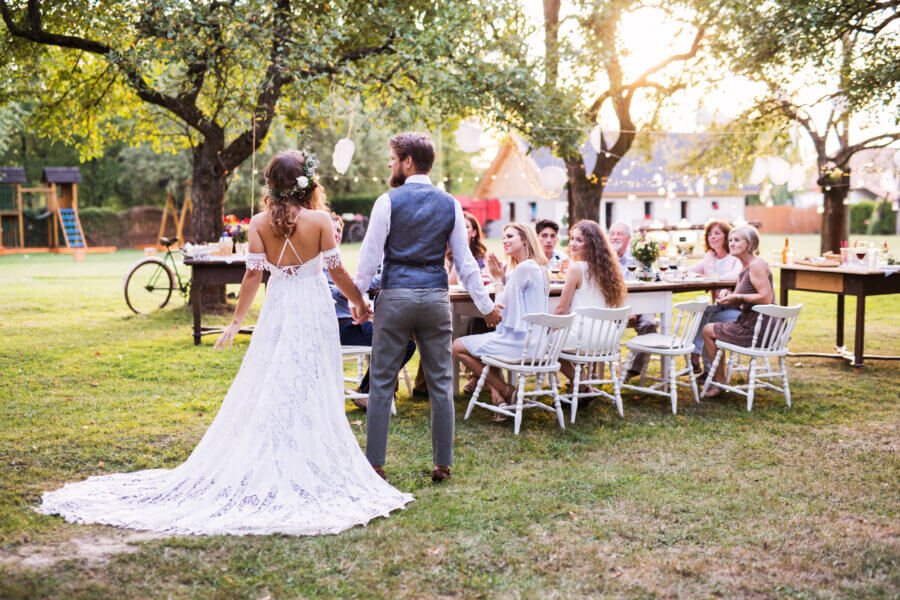 Getting married the second time around might leave you with some questions on how you should celebrate. It's perfectly normal to feel this way.
Whatever the reason why your first marriage ended, it doesn't matter. What matters now is the present, and this next chapter of your life. You have a second chance at love. Your future spouse makes you feel like a million bucks. So why not celebrate with all of the bells and whistles?
So, do you get the engagement party, the bridal shower or the bachelorette party? The short answer is – yes, if you want them! If you are on the fence, below are some reasons why you should or shouldn't have the 'traditional' wedding events.
Engagement Party
When do you plan on getting married? Is it within a year of when you got engaged? You may want to consider skipping this – just as any bride would – as the party would be very close to the wedding. However, if you're planning a long engagement, a small engagement party with close friends and family would be OK. If you still feel funny, just request people's presence to celebrate as opposed to gifts. Maybe host an 'untraditional' or low-key engagement party by inviting people out to dinner or even to a 'participation' party, such as ax-throwing or Top Golf!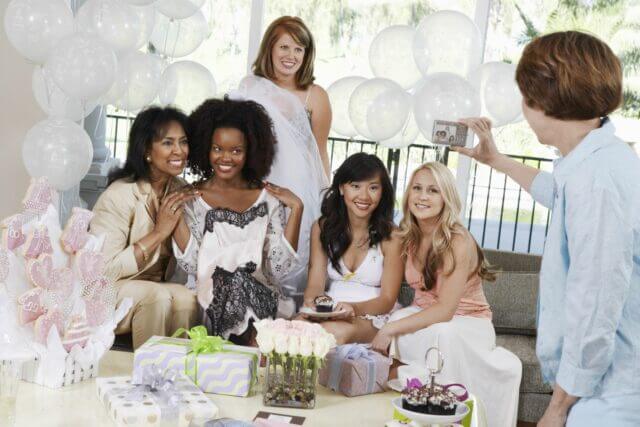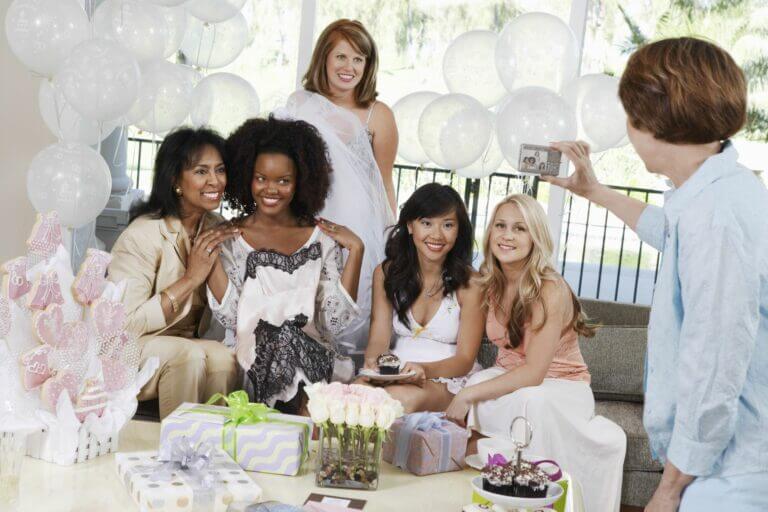 Bridal Shower
If you already live together and have a lot of what you'll need to begin your next chapter, you may want to skip this or have something more low-key. However, a bridal shower could be an opportunity to really start over. You can replace things you no longer use or maybe don't own anymore. Still feeling weird about having a shower? Check out these unique shower ideas. 
MORE: It's Okay If You're Not Okay With It: Setting Boundaries for Bachelor/Bachelorettes 
Bachelorette Party
Girl, this is your second shot at love. Why not celebrate with your girl tribe in the best way you know how? The possibilities are endless when it comes to bachelorette parties. You can go crazy with a destination party. Or you can keep it low-key. No one ever said you need alcohol at a bachelorette party! If you still aren't sure, why not just grab your bestie and have a spa day to relax and unwind before the big day?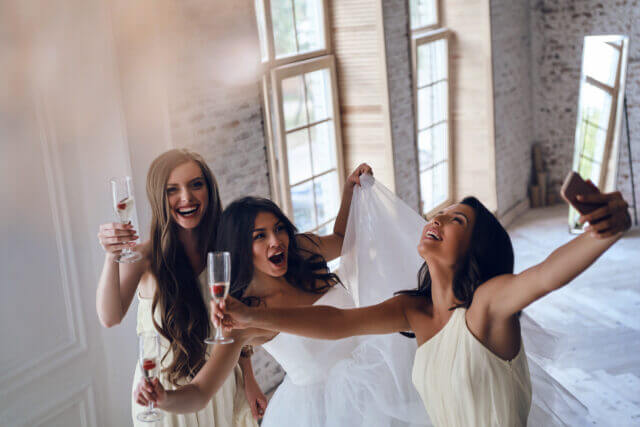 MORE: Bachelorette Party Ideas on Long Island
A White Dress
It is probably safe to assume that the jig is up if you've been married before. But it's totally OK if you want to wear white on your wedding day (no matter if it's the first, second, or third time). But it's also OK to skip the white and maybe go with an off-white color or even a different color all together.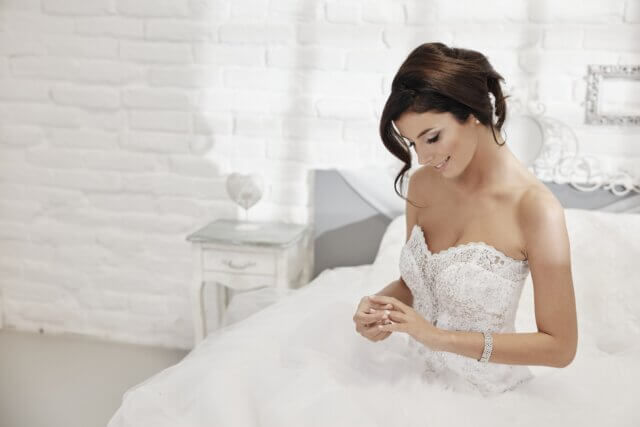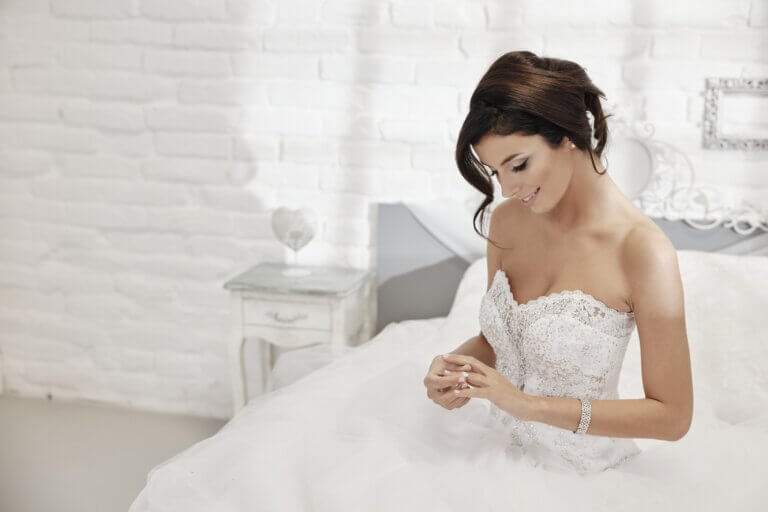 A Big Celebration
Just as with any of the pre-wedding events above, this is entirely up to you. If you already did the whole big celebration the first time around, you may want to consider something small and intimate. This could also allow you to save money for the future.
If you didn't have the big celebration the first time around, this is your opportunity to plan the wedding of your dreams (if you so choose).
MORE: I'm a Shy Bride – How Do I Handle Being the Center of Attention?
Ultimately, you and your future spouse need to decide what's best for your situation. There are always going to be other's opinions – hey, we know this happens during ALL wedding planning – so it's important to do what you want. Those who know you and your story will support you and be there no matter what you decide.
What started as a small Facebook group has turned into a mighty sisterhood.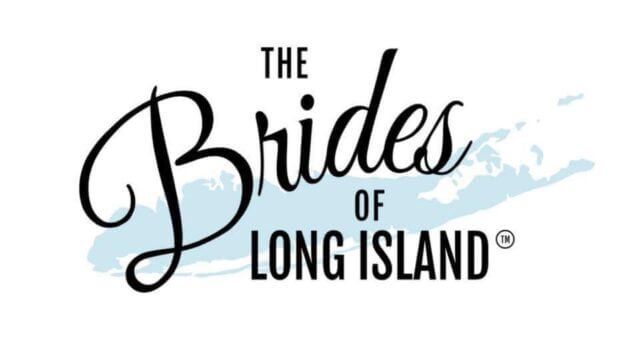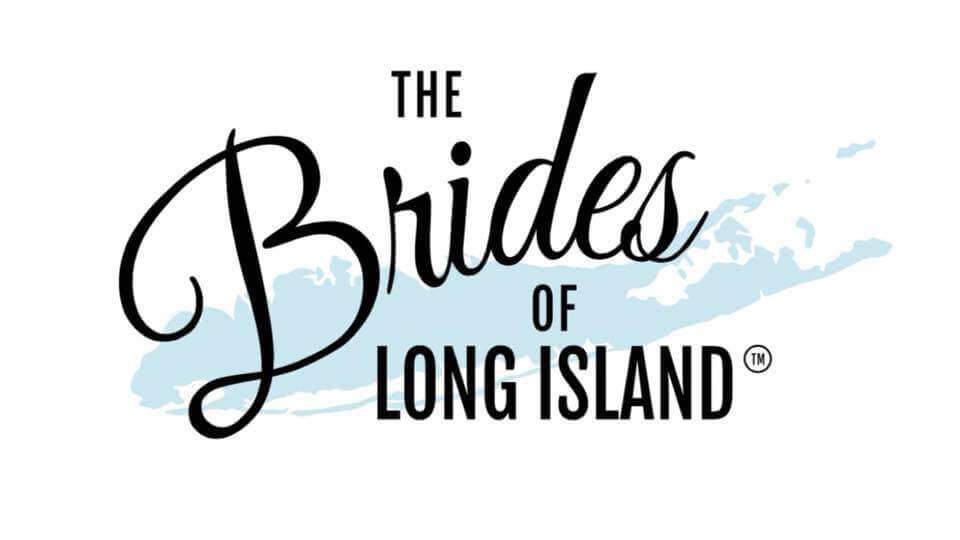 We did it! The Brides of Long Island Facebook group has hit yet another milestone – 20,000 members!
In just six years, the small group that founder Heather Cunningham started during her own wedding planning has transformed into a safe community and a mighty sisterhood that only BOLI members will truly understand.
"I never could have imagined what BOLI would become when I first started it in 2016," says Heather. "I created it to help myself and other brides who were lost. There was never any intention for it to become my business or career."
Over the years, Heather has secured a growing list of preferred vendors that BOLI members can trust. Launched a podcast in 2020. And even ran a consignment shop for gently used bridal items, the Wedding Warehouse, from 2017 to 2020 for brides to shop for their weddings.
MORE: Wedding Warehouse to Close
Heather believes if she had created BOLI with a business plan from the beginning, it never would have become what it is today. "The organic start of BOLI is what led to the growth and movement it became."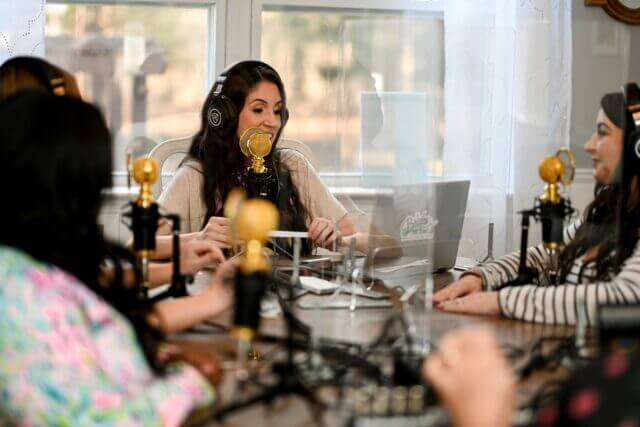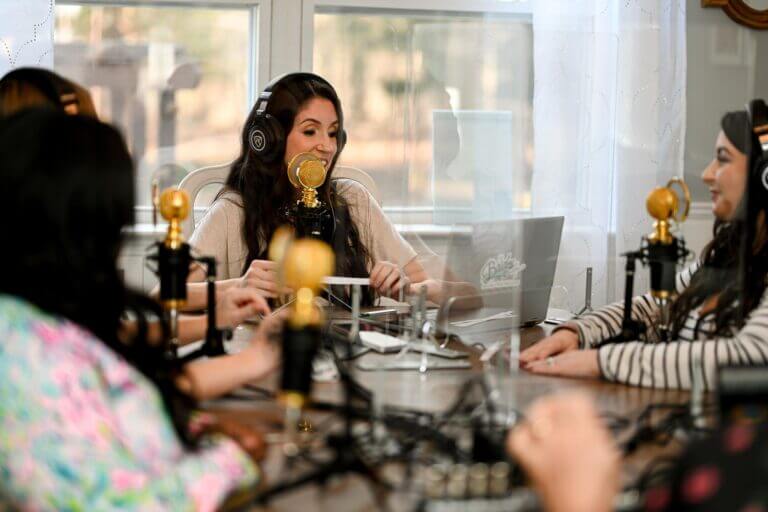 For an outsider, BOLI is a resource for brides to learn information about vendors and get recommendations. But BOLI members know that it's so much more. It's a safe haven to bounce ideas off of. It's a place to speak freely about the stress of wedding planning without judgment. It's a community that truly rallies around other members and supports each other during wedding planning and beyond. And it's a place where long-lasting friendships are born.
BOLI Amanda Lai says she met her forever friend Amy through BOLI in 2018. "It was like the universe was destined to make us friends. First, we had a random encounter at DSW, then at Victoria Elizabeth, a BOLI preferred vendor, where Amy was getting a hair trial while my mom was getting a makeup trial," says Amanda. They got married two weeks apart, and have remained friends ever since. When they got pregnant, their due dates were three days apart! "Four years, two weddings and four kids later, not only are we friends, but our children are too!" says Amanda.
MORE: How BOLI changed my life
Amanda and Amy aren't the only friends who met through BOLI! Brit Handler says she met some of her best friends through BOLI. "Even after planning our wedding, our big days and our honeymoons, we continued to love and support each other in our new lives," says Brit. "Now we're all moms and our kids had their built-in first friends. Couldn't get much better than this!
BOLI hasn't just created amazing friendships, it has inspired brides to work in the wedding industry, including this BOLI blogger! A lot of brides get those post-wedding blues after the big day, so some seek out ways to stay involved in the industry – becoming photographers, painters and wedding planners!
MORE: Post wedding blues? You're not alone. 
Each and every day new members join BOLI, while others graduate to start their next chapter. Most graduated BOLIs leave very thorough reviews of their wedding vendors, often providing intimate details that allow other members a sneak peek of what they can expect on their very own big day.
The Brides of Long Island community wouldn't be where it is today without its amazing members who love and support each other. Their constant motivation and kind words truly make the BOLI community the best on Long Island.
Peace, Love and Diamonds from the BOLI crew!
Celebrate this huge milestone with something fun from the BOLI store!
Danielle Zarrilli Petry of Beautifully Bronzed and Bare wants you to look – and feel – your best for that walk down the aisle
Your hair and makeup artists are an essential part of your wedding day team, but it's often those smaller details that ultimately pull your bridal look together – a stunning white smile, perfectly curved brows, and a beautiful bronze glow that commands attention from everyone in the room.
Those all-important details are what motivate Danielle Zarrilli Petry, owner of Beautifully Bronzed and Bare (a BOLI Preferred Vendor). She brings years of passion and experience to her privately-owned studio, and she's constantly inspired by the brides-to-be that walk through her doors. 
"I finally get to help people not feel the way I did growing up." – Beautifully Bronzed and Bare
At first, Danielle was interested in pursuing another trade within the beauty industry. "I initially went to beauty school because I only wanted to do makeup," she recalled. "You couldn't even talk to me about anything else. But you just can't walk out of beauty school and become a makeup artist."
As she was building her portfolio, Danielle decided to get a job at a popular skincare franchise. "Fresh out of beauty school, I worked at European Wax Center and I fell in love with the waxing and skincare part of everything. I'm Italian, so when I was younger I had hairier arms and sideburns and everything. So I thought, 'Oh! I finally get to help people not feel the way I did growing up.'"
Her talents and professionalism were quickly noticed within the company, and soon European Wax Center promoted her to regional trainer. But a BOLI leader pushed Danielle to branch out independently. "When I met Heather [Cunningham, Brides of Long Island founder], she told me 'you have to go off and do this on your own.'  European Wax Center was a great place to start, but I had been there for 11 years. I was ready. I got my own studio, and this past September was our three-year anniversary."
"It's the most rewarding feeling, because I know I've done my job correctly." – Beautifully Bronzed and Bare
After opening her own studio, Danielle soon began adding other services to her repertoire. "Primarily I do waxing and spray tan, but I also do lash lifts and tints, teeth whitening, dermaplaning, and brow henna," she said. "I'm in the process of adding another service as well, hopefully by the end of the year."
And while she's constantly striving to expand her knowledge and offerings, Danielle still holds a deep love for the skills that brought her into the business. "Waxing and spray tanning are definitely my favorite services, waxing because I've been doing it forever. I could do it with my eyes closed."
"There's nothing better to me than waxing somebody's eyebrows, and seeing the look on their face when I give them the mirror," Danielle described. "It's the most rewarding feeling because I know I've done my job correctly. Your brows frame your face, so when you have good brows, you feel good about yourself. That's the best feeling to me."
"I love seeing the final product." – Beautifully Bronzed and Bare
Danielle appreciates her entire client base, but she has a special place in her heart for brides. "I just love interacting with brides, getting to know them and how they met their fiancé, and making them feel really good about themselves" she detailed. 
Being a part of a wedding team is an incredibly rewarding experience for Danielle. "I love seeing the final product, when brides send me their pictures in their dresses. I feel the same way about tanning as I do about brows – being tan makes everybody look and feel good."
She's been lucky enough to work with an almost immeasurable number of soon-to-be brides, but one in particular stands out in Danielle's memory. "I had a bride who found me on Brides of Long Island, and she ended up booking her entire bridal party with me," she recounted. "They all came two nights before the wedding, and it was such a fun 'girls' night out.' I got to listen to all their stories about how they met the bride, and got to see how they interacted. The best part was that I asked her to send me some professional photos when she got them, and she ended up sending me her entire album. She said 'I can't decide. I love every single photo. My makeup, hair, spray tan – everything was so amazing. So you have to decide!'"
"Those 60 seconds are something you'll remember forever." – Beautifully Bronzed and Bare
As a former bride herself, Danielle has some thoughtful words of advice when it comes to your wedding. "Because of my own experience, I would say just let everything roll off your back," she recommended. "Everything that went wrong on my wedding day – which was literally everything – I knew about. And it truly affected my day to the point where, looking back, I don't think 'wow, what a great day.' So do not let anybody or anything bother you. Nothing is going to bring this day back. You have to enjoy it.'"
Even though Danielle doesn't have the fondest of wedding day memories, she does treasure one special moment. "Take a minute, 60 seconds of the day with your husband. Go in the corner of the ballroom, just the two of you, and look at everything. Even though my day was horrible, I did do that with [my husband] Matt and it was the best part. Those 60 seconds are something you'll remember forever."
Whether you're hosting the holiday or heading to your in-laws, these tips will help ease your stress.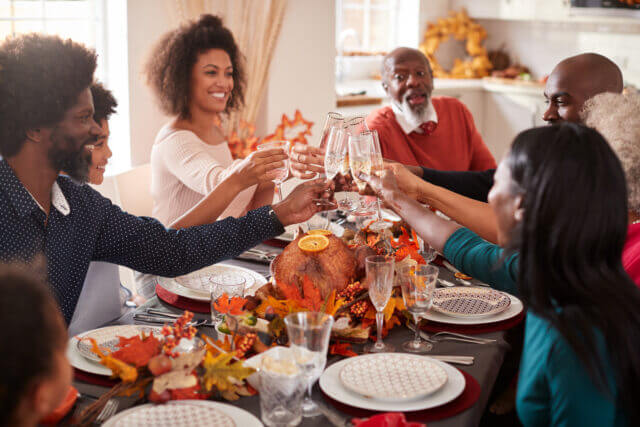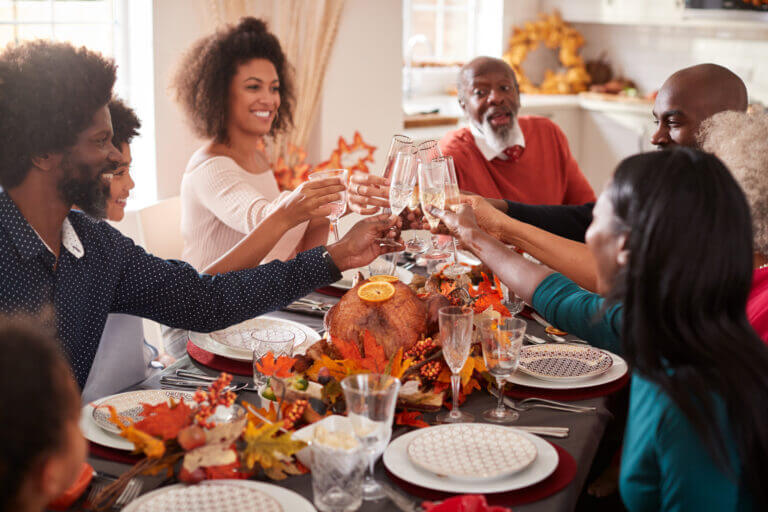 The holidays. They're a joyous time of the year. But with them can bring a lot of stress. If this is your first Thanksgiving as a married couple, it's definitely a milestone. However, it could mean your first Thanksgiving with the in-laws. Whether you are hosting or celebrating the holiday at their home, we have you covered with some tips for your first Thanksgiving with the in-laws!
In either situation, you will want to get the lowdown from your spouse ahead of time. Find out if there are any topics you should avoid all together with specific relatives. Get advice on how to win over his parents or grandparents. And definitely ask if there are any relatives that may chew your ear off all night! By getting the lowdown beforehand, you'll be able to reduce any tension and start building a good relationship with your in-laws.
And while you're hitting your spouse up for the cheat sheet on his family, you can discuss a code word or term if you need help in an awkward conversation. Or even if it's just time to go.
MORE: 7 Ways to Save For Your Wedding
Follow your spouse's lead! Not sure which relatives are huggers? Let your spouse say hello or good-bye first. See how they act at the dinner table. If you follow their lead, you can avoid any awkward moments with relatives you might be meeting for the first time.
Use the tips your spouse gives you to start conversations. But remember to keep them light. Avoid hot-button topics like politics or religion! Find things in common with the in-laws. Are they big Islanders fans and you grew up rooting for the blue and orange? Bond over the latest win (or lament over the latest loss).
If you'll be a guest at the in-laws, offer to bring a dish. If you can cook or bake, consider making it from scratch for extra brownie points. This blogger won over her in-laws with her now famous snickerdoodles at her first Thanksgiving. (They are now a staple at every holiday with the in-laws).
Arrive a little early? Offer to help them set-up or pass out hors d'oeuvres. And after dinner (or any course really), offer to help clean up or at least clear the dishes.
MORE: 11 Weekend Getaways for You and Your Significant Other
Offer your compliments up to the chef. And always say thank you for hosting!
Hosting your first Thanksgiving with the in-laws? Find out if there are any food allergies or dietary restrictions. Be sure to include side dishes that all of his relatives will enjoy. And speaking of food, be sure to have enough! The worst thing during a big holiday would be to run out of food. Remember, you always want to host the party where guests get to take home leftovers!
To avoid any confusion during dinner, consider making place cards of where people sit. This way you can control who sits where, as well as ensuring you will have easy access to your kitchen.
Make his mother feel special by asking for help! If you know she has a special dish, ask her to bring it. Eventually, your bond will grow and you'll feel comfortable enough to ask her for the recipe.
The holidays are a stressful time. If you're hosting your in-laws for the first time, there is added stress that goes along with it. This could mean you and your spouse might be on edge. If you feel any arguments coming on, keep them private.
MORE: Black Friday Wedding Shopping Guide
In the end, just remember to relax and enjoy yourself. The holidays are a great time to make new traditions, but also a great time to honor and learn the traditions of each other's families. So, when it's time to go around the table to say what you're thankful for, make sure to say how grateful you are to be part of an amazing family.
On your wedding day, all eyes will be on you! Look and feel your best with the help of these talented and passionate professionals – 28 of the best hair and makeup artists on Long Island!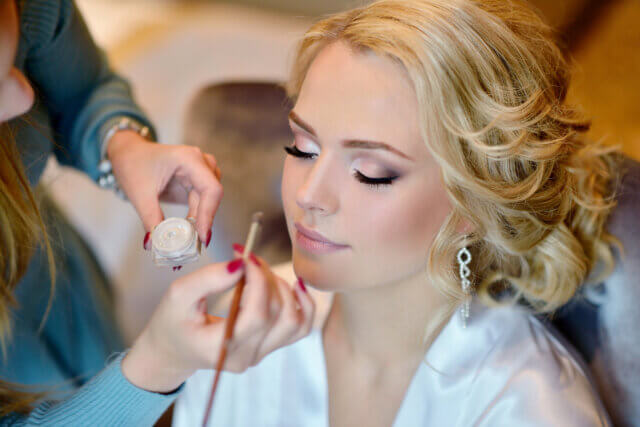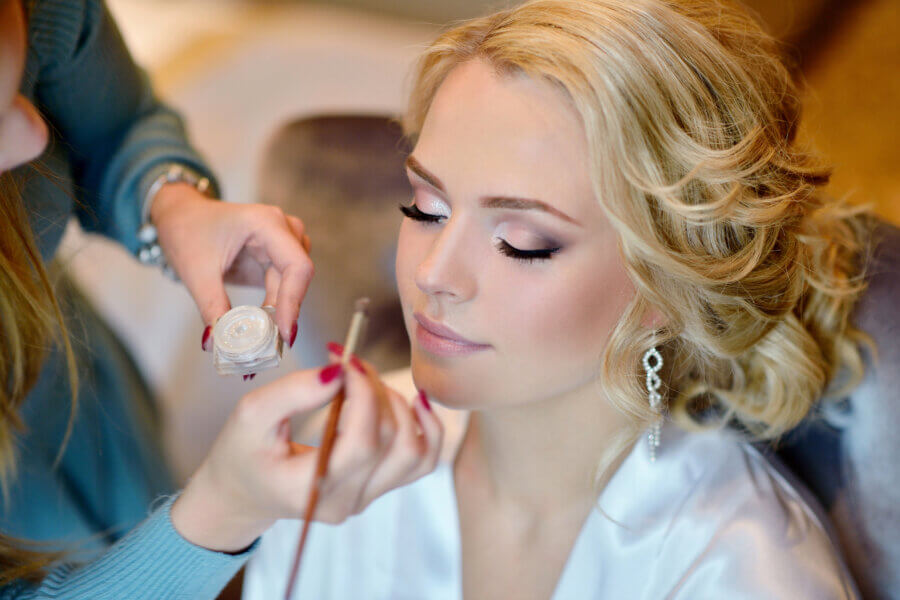 There are so many decisions you'll have to make when planning your wedding, from venues and bridesmaids dresses to limos and song lists. But perhaps one of the most important choices lies in your hair and makeup team.
Think about it – not only will you be the center of attention all day long (as you should be!), but your wedding day look will be forever immortalized in your amazing pictures. You'll want stylists that listen to your ideas, inspire you with possibilities, and deliver incredible results. If you're on the hunt for your perfect glam squad, look no further than 23 of the best hair and makeup artists on Long Island!
Victoria Elizabeth
Hair and Make-up
Specializing in all things bridal, Victoria Elizabeth is a luxury hair and make up company that provides on-location services to the Tri-state area and worldwide! Their emphasis on quality, talent, and customization, alongside uncompromising passion, is what sets them apart. They specialize in glamour, bohemian, classic, natural, and "old hollywood" styles.
Kate Ford Beauty
Hair and Makeup
The team at Kate Ford Beauty each has a look they love the most, from traditional/classic styles, to boho/whimsical, all the way to dramatic/full glam and big hair. With a versatile skill set, they can deliver any style you dream of! They connect with their clients and do a detailed consultation to make sure they really understand your vision.
Nicole Spinello Makeup
Hair and Makeup
Nicole Spinello has been working with the beautiful brides of NYC and Long Island for almost 10 years. While she specializes in all things bridal makeup, her team specializes in bridal hair. All you have to do is bring them a picture, and they will make your wedding dreams come to life (for both you AND your bridal party)!
Sincerely Something Borrowed Inc.
Hair and Makeup
It is so important that you feel comfortable and like yourself on your wedding day, but it is a special occasion afterall! That's why the team at Sincerely Something Borrowed specializes in natural bridal hair and makeup looks. They aim to enhance your natural beauty and make you feel like the best version of yourself!
The House of Makeup
Hair and Makeup
The House of Makeup is a beauty concierge service designed to provide the most glam beauty experience to all! Specializing in bridal hair, airbrush makeup, spray tans, hair extensions, and lashes, The House of Makeup is one of the top bridal beauty companies serving Long Island, New York City, Montauk, and international destinations.
High Style Bridal Makeup and Hair
Hair and Makeup
Cloe Vitale of High Style Bridal Makeup and Hair has been part of countless fashion and beauty photo shoots around the world. This experience has exposed her to many types of techniques, which she's developed into the ability to create different looks that bring out the beauty of every client. She's served over 700 satisfied brides to date!
Bridal Rush
Hair and Makeup
Able to offer so much to brides under one brand, Jessica and the team at Bridal Rush can create a variety of looks and styles for your big day!  A large, dedicated group of licensed stylists and artists work together to make your wedding day glam convenient and stress-free.
Lashes & Curls
Hair and Makeup
From the dramatic and glamorous to glowing natural looks, the team and Lashes and Curls knows how to execute a variety of styles. Of course they provide hair, makeup, and nail services for brides-to-be on the Island, but they also have skilled barbers to give new life to your FH's wedding day look!
Beautiful Stories New York
Hair and Makeup
"Natural yet noticeable" is what Winny, owner and lead stylist of Beautiful Stories New York, calls her specialty. She focuses on clean, bright, and airy looks by using a minimal amount of product, while still heightening your natural beauty.  
H2Seven Hair and Makeup Studio
Hair and Makeup
Julieta (more commonly known as Julz) loves to make your bridal skin look flawless – a good "J-Lo Glow," as she calls it! After being in the beauty industry for 18 years, she's developed the skills and expertise to deliver a natural yet glam style in both your makeup and hair design. 
PR Creations
Hair and Makeup
Paige Richards, owner and lead stylist of PR Creations, has a background in photography and videography – which means she knows the techniques to make you glow in all your wedding day pictures! She specializes in boho and modern hair and makeup for effortless yet polished looks. 
Studio Novelle
Hair and Makeup
Every look that Studio Novelle creates is a celebration of their brides' unique qualities. A true "glam squad" with members that have been a part of the team for over a decade, Studio Novelle believes your hair and makeup style should stand the test of time. 
Genie Artistry
Hair and Makeup
When owner and lead stylist Jeanine LeClair was younger, a close friend gave her a nickname: "Makeup Genie." Since then she's been practicing and perfecting her techniques, and she loves bringing a bride's natural beauty outward, enhancing what is already there!
Paola Hair and Makeup
Hair and Makeup
Paola, a licensed cosmetologist, loves connecting with clients and impacting their days in a meaningful way. For over a decade she has been expanding her portfolio and bringing joy and passion to her work. 
North East Bridal
Hair
Specializing in bohemian styles and updos, hair stylist Kristen Marie of North East Bridal (formerly Beauty by Kristen Marie) believes every bride should feel like a princess on their wedding day. And with over a decade of experience in bridal hair, she is sure to deliver a wedding day look you will love!
Ink & Ivy
Hair
Formally known as Hair by Nikki Lee, the team and Ink & Ivy specialize in bohemian styles like messy-chic braids and dreamy romantic waves for an earthy yet refined look. Owner and chief stylist Nikki Lee has collaborated with MTV, Anomalie, and worked directly with designer Pnina Tornai for her Kleinfeld runway show!
Mirror Mirror Hair Boutique
Hair
The staff at Mirror Mirror is in love with weddings, and believes every bride should look and feel like the best versions of themselves on their big day! They specialize in Bridal Sets, Boho Hair/Braids, Hollywood Waves and all Updos, and take every aspect into consideration to make sure your vision comes to life.
Angela's Hair Design
Hair
Angela Cappuccia of Angela's Hair Design loves it when a bride says "do whatever you want!" She loves making a bride's vision come to life and treasures that "first look" in the mirror after her work is complete.  With 12 years in the industry, Angela's Hair Design will create a style that is unique to you.
Valentina Page Hair Studio
Hair
Whether it's straight and sleek or wavy and vibrant, Valentine Page Hair Studio will deliver your dream wedding day hair! Their staff is comprised of DEVA Curl specialists, Wella elite colorists, and Hothead Hair Extensions certified stylists. 
Airbrush Makeup by Lisa Marie
Makeup
With over 15 years in the industry, make-up artist Lisa Marie has built a name in Long Island's wedding circles. She specializes in custom blend airbrush and traditional makeup applications, and has created a process that makes her applications last all day, all night, and sometimes until the day-after wedding brunches!
Total Glam NY
Makeup
Total Glam NY's mission is to make their brides happy, beautiful, and confident on the most important day of their life. To ensure every bride's satisfaction, each artist handles only 1 client a day. With esthetics being a big focus for Total Glam, even the brides with the most problematic skin can be assured they'll have flawless makeup.
LG Artistry
Makeup
With a light hand and a natural approach, Lauren of LG Artistry embellishes the features that her clients already possess; making them look their most confident while (most importantly) feeling like themselves! Her looks range from subtle beauty, to dramatic embellishments- but she always remains true to the beauty that already exists in each client.
The Blushing Bridal Suite
Makeup
Dawn Romanello of The Blushing Bridal Suite considers herself the Guru of brides, kind of like Mel Gibson in "What Women Want." She's worked in all genres of makeup, including, the ultra natural, the sophisticated and the glamorous, yet she approaches each makeup as the study of the face, enhancing the natural qualities of each individual.
Makeup by Alexandra
Makeup
Alexandra is here to create the look of your dreams! Passionate not only about the artistry of makeup but also about communication, Alexandra's priority is to make your day as exciting, fun, and stress-free as possible. You'll be sure to leave her chair feeling like the queen that you are!
KMR Makeup
Makeup
Kristen with KMR specializes in makeup for brides who are going for a more modern, sleek look. The goal is to keep you looking and feeling like yourself, but still special for your big day! With years of experience on set and behind the scenes of Fashion Week, she decided to bring all her skills to the bridal arena.
Kimberly Dawn Makeup Artistry
Makeup
As a former professional ballerina, Kimberly's love of costumes, hair, makeup, and tiaras directly translates to her love of all things bridal. Recognizing that each individual Bride has unique taste, preferences, and ideals of beauty, Kimberly will work with you to bring your own personal vision to life!
Aloe Makeup Artisty
Makeup
"If you want something done right, do it yourself"- that phrase is what inspired Ellyn Aloe to learn everything she could about makeup. She loves to make brides look like the absolute best version of themselves, and creates a look that's catered to each client. 
ARGBEAUTY
Makeup
Alli Gonzalez developed a love for makeup at a very young age, watching YouTube videos to pick up some techniques. Since then she's refined her skills as owner of ARGBEAUTY, making sure that each bride feels welcome and – most importantly – gorgeous!
Any one of these photo or video vendors will create great wedding memories.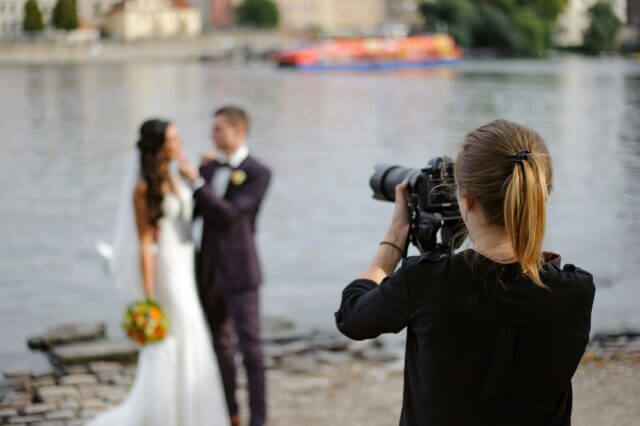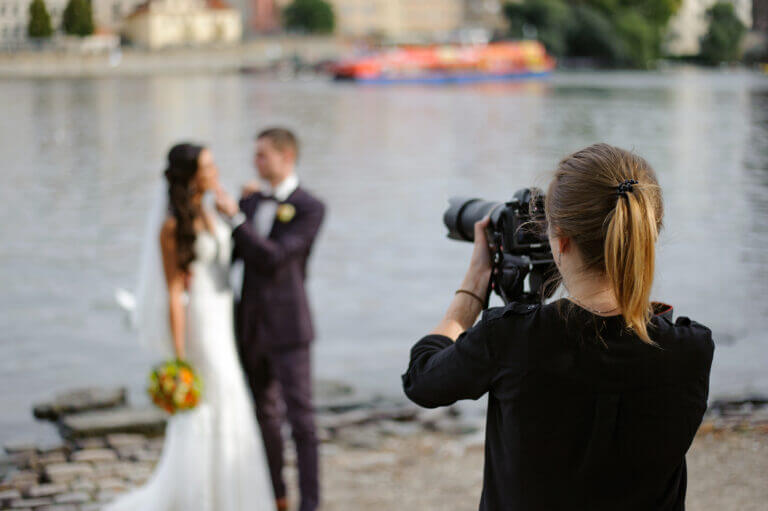 The photographer and/or videographer is one of the most important vendors you will work with during your wedding. They will be documenting your big day so you can look back on the best day of your life with fond memories. So, it's important that you choose the right one. Someone that you will jive with. Someone who's style will best match yours and everything you envisioned on your wedding day.
But there are so many to choose from! Where do you begin? Well, you're in luck because Brides of Long Island has some of the best photographers and videographers as our BOLI Preferred Vendors. With the list below, you are bound to find someone great to work with.
ADA Studio
At ADA, photography is more than just a job. It's sharing an intimate and special day with you, and creating photos to capture those moments that you'll treasure forever.
Anecdote Photography
Capturing your chemistry is what Anecdote Photography does best. This former journalist turned wedding photographer is here to document your wedding day through photos.
Belinda Video Productions
Belinda Video Productions can't wait to create the perfect wedding film for you. From natural sound and drone footage to your personalized music selection, they take the time to make your big day last forever in video.
Bernard Alexis Photography
Bernard Alexis wants to help the start of your next journey in life. Celebrating two people's love is pure magic, which is why he can't wait to capture all of your special moments.
Capture the Moment Studios
Located in Hauppauge, Capture the Moment Studios is a boutique studio that offers great attention to every detail of your wedding. They love to get to know couples, so that on their wedding day they can capture all of your special moments. They offer photography and videography services.
Castellanos Cinema
Castellanos Cinema offers a modern-traditional style with a magazine-like quality. They ensure all wedding moments are captured to create memories in photos and videos that will last a lifetime.
Elise Margolin Photography
If you're looking for more relaxed, natural photos of all aspects of your wedding day, Elise Margolin Photography is perfect for you. Elise wants to hear your story and then recreate it in your photos.
Fade to Black New York
A former news photographer, owner Gil started Fade to Black New York 14 years ago. They have a studio in Mineola. He runs the business, which offers both photography and videography, with his sons. Gil says Fade to Black New York photographers and videographers offer a candid and photojournalistic approach to your wedding.
Fine Art Photography & Video
This family-owned photography studio has been in the business for over 35 years. The photographers at Fine Art take great pride in their attention to detail to create magic on your wedding day.
Fireside Sparrow Photography
Stephanie at Fireside Sparrow wants to get to know you! She wants to hear your story, and she can't wait to capture more of your story on your wedding day.
Gelfman Photography
This boutique photography studio is run by a very much in-love couple (they recently got engaged!) who can't wait to share in your love on your wedding day. They want to be friends so you are comfortable, relaxed and stress-free on your wedding day.
Heartfelt Studio
The photographers and videographers at Heartfelt Studios live, eat and breathe weddings. They are a close-knit studio (their kids even play together) – and they can't wait for you to join their family and share your special day with them!
MORE: Learn more about Heartfelt Studio
Hearth & Oak Photography Company
With 15 years experience, Hearth & Oak Photography is veteran and first responder owned. They care about you and about capturing those special memories that will last a lifetime. They are grateful to be able to create a legacy on your big day.
MORE: Learn more about Hearth & Oak Photography
JS Vision Photography and Cinematography
Established in 2012, this full service boutique studio prides itself on the most stunning photos on your wedding day. Located in Garden City, JS Vision Photography and Cinematography will capture your memories in photos and on film, taking both a journalistic and candid approach on your big day.
Life Art Photographers
Since you're spending most of your day with your photographers, why not get to know Life Art Photographers? With over 15 years experience, they embrace the chaos of a wedding day and bring out the best in you and your significant other through their photography.
MORE: Learn more about Life Art Photographers
Lighthouse Photography Dream Weddings
Founded in 2007 by a husband and wife team, Lighthouse Photography Dream Weddings offers the best in photographers and videographers. They have two convenient locations in Port Jefferson and Huntington. They can't wait to share their passion and creativity with you on your wedding day.
LI Party Photos
LI Party Photos can't wait to tell your love story through their lens. They take the time to get to know each couple and get each story perfect on their wedding days.
L. John Morelli Wedding + Event Films
L. John Morelli has been shooting weddings and events for over 30 years. He makes the important task of filming your wedding an easy and smooth process. He has over 3,000 weddings under his belt. And he graduated from NYU Film School.
Michael John Photography
If you believe in true love, romance and enjoying life to the fullest, then you have something in common with Michael of Michael John Photography. He will be there to lean on during any stressful moments of wedding planning and during the big day. And he promises to deliver beautiful and amazing photos capturing all of your precious moments.
Miralli Photography
This unique boutique experience starts with a fun engagement shoot and includes a discreet, yet thorough, documentation of your wedding day.
Never There Yet Photography
Grab a cup of tea or coffee and chat about your wedding details with Heather of Never There Yet Photography. She can't wait to tell you how she'll tell your story through photography!
New York Wedding Films
Alex and Alex of New York Wedding Films know how intimate a wedding can be, so they take the time to make sure they capture it without invading your privacy. The crews stay in the background while filming what they need to make the perfect wedding film.
Park Ave Studio
Park Ave Studio, located in Ronkonkoma, has been in the wedding industry for almost 30 years. They can't wait to work with you and set up your wedding day timeline. Whether they are photographing or videoing, their style is casual and light to keep your day stress free.
Patken Photographers
Started in the basement of their home in Lindenhurst, Pat and Ken created Patken Wedding Photographer and Video. They hired their son Doug to take the business full time. And now they are one of the leading photography and cinema companies in the wedding industry. And while Doug has won awards for his work, the most rewarding moments are the emotions and love he feels at weddings.
MORE 40 questions to ask when choosing a photographer
Photography Boutique LLC
Betiana, of Photography Boutique, was a former magazine editor who fell in love with wedding photography at the first wedding she shot. She loves to capture the real emotions on that special day.
RF Films | Photography
RF Films wants to visually narrate the poetry of your story. This former television producer put aside the fast-paced TV environment for the fast-paced and beautiful wedding industry. And he's ready to tell your story.
Silverfox Studios
If you want relaxed, candid, authentic photos or videos, Silverfox Studios is what you're looking for. At Silverfox, you'll be treated like a star and get the 'Silverfox experience.' Following in the footsteps of his grandfather, the 'Silverfox,' John takes the time to get to know you as a couple and bring out the best in both of you.
Stephen Mayo Photography 
Stephen Mayo takes the time to learn about you and your future spouse as a couple. They learn what you want and need for the big day and make sure you get it.
MORE: Read more about Stephen Mayo Photography
Studio 27 Photography
From the moment you walk into Studio 27 Photography, you are family. They pride themselves on being professional and giving you the best photos and videos, while at the same time making you feel at ease and at home. They believe in order to capture those real moments, they need to make you feel comfortable.
Studio Nichole Photography
Nichole wants to be the storyteller of your life's most treasured moments! She takes the time to get to know her couples so she can tell their story through her lens.
That's a Wrap Productions
Hire a 'video guy' – leave with a new best friend. Craig at That's a Wrap Productions will capture you at your most precious moments on your wedding day to create the most perfect videos. Craig is more than just the 'video guy,' he's a professional who only wants the best for his clients (and new best friends).
MORE: Read more about That's a Wrap Productions
The Glenmar Studio
The Glenmar Studio is a family owned and operated photography and videography studio that has been around for over 80 years. The photographers love to capture those candid moments, as well as create timeless portraits.
Tino Photography
Tino Photography will create a documentary-based illustration of your wedding day. They promise to deliver photos that will live on for generations.
Tony Lante Photography and Cinematography
From a large weekend celebration to a small gathering at city hall, Tony Lante Photography and Cinematography is ready to capture all of the moments on your wedding day. Tony believes wedding photography is a vision created by his clients as well as the photographers.
Yellow House Images
Andrew, owner of Yellow House Images, used to be a full-time journalist. As his friends started getting married, he would put together videos for them. He believes it is an honor to work with you and provide photos and videos of your special day.
So, make your list of how you envision your wedding day and reach out to any one of these photo and video vendors. As with any Brides of Long Island Preferred Vendor, you're guaranteed to be in great hands!
In Brides of Long Island's Monthly "Mrs." series, we profile some of our members' unforgettable weddings. This month, we spoke with Katie Osterman-DiBlasi about how she fully enjoyed every aspect of her wedding, thanks in part to her amazing day-of coordinator!
Katie Osterman-DiBlasi is the first to tell you that she loves food. Which is why it was fitting that she was hungry on a bunny slope when her now-husband Larry proposed after six years of dating. "He proposed to me as I was hangry on top of this little bunny slope and he promised me pancakes afterward," she says. "And it was great. That's our story."
Pandemic Planning
Katie and Larry got engaged in January of 2020. They had no idea what would be in store in the next few years leading up to their wedding. According to Katie, they started looking at venues that February. She already had an idea of which places she wanted to look at, as she explains that she had bookmarked venues since they'd been together for a while. After about 15 venue visits, Katie and Larry chose the Watermill, a BOLI preferred vendor. "They give you about 10 choices for dinner!" she says. "They had a bacon bar!" It was clearly an easy choice!
They settled on July 1, 2022 as their wedding date – which gave them plenty of time to plan, even as the world shut down.
MORE: 5 Reasons to Have a Long Engagement
After choosing their venue, Katie says they booked Silverfox Studios, a BOLI preferred vendor. But as things started to shut down, and vendors starting zooming clients, Katie slowed her planning for a bit. While she did book her hair and makeup early, she waited until the end of 2021 to book other vendors, such as her florist, DJ and transportation. "I think I was very lucky with how everything went with getting vendors and seeing them," she says. "I would call and they were super kind and nice."
Feeling Comfortable
In addition to having a fun wedding, Katie wanted to make sure she felt comfortable and like herself. So finding a makeup artist was her top priority after booking the Watermill and Silverfox. "I wanted that feeling of being comfortable with someone who understood what I wanted on my face and [what] to look like," she explains. Katie spoke with five makeup artists and had three different makeup trials with artists who used airbrushing. She chose Naturally by Nikki and she was thrilled! "I felt like the most beautiful that I've ever felt!" Katie adds that Nikki's demeanor helped calm her nerves on her wedding day. "She made me feel more like myself," she says. "I felt like me, but emphasized. That's what she calls it."
Nikki from Ink & Ivy, a BOLI preferred vendor, also helped keep Katie calm as she got ready. Both Nikkis assured her the day was going to be great and that everything was going to be perfect. They were right, of course!
MORE: How to Honor Your Step-Parents During Your Wedding
Someone else who kept Katie calm on the big day was Maeve, her day-of coordinator. "She did so much! I didn't even know some of the vendors' names at the Watermill who were helping us," says Katie. This was because Maeve took care of everything. From keeping the day moving along, to dabbing away Katie's sweat, Maeve was on top of it.
Next Adventure
The theme of Katie and Larry's wedding was sunflowers. "Those are my favorite things ever, basically." She says her friend made the table numbers and place cards with sunflowers on them. "It made me happy to see them!"
Instead of a guest book, Katie says they had a sign that encouraged their guests to leave them notes, ideas and suggestions of where to take their next adventure together. "It was a bucket list sign for people to suggest places to go and things to do in their lifetime; experiences they wanted us to have."
Her wedding day was the best day ever, she says. From the first look at photos at Blydenburgh Park to the choreographed first dance and alternative music set, it was all so fun, she says. "It was dancing all night. And that's all I wanted to do – dance and eat." In fact, she says, because she took the photos before the ceremony, she actually got to sit down at her cocktail hour! "The bridal attendant brought us plates of food, people would come and say hello to us," she says. "I just worried about enjoying the day and I did. I didn't leave the dance floor. I ate all of my food. I enjoyed the heck out of it."
Do What You Want
As most BOLIs do, Katie found the group extremely helpful in her planning. She utilized the search bar for reviews and suggestions. "I don't think I could have done anything without it!"
And now that she's graduated, she encourages other brides to "do what you want!" She explains that she and Larry paid for their wedding, so if she wanted something, she got it. "Always make sure you are your main advocate. And don't worry about what other people want."
MORE: Not Following Wedding Traditions and How I Stood My Ground
Vendors:
Day-of Coordinator: Maeve Dowd – Flutes & Finesse
Venue: Watermill, a BOLI preferred vendor 
Photographer/Videography: Silverfox Studios, a BOLI preferred vendor 
DJ: Studio 27, a BOLI preferred vendor
Limo: Mark of Elegance, a BOLI preferred vendor 
Florist: Lindenhurst Village Florist
Hair: Ink & Ivory, BOLI preferred vendor
Makeup: Naturally by Nikki
Officiant: Aviva Sala from Church of Ancient Ways, a BOLI preferred vendor 
Invitations: Magnet Street
Dress: Max Bridal, a BOLI preferred vendor
Bridesmaid Dresses: Here Comes the Bridesmaid
Cake: Dortoni
Tuxedos: Rico's
Hotel: Residence Inn Hauppauge
Dance Lessons: Xtreme Rhythm, a BOLI preferred vendor
Founded by Pastor April Gismondi, The Officiants at Church of Ancient Ways are a team of joyfully diverse professionals ready to fill your wedding day with heartfelt meaning. 
Your wedding day is filled with details, from the flowers in your bouquet to each delicate sequin on your gown. But perhaps the most important detail of your day lies in your ceremony –  the words that will unite you and your fiancé as you embark on a new life together.
Reverend Joe Iadanza, owner of BOLI Preferred Vendor The Officiants at Church of Ancient Ways, fully understands the intimacy and gravity that's held in a wedding ceremony. It is why he leads a team of heart-centered officiants, focused on providing ceremonies that speak to each couple's varied sensibilities and unique love story.
"I never expected in a million years that I could be doing this." – Rev. Joe Iadanza, The Officiants at Church of Ancient Ways
Rev. Joe didn't anticipate that his days in the seminary would lead to officiating weddings. "I never expected in a million years that I could be doing this," he admitted. "For me, it was really more of a personal journey. I went to a seminary in my later life, and it was really more for learning counseling and to guide people in their own inner spiritual work."
When one of Rev. Joe's teachers learned of his desire to branch out and try something new, they referred him to Pastor April Gismondi, Church of Ancient Ways' founder. While their initial meeting didn't result in an immediate partnership – "She actually told me to get lost at first,"  Joe joked – it wasn't long before Pastor April needed someone with  Rev. Joe's skills. "Two weeks after our meeting, out of the blue, I get a call from her and she said 'I need a male officiant for something.'"
After a shadowing period, Rev. Joe began performing more ceremonies under The Officiants at Church of Ancient Ways' banner. Realizing that he was a strong writer who possessed an undeniable warmth and talent, Pastor April was ready to bring him into a leadership position. "At one point, she just turned to me and asked 'What are you doing for the next 10 years?'" he recounted with a laugh. "And so right around the end of the first year of COVID, she started showing me how she ran the business. And then I took over as owner, officially, a little over a year ago."
"I love when I meet a couple and there are all these synchronicities that show us yes, we were supposed to work together." – Rev. Joe Iadanza, The Officiants at Church of Ancient Ways
As owner of The Officiants at Church of Ancient Ways, Rev. Joe leads a group of incredibly capable and diverse professionals. "We have a beautiful team of officiants, from all different backgrounds," he detailed. "We even have an incredible bilingual officiant in our own Minister Brenda Santana. In addition to being a wonderful writer, she moves fluidly between Spanish and English without unnecessary redundancy. We all work really hard to uphold the quality that Pastor April set. And we do it joyfully. We really pride ourselves on that."
Many brides feel as if meeting their fiancé was pure destiny, and Rev. Joe feels the same about his clients. "I think there are no accidents to who finds us," he said. "There are no accidents to who finds me to do their ceremony, or who finds Pastor April, or Reverend Aviva, or any of our other associates. I love when I meet a couple and there are all these synchronicities that show us yes, we were supposed to work together. Whether it means we have similar backgrounds in our families, or sometimes – for example, I have a saint in my family tree, Padre Pio of Pietrelcine, and we'll find out their family prays to that saint all the time."
"My favorite thing is making guests  feel really, really connected to the couple." – Rev. Joe Iadanza, The Officiants at Church of Ancient Ways
Different couples will want different aspects to their ceremony, and this is a fact that Rev. Joe recognizes. "There are a few different ways that we work with people," he said. "There are people that don't necessarily want to be the center of attention, that don't want it to be about them, or want something very traditional that fits in a half-hour window. We've written some of those kinds of ceremonies already, so oftentimes couples will choose a ceremony from our library for those reasons, which saves them some money too."
For couples that want something personalized, Rev. Joe and his team will start from scratch. "We have one formal meeting that I break into two pieces," he described. "First, we talk about what you want structurally in the ceremony and the things you could do within the time that we have; the kind of language we could use if you wanted something religious, or the kind of elements that you want."
Next, Rev. Joe will take his time getting to know your story. "I dig into the couple, I want to know everything," he explained. "Tell how you met. Tell me how you fell in love. When did you know? I ask [couples] not to prepare too much in advance, because I really want to see how they interact with each other. I want to see how their banter is. I want to watch them kind of try and figure things out, because it shows me who they are together."
"What I'm looking for are the things that make them really unique. The things that they connect with that make them special. And also what their energy is like so that I can get that and translate that into words," Rev. Joe described. "I want everybody in that audience to feel like when they walk out of that ceremony, they know why this couple is getting married. My favorite thing is making their guests feel really, really connected to the couple." 
If your heart is set on an unordained friend or family member performing your ceremony, The Officiants at Church of Ancient Ways can provide an officiant for a signature, or "sit and sign" service, and they have no problem acting as ghostwriters. "Sometimes a couple says 'We really want Cousin Bill to marry us, but he has no idea how to write a wedding," Rev. Joe detailed. "We've written ceremonies so that a family member could deliver it, and then we privately married them later in the evening. But we were involved with helping them get the ceremony that they could use." 
"I had never done one before. But for them, I went and researched." – Rev. Joe Iadanza, The Officiants at Church of Ancient Ways
Rev. Joe has officiated some incredibly meaningful unions, but one specific ceremony stood out in his mind. "I did a ceremony for two men that were Greek, and one of them wanted more than anything to get married in a Greek Orthodox ceremony," he remembered. "It's a very involved ceremony, and he couldn't do it because of the Greek Orthodox Church's stance. His heart was breaking because he had a faith that he wanted to honor, and he couldn't do it."
Rev. Joe sprung to action and provided the couple with authenticity. "I had never done one before. But for them, I went and researched," he said. "I wrote an abridged Greek Orthodox ceremony, less than half an hour, that included the Crowning and all this wonderful symbolic kind of stuff. It was just beautiful. It's my favorite of all time, still to this date."
"We love what we do. We love the work." – Rev. Joe Iadanza, The Officiants at Church of Ancient Ways
Rev. Joe has a few important and practical pieces of advice for brides getting married on Long Island. "Make sure whoever is marrying you is legally allowed to marry you in New York State," he recommends. "It doesn't mean you have to come to us. You can go to Town Hall and get married there and have a party at another time. But just make sure that the person who marries you wasn't ordained online and that they're from a real organization – either a church, or a judge, or whatever makes them truly legal to marry you."
He also advises planning ahead and staying organized. "Now's the time, even if you're not getting married for a year, to make sure you have the documents you need to prove that you're legally allowed to be married," he said. "That may be as simple as an ID – in New York City, that's all you need. If you're on Long Island or the rest of New York state, you need a birth certificate or certified copy, and your ID or baptismal certificate. And if you've been previously married, have proof that the marriage is dissolved."
Finally, Rev. Joe says to seek out vendors that make the wedding planning process enjoyable. "Whether it's us or other vendors, pick people who are going to make your life easy, who are fun to work with, who are always smiling, who say yes," he suggests. "We always say yes, even if we have to figure out another way to do it, we always try to figure out a way to make it work. Because we love what we do. We love the work."