Your wedding day has come and gone, and now it's time to thank everyone! Here are the do's and don'ts of writing your thank you cards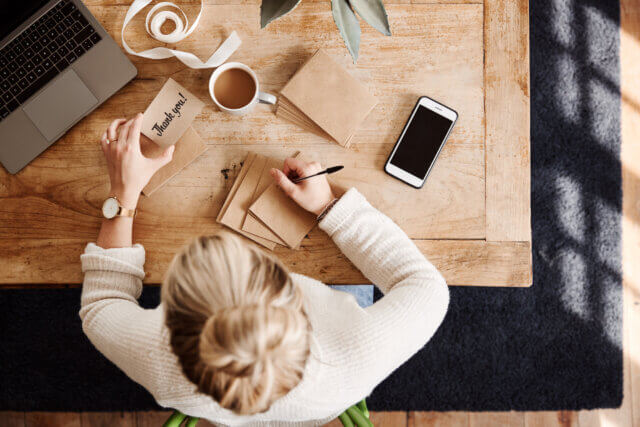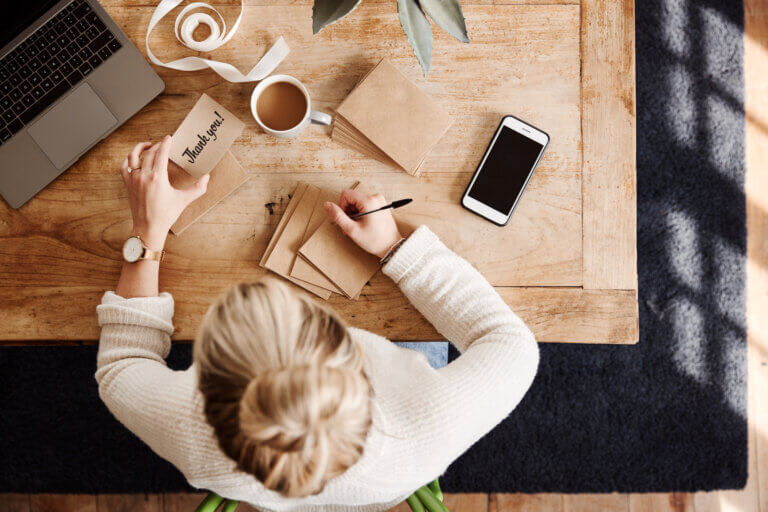 Every moment of your wedding was magical, from your walk down the aisle to your last dance of the night. And one of the aspects that made it so special was sharing those unforgettable moments with your friends and family, most of whom showered you with gifts and well-wishes.
Now that the bridal dust has settled and you're enjoying that post-matrimonial glow, it's time to think about writing your thank you cards. Whether your guest list packed the room or you opted for a more intimate gathering, thanking those that took time out of their lives (and let's be real, money out of their wallets) to celebrate you is vitally important.
The thought of tackling a mountain of cards can be intimidating (especially after conquering the epic undertaking that was your invitation suite). Here are the do's and don'ts of writing your thank you cards – following these tips will help the daunting task go smoothly, and will show your gratitude to those that attended your big day!
DO: Pace yourself
Writing thank you cards can be very time consuming, even if you've got a smaller guest list. Traditional etiquette dictates that you have up to a year to send out your thank you's, so you don't have to rush the process.
Before you pick up a pen, set a schedule for yourself – aim to write a certain amount of cards per day (or week, or weekend) and before you know it, you'll have your whole guest list tackled.  
DON'T: Try to write all your cards in one sitting
It can be tempting to sit down and try to barrel through your thank you cards all at once. But trust us – after a while your hand will start cramping, your phone will start buzzing, and your new spouse will start bugging you for attention. 
Consider the act of writing your thank you cards as a way to remember your wedding – with each card you write, you can relive a little piece of your "best day ever." Who'd want to rush that? The more time you take writing your thank you cards, the more you can remember how each guest impacted you. 
DO: Write something personal in each card
"Seriously? What if I had 300 guests?" Yes, girl – you should still write something personal in each card (that's why we say to pace yourself!) It doesn't have to be a novel, but it should be a sentence or two – in your handwriting – that thanks them for their specific gift and their presence.
DON'T: Rely on pre-printed, generalized messages 
We know it would be a thousand times easier to purchase a package of cards with a simple "thank you for coming to our wedding!" already printed inside. But putting in the effort to write something personal will show your guests that you truly appreciate the time, effort, and money it took to attend your wedding.
This doesn't mean you should avoid a more generic, pre-printed message altogether – just be sure to add at least a sentence or two on your own. 
DO: Try to get your thank you cards out on time
Remember what we said above? You have a year from your wedding date to get your thank you cards written, mailed, and delivered. That may seem like plenty of time, but life can get in the way pretty easily. This is why setting a goal of a completing certain amount of cards per week is a good idea. 
Aim to have all your thank you cards out within 6-8 months of your wedding. That way, if unexpected events pop up (and we guarantee they will), you'll have some breathing room if you miss a few weeks here and there. 
DON'T: Give up if a year has passed
Ever heard of the phrase "better late than never?" If you've celebrated your one year anniversary surrounded by stacks of undelivered thank you cards, don't fret. Sure, traditional etiquette says you're out of time, but those thank you cards aren't going to disappear into the ether once you take a bite of your frozen wedding cake topper. 
The important thing about thank you cards isn't the timing, it's the sentiment. Even if they're late, your guests will still appreciate a thank you card – we promise. 
DO: Send a thank you card to everyone who attended
If they walked through your venue doors, they get a thank you card. You don't have to write a card for each individual member of a family – just one card per household will do – but be sure to include everyone in the party in your greeting!
DON'T: Leave someone off the list if they didn't bring a gift
We totally understand how hurtful and offensive it is to not receive a gift from an attending guest. But as we've talked about before, you never know someone's financial situation (even if you think you do).
If certain guests showed up empty-handed, it doesn't mean that coming to your wedding was without expense – childcare, transportation, accommodations, and travel costs can all add up VERY quickly. You should still send those guests a thank you card, expressing your gratitude for their presence!  
Getting to the big day is (almost) as fun as the big day itself! We asked real BOLIs "what's the best part of planning your wedding?" Here are their responses.
Whether it's two weeks, two months, or two years out, you've got a laser focus on your wedding day. All of your free time has been spent searching for vendors, scrolling Pinterest for inspo, and trying to put your seating chart together like a wild mathematician trying to solve an equation. There's A LOT that goes into planning your big day, and trying to stay on top of your "I do" to-dos can feel a little overwhelming. 
But have you ever stopped to think – hey, this is actually a lot of fun? While wedding planning can be incredibly stressful and time consuming for some (let's be honest – MOST), others find that they enjoy the planning of their weddings even more than they enjoy the big day itself. 
So we asked a few real BOLIs "what's the best part of planning your wedding?" Here's what they had to say:
Research, research, research
One anonymous BOLI loves the thrill of the search. "My favorite part about wedding planning has been the exploration and research aspect," she said. "Looking into vendors, and then figuring out which one is in my price range then which would be a good fit to our personalities. I am a planner in general, so the planning and researching has been my favorite part. Making the final decisions not as easy but once they are made I have always known it was the right decision."
BOLI Maggie agreed. "Researching all the different vendors has been the best part for me. It was a lot of fun looking for our venue – I looked through the BOLI Preferred Venues and scheduled a few tours based on that list. We did the same thing for our photographer and hair & makeup artists. Looking through all the pictures and deciding what I liked was more fun than I initially thought it would be!"
DIY Dreams
For BOLI Jennifer, adding personal touches to the day was especially meaningful. "Making all my decor myself was one of the best parts of planning my wedding," she said. "My mom and I designed and put together my centerpieces, she made pew bows for the church, I made all of my table numbers and signage. If there had been more time, I would have made things like my escort cards and maybe even my invitations. DIY is time consuming but it's really rewarding, and it makes your wedding that much more special and personal. It's not for everyone, but it was important for me."
Another anonymous BOLI agreed. "We DIYed everything. I even made my own dress," she remembered. "There were times when it was more stressful than just hiring someone to do everything, but when all was said and done, I'm so glad we did it that way. Overall, it was my favorite aspect of planning."
Bonding time
BOLI Lauren enjoyed the experience of bonding with friends and family. "For me, there was no one part of wedding planning that was my favorite, but in general it was getting to spend time with my bridesmaids and my family members," she said. "Dress shopping I remember specifically. It was so wonderful to have my mom there and my best friends, some who I've known since Kindergarten. Everyone was drinking champagne and laughing and having a great time. I created a core memory that day. I remember it more than I remember some parts of my actual wedding."
Counting down the days…
Listen, wedding planning isn't going to be super enjoyable for everyone. If you're not exactly having the time of your life, that's okay – putting together a big event is a monumental task, and involves a lot of moving pieces you have to coordinate (not to mention stress). 
"It would be hard to pick a 'best part' of wedding planning, because honestly it's all been very stressful," said one anonymous BOLI. "Everything is super expensive. My family doesn't really get along well, so I've had to pick and choose what person I invite to this event and what person I invite to that event. I've cancelled a few vendors because I wasn't happy with what I saw or some other issue. Just get me to the wedding day already! 
There are many wonderful (and not so wonderful) parts to planning your wedding. As you journey towards the big day, remember to stay present and find the joy in the process!
These fun trends for weddings in 2024 are sure to stand out to your wedding guests.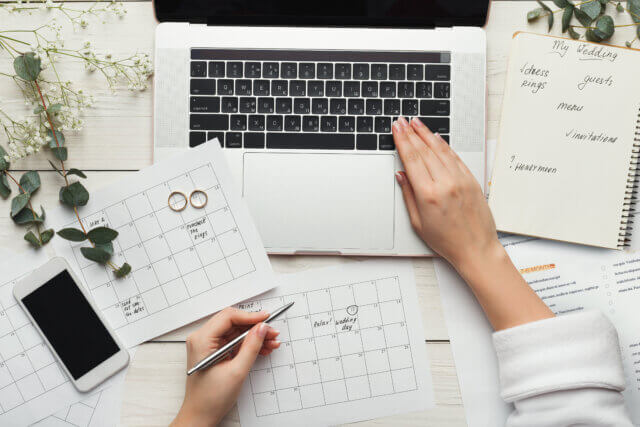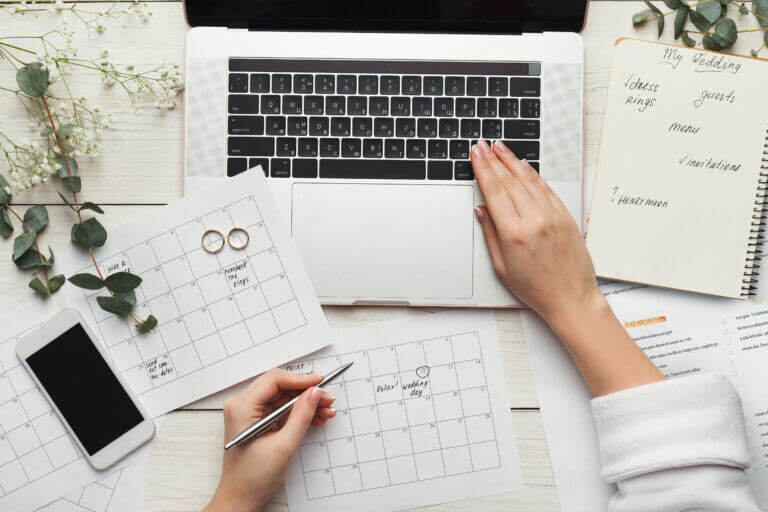 Every bride wants their wedding to be the best day ever. And while all of your friends and family can't wait to celebrate with you, it's an added bonus if you can leave them talking for years to come about the unique and epic time they had at your wedding. Check out the following eight trends for 2024 Long Island weddings that are sure to wow your wedding guests.
Content Creation
Photography and videography may be the most important vendors to capture your wedding day. But what about sharing your day instantaneously on your social media platforms? Hiring a wedding content creator is a great way to get all of your wedding content out to your social media network right away. From taking over your Insta Stories to getting reels and photos out on Tik Tok, the trend of wedding content creation is catching on quickly for 2024.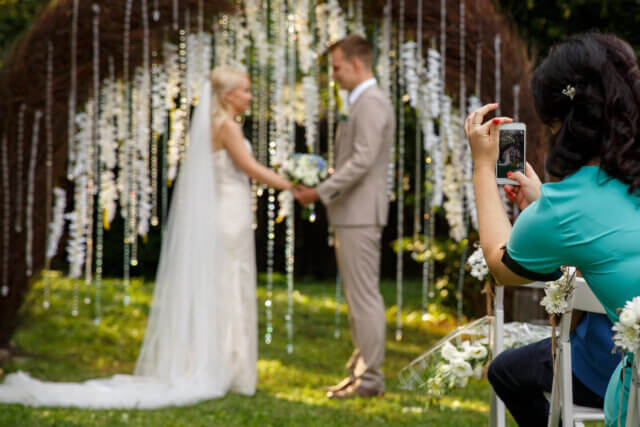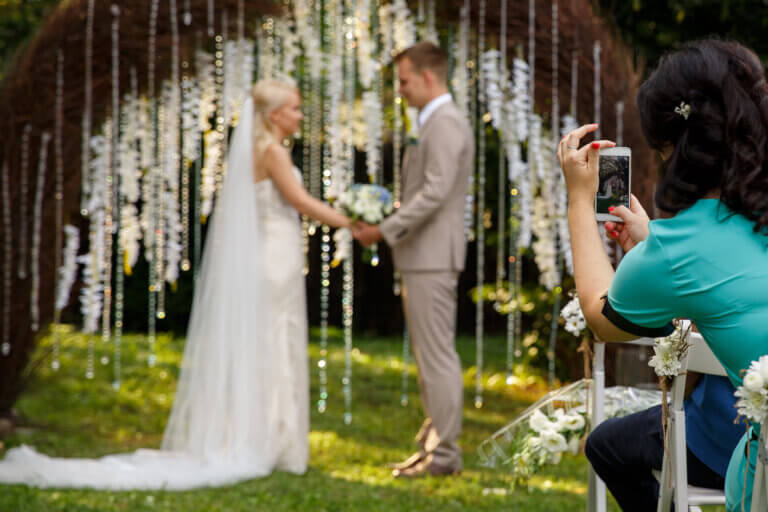 MORE: What is a Wedding Content Creator
Bold Colors
Tired of the tried and true pastels at weddings? A wedding trend for 2024 is bold and bright colors. Of course, this doesn't mean you have to pick fuchsia or bright red as your colors (but hey, if you want to – go for it!). But what it could mean is adding just a pop of a bold color to brighten up the day – either in your floral arrangements, your groomsman's ties, your bridesmaids' dresses or even your wedding dress.
Unique Styling
Thinking about your big day – your wedding venue is essentially a blank canvas when you walk in. Sure, they are all unique and special in their style – but it is important to bring your own style, if you so choose. Why not get creative with some unique styling like floral arches or flower walls? And don't forget to look up! Twinkle lights, a bold chandelier or just floral arrangements across the ceiling can really stand out in the room.
Sustainability
Sustainable weddings are saving the planet one wedding at a time. Check with your venues to see if they offer sustainable options. Start with your wedding invites – see if you can get the invites on recycled paper or even go electronic (keep your guest list in mind, as elderly guests might not have access to RSVP). When it comes to flowers, think about using artificial arrangements, or skip them and choose other fun ideas. And after the big day, consider donating your décor.
MORE: Other centerpieces that aren't flowers
Late Night Snacks
What better way to end your night than with some late night snacks for your guests. The possibilities are endless when it comes to snacks. Everything from ice cream and candy to fast food and munchies (think mozzarella sticks and pizza). Check out some of our BOLI vendors that offer unique snacks for your big day. 
Seated Bridal Parties
There is a lot of standing, posing and dancing on your wedding day. Why not let your bridal party take a breather and sit during your ceremony? Not only does it let them rest their feet for a bit, but it brings the focus back on you and your future spouse.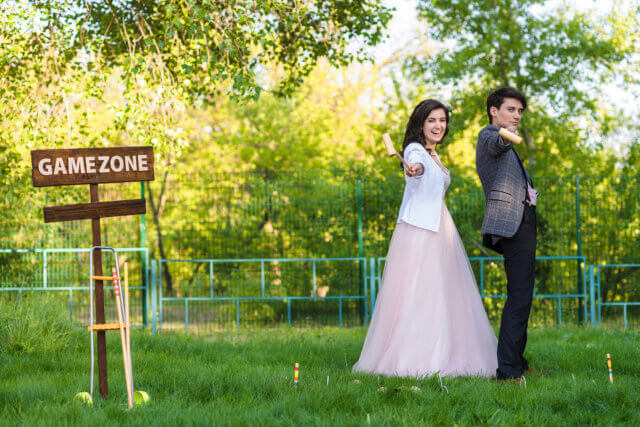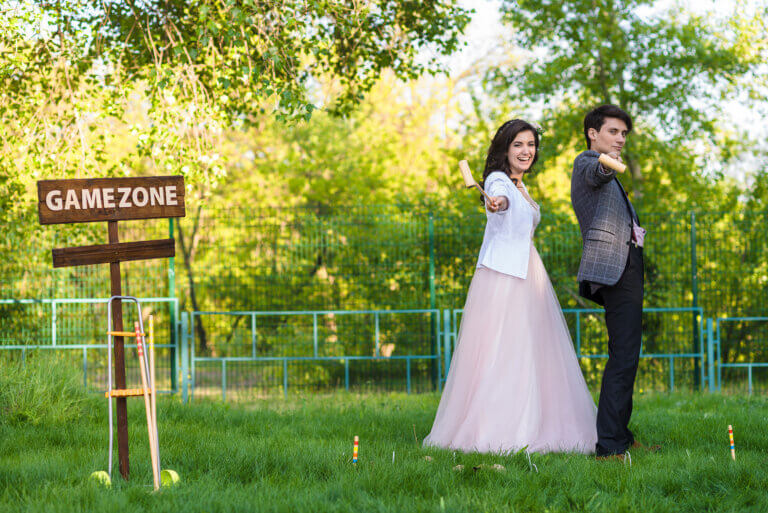 Immersive Guest Experiences
Let's face it, sometimes we feel like we have to keep up with the Joneses when it comes to our wedding. What's the next best fun thing? And how can we wow our guests? Immersive guest experiences are gaining in popularity for 2024. Sure, you can always get a fun photo booth. But why not step it up and have an artist or caricaturist drawing portraits of your guests? (This can double as a favor too!) Aerialists are pretty popular, as are other live entertainment options for cocktail hours. If you want to keep it simple, create a scavenger hunt for your guests or even fun games during cocktail hour. Think Jenga or cornhole. Check out some of our BOLI preferred vendors for some fun extras. 
MORE: Unique Entrainment Options for Your Cocktail Hour
Tech Savvy Planning
As you plan your wedding, you'll probably accumulate folders filled with vendor information, contracts, bills and more. You'll also get tons of emails. It's time to ditch the paperwork and get tech savvy! (Also – this sticks with that sustainability theme!) Wouldn't it be great to have that all in one place? BOLI is launching the Ring Leader app – which allows you to contact vendors, keep track of contracts and payment due dates, have guests RSVP online, and so much more! Learn more about Ring Leader here, and join the waitlist for its launch. 
However you choose to plan your 2024 Long Island wedding, we know it will be the best day ever.
It's HOW much? Here's the average cost of a Long Island wedding, and what real BOLIs paid for their big days.
If you've ever been to a wedding in a different state or region, you'll realize pretty quickly that Long Island weddings are…different. Our cocktail hours are robust, our bars are open, and guest list numbers pack quite a punch.
As you might imagine, all that opulence comes with a hefty price tag. So, what is the average cost of a Long Island wedding? And how does that average compare with the rest of the nation?
The average cost of a Long Island wedding
According to this article from Newsday, the average cost of a Long Island wedding is around $61,000. But keep in mind, the article was written about five years ago. BOLI estimates that the current Long Island average is closer to $67,000.
How does that amount stack up against national averages? The Knot's annual Real Wedding Study found that in 2022, wedding costs across the country averaged around $30,000 – that's less than half the Long Island average. In New York state, the average was $46,000 – around 20k less than the Island.
THAT'S how much a Long Island wedding costs?!
Well, yes and no. Remember that an average is just that – some weddings are more expensive, and some are less. We spoke with a few brides of Long Island about their wedding day costs.
"I came in to the wedding planning hoping to stay in the $30,000 range," said an anonymous BOLI. "Now I have almost all vendors booked and our budget has shifted to $45,000."
Where is that money going? "I contacted many, many vendors – DJ, photography, videography, hair & makeup, etc," she continued. "There were very few vendors that I found that cost below average, [no] more than $100 or so. With that in mind, I looked for best quality for the cost." 
Blowing the average
Another anonymous BOLI's wedding came in well over the 67k mark. "All in all, my wedding was around $100,000," she replied. "My venue alone was around $64,000 because we had 300 guests. My dress was expensive, we had a huge bridal party and paid for their dresses and hair & makeup, we basically got the top-tier packages from any of the vendors we chose, our rehearsal dinner was like a mini-wedding itself…yeah, we spent a lot."
Did she have any regrets on the price tag? "Honestly, not really," she admitted. "My parents had been saving for my wedding for a long time. So we used that money, and only around $5,000 more. My fiancé's family contributed some too, but my parents paid for the bulk of it from money they had been saving for this specific event." 
Staying (way) below the average
"My wedding was perfect and it was $5,500 total," said another anonymous BOLI. "We had a courthouse ceremony and a small dinner with close family and friends, about 20 people total."
How did she keep costs so low? "I actually made my dress myself, which was obviously a lot cheaper than buying it but also really special and meaningful. My sister and I DIY-ed literally all of our decorations, including my bouquet. I did my own makeup and hair. My fiancé wore a suit he already had. We all drove our own cars. The most expensive part was the dinner at a restaurant after the ceremony. No frills, but still the best day ever."
With a boozy hot chocolate station and unique indoor photo opportunities, Atlantis Banquets & Events offers a warm welcome for winter brides.
Winter is coming. But that doesn't mean that brides need to wait until the warmer months for the perfect wedding date. In fact, having a winter wedding could be perfect for you. There's better availability on dates, lower hotel costs for your guests and even lower prices at venues. You can get all of this AND more at Atlantis Banquets & Events, a BOLI preferred vendor, in Riverhead, plus so much more, which makes it the perfect Long Island winter wedding destination.
Endless Indoor Photo Opportunities
Photos are a big part of any wedding day, so making sure there are different locations throughout a venue is important. At Atlantis Banquets & Events, your photo opportunities are endless. To start, they have an indoor butterfly garden, which offers amazing photos with tropical flowers, plants and, of course, butterflies. "If you wanted photos with beautiful, unique flowers in January, the butterfly garden is a great option for brides," says Director of Marketing at Atlantis Banquets & Events Darlene Puntillo. "You won't find that anywhere else."
Some other unique spots around Atlantis Banquets & Events are the coral reef, the shark tunnel and the waterfall up on the bridge. Any of the fish habitats located throughout the aquarium are also the perfect backdrop for your wedding photos. And don't forget the penguins! When it's cold outside, the penguins head indoors too, which means one will be waiting for you to take photos with him if you so choose. And as a bonus, he'll be tuxedo ready for you! (Note: The penguin experience, the butterfly garden and other experiences are an additional cost.)
For brides looking for more traditional wedding photos, Atlantis Banquets & Events Director of Sales Tony Cotignola suggests using the grand staircase, the Sea Star Ballroom and the balcony overlooking the chandelier. "The area of the Sea Star building can be illuminated in any color you want, making it the perfect background for your photos," says Cotignola.
MORE: Learn more about the different rooms and experiences at Atlantis Banquets & Events
Four On-Site Hotel Options
Winter brides may worry about inclement weather. But they won't have to worry about their guests' safety with four choices of Atlantis Banquets & Events property hotels. In fact, Cotignola says Atlantis brides have a first choice of discounted room blocks at the Hyatt Place, which is literally right next door to the venue. "Couples also get a complimentary room on their wedding night, with a complimentary amenity," he says. Also on-site is the Waterfront Suite located in the Treasure Cove Marina. It is a one-bedroom suite with a living room, kitchen and dining room, perfect for you and bridal party to spend the night and be on location in the morning to get ready.
"What's really great about our hotel options [is that] you don't have to worry if your guests will make it during inclement weather," says Cotignola. "They can arrive the day before, and they're guaranteed to be there to see you say 'I do.'"
For something more intimate and cozy, right across the street are the Preston House & Hotel and the Howell House. Preston's is an upscale boutique hotel with a farm-to-table restaurant. And for an exclusive experience, you can rent the entire Howell House, which can accommodate up to 12 guests, and has a fireplace to keep warm on the cold winter nights.
If you stay at one of the hotels across the street, the staff at Atlantis Banquets & Events will ensure that you make it safely to the venue, on time and dry. "Our bridal attendants and maître ds have umbrellas for our brides, and we do have a shuttle, if needed during rainy or snowy weather," says Cotignola.
Warm Winter Enhancements
What better way to warm up than hot chocolate? During the colder months, Atlantis Banquets & Events offers a boozy hot chocolate station that is guaranteed to impress your guests and keep them warm. Atlantis Banquets & Events Director of Food & Beverage Daniel Lanieri says brides can also enhance their cocktail hour or desserts with a caramel apple dipping station or a s'mores station. "And as always, we offer our local food pairing and craft beverage station that is always themed for the season," says Lanieri.
A good, hearty cocktail hour station is the bacon bar – which is always a crowd favorite, as well as the mashed potato bar. Another fun station that is a great way to warm up – the grilled cheese and tomato soup shots! And for dinner, ask about the pork porterhouse with sherried apples. With a unique menu that is sure to please any wedding party, the possibilities are endless for those warm, hearty meals during the colder months.
Perfect for Any Budget
The best part about Atlantis Banquets & Events is that everything they have to offer is offered all year round. In fact, as long as the weather is cooperating, you might even be able to take photos or have a ceremony outside in the winter months. The grounds of Atlantis Banquets & Events are beautiful and unique to every season. "And when it comes to a budget, we work with brides to make sure they have the wedding of their dreams no matter the season," says Cotignola. "In fact, we consider our wedding prices economical in the sense that you will have the exact same wedding experience during the off-wedding season months at a better cost."
Whether you are looking for a unique wedding with the aquarium, or just a more classic wedding feel in the Sea Star Ballroom, Atlantis Banquets & Events has everything you need.
MORE: Looking for a fall wedding destination? See all that Atlantis has to offer. 
Camera shy? Here's how to handle your wedding day if you hate being in pictures.
If you've never been one for bathroom selfies, or you tend to hide in the back row for group pictures, your wedding day may be a bit challenging. You definitely WANT everything photographed, so you can remember all the beautiful moments. But you sort of wish there was a way you didn't have to BE in any of the shots.
We hate to break it to you, girl – as a bride, you'll definitely be front and center for most of the photos. Before you cancel everything and elope to a place where cameras are banned, consider the following strategies to help you survive the big day (and all the flash-happy events that precede it). Just because you hate being in pictures doesn't mean you shouldn't enjoy everything about your wedding – including all the photo shoots!
Talk with your photographer
Wedding photographers are some of the most personable and empathetic people in the world. Think about it – to be good at their jobs, they have to be! Creating great pictures depends largely on connecting with their clients and making them feel at ease.
If you hate taking pictures, don't be afraid to disclose that information to your photographer. Chances are, you're not the first bride that's admitted to feeling this way. Your photographer can talk through their process with you, and you can discuss what you're comfortable with and what you're not.
If you haven't hired a photographer yet, make sure you choose one that – above all else – you like. You'll be spending all day with this person, so make sure the vibe is right. If you don't love being a photo subject AND you're not a huge fan of your photographer, you might end up ditching your album after all is said and done.
Hire a hair and makeup artist
If you were on the fence about hiring hair and makeup artists, let us be the ones to convince you: DO IT! While you may consider yourself pretty skilled with some mascara and a curling iron, you'll definitely want to go a step beyond basic for the wedding day. This doesn't have to mean you get glammed up to the hilt, but it does mean that a pro will understand the styles and techniques that work best for pictures. And if your look is flawless, you'll feel much more confident when it's time to smile for the camera. 
Don't be afraid to shop around for your hair and makeup artists, and definitely don't skip the trial!
Use your engagement shoot as practice
Wedding photographers will often offer engagement shoots as a part of their wedding packages. You may be thinking, "ugh, more pictures?" But hear us out – this is a great opportunity to practice getting comfortable in front of the lens. 
When you get your proofs back, you'll be able to see what poses, angles, and setups result in photos that you love. Communicate your thoughts, and your photographer can make note of what works for you and what doesn't. 
Consider a boudoir shoot
WHAT? Even MORE pictures? Girl, trust us – a boudoir shoot is about so much more than pictures.
Make a shot list
This is a no-brainer, and probably something your photographer will mention anyway, but making a detailed shot list is key. You can discuss your must-have photos for the day, and your photographer can make recommendations and set out a solid schedule. Knowing exactly what to expect as the day progresses helps to alleviate a lot of picture-related anxiety!  
Know that there will be an editing process 
Your photographer's job doesn't end with the last shot of the night! After you've packed up the venue and headed off to your honeymoon, your photographer will begin editing (or "Photoshopping") all of the great photos they took. During this process they can correct color imbalances, smooth out skin tones, and erase flyaways.
If you have a specific concern about your photos, be sure to tell your photographer – they may be able to address it when they start editing.  
Talk to someone
A lot of us are camera shy, and we've all taken a few pictures that we don't absolutely love. But if you struggle every time you look in the mirror, it may be time to seek help from a qualified mental health professional. You can find one by speaking to your general practitioner, or by searching through your insurance plan.  
Remember: you're a bride, and ALL brides are beautiful
There is not a single physical attribute that diminishes your beauty as you walk down the aisle. Every thing about yourself – even the things that you may not love – all come together to make one absolutely gorgeous human being. You are beautiful on your wedding day, and all the days before and after!
In Brides of Long Island's Monthly "Mrs." series, we profile some of our members' unforgettable weddings. This month, we spoke with Ivanna Valdes about why getting her vision perfect was so important to her.
BOLI Ivanna Valdes will be the first one to tell you that having the right wedding coordinator/event planner was the key to having the most beautiful, romantic wedding. The perfect weather on June 2, 2023 helped a little bit too.
Blast From the Past
Ivanna says her husband Chris was a friend of her best friend in high school, but they never even thought about dating. A few years ago, he slid into her DMs on Instagram and "the next thing you know we're talking every day, we start dating, and here we are!" she says.
When she got pregnant with their daughter, her mother wanted them to get married right away. But Chris said they were going to wait because he wanted to give her the special day she deserved. "I had always known we were going to get married after Penelope was born," she explains. "But he completely surprised me by proposing in December of 2022 at the Rockefeller Center tree!"
The Perfect Vision
Even though they were going to wait until after the holidays to start planning, Ivanna says she started getting ideas of what she envisioned for their big day. Picking the venue was the easy part, as Ivanna says she always wanted to get married in her mother's backyard. "My dad's ashes are back there, we have a tree for him," she says. "It was very sentimental and important for me to be near him on our wedding day."
Once they planned the ceremony in her mother's backyard, they found a venue close by – The Factory in Freeport. "It's not your typical, traditional wedding venue. I wanted a more intimate and party vibe. And The Factory is a blank canvas that I could do whatever I wanted with it." And when she walked in and saw the hardwood floors and beautiful staircase, she knew it was the perfect place to bring her romantic, boho wedding vision to life.
MORE: 6 Reasons Why You Should Hire a Wedding Planner
The Perfect Planner
The most important vendor to Ivanna was her wedding planner! "It was so important for my vision to come true with the décor – I wanted tons of greenery and to be surrounded by candles." To bring that vision to life, she immediately reached out to Sand & Tee Events, a BOLI Preferred Vendor. "Tina went above and beyond. She decorated both my backyard ceremony and the venue. I could see how hard she was working that day, but she didn't miss a beat. And everything came out perfect. Exactly the way I envisioned it."
Other important vendors to Ivanna and Chris were the DJ and photographer. "It was sort of stressful finding a photographer! I didn't know there were so many styles. But when I found Brianna at Bee Serene Photography, I knew I'd be in great hands." Ivanna says that Brianna went with the flow the entire day, even when they were pressed for time.
And as far as the DJ? Ivanna believes having the perfect DJ can make or break your wedding. "If you want a party and everyone to stay on the dance floor, then finding the perfect DJ is going to be important." And her DJ, with All Out Entertainment, kept their party going on all night and made sure no one was sitting down.
When it came to the rest of her vendors, Ivanna utilized that search bar on the BOLI page to get recommendations. She says all of the photos and ideas from other brides helped her throughout the planning process.
MORE: I'm a Shy Bride – How Do I Handle Being the Center of Attention?
The Perfect Day
Throughout planning, Ivanna says she and Chris couldn't wait for the big day. "We were so ready. And as we practiced our first dance, our daughter would start humming the song along with us. It was just fantastic."
Despite a few hiccups (getting a call the morning-of about catering was not something she was planning on!), Ivanna and Chris' wedding day went off without a hitch. The weather was beautiful for their outdoor ceremony. And Ivanna's sister/maid of honor took care of the catering hiccup early on, so the rest of the day was perfect.
They included their daughter as the flower girl, and as the inspiration for their signature drinks – Penelope's Punch and Henny on the Penny. And for their table numbers, they had pictures of their favorite memories printed in black and white to share with their guests. "I wanted an elegant, classy and timeless vibe for the table numbers."
Something that really stands out to her was when they said their own written vows. "I don't like being the center of attention, but I knew it was important to him to write our own vows. And when we did it, it was so intimate and special. We were laughing, we were crying." And adding their own special twist to their vows? They incorporated tequila shots! "We're party people. We love tequila shots!"
Don't Sweat It
As Ivana explains, there were hiccups on her big day, but she took it in stride as she knew everything would work out. "Honestly, do not stress on your wedding day! Things might not go as planned, but don't worry about it!" She wants other brides to know that their days are going to be great. "It's going to be your own form of perfection – so don't sweat it!"
MORE: Don't Sweat the Small Stuff
Vendors:
Reception Venue: The Factory in Freeport
Photographer: Brianna at Bee Serene Photography
DJ: All Out Entertainment
Photo Booth: Senso Events
Bouquets: Flowers by Mike
Hair and Makeup: Natasha at @tashathemua
Officiant: Lauren at Pop Up Vows, a BOLI Preferred Vendor
Dress: Lotus Bridal – Mineola
Wedding Coordinator/Event Planner/Stylist: Tina at Sand & Tee Events, a BOLI Preferred Vendor 
These limousine companies will make sure you show up in style on your wedding day.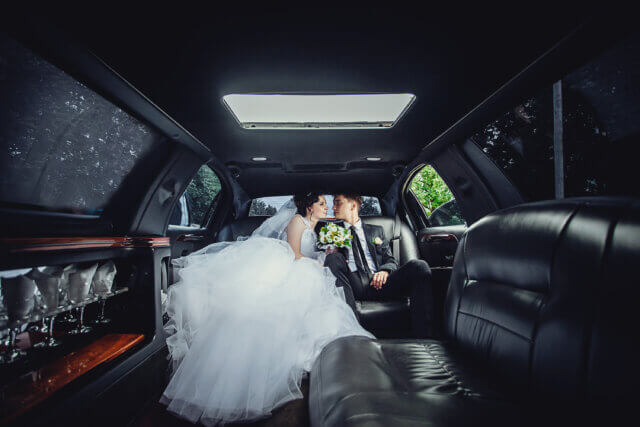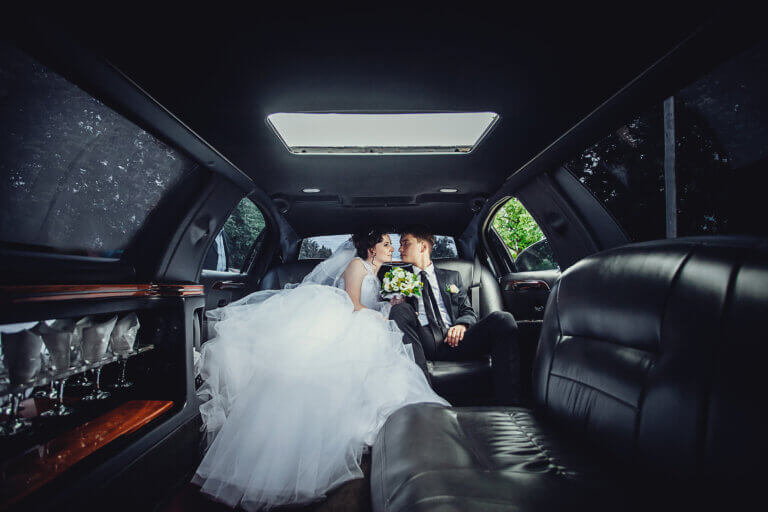 From unique and antique to traditional, these Long Island limousine companies have everything you'll be looking for on your wedding day. Whether you want to make a statement when you arrive, or you just need transportation to get you to and from your ceremony and venue, you'll be in good hands with any of the six Brides of Long Island preferred limousine companies.
Azure Limousine & Transportation
This expert team prides itself on outstanding service. From its upscale pristine fleet to its 1947 Rolls Royce, there's something for every bride at Azure. Check out their vehicles at their indoor showroom in St. James. You'll be treated like a queen from the moment you arrive until they drop you off at the end of your wedding day.
All Star Limousine
With over 40 years experience, they have one of the largest and most modern fleets of limousines and party buses. Their goal is to exceed your transportation expectations.
MORE: 39 Questions to Ask When Touring a Venue
M&V Limousines Ltd.
Founded 30 years ago with one white Rolls Royce, M&V Limousine Ltd. now features antiques, exotic cars, limos, party and shuttle buses or antique trolleys. There is really something for every bride's transportation needs with M&V, where they strive to make your day extra special.
Mark of Elegance Limousine Service
At Mark of Elegance they have over 35 years experience of anticipating and meeting the needs of all of their brides. They only offer wedding transportation services, so you won't be disappointed with their fleet of luxury vehicles.
MORE: 33 Great Long Island Wedding Venues
Coachman Luxury Transport
Coachman Luxury Transport has vehicles to match any bride's style. Their shuttles are great options for guest transportation. And they pride themselves on offering seamless service to make sure your wedding day is as perfect as possible.
Cruise Control Limos
Family owned and operated for 35 years, Cruise Control Limos offers a variety of luxury and antique vehicles for your wedding day. Their team is happy to answer any questions throughout the planning process to make sure you arrive on time and in style.
MORE: Is Wedding Photography on its Way Out?
No matter what Long Island limousine company you choose, you can rest assured that you'll be treated like royalty on your wedding day. And don't forget your guests! All of these Long Island limousine companies pride themselves on excellent service to shuttle your guests to and from your wedding venues – in a safe and timely manner.
In Brides of Long Island's "Am I a Bridezilla?" the BOLI team weighs in on an anonymous submission asking that dreaded question. What do you think?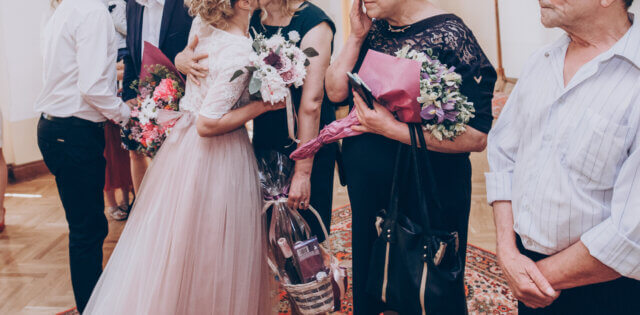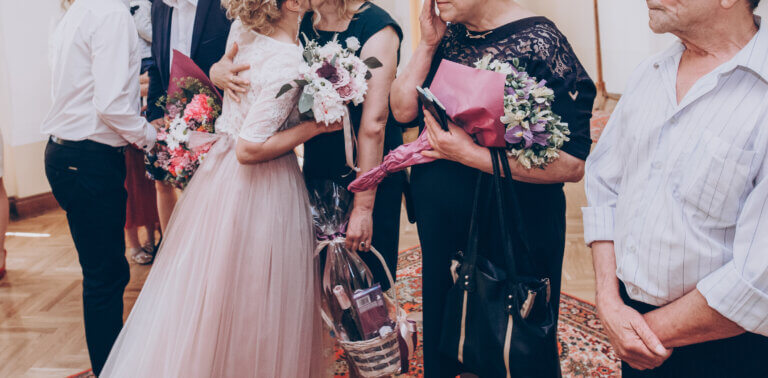 Dear BOLI,
I'm getting married in 2025 and I've already begun the planning process. I've been with my fiancé for about 3 years, and in that time my relationship with my future mother-in-law has been somewhat rocky.  I feel like she looks down on me (and everyone else around her) and thinks her son can do better. My fiancé assures me that it isn't the case, but when you know, you know. 
My mom and my MOH went dress shopping with me a few weeks ago, and my MIL found out. She was furious to not be invited. She's going to be even more furious when she realizes I've left her out of the bridal shower and a few other wedding events too. My fiancé says that he wants her to be involved in more of our planning. I disagree. I don't think she even wants her son marrying me, so why should I let her be a part of anything I'm doing? He's called me a bridezilla about it a few times now. But am I?
Sincerely,
No MIL Allowed
 Dear No MIL Allowed,
Ah, Mothers-in-law. Aren't they great? 😂  All kidding aside, we've definitely seen our fair share of MIL drama over the years. You're not alone.
Like it or not though, your future mother-in-law is your fiancé's mother. And unless he's willing to cut all ties with her completely (which, by your letter, it sounds like he isn't), she is someone who is always going to be in your life in some sense. That doesn't mean you have to be best friends, nor does it mean that you have to withstand any blatant disrespect, but it does mean that you'll need to find a way to make (and keep) the peace with this woman. 
You've obviously discussed the issue with your fiancé before. Has he talked to his mother about the way she makes you feel? And about the way it makes HIM feel? If not, it may be time for the two of them to sit down and talk this out – just like she is always going to be in your life, you are always going to be in hers.
Have you and your future MIL ever spent any time together, just the two of you? I know that sounds like the LAST thing you'd ever want to do, but sometimes the air can be cleared a bit with some one-on-one time, where words and ideas can't be misinterpreted through the grapevine. 
As for leaving her out of the dress shopping – no, you're not a bridezilla. There's no expectation that your future MIL would join you, or really that ANYONE would join you. Most of us bring our moms or bridesmaids, but there's no concrete list of people that MUST be there. 
As for the other events – this is where we're edging into bridezilla territory. Remember – this is your fiancé's mother, and it's his wedding too. How would you feel if the roles were reversed? When it comes to events like your bridal shower, there is an expectation that the women in both of your families should at least be invited.
If your fiancé and his mother were not on good terms, it would be one thing. But he wants his mother to be a part of your wedding, so some compromise is needed here. Sit down with your fiancé and see if you can come to an agreement on your MIL's level of involvement. She doesn't have to be at every vendor meeting or every dress fitting, but you should consider involving her in the traditional events.
Wondering if you're a bridezilla? Submit your questions to us via DM @thebridesoflongisland, or via email to jennifer@bridesofli.com
Stephen Mayo, owner of BOLI Preferred Vendor Stephen Mayo Photography, believes your enjoyment and peace of mind comes down to one factor – your wedding day timeline
When we think of a wedding day, our mental highlight reel includes all the fun parts – the killer moves on the dance floor, the heartfelt speeches from friends and family, and that very first kiss as a newly-married couple. 
But what we often tend to forget is that behind all those beautiful moments is months of planning and preparation, leading all the way up to (and even after) your walk down the aisle. For all the parts and pieces of your wedding to work, you'll need a solid wedding day timeline.
Stephen Mayo, owner of BOLI Preferred Vendor Stephen Mayo Photography, knows this firsthand. He's seen the easy flow of a wedding day when a specific schedule is kept, and the rushed, stressful response when a practical timeline is absent. 
Why your wedding day timeline is important
"Your wedding day timeline is crucial," Stephen says. "I think it's one of the most important factors when it comes to a couple enjoying their day." 
What happens when a well-planned agenda isn't in place? "When things are rushed, it tends to raise the stress level," he explains further. "Planning enough time for pictures while also having realistic expectations for how long things take is the difference between enjoying your wedding day and managing your wedding day."
What's a realistic wedding day timeline?
Making a wedding day timeline is one thing, and making sure it's feasible is another. Knowing what to expect can be a challenge, but when it comes to your pictures, Stephen always breaks down a realistic schedule for his brides.
"Every wedding has different needs, but for most weddings, there are two parts of the day where there is quite a bit of time put aside for images – preparation and then portraits," he outlines. "When I begin working with couples on planning, I start with a recommendation of 30 minutes for groom details and getting ready images, and an hour for the bride. When it comes to portraits, I generally start with a recommendation of 30 minutes for pictures with the couple, 30 minutes for family, and 30 minutes for the bridal party."
However, it's important to remember that there's no "one size fits all" timeline. "There are so many variables that can change things," Stephen clarifies. "Are you doing a first look? What's your travel time to the venue? How many people are in your bridal party? How many family members will want portraits? How many photographers are there? I work with every couple to make recommendations, so that they can get all of the images they want while the day is structured the way they planned. Your wedding photographer can give you an expectation of how long images will take, while also helping you fit everything you want in the time you have." 
What's the best way to make your wedding timeline work?
You'll hear many former Brides of Long Island say the same thing – expect at least one thing to go awry on your wedding day. So how can you stay on track when that happens? "I would recommend planning for a little more time than you think you need," Stephen advises. "Padding the timeline gives couples the opportunity to go through the day without the extra pressure. I see the day fall behind schedule when couples try for a timeline that may be too aggressive." 
What happens when your day is rushed?
If there's one thing you can't get back in life, it's time. And when time is running short on your wedding day, something has to be sacrificed. As Stephen explains, that "something" is usually your pictures. 
"The time built in for photography is the only circuit breaker in the day," he says. "If, for example, a couple puts aside 2 hours for images at an outdoor location, and then for whatever reason things are running behind and everyone arrives 45 minutes later than anticipated, we can't leave that location later. The time for photos will have to be shortened. This can be a bigger concern depending on the circumstances – if you have 2 hours before your ceremony, you can likely make up some of the time just by moving a little more quickly. But if you only have 30 minutes after the ceremony while guests are at the cocktail hour, any delay probably cannot be made up."
What do photographers do when time is of the essence? "Generally, we'll likely focus on the must-haves," Stephen describes. "Wedding photographers are very good at working quickly and working under pressure, but with less time, there are just fewer images. The couple knows that there's less time, and then they worry. I want the couples I work with to be in the moment and enjoying their day, and not stressing about time or worrying about images they're not getting because they don't have the time to take them."
Unfortunately, the stress of running behind often reveals itself in the pictures. "I can tell when the bride feels rushed or nervous. That's what she's likely going to remember when she looks at the images – feeling stressed about fitting everything in."  
Should you hire a wedding planner or day-of coordinator?
If it's in your budget, a wedding planner or day-of coordinator can be the driver of your timeline. "Working with a wedding planner or day-of coordinator tends to make the entire day run smoothly," Stephen suggests. "Without a coordinator, the role is often delegated to a friend or someone in the bridal party. But in my experience, the bride is then often checking up on that person. A wedding coordinator will take all of that concern away."