Stumped on what to get the little ones in your bridal party? Here are a few gift ideas for your flower girl and ring bearer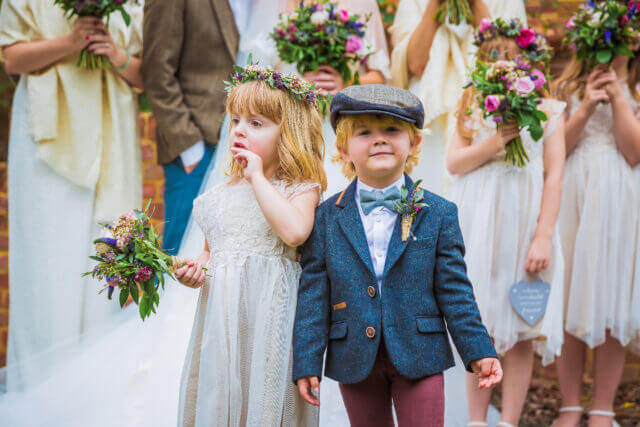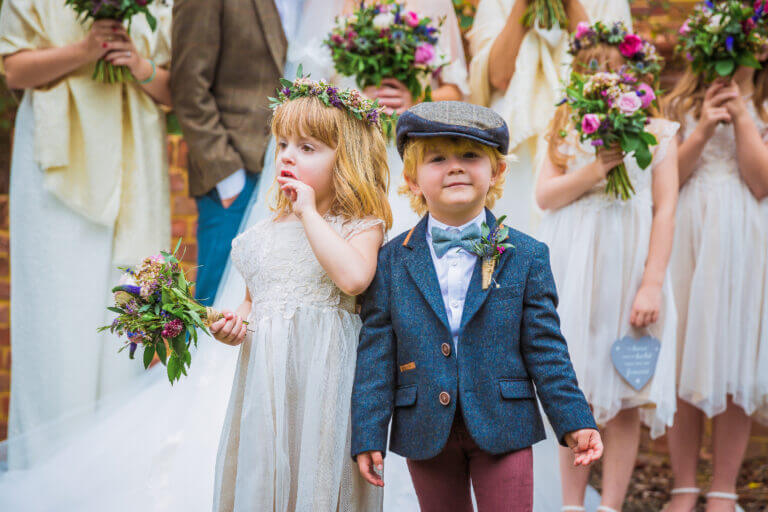 They're upping the "cute" factor of your wedding by epic proportions! Your flower girl and ring bearer have very important jobs for such little hands, so you'll want to show your gratitude with a special gift they'll love. 
We get it, though – picking gifts for children can be challenging sometimes (are kids still into like, Teletubbies or whatever?) You've scored gifts for the rest of your bridal party, but you're still stuck on what to get your junior members. We're here to help you out with these 5 great gift ideas for your flower girl and ring bearer:
1. A gift that relates to their hobbies and interests
You've never seen a kid so into Bluey, so brighten their day with some fun merch from the series! Think about what your ring bearer or flower girl can't stop talking about, and get them a gift that ties in with their interests – whether that's a new football, a fancy tutu for dance class, an arts and crafts kit, or stuffed dinosaur for the future paleontologist. Go the extra mile with some themed gift wrap!
2. A personalized gift
You're hooking up the bridesmaids with classy personalized wine glasses, so don't forget about your flower girl and ring bearer! Okay, maybe you *shouldn't* go with a wine glass for the littles, but remember how excited you used to get when you'd find keychains with your name on it? You can personalize almost anything – water bottles, lunch boxes, backpacks, pencil cases, you name it. Bonus points if it's something they can take to school and show off to their friends!
3. A gift for their future
Have your flower girl or ring bearer's parents set up savings for their children, either as a 529 plan or a more general investment account? Consider making a contribution! It will be a gift that keeps on giving, especially as they get older and decide what paths they'd like to pursue. 
4. A gift to commemorate the day
There are plenty of meaningful keepsakes that will remind your flower girl or ring bearer of the special part they had in your wedding, whether that's a piece of jewelry, inscribed religious texts, or even an engraved figurine. As they grow up, they'll always be able to look at your gift and remember how much fun they had on your big day.
5. A gift of an unforgettable experience
Depending on your flower girl or ring bearer's age, consider gifting them an awesome experience. A Yankees or Islanders game, a Broadway show, or a trip to a theme park would make you the talk of their playground. And if you accompany them, you'll get some quality bonding time – and that's a gift that's always priceless! 
Owner Michael Lopacki discusses why he loves wedding photography, and how he guarantees to make your day stress-free.
When you first meet with Michael Lopacki, owner of Michael John Photography, a BOLI preferred vendor, he wants to know all about you. He wants to know about your plan for your wedding day, why you fell in love with your venue, and what you're excited about. "I really get to know my brides first," says Michael. And that's how he rolls – always putting his brides first above everything else.
How It All Began
Michael says he got started in wedding photography when his friend asked if he could be her assistant for the day. He picked up a camera on the job, and the studio she worked for liked him and hired him. In 2019, Michael decided to start Michael John Photography. He felt it was time to really connect with his clients. "Coming from a high-volume studio, things get lost in the mix," he says. "When you're the head of the company, you get very close to your clients. You know so much about that. It becomes a lifelong friendship." Over the span of his career, Michael says he has likely shot 1,000 weddings.
Ever since his daughter was born, Michael says his favorite part of weddings has to be the father-daughter dance. He explains that those moments now hold a special place in his heart, as he often imagines what it will be like to one day dance with his own daughter at her wedding.
Getting To Know You
Michael likes to meet with brides face to face – though the pandemic did change the way those initial meetings go. A Zoom call is best, as Michael really wants to learn all about you! "I think it's important that we vibe with each other," says Michael. "I want to make sure I can provide to them what they're looking for." Once he learns about you and your big day, he can explain what sort of timeline you would have on your wedding day. "It's super important to know that a wedding photographer knows how to control your day," says Michael.
Michael John Photography offers a variety of packages, and all of them include an engagement shoot.
MORE: 40 Questions To Ask Your Photographer
It's About Having Fun
Ultimately, Michael says he wants his brides to relax and have fun on their wedding day. "That's the most important part. It's a wedding, this is not work," says Michael. "I don't want my clients doing any work. I want them to have fun, laugh and have the best time of their lives. That's really what it's all about for me."
Michael says he really likes moment-based photography – which helps with the having fun part! "I love to capture someone in the act." Of course, he says, he makes sure to get all of the formal shots. But, even during those formal poses, Michael likes to bring out your natural effect, make you smile and enjoy yourselves. "It makes it more of a candid approach."
Favorite Places on Long Island
If you're at a loss of where to take your engagement photos, Michael has just the spots for you! And in true Michael fashion, he wants to learn what kind of person you are so he can suggest the perfect location. Beach person? He might suggest a beach on the North Shore – something that's a little quieter. He also likes to take couples to Planting Fields Arboretum in Nassau County or Peconic Herb Garden in Calverton.
But what about wedding venues? The Vanderbilt Museum is one of his favorite places to shoot. "It's just beautiful. It can be winter or summer, it just always stands out. But his favorite wedding venue is Flowerfield. "That's where I got married, so I'm very biased."
MORE: 11 Places to Take Engagement Photos on Long Island
"It's Going To Be Smooth Sailing"
Saying brides are nervous on their wedding day is an understatement at times. But Michael ensures that if you leave it to the professionals, everything will be taken care of. "We know how to help figure things out for you guys. We don't want you to worry," says Michael. He adds that no matter how big the bridal party is or how many locations you plan to take photos, he's going to plan it all out for you. "We'll figure it all out prior to the wedding day, and then it's going to be smooth sailing."
If you haven't figured it out yet, Michael John Photography is here to cater to your every need on your wedding day. "My clients always come first for me," says Michael. "I want to make sure they have the best time of their lives. And that it's a stress-free environment."
And by limiting the amount of weddings he shoots throughout the year, Michael can ensure that his clients get the best from him. "I feel like it's a much more close-knit kind of approach to ensure the best quality for my clients.
After the big day, Michael says he loves to stay in touch with his couples. "We always become friends. We're just in each other's lives. It becomes a lifelong thing for me."
MORE: 16 Must-Have Photos with Your Bridesmaids
Speaking with a couples therapist doesn't necessarily mean your relationship is in trouble.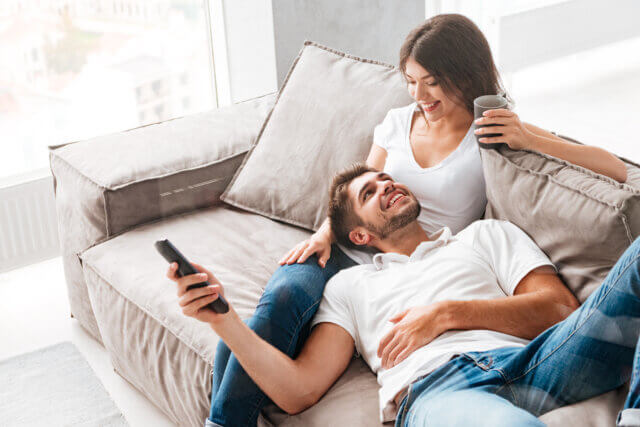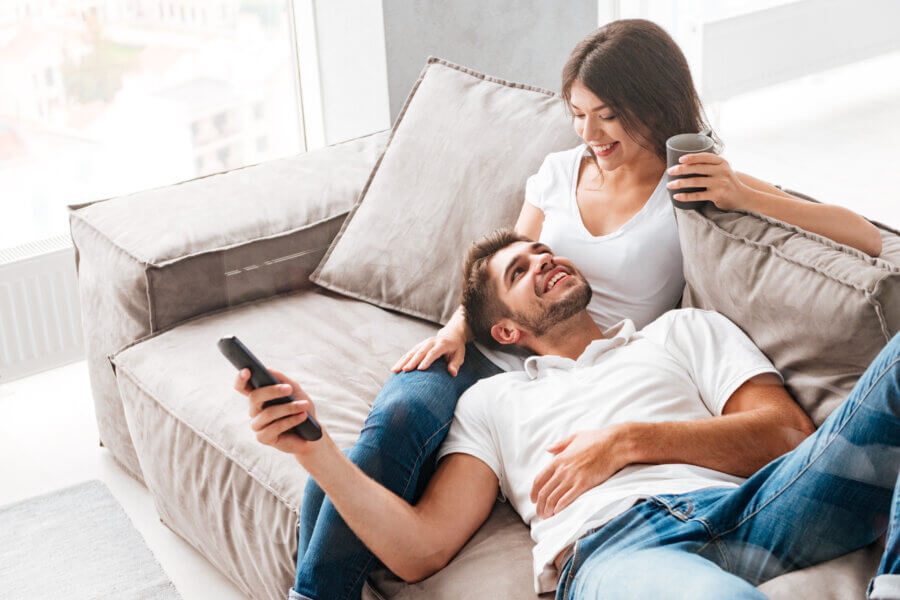 It's something that may be considered taboo, as oftentimes when couples seek counseling, it's a sign of bad things to come. But that is not necessarily true. The stress that goes on in your lives during wedding planning can be a lot for two people, and will definitely test your relationship. Speaking with a couples therapist could help strengthen the bond between you and your future spouse at a time when you both really need it. But is there a way to talk to your fiancé about couples counseling without causing a fight? Below are some tips on how to talk to your fiancé about couples counseling.
How to Initiate the Conversation
This could be tricky. But the right wording can go a long way. You know your significant other best, so you will know when the time is right to bring up counseling. Perhaps a quiet moment when you're both just relaxing. Or maybe when you're taking a drive. Remember to stay calm, especially if your significant other gets defensive. Make sure to talk about your feelings, or how you're feeling about something specific. Say something like, "I feel like we've been a bit disconnected due to the craziness of the wedding planning. I feel like speaking with a couples counselor could get us back on the right track, and help us to refocus on us and our relationship." The key is to make sure you're not pointing fingers. And focus on strengthening your relationship.
MORE: 7 Ways to Save For Your Wedding
Finding a Therapist
Finding a therapist could be hard, but there are plenty of resources out there. You could just do a search on your health insurance's website for a therapist near you. You could also use the search bar in the Brides of Long Island Facebook group to see if there are any recommendations. Ask a close relative or friend who you trust to see if they know anyone. Or just search Google. If there's something specific you want to work on in your relationship, search for those keywords when you look for a therapist. Make sure to check their credentials. See if there are any online reviews you can read (just as you would with any doctor!)
Upon your consultation or first session, interview your therapist! Ask them questions to see if they are the right fit. After a few sessions, check in with your fiancé. Make sure that you both feel comfortable with the therapist before you go to another session. If either of you is uncomfortable with the therapist, take the time to search for another one together.
Laying Ground Rules
Before you see a couples counselor with your fiancé, discuss what you expect. Lay some ground rules. For example, if your therapist gives you 'homework,' make sure you're both committed to do it. Another thing to bring up would be to not interrupt each other during the sessions. Really take the time to listen to your partner and hear them. Don't get defensive. And take it seriously. If you or your partner is opening up about their feelings, it's important that you both listen to each other without judgment.
MORE: Why I'm not changing my last name
Applying It in Real Life
After your sessions, make sure to apply what you've talked about in real life. Perhaps your fiancé says they'd like to do more activities together or start a hobby with you. Do it! Or at least try it! The whole point of therapy is to work on your relationship together to make it stronger.
There is a lot of give and take in relationships, and seeing a couples therapist before you walk down the aisle and say 'I do' could help you to understand each other even more. It might seem scary, but remember, just because you're seeing a couples therapist doesn't mean that your relationship is in trouble. Sometimes it's good to check in with each other and have a third impartial party offer ways to stay a strong, committed couple. And if you are having some relationship issues, a therapist will be able to help you work through them.
In Brides of Long Island's Monthly "Mrs." series, we profile some of our members' unforgettable weddings. This month, we spoke with Alexandria Azevedo about all of the do-it-yourself things she did for her wedding.
Alexandria Azevedo says her wedding planning, as well as her wedding day, all went smoothly with no issues. And as a special moment, Alexandria, and her husband Tiago, planned something fun during their first dance that wowed their guests.
High School Sweethearts
Alexandria and Tiago dated when they were in high school. And as some young couples do, they broke up when she went to college. Years later, when she came home, they rekindled their relationship, and in October of 2020, Tiago proposed at Breakwater Beach in East Hampton. "He told me we were going to the wineries. But then he stopped at the beach to take a photo of his car," she says. "I literally had no idea!"
Two Years of Planning With No Issues
Alexandria says because they knew they were getting married in 2022, they didn't really start their wedding planning until February of 2021, which allowed them to really bask in their engagement for a few months. But even though they knew they had two years, she says she did her research. "I knew from BOLI that vendors were booking up years in advance due to COVID," she says. "So, I contacted a bunch of vendors early to make sure they had our date."
To her and Tiago, the venue was the most important vendor. They were interested in a rustic look for their wedding. She says they looked at a couple venues and decided on Swan Lake Caterers, a BOLI preferred vendor. And, she says, "Everything sort of fell into place after finding the venue."
According to Alexandria, Swan Lake had a package with the photographer and DJ, so they booked the whole package. "I had looked at reviews of the vendors, and it seemed like a good idea to just go with that." After that, she says other vendors, like the videographer, all seemed to have their date, which was Sept. 10, 2022. She does say a few hair and makeup people were booked, but other than that, there were no issues booking vendors.
"Everything was spot on. We were confused as to why nothing went wrong," she says. "But everything went great [during planning]. We were very lucky."
MORE: 6 of the Most Popular Wedding Dress Silhouettes – Which One Should You Choose? 
A Little DIY
Alexandria says she made all of the rustic wooden signs they put up throughout the venue. Their theme was "It was always you." She adds that she had white roses for everything. "I bought artificial roses. Our centerpieces had white roses and greenery with candles." She says the arch also had white roses and greenery. "I only wanted my girls in the cabernet color, so they would stand out among all of the white."
But Alexandria didn't stop at just making the centerpieces and signs! "I made my bouquet and my sister's bouquet too." She stopped herself at making the arch, though, and purchased it on Esty. "Honestly, I probably could have made it if I had the time!"
She says by using all of the DIY things she made, she saved some money. "And I ended up having other brides get the stuff from me, so they were able to use it for their weddings."
MORE: 9 Wedding DIY Ideas That Any BOLI Can Tackle
A Fantastic Day
When the big day came, Alexandria says Swan Lake Caterers was fantastic. She says the bridal attendant always made sure she and Tiago had drinks in their hand, as well as made sure they both ate. In fact, when it came to food, she says her parents weren't actually able to try all of the appetizers. "Charlie, the main cook there, came out with a full tray of appetizers and gave them all of the food they never tried." She says everyone at Swan Lake made sure it was the perfect day.
Alexandria adds that their photographer and DJ were also great. Capture the Moment Studios, a BOLI preferred vendor, made sure to get every shot on her shot list. While High Voltage Entertainment, a BOLI preferred vendor, kept the party going the whole night.
That Wow Moment
Alexandria says she and Tiago choreographed their first dance. "And at the end, he lifted me up and did a spin!" She says her guests were very impressed and surprised by their fancy footwork.
After the wedding, Alexandria and Tiago headed down to Key West for a few days before taking a western Caribbean cruise for seven nights.
Soak It All In
Throughout the planning process, Alexandria says she found the BOLI page helpful. "I pretty much used it to find everything." She says it really helped her narrow down her vendors.
So now that she's graduated, what advice does Alexandria have for other BOLIs? "Definitely do your research," she says. "And on the day of your wedding, just soak it all in."
She adds that if anything goes wrong, it's important to just let it go. And to just enjoy the day with your husband, because that's what you're really there for.
MORE: Don't Sweat the Small Stuff
Vendors:
Venue: Swan Lake Caterers, a BOLI Preferred Vendor
Photographer: Capture the Moment Studios, a BOLI Preferred Vendor
Videography: Lasting Moments Film & Photo
DJ: High Voltage Entertainment, a BOLI Preferred Vendor
Hair: Nicole Piazza
Makeup: Total Glam NY, a BOLI Preferred Vendor
Officiant: Church of Ancient Ways – Long Island Officiants, a BOLI Preferred Vendor 
Invitations: Minted
Dress: North Fork Bridal Shoppe, a BOLI Preferred Vendor
Bridesmaid Dresses: Azazie
Cake: Frank and Sons Bakery
Tuxedos: Stacy Solow Custom Clothing
Party Bus: Sir Oliver Limousine
Jeanine LeClair and the passionate artists of Genie Artistry value connection, communication, and inclusivity.
Every bride wants to look their best on the big day, but the idea of "best" is beautifully different for everyone that walks down the aisle. Some want a look that's big and bold, some want sleek and elegant, and others want just a little bit of glam to highlight their gorgeous features. 
It's a fact that Jeanine LeClair, owner and lead artist of Genie Artistry (a BOLI Preferred Vendor) understands explicitly. Armed with a vast knowledge of not only makeup and hair but also lighting and photography techniques, she honors the importance of communication in creating every bride's ideal wedding day style. 
"There's really nothing like it." – Jeanine LeClair, Genie Artistry
Jeanine's expertise comes from over a decade of learning. "I've worked in almost every area of my field for the past 12 years," she said. "I started working in salons, then I went into retail cosmetics. I even dabbled in production and editorial styling."
Soon she discovered a specific calling. "Eventually, I fell in love with bridal events. I love being a part of someone's special day and bringing their bridal vision to life. There's really nothing like it."
After working under other bridal hair and makeup artists, she decided it was time to strike out on her own. "The desire to have more of a connection with my clients and do things my way pushed me to finally become a business owner." 
"It's about making one look and feel their very best, inside and out." – Jeanine LeClair, Genie Artistry
Jeanine and the Genie Artistry team pride themselves on listening to every client, and crafting hair and makeup that matches exactly what they envision. "We add the perfect amount of glam based on a client's individual style and comfort level," she described. "It can be changed and tweaked to fit everyone's needs. It's about making one look and feel their very best, inside and out."
In order to perfectly execute each bride's desired look, Genie Artistry books only one wedding per day for their team members. "Weddings are a big deal, they take a lot of work," Jeanine explained. "We want to give our clients the absolute best service and our undivided attention. We can't do that when we're getting distracted by our next job."
"Makeup and hair can change so much when you're looking through a lens." – Jeanine LeClair, Genie Artistry
While you'll want your wedding day glam to be flawless in real time, it's also vital to consider a few other factors. "It's important to know how your hair and makeup is going to last throughout the day, and how it's going to photograph," Jeanine emphasized. "You need to know what products are going to work, and how to manipulate shade and light."
In order to expand her skillset, Jeanine began working with boudoir photographer and fellow BOLI Preferred Vendor Seaweed and Diamonds. "I started doing makeup for Samantha's shoots, and she started to teach me about the camera. I've actually gotten to take some pictures. Makeup and hair can change so much when you're looking through a lens. So when I'm working on a bride, I'll pull the photographer aside and say 'let's get a test shot before you start, just to make sure that everything looks exactly the way that we want it to.'"
"I wanted to be able to cater to everyone." – Jeanine LeClair, Genie Artistry
As a former bride herself, Jeanine recognizes the kind of stress that a non-responsive hair and makeup artist can cause. "I know there's nothing that will send a bride over the edge faster than a vendor they can't get in touch with," she sympathized. "I really try to make myself available from the very first inquiry to the last dance, and then beyond that. I love having a connection with a client that lasts." 
Also crucial to the Genie Artistry brand? Inclusivity. "Nothing broke my heart more than when I'd go to a wedding and see a bridesmaid who had a separate artist for themselves," Jeanine recalled. "I wanted to be able to cater to everyone – that was a big thing for me. Every person that I have on my team has worked with me for a long time. They're trusted, talented, trained, and very confident working on clients of all ages, races, and identities. We're constantly working on our skills and making sure that we can service everyone" 
"I'm there to do anything I can to make things just a little bit better." – Jeanine LeClair, Genie Artistry
When asked about a favorite wedding memory, Jeanine began to chuckle. "I have a few, but one from this year really sticks out."
She continued by recounting the story of a mother-of-the-bride who worried about a wardrobe conundrum. "She was so stressed out about boob tape," Jeanine remembered. "And I said that it's a topic of conversation at every wedding, how you're going to do the boob tape and fit into the dress. The mother said 'oh, you know how to do boob tape? Will you come back to my house and help?' At first I thought she was joking, but no. So I went back to their house and helped the bride into her boob tape. And the mother was so thankful, she even said 'you're coming to Thanksgiving, right?'"
"They were so appreciative of that little gesture that took maybe 20 minutes. So it's not just about doing makeup or hair. It's definitely more than just putting some lipstick on. I'm there to do anything I can to make things just a little bit better." 
"Don't let anybody get into your head." – Jeanine LeClair, Genie Artistry
As you prepare to take your own walk down the aisle, take Jeanine's key words of advice to heart. "Do whatever you want to do," she offered. "Don't let anybody get into your head. Don't worry about what other people want, or about pleasing one person or another person. It's about you marrying the love of your life."
She also advised being prepared for the inevitable. "Something's going to go wrong. It may be small, it may be bigger. But nobody's going to know except you. So don't let it get to you. Just enjoy everything you've worked so hard for because in the end, you're not going to remember that little detail."
The big day is almost here! Don't forget these "to-dos" on your last minute wedding checklist
That wedding day countdown is nearing the single digits, and you're only *slightly* freaking out – there seems to be an endless amount to accomplish in a very short period of time. But don't worry BOLI, you've got this! To help keep you organized and focused, here are 11 things you should consider adding to your last minute wedding checklist:
1. Get your marriage license
Between dress fittings, vendor meetings, and bachelorette parties, it may be very easy to forget this (literally) essential wedding day must-have. If you haven't gotten the legal paperwork squared away yet, be sure to make an appointment at your town clerk's office soon. 
2. Make final payments to your vendors
If you've been on any type of payment plan with your vendors, make your final payments now. You don't want to worry about remembering cash, checks, or Venmo payments when you're in the middle of hair and makeup. Be sure to get receipts for any payments you've made, and leave copies with your bridal party or a trusted friend to keep with them on the wedding day – just in case.
3. Finalize your timeline
Ever heard that phrase "if you fail to plan, plan to fail?" Well, we wouldn't go THAT far in regards to your wedding, but we can guarantee that things will be a lot less stressful if you create a timeline – even if it's a bit loose. Schedule arrival and departure times for everyone (including yourself), photography times (especially if you're doing a "first look," or if you want to attend cocktail hour), and any other incidentals of your day (like if you have bridesmaids meeting vendors for pickup). Which brings us to our next reminder…
4. Confirm details with your wedding day team
Your vendors are total pros, so they're used to keeping on tight schedules and ensuring all the details are in place. But for your own sake (and just to make sure everyone's on the same page), confirm all your wedding day details. Double check that your DJ has the playlists, the photographer has the correct timeline, the florist has the right drop-off address, and the venue has the updated seating chart. 
5. Purchase and wrap any bridal party, parent, or spouse gifts
 If you planned to get your girls an incredible thank you gift, now's the time! Grab the gifts you'd like to get for your support system, and schedule a few hours for gift wrapping.
6. Decide on favors
Whether you're looking for cute takeaways (like shot glasses, candles, or bottle openers) or you're going the charitable donation route, solidify those plans now. If you've decided on a donation, make (or order!) signs or inserts that indicate what charity you've chosen and why.
7. Box up any decorations, and coordinate drop-off and pick-up times with your venue
You're a DIY queen and have created TONS of cute decor for your wedding. Box it all up and coordinate when you can drop it off and pick it up from your venue. Be sure to include pack lists with each box – that will help to confirm you've gotten everything back! 
8. Assemble hotel bags
If you have a full hotel block, you may want to consider a welcome gift or hotel bag for your out-of-town guests. Take a day or two to organize and assemble their haul, recruiting help from your fiancé and bridal party if needed. But only if you want to – welcome bags can be ditched since most hotels have water, snacks, and common medications readily available for guests.
9. Prep tip envelopes
Your vendors have been AMAZING – don't forget to tip! Get a package of envelopes and label them for each vendor, then entrust them to your MOH or another trusted member of your team. Don't know what to tip? Check out BOLI's Ultimate Tipping Guide!
10. Put together an emergency kit
Whether it's a pair of spare contacts, some bobby pins and hairspray, or even a few tampons, gather items you might need at the last minute! Or ask one of your bridesmaids to put something together for you.
11. Commit to being present and in the moment
Once your day has arrived, you have one job: enjoy all of your hard work and celebrate marrying someone you love! Be sure to take a few moments with your new spouse and just be present. You'll cherish having those moments in your memory forever. 
Wedding trends change year after year. Check out what's new for 2023, and what you should skip.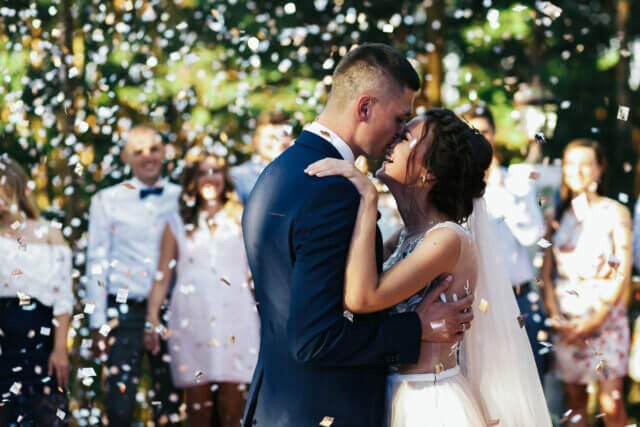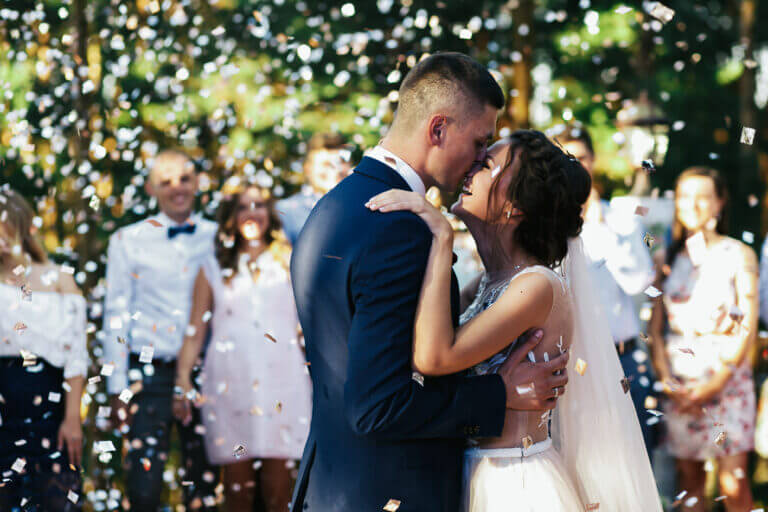 Let's face it, planning a wedding is stressful enough. But when you start looking at different wedding trends and what's 'in' or 'out,' it can add on more stress. If you're looking to add something new this year for your wedding, don't worry, we've done the legwork to seek out eight trends for 2023 weddings (and six trends that are out!)
Trends for 2023 Weddings
1 – Midday or morning ceremonies
Sure, you may have imagined a twilight ceremony. But the trend for 2023 weddings is to have a morning or midday ceremony. This will give you more daylight hours (no matter the time of year) for photos. Plus, the earlier you start, the earlier your reception can start – giving you the maximum party hours (and after-party, if you so choose).
2- Decorating Ceilings
Table decorations, check. But what about the ceiling? Depending on your venue, ask about bistro lights or twinkle lights on the ceiling. Or maybe your DJ offers a cool light that creates fun designs on the ceiling. Fill the room with balloons. Whatever you do, just think (and look) up!
3 – Crazy Cakes or Cake Toppers
OK – maybe you don't want to go as crazy as Cake Wars (or maybe you do!). But think outside the box from just a plain cake. Find a bakery and design something that means something to you and your future spouse. Do you love Disney? Put it on the cake. And don't forget the cake toppers! The more unique, the better.
4 – Chill After-Parties
After getting up early, smiling for photos, mingling with friends and family, and tearing up the dance floor, you'll probably be exhausted. But that doesn't mean you need to skip the after-party. Instead of something crazy, keep it chill. Maybe head to your favorite haunt. Or ask if your venue offers some fun munchies or a space for you to hang out with your friends and family.
5 – Color!
Add color everywhere you can! Pick seasonal colors. Bright colors. The possibilities are endless. And we're not just talking about flowers and bridesmaids' dresses! Add a little bit of color to your wedding gown too!
6 – Sustainability
Save the planet while celebrating your love. Ask your venue about what they are doing to keep things eco-friendly. Or think about cutting some costs. Or maybe just shop locally to stimulate the economy.
7 – Destination Weddings/Wedding Experiences
Does the thought of coordinating a huge wedding day make you super nervous? Consider a destination wedding! There are so many options when it comes to a destination wedding. And there are even places on Long Island that you can turn into a destination wedding – like Atlantis Banquets and Events! You can get some planning help from some of BOLI's incredible destination wedding and honeymoon experts.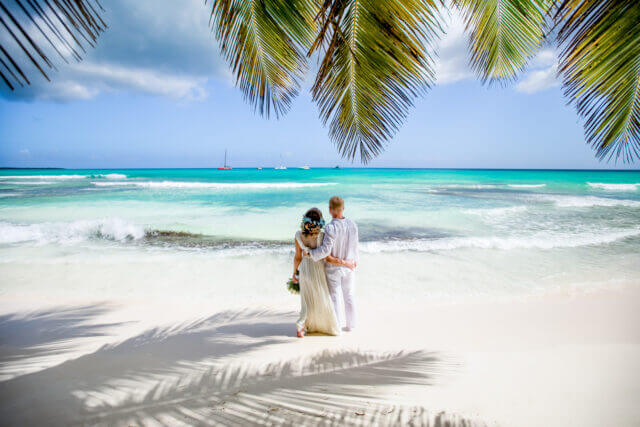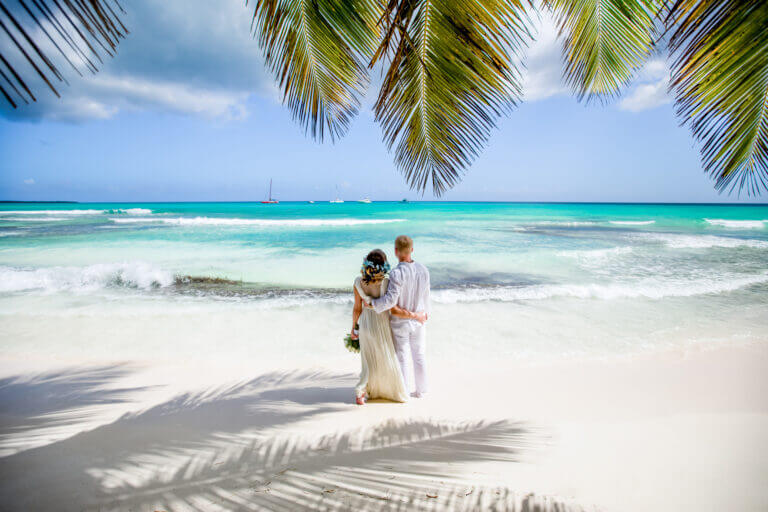 When it comes to wedding experiences – there is nothing too big or small. Everything from a live painter or aerialists and more! Think big and hire a mascot to take photos with guests.
MORE: Why We Chose to Have a Destination Wedding
8 – Disposable Cameras
We love bringing these back! Leave the candid photos to your guests to take. There are plenty of websites that will develop your photos!
Trends That Are Out
1 – Wedding Hashtags
Stop stressing out by trying to think of cute hashtags for your 2023 wedding! If your friends and family post on social media, just have them tag you!!
2 – Welcome Bags
Another stressful thing that you need to ditch for 2023. A lot of hotels offer water bottles in rooms now. Most people carry Advil. And those cute bags you spend hours custom-making? They get thrown out in the end. Save your money and your time.
3 – Crazy Escort Card Tables
Keep it simple! People just want to know what table they're at. Make use of the generic escort cards that your venue gives you. Take the time to fill them out and let the venue lay them out on a table. Again, save your time and money!
MORE: How to stick to your wedding budget
4 – Naked Cakes or White Cakes
With crazy cakes being in this year, of course plain white or naked cakes are out. If you're still in love with a naked or white cake, think of adding some cool colors to make it stand out!
5 – Bridal Parties
Instead of stressing about who of your friends you want by your side – skip it! Save them the money they would spend on hair, makeup and a dress they'll never wear again. If you want to get ready with your besties, you can still have them with you. Not having a bridal party takes the stress off of everyone – including you!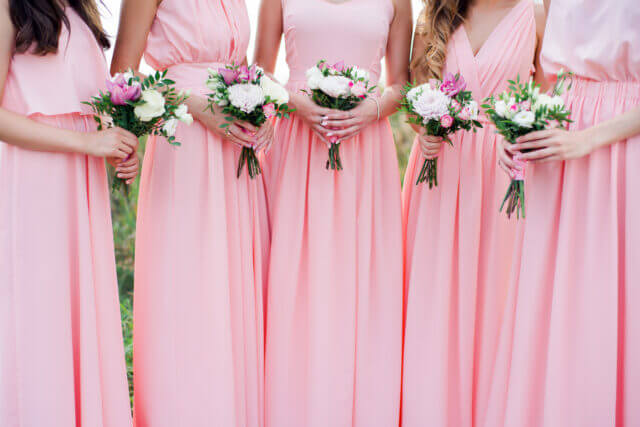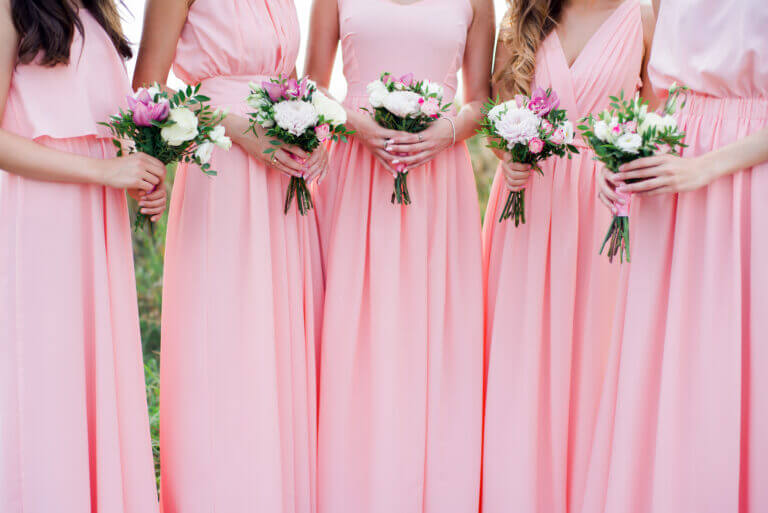 MORE: Not having a bridal party? Here's why that's awesome
6 – Doughnut Walls
If you want doughnuts, skip the wall and have a fun dessert table. What was the purpose of a doughnut wall anyway
If all of this is making your head spin, just buck the trends and do your own thing! If you want that naked cake, go for it. Your guests are there for you and your future spouse – adding your own simple touches that aren't over the top are sometimes the best things to have at your wedding. This is your day! Do it your way!
While all of the BOLI preferred vendors are awesome, only a few can be crowned winners.
For the last three years, we asked you – our coveted BOLIs to vote on your favorite preferred vendors. We know it's hard – as they are amazing, but only a few can be crowned winners in the third annual Brides of Long Island Diamond Award competition.
It's the most coveted (OK, we think it's the most coveted) award a vendor can receive – the Diamond Award.
There were 24 different categories that could be voted on.
And now we reveal the 2023 Brides of Long Island Diamond Winners!
Venue: Fox Hollow
Hair and Makeup: North East Bridal
DJ & Entertainment: Absolute Entertainment
MORE: Get Your Party Started with Absolute Entertainment
Transportation: Allstar Limo
Photography & Videography: Silverfox Studios
First Dance Lessons: Xtreme Rhythm 
Bridal Salon: Kerianne Meehan Bridal 
Beauty Prep: Smile Bar 
Invitations & Stationery: Red Letter Day Invitations & Design 
Catering, Food Trucks & Apes: Dolce & Gelato Catering 
Honeymoon Specialists: Melissa Patane Trip Guy Travel
Jewelers: Elegant Jewelers by Mike 
Alterations & Preservation Specialists: Bridal Alterations Studio by Kirstyn
Bands & Musicians: Crossing Midnight
Boudoir Photography: Alli Murphy Boudoir
MORE: A Look Inside Alli Murphy Photography's Boudoir Manor
Wedding Cakes & Baked Goods: Campbells Bakery
MORE: From Wedding Cakes to Doughnut Walls, Campbell's Bakery Satisfies Every Sweet Tooth
Hotel Blocks: Kleinfeld Hotel Blocks
Wedding Officiant: LI Officiant – Michele LaRosa Decor
Rentals & Accessories: East Coast Party Co.
Florist: Tom's Towers Flowers
Wedding Planners & Day of Coordinators: Events by Shannon
Fun Extras: Don't Toss the Bouquet
Photo Booth: LI Mirror Booth
MORE: Create a Unique Experience for Guests with Long Island Mirror Booth
Bridal Showers, Rehearsal Dinners & Bachelorettes: The View
Mens Formal Wear: Esquire Tuxedos
But what do they win? Bragging rights as a top BOLI preferred vendor, of course!
Since its inception, Brides of Long Island has had not only the best members ever, but the most amazing, talented and beautiful preferred vendors.
Being a BOLI preferred vendor means they've been handpicked and vetted by members and the BOLI team. You can't go wrong with any of the preferred vendors when planning your wedding day. And just like BOLI, our preferred vendors are part of our community and family.
Click here to see all of BOLI's preferred vendors.
And congratulations to all of the winners!
Are wedding guest dress codes a total "bridezilla" move? Or is it a way to ensure everyone looks and feels their best?
Black-Tie, White-Tie, Upscale Casual – there are a million ways to say (more or less!) the same thing: show up to my wedding looking good. But does enforcing a dress code seem a little …you know…bridezilla-y? Or is it a helpful direction for your guests to follow, so they won't feel out-of-place among the crowd? As with most wedding-related choices, wedding guest dress codes have their plus sides and their downfalls. We'll go over a few of them here.
What are common wedding guest dress codes?
Depending on the overall vibe of your wedding, you may want your guests to pull out their sequined gowns and long coattails, or dance the night away in fun cocktail dresses and sport coats. Here are some frequently-requested dress codes you may find on your next invite:
White-Tie: Super duper formal. Think straight-up elegance, like state dinners or royal banquets. White-Tie is also sometimes called "Full Dress" – which is what you'll need if you're invited to one!
Black-Tie: Less formal than White-Tie, but you'll still want to look fancy. Tuxes and floor-length gowns are expected. 
Formal Attire: There's a lot of room for interpretation with Formal Attire. You still have the option of Black-Tie, but a shorter dress (or even a nice pantsuit) and coat with tie would work well too.
Cocktail Attire: Here's where you can wear that amazing dress that seemed too over-the-top for the company party, but not nice enough for the Black-Tie wedding. Men can get away with no tie and a coat, or a tie with no coat. 
Beach Formal: Saying "I do" on the sand? Guests can wear flow-y sundresses, linen pants, and comfy (FLAT!) shoes like sandals. 
Upscale Casual: Ever been to an after-work Happy Hour? Where everyone still looks professional but a few buttons are undone? That's your Upscale Casual. A similar idea would be "Business Casual." 
Color-Specific: The bride(s) or groom(s) may want guests to wear the same color, like all red or accents of blue. This is usually requested for picture uniformity. 
Cultural or religious customs: Some cultures or religions require a certain manner of dress for weddings. The invite might go into detail on what's expected, but it's always best to reach out to the bride or groom with any questions or clarification. 
Casual: Show up in whatever! Jeans, everyday dresses, even a nice pair of shorts are all game here. Most people will intuitively dress a little nicer than everyday wear for a wedding, so if it's important to you that guests come not dolled up, you may need to make that fact well-known.
PRO: Dress codes give your guests guidance on what to wear
We've all been there – standing in front of the closet, combing through every dress you own trying to determine what to wear for that daytime wedding. Should you go long and black, even though the wedding is at 1pm? Will you look underdressed if you choose a knee-length skirt and blouse? With a dress code in place, your guests will have a better idea of what to pull from their wardrobe. Even a dress code with more ambiguity, like Cocktail Attire or Upscale Casual, will help your guests narrow down their choices and stress less about an appropriate outfit.
This is especially true if your dress code is cultural or religious in nature. The more explicit you can be about your expectations, the better!   
CON: Your guests may have to spend money on a new outfit
If you choose a more specific dress code, like White-Tie, Black-Tie, or certain color requests, chances are a number of your guests will have to spring for a new (or rented) dress, suit, or tux. When you factor in that expense with a nice gift, travel arrangements and accommodations, childcare…the cost of attending your wedding can get quite high – possibly too high for some.  
PRO: Everyone will look great in the pictures, with no one "standing out"
Let's be real: wedding photography is expensive. And when you're forking over the equivalent of a college semester for pictures, you want them to look AMAZING. And to you, "amazing" means all your guests are decked out in a certain color palate, with the crisp, clean lines of a coat or floor-length gown. If consistency and homogeny is important to you, then go for it! It's your wedding, and you make the rules. 
CON: Your guests may be uncomfortable
Imagine wearing a wool coat in the summer. Or a sequined dress when you basically live your life in leggings. Sure, most of us love getting super dressed up from time to time. But if you want a Black-Tie wedding in the middle of July, your guests may be so uncomfortable that it prevents them from having a good time. This goes for non-neutral color requests too – not everyone looks good in red, coral, or yellow, and they usually know it. 
And speaking of those all-important pictures again – if there's one thing that ruins a good shot, it's the body language of someone who's really uncomfortable. 
PRO: You won't be distracted by the guest who's under (or over) dressed
You've just said "I do." The officiant's given you the cue for that first married kiss. But instead of focusing on your new spouse, you can't take your eyes off the front row – where you see a guest in a cotton polo and cargo pants.
There are some brides that wouldn't think twice about an under (or over) dressed guest. But there are others that would find it hard to focus on other aspects of their day. You know yourself, and you know which of these categories you'd fall under. Make decisions on a dress code accordingly!
CON: Your guests may ignore the dress code 
If you've not provided a dress code, a guest in a cotton polo and cargo pants may catch your eye. But what if you HAVE provided a dress code? Would it be MORE distracting to see someone who has just ignored (or overlooked) your requests?
Listen, you'll always have the guests that don't RSVP, show up without gifts, or break other time-honored wedding customs. It's highly likely that at least one or two of your guests won't abide by a dress code – either by accident or on purpose.  And that may irk you even more. 
Whatever your decision on a wedding guest dress code, it's the right one! Remember – it's your wedding, and you get to make the decisions. 
Looking for a wedding dress can be so exciting! But don't forget these things while you shop.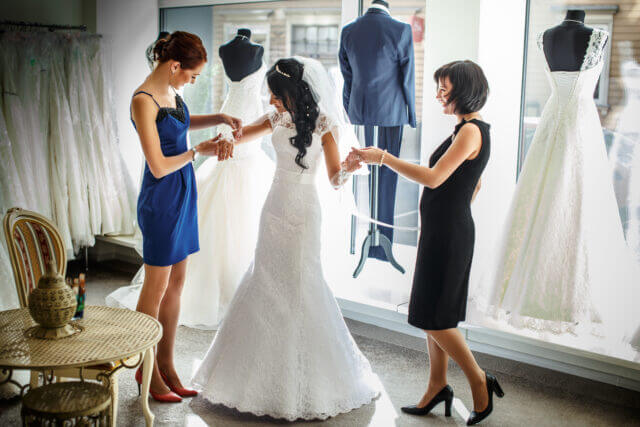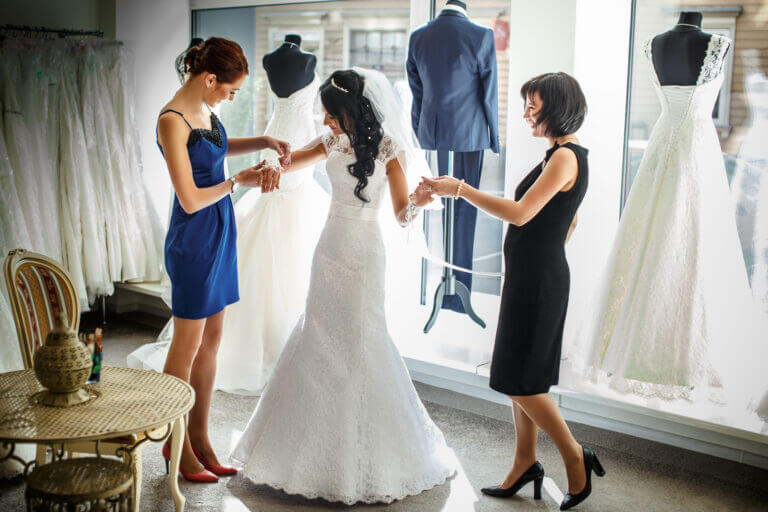 Every part of wedding planning can be exciting. But there's something about looking for a wedding dress that sort of makes it all feel real. And when you put on your first gown – even if it's not the one you end up with – it could bring a tear to your eyes.
In order to have the most amazing wedding gown shopping experience, here are six things to wear when dress shopping.
1 – Different Underwear
You're going to want to bring out your best panties here. You know, the ones that are seamless. A neutral color. If you're unsure of what style of dress, bring different styles of underwear, thong, bikini cut, etc. Or bring the pair that you love and know you'll wear on your wedding day because it is comfortable!
MORE: What you feel when you find THE dress
2 – Different Bras
Even if you know exactly the kind of dress you're going to get, you still want to give yourself options. This is why it's important to bring different styles of bras. Strapless, regular, plunge, push-up, one-strap, crossed in the back. Really the possibilities are endless when it comes to bras and your wedding gown. Pro Tip: If you plan to wear your regular bra under your dress, ask that hooks be sewn into the dress straps to keep the bra straps in place!
3 – Spanx/Shapewear
If you know you'll be wearing any sort of Spanx or shapewear under your gown, make sure to wear it the day you go shopping. This way, you'll get an actual idea of what the dress will look and feel like on the big day.
4 – Wedding Shoes
OK – We know you might not have your wedding shoes until after you find your dress. BUT, it's important to bring a similar style – particularly in the heel. If you know you're going to wear high heels, bring them. If you know you're wearing flats, or a small heel, bring something similar. AND, if you plan to wear high heels and then change at some point throughout the night, bring both styles to see how they'll look!
MORE: 6 of the Most Popular Wedding Dress Silhouettes – Which One Should You Choose?
5 – Hair Ties
Throw some hair ties or clips in your purse. If you know you're going to wear your hair up on your wedding day, you can toss it up while trying on dresses. Plus, you might be nervous and sweat while trying on gowns. And you'll be happy to throw your hair up and off your neck.
6 – Veil/Headpiece
Bring your veil or headpiece to make sure they go with the gowns you try on. If you don't have them yet, bring something similar. Or ask the bridal salon if they have a similar veil. This will give you a great sense of your full look that day.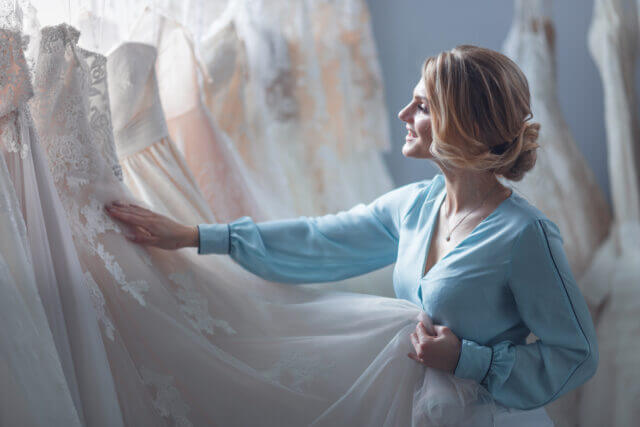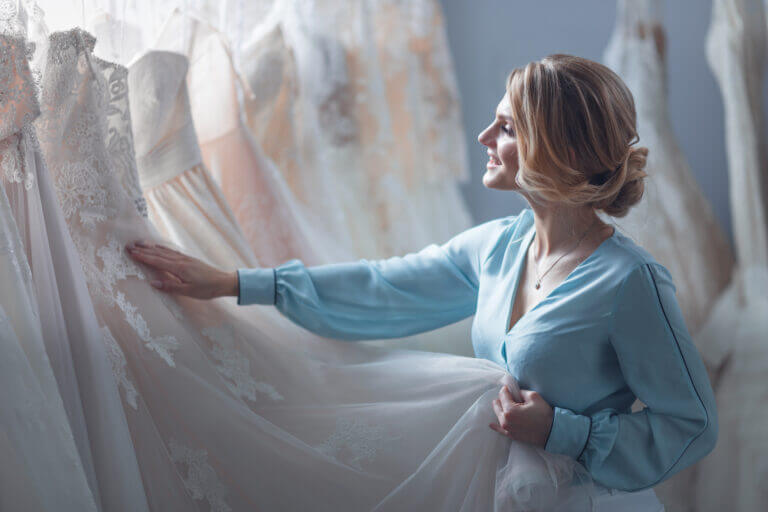 What you bring dress shopping is just as important as what you wear! Don't forget these essential things before you head out to your bridal salon. (And if you need help deciding where to go – check out our preferred vendor list!)
Pictures of Your Dress Inspiration
It's important to have at least some sort of idea of the style of dress. You may not know the designer, but you should know if you like A-line, ball gown, mermaid, etc. If you bring photos with you, it will give your stylist an idea of what you want. But remember to keep an open mind!
Your Phone
Or a camera. Sure you can see yourself in the mirror, but it's important to take photos to see what you look like. This way, after you leave, you can look them over to really see what you like and don't like. Just remember to hide them from your fiancé!
A Notebook
Or some place to jot down ideas, designers, what you like and don't like, etc. You can also jot down prices at different places to see what's in your budget.
An Entourage
OK. Maybe not an entourage, but you should bring your bestie or mother or future mother-in-law, etc. Someone who can "oooh and ahhh" with you. And share in your happiness when you find "the one!"
A Budget
This one is probably the most important. If you're on a strict budget, it's important to let your bridal salon know. This way they won't bring you beautiful gowns out of your price range. And that way, you can fall in love with one that's perfect for you and your wallet.
And remember BOLIs, you're beautiful! And you're going to be beautiful on your wedding day.