With experience on both sides of the aisle, wedding planner Shannon O'Connor of Events by Shannon is ready to help you curate the wedding day of your dreams.
Some brides are totally prepared to handle every intimate detail of their weddings. But for all the brides who've been scrolling Pinterest since high school, there are just as many who feel incredibly intimidated by the planning process. Where do you begin? What vendors should you hire first? How in the world do you even attempt to make a seating chart? If reading those last three questions raised your heart rate through the roof, you might want to consider enlisting some expert help.
Shannon O'Connor of Events by Shannon (a BOLI preferred vendor) knows what it takes to plan a beautiful wedding – and she has the insider knowledge (and first hand experience) to bring all of your visions to life. 
"I want to plan weddings and see where this could go." – Events by Shannon
For O'Connor, the pull towards wedding planning started during her college years. "I was in school, going for pre-med," she remembered, "and two years into it I said, 'this isn't for me.'" Deciding on her future meant taking some inspiration from the past. "My mom did a lot of parties growing up and I always loved helping with them, getting everything organized and set up. So I thought 'I want to do parties, I want to plan weddings and see where this could go.'"
Aside from inspiration, Shannon also gained some valuable experience from her past. "When I was younger, I actually worked at East Wind" – a fellow BOLI preferred vendor. "It was there that I gained experience serving wedding guests, and watched maitre d's run a wedding reception. This was also when I realized I wanted to get in on wedding planning at an earlier stage than just the day of the wedding itself."
After graduation, Shannon took some bold initiatives to help develop the skills she'd need. "I started searching for local wedding planners on Instagram and reached out to any & everyone I could find to see if they would be interested in hiring an intern," she recalled. "I eventually found a taker and began helping her out on some of her weddings for the season. As I was gaining all of this valuable experience from a seasoned pro, I was also building my own business from the ground up. I did a few bridal showers and events like that, and it gradually grew from there." 
Perhaps the best experience she could gain was as a bride herself. "I recently got married on March 25th," said Shannon. "So now I have a real insider view on what it's like! This has helped me tremendously to anticipate my bride's needs." 
"We take things a step at a time." – Events by Shannon
Shannon offers clients a full service planning package, which as she describes is "pretty much the whole shebang."
"Full service is definitely more of a 'blank canvas' type of thing," Shannon explained. "Some brides will come in saying 'I don't even have a venue.' Or other times a bride has picked a venue, but now they don't really know where to go from there. That's where I come in and help."
From there, she begins looking at each piece of the wedding day puzzle. "First we try to get a solid budget down, what they can really spend. Then we break it down into categories, looking at each vendor, and then I start helping them book those vendors. I take them all the way from the beginning stages of planning, straight through the wedding day." 
Shannon understands that the planning process can seem very overwhelming. "Sometimes people come in thinking 'Oh my gosh, we have to do everything right now. If you have that fear, know that you don't have to do everything at once. We take things a step at a time." 
"I want to make sure that I know every single detail." – Events by Shannon
While many wedding planners will offer day-of coordination, Shannon prefers to enter the picture a little sooner. "I do month-of coordination, which is what some people might consider day-of, but you're just getting a little more help," she described. "You've worked on this wedding for so long, and I want to make sure that I know every single detail, and I have talked to every single vendor, and everyone's on the same page."
Shannon's Month-of Coordination package offers brides a designated "point person" who  ensures their day runs smoothly. "I'm working with the maître d' or the caterer, the photographer, the videographer, the DJ – making sure everyone is on the same timeline and pulling everything together," she said. 
Having a month-of coordinator is not only beneficial for the vendors on your team, but for your family and friends as well. As Shannon mentioned, "a lot of brides find it helpful to have that point person for not only the vendors, but also for the bride and the groom, bridal party, and parents. That way, their close family is less worried about all those little details and they can actually be there and enjoy the day with the bride and groom."
Soon Shannon will begin offering "wedding management"- an option that's in between a full service planner and month-of coordinator. "It's right in the middle of the two," she said. "I would come in three months prior to the wedding and help to plan decor details, seating charts, and stuff like that. With month-of coordination, you don't really get those kinds of things. So management is a medium ground." 
"I've been in their shoes, and I want them to have the best day possible." – Events by Shannon
Being a newlywed herself, Shannon has some words of wisdom for Brides of Long Island – from both a personal and professional perspective. "Try not to overwhelm yourself with too much at once," she advised. "I always say, limit things to three options. If you're looking at a bunch of venues online that's great, but don't go see ten venues –  you're just going to drive yourself crazy. So limit it to maybe three places that you want to go see. You can apply that same concept when booking all of your vendors."
She also suggests being realistic about your budget. "It's a big thing, make sure there's clear communication as early as possible about what your budget is. You don't want to start falling in love with venues or vendors that you really can't afford."
As many recent brides will attest, Shannon confirms that there are bound to be a few hiccups on your big day. "Nothing is perfect in life," she said. "You can plan all you want, and obviously planning is great. But when the day comes, you never know what life's going to throw at you. Take things as they come and let go of the small things. You're marrying the love of your life and no matter what – if it rains, if it's sunny – it's going to be the best day ever because it's your special day."
"And most importantly, enjoy every second," Shannon added. "Everyone says it, but it's true – the day flies by. I've been in their shoes, and I want them to have the best day possible. Let me sweat the small stuff while you soak in that 'just married' feeling, and enjoy celebrating with those who love you most!"
Whether you are crafty or not, these DIY ideas are perfect for anyone.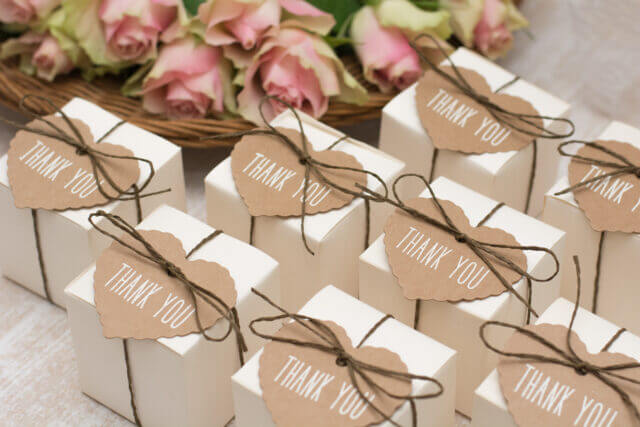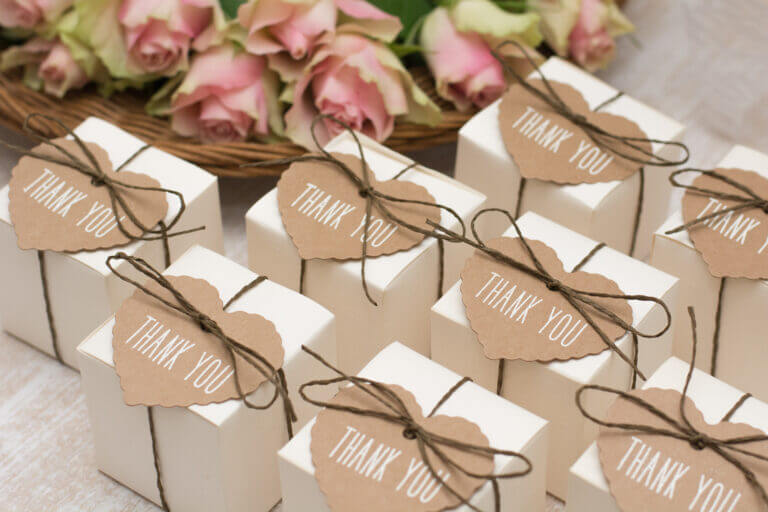 Do you have Pinterest boards of amazing ideas for your big day? Or maybe you're trying to save some money for other fun things for your wedding. Either way, there are so many do-it-yourself projects you can do for your wedding, the possibilities are endless. And here's the kicker, you don't necessarily have to be crafty to do any of them. All you need is your imagination and creativity.
It's time to channel your inner Martha Stewart, so make a wedding playlist on Spotify or Pandora, dust off your Cricut and start searching Pinterest for inspiration. Here are nine wedding DIY ideas that any BOLI can tackle!
Centerpieces
Hear me out. Flowers are great centerpieces, but why not research alternatives? Lanterns or faux flowers, candles and fake rose petals can be just as beautiful and probably half the cost. With a couple of  Michael's or Joann's trips or online orders, you could really create some beautiful centerpieces that are sure to wow all of your guests. You can get as creative as you want. My husband loves golf, so we made flags for each table (luckily we had 18). Simple wooden posts in a Styrofoam half ball base and paper at the top – a nice unique and personal touch to the day.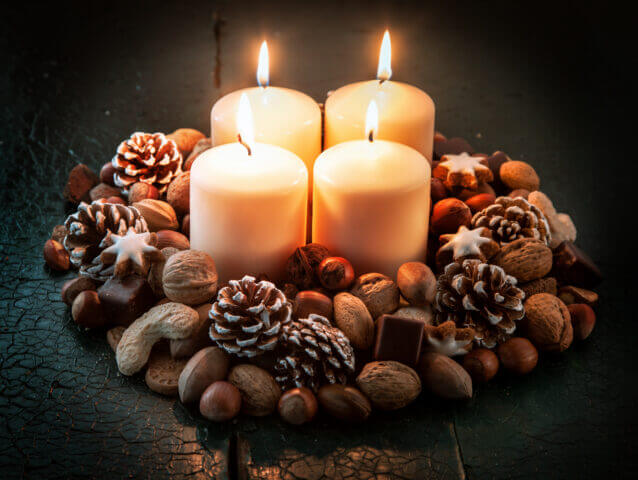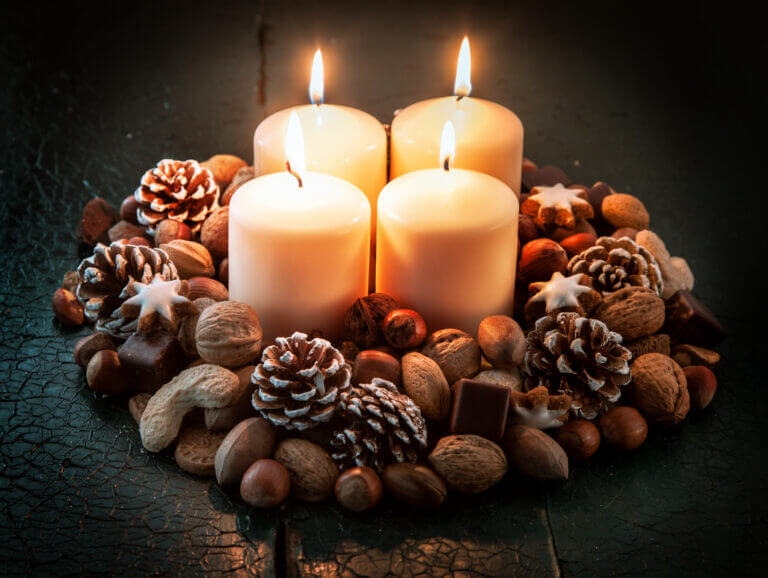 MORE: Other centerpieces that aren't flowers
Place Card Table
Sure, every venue has a generic table for the place cards – but make it fun and unique. Sticking with our golf theme, we cut a wooden board, stapled fake greens on it and even had a flag and a sand trap. If you have a theme, get creative. Again, take a look on Pinterest for inspiration.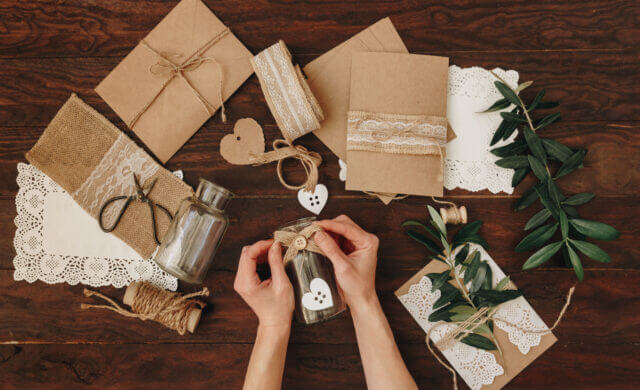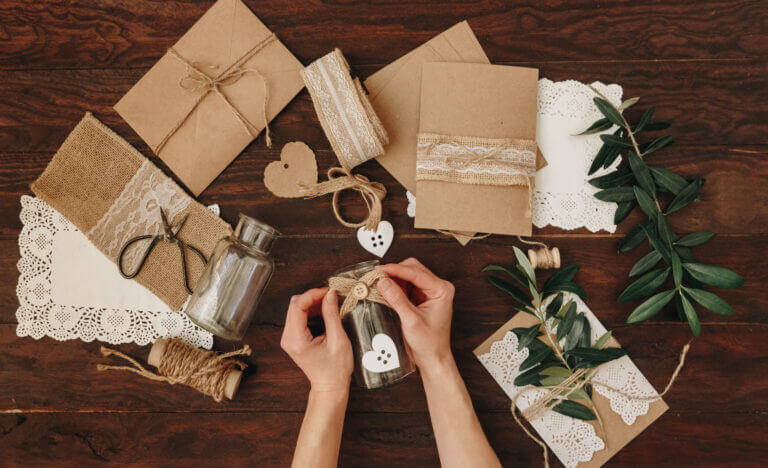 Seating Chart
Sticking with the theme of seating, if place cards aren't your thing, you can create your own seating chart. The possibilities are endless here. From a fun clothes pin/line to a mirror or maybe just a simple board with the guests' names and tables. Break out your Cricut if you're really feeling crafty.
Bouquets
Think outside the box here. Brides are using wood flowers or even fake flowers to create beautiful bouquets for themselves and their bridal parties. These can be things you create in the comfort of your home at a fraction of the cost. But get even more crazy and choose unique bouquets that will wow your guests. Think mason jars, lanterns and more.
MORE: 8 Unique Bouquet Ideas That Aren't Flowers
Favors
You'll have to think outside the box with this. Sure, you can package up candy or customized cookies, but ordering those can get expensive. If you're a baker or a cook, maybe you could make some simple pot holders or dish towels. Granted you have to have a sewing machine for this – but if that's your thing – this could be a fun way to pass the time.
Save the Dates/Invitations or Programs
Depending on where you are on the planning process, you could easily design your save-the-dates, invitations or programs yourself online. Sites like Shutterfly, Minted, Snapfish or even Walgreens have so many designs that you can customize yourself. If you're unsure of how they will turn out, some sites will send you samples before you make a purchase. 
Signage
If you have that Cricut machine, break it out and start making signs that you want at your wedding. Anything from the welcome sign and signature drinks to a fun Just Married sign.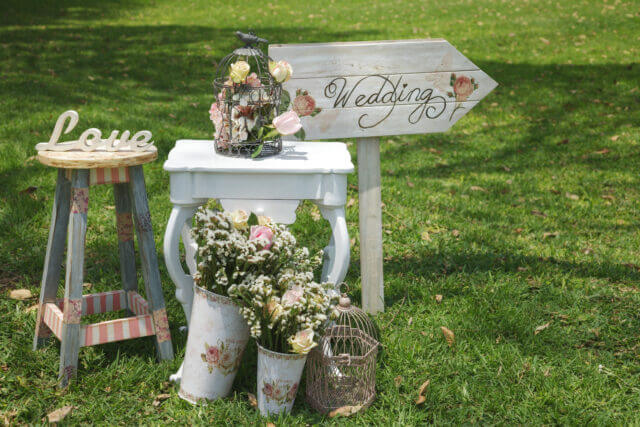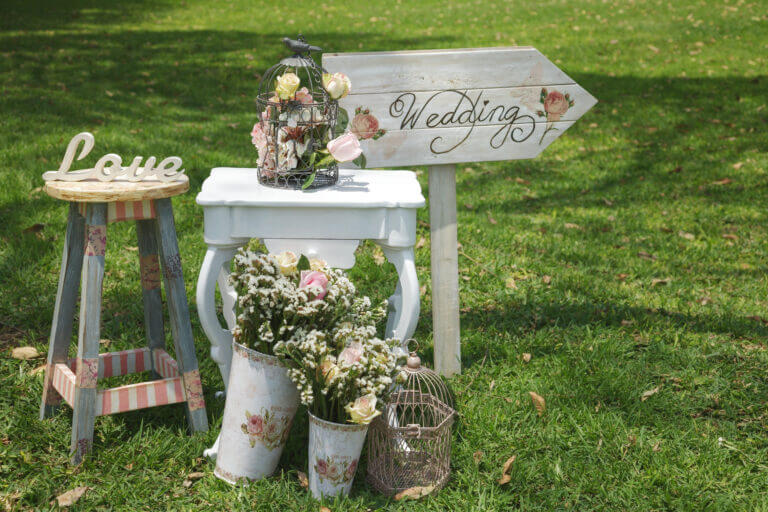 Menus
Some venues offer menus. But for those that don't, or for brides who want to be a little different, create those menus at home. Find some good study paper and design a menu that fits your theme.
Bridal Party Proposal Boxes
Again – get online, order some things and get this out of the way. Whatever the theme, Amazon is sure to have what you're looking for. This one is a no brainer if you're at the beginning of planning.
MORE: 7 Ways to Save For Your Wedding
Bonus: Make Your Wedding Album
If you're already married, save a ton of money and make your own wedding album. Granted a lot of photographers include this in their package. But for brides who didn't purchase one, sort through your thousands of photos, pick any site online that has the best deal, and make the album yourself. You'll have a blast reminiscing about the best day ever.
The sky is the limit when it comes to DIY wedding ideas. Depending on how creative you are, you could really do any and all of the things for your wedding. Plus, while you work on your DIY wedding projects, it will get you excited for what's to come and could save you money in the long run.
You're inviting married couples, non-married couples that live together, couples with children – how do you address your wedding invitations? Here are all the ways!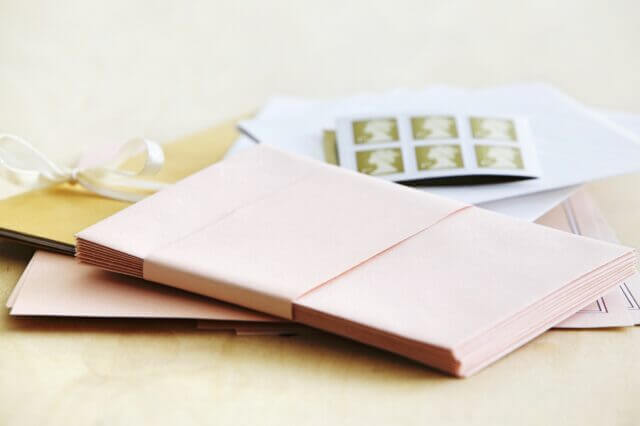 You can't wait to celebrate your wedding day with friends and family! But as you start putting everything together, you may start to wonder – how do you address your wedding invitations? Here's the proper etiquette for nearly any guest on your list. 
1. Married Couples
If your invitation is more formal or traditional, heterosexual married couples should be addressed by the husband's title and name on one line:
Mr. and Mrs. John Smith
If your invitations or more informal or casual, you can list both the wife and husband's first names:
Mr. and Mrs. John and Jane Smith
If a wife has chosen to keep her maiden name, envelopes should be addressed with the following format:
Mr. John Smith and Ms. Jane Johnson
The same format can be used if a wife has chosen to hyphenate her name:
Mr. John Smith and Ms. Jane Johnson-Smith 
For same-sex couples, use one line and list names in alphabetical order by last name:
Mr. James Matthews and Mr. Peter Richards
or
Mrs. Sarah Goldberg and Mrs. Melanie Steele
For same-sex couples who have taken one name or chosen to hyphenate their name, one of the following formats can be used:
Mr. Adam Phillips-Green and Mr. Christopher Philips-Green
or
The Messrs. Adam and Christopher Phillips-Green
or
Mrs. Brittany Jones and Mrs. Claire Jones
or
The Mesdames Brittany and Claire Jones
 If you're unsure how a married coupled would like to be addressed, don't be afraid to reach out and ask for their preference.
2. Married couples with titles
If a husband has a title and a wife does not, use one of the following formats:
Doctor and Mrs. John Smith
If a wife has a title and the husband does not, list the wife's name first:
Doctor Jane Smith and Mr. John Smith
If both the wife and the husband have the same title, list them together:
The Doctors Smith
For a same-sex couple, list the husband or wife with the title first:
Doctor Claire Jones and Mrs. Brittany Jones
For a same-sex couple where both have titles, use the following formats:
The Doctors Phillips-Green
or
Doctor Sarah Goldberg and Doctor Melanie Steele
Again, if you're unsure how a couple would like to be addressed, it never hurts to ask!
3. Families 
If you're inviting all members of a household and your invitations are more casual, you can list the family name:
The Smith Family
If you're invitations are more traditional and you're inviting a family with children under 18, list the married couple on one line and their children on the second:
Mr. and Mrs. John Smith
Maxwell and Kaitlin
Or
Mr. John Smith and Ms. Jane Johnson
Maxwell and Kaitlin
Children over the age of 18 get their own invitation, even if they live in the same household.
4. Non-married couples 
Non-married couples are listed on two separate lines:
Mr. Michael Thompson
Ms. Hannah Gaines
or
Ms. Nadia Khan
Ms. Christina Nelson
5. Non-binary and trans guests
Typically, the title for a non-binary or gender-fluid guest is Mx:
Mx. Cory Holloway
Mx. can also be used if a guest is trans and Mx is their preference. However, you can choose to use the title that correlates with their preferred pronouns. ALWAYS list the name they identify with – never use a deadname. 
Ms. Cory Holloway
or
Mr. Cory Holloway
If you are unsure how a non-binary or trans guest would like to be addressed, reach out and ask them. 
6. Military Personnel
If a guest is unmarried, they are addressed by rank, first and last name, and service branch in the following format:
Colonel Steven Brown, U.S. Air Force
If a husband is in the military a wife is not, list in the following format:
Colonel and Mrs. Steven Brown
If a wife is in the military and a husband is not, list in the following format:
Colonel Felicia Brown and Mr. Steven Brown
If both a husband and wife are in the military, list them on separate lines with their title and branch:
Lieutenant Steven Brown, U.S. Army
Colonel Felicia Brown, U.S. Navy
For unmarried couples, list the service member and their branch on one line and their partner on the second:
Colonel Nancy Adams, U.S. Air Force
Mr. Joseph Walters
For married same-sex couples, the same formats as above are used:
Colonel Richard Crane and Mr. Paul Jackson
or
Lieutenant Amy Dennis and Mrs. Whitney Dennis
or
Sergeant Sherry Keller, U.S. Army
Lieutenant Andrea Langford, U.S. Army
7. A divorced guest
A divorced male-identifying guest would be addressed as he would if he was single:
Mr. Lawrence McMillan
If a male-identifying guest changed his name or hyphenated it during marriage, reach out and ask how they would now like to be addressed.
If a female-identifying guest has kept her married name, list Ms. (or other professional titles) followed by her first, maiden, and married last name:
Ms. Rebecca Peterman Williams
If a female-identifying guest has resumed use of her maiden name, address as you would if she were single:
Ms. Rebecca Peterman
8. A widowed guest
If your invitations are more traditional, address a widowed woman using her title and her husband's first and last name:
Mrs. Andrew Crawford

If your invitations are more casual, use a widowed woman's first and last name:
Mrs. Silvia Crawford
If your guest kept her maiden name during marriage, address her using her own first and last name:
Ms. Amanda Geller 
9. A guest with a plus one
If you're inviting a guest in a long term relationship, use their partner's full name. If you're not sure of their partner's name, reach out and ask. If you are inviting a guest with a plus one of their choosing and you're not aware of who they will invite, indicate it on their RSVP card ("Mr. Brian Martin and Guest") and address their invitation only to the guest ("Mr. Brian Martin")
In Brides of Long Island's Monthly "Mrs." series, we profile some of our members' unforgettable weddings. This month, we spoke with Gaelle Ligondé about going with her gut on her first date with Daniel Achstatter, to all of the personal touches she added to create the perfect wedding night.
Gaelle Ligondé met her husband Daniel Achstatter on OK Cupid "when that was a thing," she says. After speaking online, they finally met in person. And if you know Gaelle and Daniel, you will know that this first date was probably the first of many 'misadventures,' as she calls them, in their relationship. She explains that they met in an industrial part of Oceanside at Barrier Brewery. At the time, she says that the brewery was near a lot of warehouses and train tracks. "He didn't really think about me meeting someone I've never met in a place like that." But she says, even though she got lost, she called him for directions and the rest is history.
Hit the Ground Running
After eight years of dating, Gaelle says Daniel proposed in May of 2021 at the Croton Reservoir State Park. "I knew it was coming," she says. She says she helped pick out the ring, and had a feeling when they went to the park that it was going to happen – "I'm very hard to surprise." Even though she knew it was going to happen, she says she sobbed like a baby when he took out the ring.
Since she had an idea of when they were going to get engaged, Gaelle says she did some "loose but not so loose planning" ahead of time. "I had a Google doc with venues to go look at eventually, once I got the ring on," she says with a laugh. So shortly after he proposed, Gaelle says they started to look at venues and speak with vendors on her list. Within two weeks, she says they booked the Westbury Manor, a BOLI preferred vendor, for July 8, 2022. And a few weeks after that, all of the bigger vendors were booked. "Within the first, maybe two-three months, I had about 75% of it done."
Seeing all of the brides dealing with COVID, she was happy she was able to get all of the vendors she wanted. She says she's glad she did all of her research ahead of time, because it made booking the vendors they wanted quicker and easier. "It was very smart of me, because I spent most of the year just not worrying about anything because I had most of it planned."
Gaelle says even though she booked her vendors early on, she relied on the BOLI Facebook group to read reviews of brides who used them! She was happy to read about people's experiences in real time, as it put her mind at ease knowing she was going to be in good hands.
MORE: 6 Reasons Why You Should Hire a Wedding Planner
Perfect Vendors
Gaelle says that every vendor she picked was wonderful. "I did not have to worry about anything the day of because I knew my vendors would do their job." One of the standout vendors of the night? Her MC, Carlton, with After Hours. Choosing a DJ was a big decision for both Gaelle and Daniel, as they both love to dance and are particular about their playlists. It was also important to Gaelle that her DJ play Haitian music, as her family is Haitian. She explains that when they first met with After Hours, the head of the company said their MC Carlton was Haitian and spoke Creole. "He was awesome!" says Gaelle. "He might have had more fun than anybody else at the wedding! It felt like a friend was MCing our wedding."
Another great vendor? Her photographer Elvira. "She made sure we got all the shots we wanted, even the goofy ones. She was pleasant to work with and made me relax."
But the real standout of the day? The priest at Sacred Heart Church. While Gaelle and Daniel didn't intend to have their ceremony at a Catholic church, it was important to Gaelle's parents. "We weren't opposed to it, it was more about logistics," she explains. Father Stephen Brigandi was so easy to work with, Gaelle says. And since it wasn't originally in their plans, Gaelle was specific with some of her requests, which Father Stephen gladly fulfilled. "He let us have our processional song played by one of our friends; he let us say personal vows (after the church vows) and he let me sit next to Daniel during the ceremony," she says. Gaelle adds that his homily was the best she's ever heard, from "not knowing us and our relationship, he still managed to encapsulate what our relationship is in the homily. I don't know how he did it."
MORE: 5 Reasons Why You Should Choreograph Your First Dance
Playful Misadventures
Despite one of her bridesmaids getting COVID the day before, and a minor miscommunication with the timeline, their wedding day went off without a hitch. And Gaelle succeeded in not only making her guests happy but in pulling off a prank during their first dance! Gaelle asked her DJ to play the Train song "Play That Song," a song that Daniel is not a fan of, instead of their agreed upon song of "Wagon Wheel." "He didn't realize it at first, and he kind of went with it," she says. They eventually did get to dance to a special version of "Wagon Wheel" after the prank.
Seems perfect when their sort-of theme was 'Misadventures.' "Basically, misadventures mean when things go wrong and in the moment it kind of sucks, but later on it's funny thinking about it," says Gaelle. "And later on, you're kind of happy it happened." To stick with that theme, each table was named after a misadventure in their relationship and a photo to go with it. "One of them was Maine, because we went to Acadia National Park and we almost got stuck on a mountain at night." And when they could, they put people at the tables who were actually part of the misadventure!
Some other personal touches that Gaelle says really wowed her family and friends? A cardboard cutout of their dog that sat at their sweetheart table, a memorial table to remember those they've lost, and their cake which incorporated both families' backgrounds. "It made some of our family members cry. It was heartwarming to know that all the little things I did to show our families together was appreciated by everyone."
Speaking of crying, Gaelle says she made Daniel cry with one of her gifts to him – a pocket watch with a picture of his uncle who passed away inside. "I tried to make various people cry at this wedding, and I very much succeeded, and I'm very happy about it."
MORE: Summer Soiree? Fall Fête? A Breakdown of Weddings by Season.
Feeling Lucky
Gaelle says she considered herself lucky when it came to wedding planning and the big day. Even though the day itself went fast, she says she and Daniel remember so much from the day, even more than they thought they would. "It was fast, but we remember so many things because we took the time to sit there and appreciate every single moment."
A favorite moment of theirs? Whenever they took the dance floor, it seemed like the two of them were in their own little world, as everyone in the background seemed to fade away for that moment. She was happy she and Daniel got to spend most of the night on the dance floor with their guests.
Do What You Want
As far as advice for other Brides of Long Island, Gaelle says to just trust your vendors. "If you trust them, your day will be fine." She adds that it's true when everyone says 'do what you want.' "It's your wedding, if you want to splurge on something, do it!" She explains that anything she splurged on – such as a caricature artist and a trolley – was worth every penny.
And just like other brides who have graduated, Gaelle says to just take in the moment and enjoy your day. "Focus on having a good time with your husband, and friends and family."
Vendors:
Venue – Westbury Manor, a BOLI Preferred Vendor
Church – Sacred Heart Church – North Merrick – Father Stephen Brigandi
Partial Planner/Designer/Florist – XClusive Events (Trisha Sanyal Chavis) & Fleureque Design
Photographer – Elvira Kalviste (w/Clarence)
Videography – Silverfox Studios (Lenny & Brian), a BOLI Preferred Vendor https://www.bridesofli.com/vendor/silverfox-studios/
DJ – After Hours (MC Carlton, DJ McLovin, Percussionist Bopa)
Caricature Artist – Art Vila
Transportation – Mark of Elegance (Trolley/Bentley), a BOLI Preferred Vendor
Transportation – Cardinal Car Services (end of night)
Hair – Miesha Edmund
Bridal Party Hair – Pam Nicosia
Makeup – Amber Taylor Artistry
Invitations – Stationary Bar, a BOLI Preferred Vendor
First Dress & Veil – Paisley Bridal
Reception Dress – David's Bridal/Carmella
Cake – Front Street Bakery
Suits – Advance Formal Wear
Rings – SVS
Floral Preservation – Blocks of Love
Need help planning your wedding? These questions will guide your decision to choose the best planner.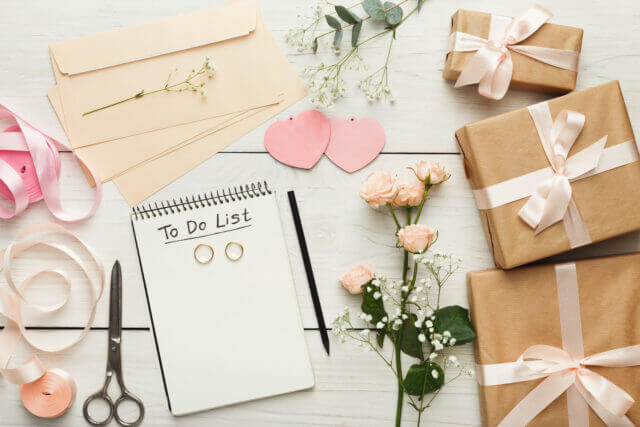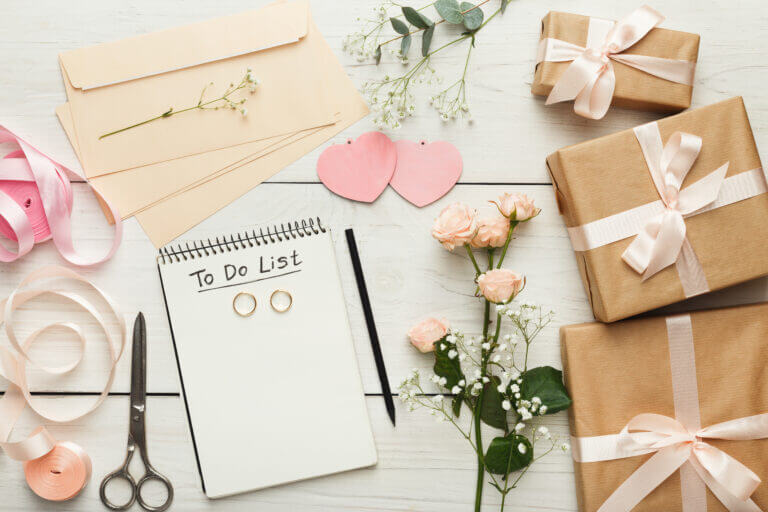 If the thought of planning your entire wedding is really stressing you out, there is always the option of hiring a wedding planner. Someone who will field all of those phone calls, make all of those appointments and worry about all of those little details that you may not have time to deal with. Choosing the perfect wedding planner might be adding to your stress, but don't let it! Brides of Long Island is here to help. Not only do we have amazing preferred vendor wedding planners, but we'll help guide you to choose the right person for your day. Here are 19 questions to ask when hiring a wedding planner.
1 – Are you available for our date?
2 – How much are your services?
Pretty straight forward question. Some may charge a flat rate for their services (similar to other vendors), while others may charge a rate for different things they need to do.
3 – What's included?
Just as with the pricing, you should find out what's included with the services, ie. phone calls to vendors, meetings with vendors, etc. Is the dress rehearsal included? Bridal shower, etc.
4 – How hands on do I need to be?
If you're the type of person who just wants someone else to handle everything completely, you'll need to find a planner who can do it all for you.
5 – How hands on can I be?
And just like the bride who wants to give away all of the responsibility, you may be the bride who wants to still hold some power and decision making. So, you'll need to find a planner who will work alongside you to plan.
MORE: 6 reasons why you should hire a wedding planner
6 – I just need a little guidance. Can you do that?
And if you're the bride who wants to plan but just doesn't know where to start, find a planner who can guide you through the process each step of the way. (Oh, and make sure you turn to the BOLI Facebook family!)
7 – Will you be there the day of my wedding?
If you need a day of coordinator to make sure everything goes smoothly, ask this question when hiring a wedding planner.
8 – Do you have a list of vendors you prefer to work with?
9 – How many clients do you take on at the same time?
10 – How long have you been a wedding planner?
MORE: 8 Tips to Help Throw a Backyard Wedding
11 – Do you have any references or reviews?
12 – Have you worked with our vendors/venue before?
Ask this if you have already booked some vendors and/or your venue, and you just need someone to coordinate contracts, phone calls, planning, etc.
13 – How do you handle paying for the vendors/venue?
For example, do you pay the planner who then pays the vendors? Or will you still need to pay the vendors directly?
14 – Can you make my wedding vision come to life? And how would you plan to do it?
If you have a specific vision you've been dreaming about for your wedding, ask this up front. Ask specifics about how they would plan to execute your vision.
15 – Do you provide honeymoon planning?
If you plan to take a honeymoon, it's worth it to ask up front. They might be able to help or recommend someone they work with.
MORE: I'm Not A Bridezilla, I Just Know What I Want
16 – Will it be you I'm working with or someone else in the company?
17 – How often do you check in with brides throughout the planning process?
18 – What sort of backup plans do you have in the event of XX?
XX means anything – a vendor cancels, there's bad weather, you need to change the date, etc. And definitely ask if they have a backup plan if they get sick or have an emergency the day of your wedding.
19 – What is your refund or cancellation policy?
After you meet with each possible wedding planner, compare notes on each one. Find someone who you are comfortable with and who you jive the most with. Since you are leaving the fate of your wedding day in their hands (or most of it anyway), you want to make sure you choose the very best one for you. Someone who can bring your wedding vision to life and make your wedding day the best day ever!
Treat yourself to something cool from the BOLI store. 
Classics are classics for a reason! But if you're looking for a departure from the norm, here are 7 wedding gown options that will set you apart.
A-lines, mermaids, and long lacy veils – oh my! There's no doubt that a traditional bridal wardrobe is gorgeous. And let's face it: at what other point in your life will you get to wear a big, beautiful ball gown and not be looked at with a little bit of side eye? But the conventional may not speak to your spirit, your soul, or your style – and that's okay! Your wedding dress should be a reflection of YOU. If you want to play around with some unorthodox ideas, here are 7 wedding gown options that will set you apart.
1. A shorter length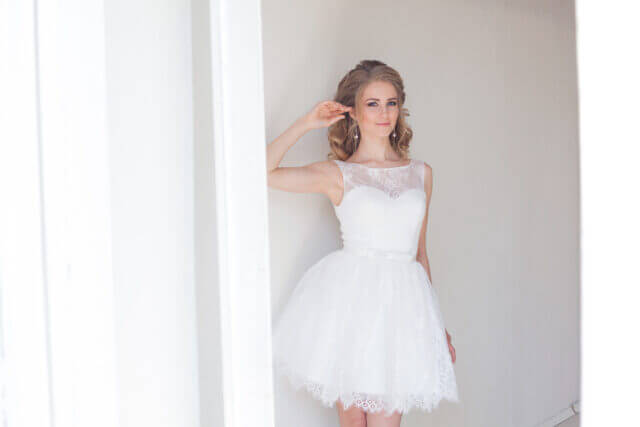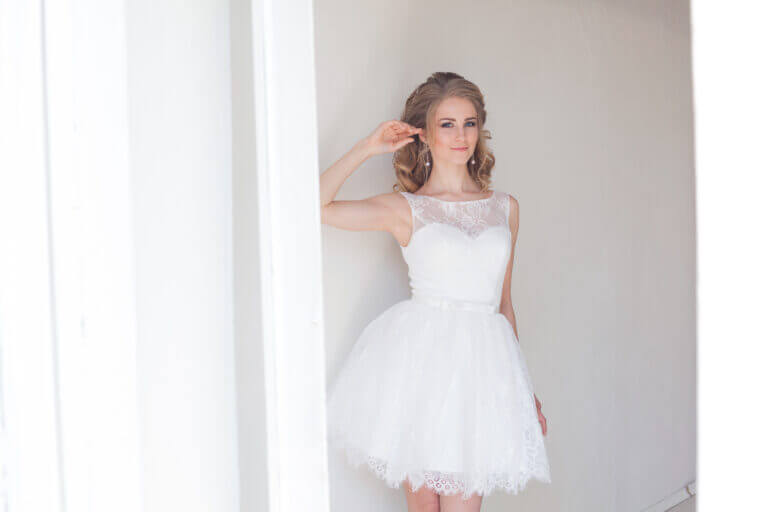 Sure, plenty of wedding gowns are floor-length with long, billowing trains – but they definitely don't HAVE to be. A shorter, cocktail-length gown may better suit your vibe (and it would be WAY cooler if your wedding is in the summer months). You can have a beautiful, cute, and classy gown that will give those gams some breathing room. 
2. A color other than white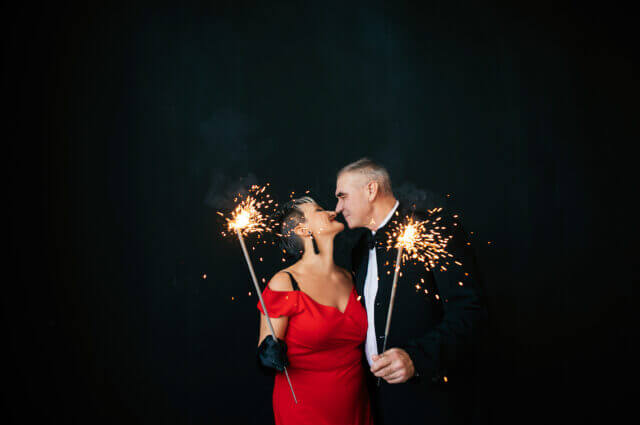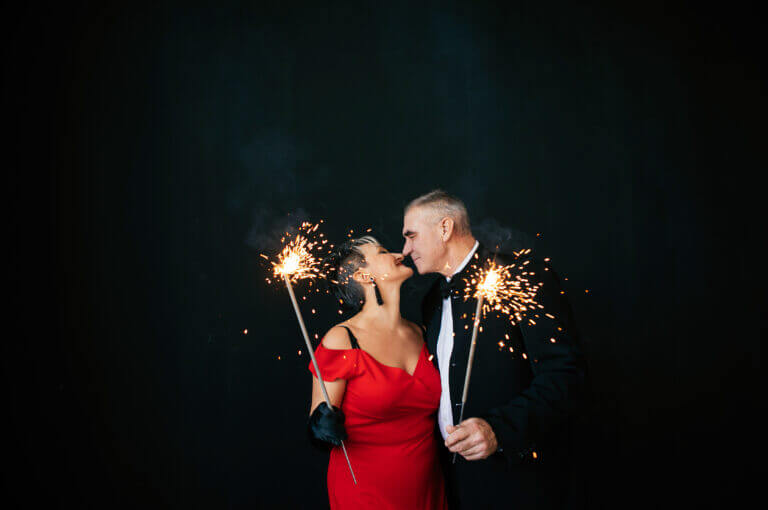 Not into ivory, eggshell, or mother-of-pearl? No problem. There's nothing that says a white wedding dress is a must. In fact, in many cultures it is customary to wear reds or other vibrant colors. 
3. Swap out the veil
 Trade the lace for a fascinator, a flower crown, or even a hat! 
4. Explore textures, patterns, and embroidery
If you love a good paisley, why not wear it on your wedding day? Or if you're an expert at embroidery, what better to way to add a personal touch than to add a few unique designs to your gown?
5. Try a cape or shawl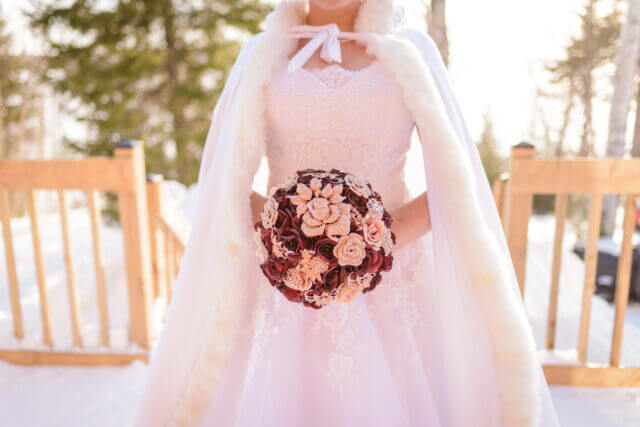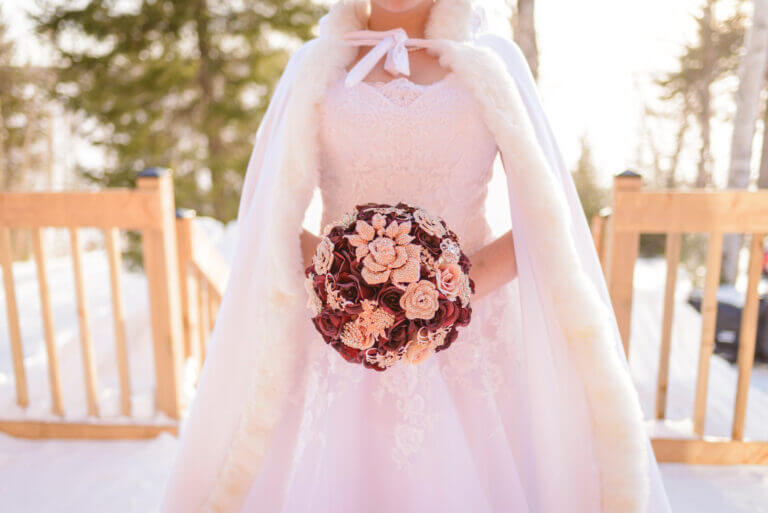 Add some texture to your silhouette with a cape or shawl (a handy addition for those chilly winter months)!
6. Choose an interesting silhouette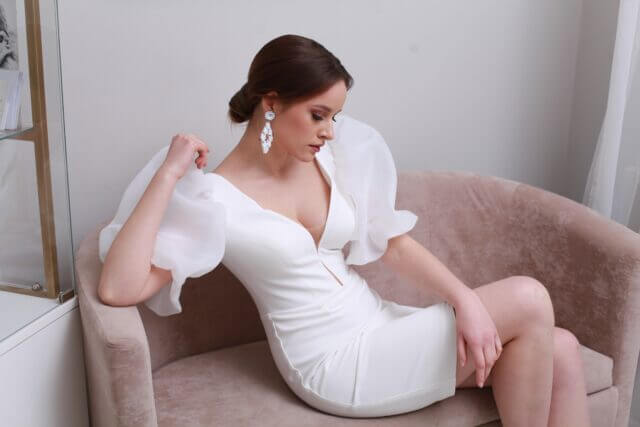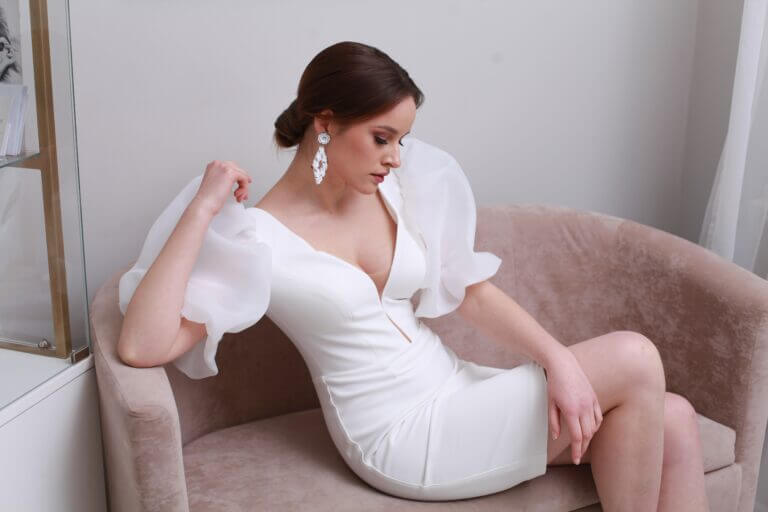 On the subject of silhouettes – think outside of the box! Maybe a bodycon dress, poofy sleeves, or an asymetrical hemline are more your style.
7. Ditch the dress altogether
If you've never been one to enjoy wearing a dress, ditch it! Get a tailored pantsuit instead.
From friends to family, here is how to handle someone who wants to wear white to your wedding.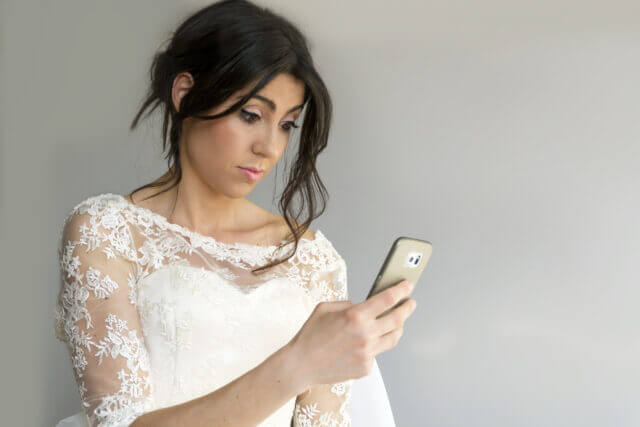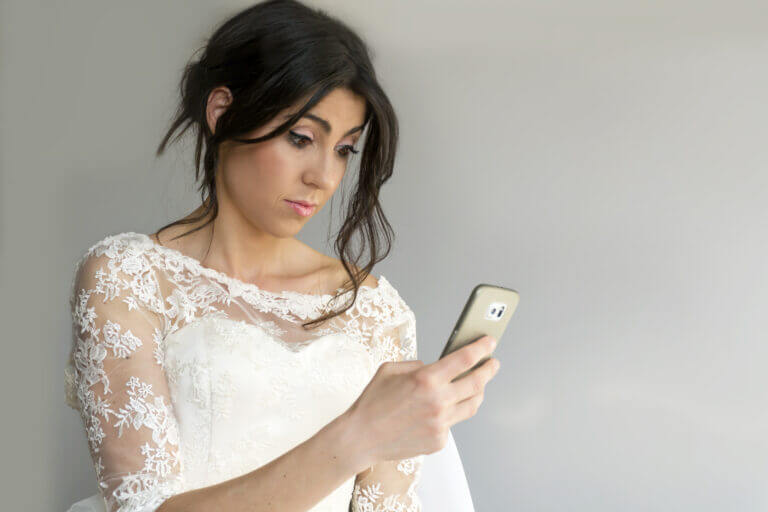 The day has come, you're engaged!!!  As you start your wedding planning, you could run into some bumps in the road. And some of those bumps you may think you would never have to deal with. For example, one of your guests wants to wear white! And as we all know –  if you're not the bride, don't wear white. Please. But it's bound to happen to a few brides as they plan their big day. Here are a few situations you may find yourself in and ways to handle someone who wants to wear white to your wedding.
Your Family Members
For whatever reason, your mother or future mother-in-law or siblings or cousins – you get the picture – have it in their heads they want to wear white. If you find out with enough time, we suggest sitting them down and explaining how important it is that you be the only one wearing white on your wedding day. You could offer to go shopping with them to pick out a dress or gown to wear on your big day. If they are still insistent, and you're comfortable with it, suggest they choose off-white or beige instead. It's a compromise that hopefully everyone will be happy with.
MORE: My Wedding, My Decisions, No You Cannot Bring Your Child
Your Friends
Those in your girl tribe who aren't in the bridal party may want to wear white. If you get wind of this, and have a trusted bestie who also knows this friend who wants to wear white, have them suggest a different color. Or if they are chill, have your bestie explain the situation. But if you feel comfortable enough, just as with your family members, you could always have the conversation yourself.
MORE: I'm Not A Bridezilla, I Just Know What I Want
Your Parents' Friends
If you hear that one of your parents' friends wants to wear white, we suggest having your parents run interference here and suggest they choose a different color. They can explain that their daughter would prefer to be the only one wearing white on her big day.
If confrontation isn't your thing, and you do get wind that someone wants to wear white on your wedding day, unfortunately there's not much else you can do. Yes, you can have a friend or family member talk to the future guest, but ultimately, we all know we can't make anyone do anything they don't want to do.
If you do see someone wearing white, just remember –  no one is looking at them, and everyone is looking at you! It's your day. The color that a guest wears isn't what's on anyone's mind. They are there to celebrate and be with you and your future spouse.
MORE: Don't Sweat the Small Stuff
And for any BOLIs who will be wedding guests, unless the bride asks you to wear white, choose any other color dress or outfit while in attendance. If you absolutely want or need to wear white, choose a fun scarf or accessory that is the complete opposite of white to add some color to your outfit.
It doesn't happen often, but sometimes a dream vendor has to pull out of your big day. Here's what to do when a wedding vendor cancels on you.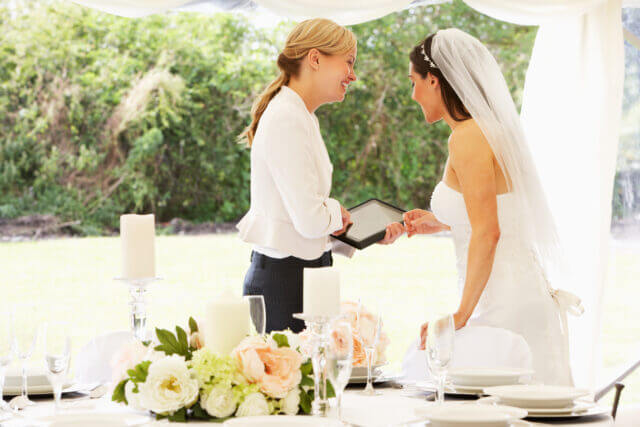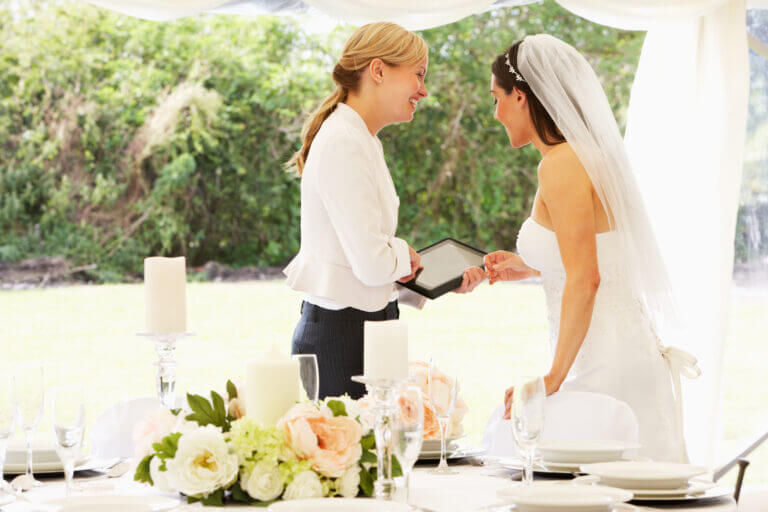 We don't have to tell you twice that wedding planning is stressful. From dress fittings to seating charts to arguing with your future MIL about the color of her corsage, you'll deal with lots of small fires that need to be put out before the big day. 
But one stressor that may take you by surprise? When a trusted vendor has to go back on their commitments to you. It's rare, but it can happen. Before shedding tears and vowing to just cancel the whole day, take a few of our suggestions. Here's what to do when a wedding vendor cancels on you.
Don't panic
We know it's hard (especially if you're super close to your date), but try not to panic. The truth is – for every wedding vendor you've hired, there are probably at least 20 other venues, companies, or artists that offer the same (or similar) services. Take a moment to breathe, rationalize, and make a game plan.  
Check your contract
More likely than not, there is a clause in your vendor contract that addresses cancellations. You may be entitled to a return of any deposits you've made, the vendor may be required to provide alternative personnel, or a host of other considerations. Take a look over your contract before making any big moves.
If you're just now starting the hunt for vendors, make sure any contract you sign covers what will happen in the event of a cancellation (on both your parts). 
Contact your wedding planner, if you have one
This kind of situation is exactly why you've hired a planner! Give them a call and let them know what's going on, if they're not already in the loop. Chances are they have a huge network of vendors and can find a suitable back-up without issue. 
Speak to your other vendors
There may be hundreds of wedding vendors on Long Island, but it's a small world! When a wedding vendor cancels on you, reach out to one of the other professionals you've hired. They will probably know of another company or individual who can take over – even on short notice. 
Reach out to married friends
If anyone can understand the crises of a vendor cancelling, it's someone who has already been through the process of planning a wedding! Ask your married friends for advice, recommendations, or even just a little moral support. There's nothing like a hug from a sympathetic friend!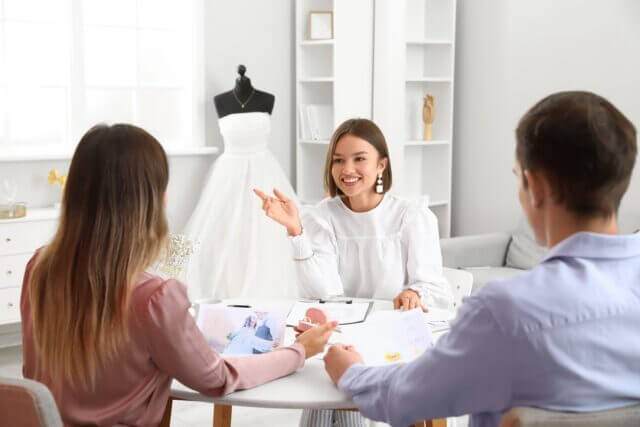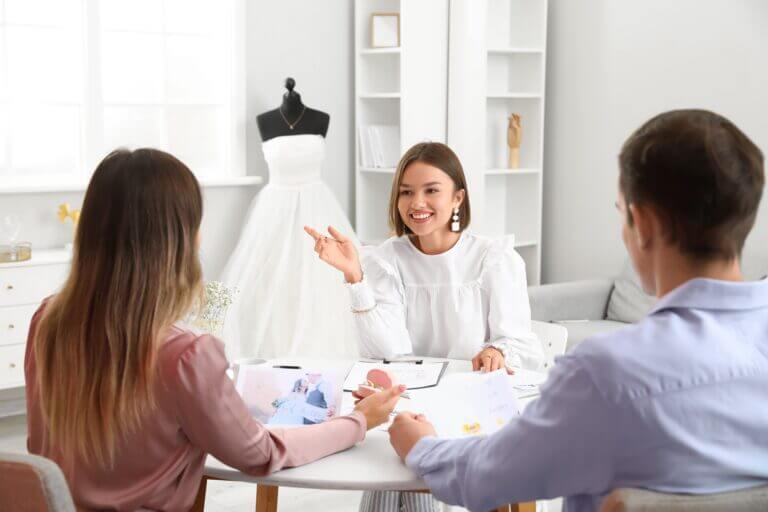 Ask the cancelling vendor for recommendations
In all likelihood, your cancelling vendor will provide you with a list of acceptable substitutes you can contact. If they don't do this when initially delivering the news, don't be afraid to reach out to them and ask. 
Pull out your venue's preferred vendor list
Remember that sheet of paper from way back, when you took that first tour? Take a glance at it once more and see if any names pop out to you. Usually a venue's preferred vendors are established professionals with years of experience, so if you're very close to your wedding day, they may all be booked. But you don't lose anything by reaching out! And who knows – they may have had a last minute cancellation that they're looking to fill.
Take a look at BOLI's preferred vendors
We're proud to call hundreds of experienced, vetted, and talented wedding professionals Brides of Long Island preferred vendors!  Know that you can scroll through our listings with confidence. 
Make a post in BOLI
You know by now that BOLI is an incredible resource, and your fellow brides-in-arms are ready to help you out! Let the group know that you've experienced a vendor cancellation. We guarantee that BOLI members will provide you with tons of new options for your big day. 
Practice empathy, and remember the big picture
It's normal to feel frustrated, anxious, and even angry when a vendor you've trusted pulls the plug. And as much as your worried about what you'll do, try to see things from your vendor's perspective.
In the vast majority of cases, the reason your vendor is cancelling is due to something completely out of their control. It could be a family emergency, a complicated health issue, or any number of complex situations. Your vendor is running a business, and the last thing they want is for that business to fail. As much as their cancellation has negative impacts on your plans, try to have empathy and understanding for the person behind the professional – especially if they've shared with you the reasons behind why they're cancelling.   
And remember why you're celebrating in the first place – you're marrying someone you love, and you're vowing to spend the rest of your lives together. That won't change, regardless of who is (or isn't) a part of your wedding day team. 
We all know everyone is excited to celebrate you and your fiancé on your big day. But wouldn't it be cool to have something different and unique for people to see, try or do to celebrate you? From the bachelorette party to after the wedding, the Brides of Long Island has you covered with these amazing preferred vendors just waiting to celebrate your big day with you. Here are 12 fun extras for your wedding.
Pre-Wedding Festivities
Camp No Counselors
Go back to summer camp – but add some adult activities. Think DJ, live bands, foam parties and so much more! And it's all inclusive – including the adult beverages. This is one weekend you won't forget with your besties.
Learn more about Camp No Counselors here.
DJ CHEF Bachelorette Party
Do you want to party but don't like the crowded Hamptons clubs? Bring the party to your house! Grab your bride tribe for a fun night in dancing and singing, while DJ CHEF does all the work cooking and pumping your favorite tunes.
Get the party started with more information about DJ CHEF here.
reactIVate
Need a pick-me-up either before, during or after your bachelorette party? Or maybe you need to relax and get an energy boost before the big day. Hire the ladies at reactIVate. These two emergency room registered nurses bring IV drips infused with vitamins to keep you healthy and glowing for whatever festivities you have planned.
MORE: Feel the Best for Every Wedding Event Thanks to ReactIVate
For Your Wedding
Caffe Aronne
Do you love coffee? Caffe Aronne features a 1978 Piaggio Ape that brings coffee to your wedding. And what makes this even more special? They roast their own beans and then brew their own coffee just for you.
Catherine Rose Studio
What better way to capture your wedding memories than on the canvas? Cat at Catherine Rose Studio will capture the laughter and love with her brush, creating a beautiful work of art that you will treasure forever.
Dolce & Gelato Catering
Gelato, expresso, fresh mozzarella, bars, spritz stations – if you want anything extra that's Italian, Dolce & Gelato Catering is for you!  It's all about the experience – so just ask and they can customize what you want!
Event Painting with Gina
From the big things to the small things, Gina doesn't leave anything out when she captures your wedding on her canvas. She wants her work to bring all of those wondering wedding day memories flooding back when you look at it years later. Having been a BOLI herself, she is in tune with what brides are looking for.
The Roving Bar Long Island
From backyard weddings to just an addition to any venue, the Roving Bar Long Island brings the fun (and the booze) to any party. This vintage Piaggio Ape mobile bar cart can fit anywhere and is ready to serve delicious drinks of your choice. From beer, wine and prosecco to a cigar humidor and even baked goods – this cart is sure to be the talk of your wedding night.
MORE: "It makes your wedding more unique & entertaining." Find Out What the Latest Trend Is With The Roving Bar Long Island
The Wedding Shotski
If you're ready to party at your wedding, The Wedding Shotski is just the thing for you. A customized shotski made just for you. You can use it before, during and after your wedding to get the most use out of it. Bottoms up!
After Wedding Glow
Don't Toss the Bouquet
Keep those memories alive by preserving your bouquet. Or create beautiful presents for your bridesmaids or parents by preserving their flowers. The possibilities are endless when it comes to Don't Toss the Bouquet.
Flohral Preservations
Transform your wedding bouquet into a work of art with Flohral Preservations. Debbie will transform your flowers into a statement piece that will bring back those wonderful wedding memories each time you look at it.
MORE: 'It's a Statement Piece.' Flohral Preservation Will Turn Your Flowers Into a Work of Art
Gagne Lingerie
If you're looking for some customized, perfect fitting lingerie, reach out to the Gange gang! These ladies work with you to create the most intimate, beautiful lingerie to give you all of the confidence you need on your wedding day, night or at any time!
All of the Brides of Long Island preferred vendors are here for you to create the most perfect wedding day. And these 12 fun extras for your wedding are the perfect way to bring a unique experience that you and your guests will be talking about for years to come.
Planning a wedding? You're bound to hear a few pieces of advice – and some of it you should totally ignore! Here are even more of the biggest wedding myths busted.
From even bridal party numbers to recouping wedding expenses, we've busted a fair amount of the biggest wedding myths. But there are plenty more "words of wisdom," often said with the best intentions, that can really wreck havoc on your bridal peace of mind. Trust us when we say that not all wedding advice is helpful – or even accurate! Here are even more of the biggest weddings myths, expertly busted by our BOLI team.
MYTH #1: Engaged? You should start "shredding for the wedding."
Nearly every bride has heard this one (or its alternative "breading for the wedding") – a suggestion that your body, just as it is in this moment, isn't the right shape or size for your impending nuptials. 
We don't have to tell anyone who's been on the receiving end of this "advice" how it feels to hear. But we're here to tell you the truth: you are perfect. Your body is perfect. And you will look absolutely beautiful on your wedding day – not in spite of your body, but because of it. 
Your fiancé, friends, and family love you RIGHT NOW. They love your spirit, your soul, AND your body – because your body is what holds your spirit and soul. The packaging may look different based on weight loss or gain, but what's inside stays the same. The gift is still there regardless of the wrapping paper. 
If YOU would like to change your body before your wedding, then go for it in a healthy and mindful way. But don't let anyone else tell you that you should, or that you have to. Remember – there's not a "bridal boot camp" (gross) or a "21 day fix" (grosser) that's going to change the heart and the essence of who you are – and that is what's so breathtakingly beautiful about you. 
MYTH #2: If they didn't bring a gift to your wedding, you don't have to write them a thank you note.
We've talked a bit about guests who don't bring gifts to your wedding (spoiler alert: you should be prepared for at least one of your guests to show up empty-handed). Yes it's rude and yes it goes against social norms and cultural expectations. But remember – as much as we may think we know our guests' financial situations, work-life balance, or family dynamics, we don't.
Even if one of your guests shows up sans-envelope, they've still paid something to get to your wedding. Whether it's time off from work that's not compensated, gas money to drive a few hours, childcare fees, or a host of other expenses, your guests have to fork over money on top the amount they've written (or not written) on your check. And that deserves a thank you.
If you're struggling with what to write in a card, a simple "thank you for celebrating our day with us" is totally fine! 
MYTH #3: You have to throw an engagement party/bridal shower/bachelorette party, even if you don't want to. 
Once more for the people in the back: Brides, it is YOUR WEDDING and you get to call the shots. If you don't want to hold a certain event, you absolutely do not have to hold it. Will others expect it? Will they be disappointed in your decisions? Maybe, but you are the bride and your happiness (and your fiancé's!) is the most important.
At the heart of these events though, is love and celebration. Your friends and family members love you and they want to celebrate you, your fiancé, and the start of your amazing lives together. If being the center of attention at party after party isn't your thing, think about other ways your loved ones can honor you. Maybe it's a small lunch with one or two people, maybe it's a registry where they can select a gift you'd cherish, or maybe it's a montage of video messages put together by bridesmaid.